Don't, even for a second, shortchange Rondale Moore. Don't think of him as a freshman. Don't take a look at him, Purdue's swiss army knife who is generously listed at 5-foot-9, 175 pounds, and think of him as anything but an absolute game-changing playmaker.
Think of Moore as the Boilermakers' best weapon against Ohio State.
In his first college game, he caught 11 passes for 109 yards and a touchdown in a 31-27 loss to Northwestern. He also ran for a 76-yard touchdown. Just two weeks later, Moore once again caught 11 passes, this time gaining 137 yards. He tacked on a touchdown.
After six games, Moore has 45 catches, more than double the receptions of any other Purdue player. He has racked up 558 receiving yards, the second most in the Big Ten, and has five receiving touchdowns to go along with his rushing touchdown. He averages 15.4 yards per rush on nine carries this season. Moore has 100-plus receiving yards in four of six games.
He's a threat to score from any position on the field, lining up all over on offense and serving as the team's primary punt and kick returner.
"He's a good player," Ohio State safety Jordan Fuller said. "His change-of-direction's really good. His top-end speed's really good, too. We've definitely got to keep him in our sights at all times."
Moore, a native of Louisville, Kentucky, had a chance to go pretty much anywhere in the country. The No. 229 overall prospect in the 2018 class had scholarship offers from Alabama, Texas, Georgia, Michigan State, Penn State and West Virginia, among many others. Ohio State also came calling, offering him a scholarship.
He didn't bite, though, instead choosing to join head coach Jeff Brohm's upstart Purdue program.
Thus far, it's worked out just fine for the agile wideout. He has become the focal point of a high-flying offense that has dropped at least 30 points in each of the past four games.
"Very good player," Ohio State defensive coordinator Greg Schiano said. "Very quick. Incredible change-of-direction athlete. He's been very productive for them as a leading receiver. He's productive running the ball, as well."
When playing against shorter receivers who can change direction quickly, yet have breakaway speed, players must simply trust their techniques, Fuller said. It's not as if Moore gives defensive players much time to think before reacting.
For a team like Ohio State that has been susceptible to explosive players breaking through the defense for long gains, Moore becomes extra threatening.
TCU's Darius Anderson had a 93-yard rush, which was the longest play ever given up by the Buckeyes. Two weeks later, K.J. Hamler matched that with a 93-yard catch. He beat nickelback Shaun Wade inside on a slant and raced the rest of the way to score the longest receiving touchdown ever against Ohio State.
On Tuesday, Urban Meyer once again reiterated allowing big plays as the defense's biggest problem after crossing the season's midway point last week.
"Because of their aggressive style on defense and their ability to take away the quick throws, you are going to be susceptible to a little more deep shots if the team can get open and complete them," Brohm said on Tuesday's Big Ten teleconference. "And that's kind of been the issue, is are going to be good enough to get open, are we going to be good enough to make those throws, are we going to be able to block long enough to throw it vertically up the field.
"So, all those things come into play. But without question, we have to find ways to create some big plays."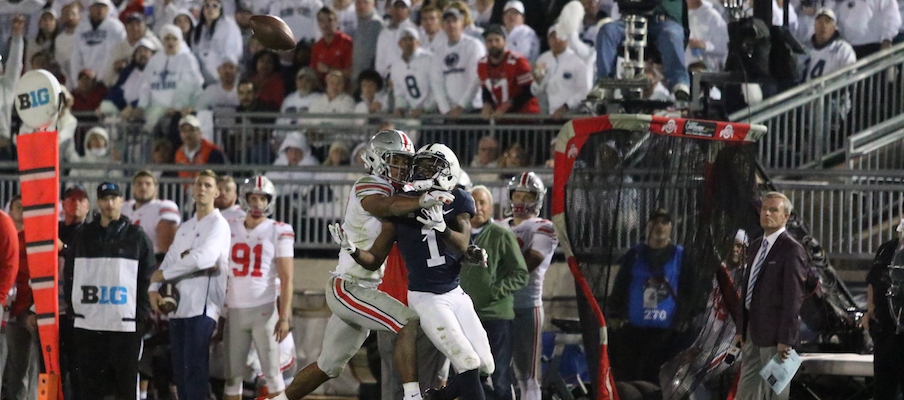 Minnesota racked up 396 total yards on Saturday against the Buckeyes despite completing just 13 passes. The week prior, Indiana accrued 406 total yards on Ohio State. Neither offense is necessarily thought of as particularly explosive. However, at times, both offenses had their ways with the No. 2 team in the country.
Purdue might have a meager 3-3 record, but its Moore-powered offense has peaked in recent weeks, and it certainly poses a threat to Ohio State's off-and-on defense. Both Ohio State and Purdue average 6.8 yards per play, the 10th most in the country and the top two averages in the Big Ten.
After passing for 74 yards in the season opener and 48 yards in Week 2, Boilermaker quarterback David Blough has passed for at least 296 yards in each of the past four games. He threw for 572 yards – more than 100 yards more than any quarterback in Ohio State history has passed for in a single game – in Purdue's 40-37 loss to Missouri in the third week of the season.
Brohm partially attributed Blough's recent success to him calling poor games to open the season before opening the playbook against Missouri. Blough also has "played tougher" and hung around longer in the pocket to hit throws down the field, Brohm said.
Purdue, which possesses one of the conference's best offensive weapons in Moore, will go big-play hunting. 
"Without question, we have to find some ways to create big plays," Brohm said.
It's time to find out whether Ohio State has corrected the problem that nearly tripped them up early in the season.