As far as weird-ass games go, it's hard to top the 2020 B1G Title Game.
It only happened 11 months ago but outside of the Buckeyes winning and Trey Sermon morphing into Superman can you remember how absolutely weird that game was? I mean, outside of being played in a vacant stadium on a field still decorated with Indianapolis Colts branding.
For starters, here are Ohio State's first five passes targeting wide receivers:
THIS REALLY HAPPENED, PART I

| PLAY | OUTCOME |
| --- | --- |
| 1st & 10 | OSU 25 | Justin Fields pass incomplete to Julian Fleming |
| 3rd & 2 | OSU 33 | Justin Fields pass complete to Julian Fleming |
| 1st & 10 | osu 41 | Justin Fields pass incomplete to Jameson Williams |
| 2nd & 10 | OSU 41 | Justin Fields pass complete to Julian Fleming |
| 2nd & 14 | OSU 48 | Justin Fields pass complete to Julian Fleming |
Northwestern was well on its way to becoming The Julian Fleming Game™ before Sermon took it over - and that took a whole half to materialize. Chris Olave wasn't available and Garrett Wilson wasn't getting early looks from Justin Fields, in part because he was well-covered. Also, Wilson was well-covered. Weird!
Sermon had 60 rushing yards on just six carries while Fleming and Jamo shared 53 receiving yards on 11 combined targets. It was arguably the worst half of football since Ryan Day's arrival.
The passing game just wasn't clicking as Fields was clearly off. Yet, the Buckeyes kept forcing the issue in between Sermon slicing up the Wildcats whenever he got the opportunity. I slumped on the couch I hadn't left since March and whispered at my television:
I dont know, maybe run the ball

— Ramzy Nasrallah (@ramzy) December 19, 2020
Yes, of course. You were saying it too. Everyone was. And then...it just happened. Weird.
Fleming was downgraded from lead actor to extra as the targets evaporated. Jamo would have to wait for Olave to inevitably declare for the NFL to shine in Columbus. Everything in scarlet except Sermon took one step back. He, the offensive line and tight ends were now the show.
Here are Sermon's first eight carries of the 2nd half. Even the short ones took your breath away.
THIS REALLY HAPPENED, PART II

| PLAY | OUTCOME |
| --- | --- |
| 1st & 10 | osu 20 | Trey Sermon run for 13 yds |
| 1ST & 10 | OSU 33 | Trey Sermon run for 12 yds |
| 1ST & 10 | OSU 7 | Trey Sermon run for 65 yds |
| 1ST & 10 | OSU 29 | Trey Sermon run for 3 yds |
| 2ND & 7 | OSU 32 | Trey Sermon run for 5 yds |
| 3RD & 2 | OSU 37 | Trey Sermon run for 6 yds |
| 1ST & 10 | OSU 43 | Trey Sermon run for 33 yds |
| 1ST & GOAL | NU 9 | Trey Sermon 9 Yd Run (TD) |
Gus Johnson, after the 65-yarder:
"TREY! SERMON! RUN! THE! BALL!"
Yes, of course. He said it too. Everyone just read that in his voice. Gus knew. Everyone knew.
I thought about that weird game again last Saturday when C.J. Stroud targeted Jaxon Smith-Njigba 17 times among his 54 passing attempts, which with the pitiful way half of the Ohio State offensive line was run-blocking became the path to winning the surest way.
TreVeyon Henderson's final two carries went for 33 combined yards, but his first 19 went for just 59. This game was a master class in coaching around your own crises. We'll close with Beanie Wells' first nine carries against Michigan in 2008.
BEANIE'S FIRST 9 CARRIES VS. U-M, 2008

| PLAY | OUTCOME |
| --- | --- |
| 2nd & 7 | OSU 22 | Chris Wells rush for no gain |
| 1st & 10 | OSU 20 | Chris Wells rush for a loss of 1 yard |
| 1st & 10 | osu 46 | Chris Wells rush for 1 yard |
| 2nd & 9 | OSU 47 | Chris Wells rush for 4 yards |
| 1st & 10 | OSU 41 | Chris Wells rush for 59 yards (TD) |
| 1st & 10 | OSU 22 | Chris Wells rush for 4 yards |
| 2nd & 6 | osu 26 | Chris Wells rush for 5 yards |
| 3rd & 1 | osu 31 | Chris Wells rush for 2 yards |
| 1st & 10 | osu 49 | Chris Wells rush for a loss of 2 yards |
Jim Tressel dialed up the exact same play nine times, with five of them going for two or fewer yards. He was absolutely convinced it was more than enough to win. Coaches have a plan and damn it, they're going to be the last one to abandon their ship.
In my estimation Day has only gotten better at diagnosing what's unfolding and his in-game coaching is more dynamic now, especially compared to that weird-ass championship game. Sometimes balance isn't the remedy. Sometimes opponents behave differently than their film.
The problem on Saturday - and the previous Saturday - was rooted in run-blocking. Our non-running quarterback threw for over 400 yards again while his head coach coached around the team's emerging deficiency. And it didn't even take a whole half to abandon ship this time.
Welcome back, thirsty comrades! Let's get Situational.
OPENING: THE OPTICS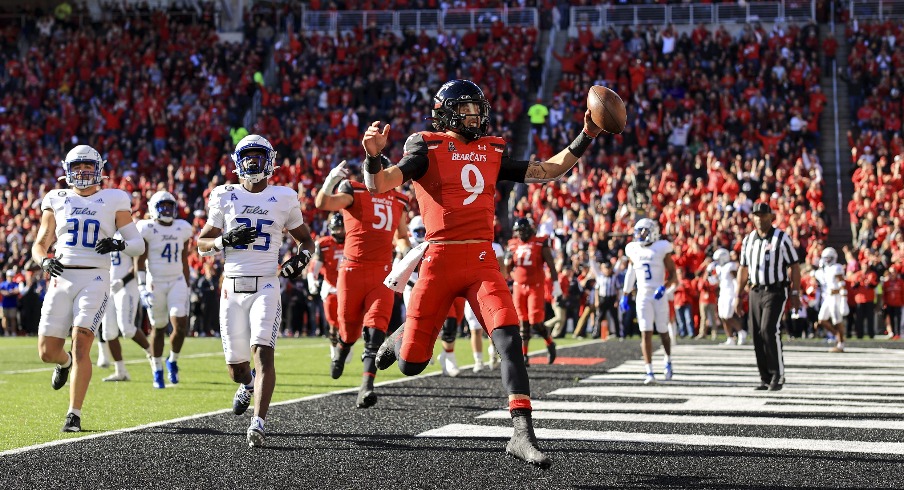 An undefeated Cincinnati football team belongs in the College Football Playoff. I believe this.
However, a two-loss Cincinnati (they'll drop one regular season game and the American Championship Game to Houston) will send the Bearcats on a nice postseason trip to somewhere decidedly unplayoffish. I also believe this. There, now everyone who read this section can be mad at something.
The Bearcats got the full ESPN College Gameday trimmings for Tulsa, whose last trip to Ohio sent the Buckeyes into an existential crisis and its quarterback on a one-week shoulder rehabilitation sabbatical.
You see, Ohio State only won by three touchdowns, an unacceptably small margin. But as it turns out, only future American Conference Champs Houston have beaten Tulsa worse than the Buckeyes did that clunky afternoon.
THE BIGGEST LOSS OF 2021 CHALLENGE

| OHIO STATE VS. | FINAL SCORE | MARGIN | 2021 LOSS RANK |
| --- | --- | --- | --- |
| @ mINNESOTA | OSU 45-31 | 14 | BIGGEST LOSS |
| TULSA | OSU 41-20 | 21 | 2ND (HOUSTON) |
| AKRON | OSU 59-7 | 52 | 2ND (AUBURN) |
| @ RUTGERS | OSU 52-13 | 39 | 2ND (WISCONSIN) |
| MARYLAND | OSU 66-17 | 49 | BIGGEST LOSS |
| @ INDIANA | OSU 54-7 | 47 | BIGGEST LOSS |
| PENN STATE | OSU 33-24 | 9 | BIGGEST LOSS |
| @ NEBRASKA | OSU 26-17 | 9 | BIGGEST LOSS |
Akron and Rutgers faced shrink-wrapped parts from Ohio State's roster's storage unit for lengthy stretches of their big losses, so the Buckeyes could have conceivably given every one of its wins the worst losses of the season outside of the Golden Hurricane, which just took UC to the brink.
Ohio's two best FBS teams share Indiana and Tulsa as common opponents, and the only things those four games had in common were the losers - the optics were wildly different, and we live in an optics world. If UC is going to get into the playoff, it needs to treat the rest of its schedule the way it treated Temple, not Tulsa.
Math says OSU treats most of its victims the same, rude way - and that includes Penn State and Nebraska. Optics are sometimes tricky. You have to squint to see more clearly.
INTERMISSION: THE SOLO
This week our intermission is getting back to its roots, which means 1980s pop stars who treated cocaine like its own food group used saxophone solos to chop up their bangers. Take Me Home Tonight - one of the greatest songs of that decade - should have never existed.
Eddie Money (née Edward Mahoney, fantastic) was doing more drugs in 1986 than he was making music and his career was on life support. Any songs he was presented with making had already been declined by singers with much longer and stable runways.
So when he was offered Take Me Home Tonight, he hated the demo as much as everyone who had already passed on it did - except he really liked the be my little baby hook and thought it could be cool to find where Ronnie Spector was, pull her out of retirement and get her to sing that part.
Spector had sung Be My Baby with the Ronettes 23 years earlier and this hook reminded Money of that song, for which Take Me Home Tonight would be a little throwback vehicle to a golden oldie. He thought that would make the song suck less.
So it not only has Spector's hook, it contains a sax solo. Let's answer our two questions.
Is the soloist in this video actually playing the saxophone?
Money played sax and harmonica on his songs and takes care of the solo on the album cut (as well as during live performances) but in this video he's mashing keys like a washed up pop star who is just happy to be getting work. Which, yeah. Mash them keys, Eddie. VERDICT: No.
Does this sax solo slap?
It's more of an extended lick than a full solo, but it says so much with what's basically a cameo. The sax's purpose here is to collect the energy created by Money and Spector, ball it up, douse it with gasoline and then ignite it for an explosive finish. Which, boom.
The MVP here is not the sax, but that shitty demo which was apparently so bad it trickled all the way down to Money's lap. It's hard to imagine anyone making it better than he and Spector did. Cheers, mysterious and terrible musician. You inadvertently did a good thing. VERDICT: Slaps
THE BOURBON
There is a bourbon for every situation. Sometimes the spirits and the events overlap, which means that where bourbon is concerned there can be more than one worthy choice.
Jordan Via is the master distiller at Savage & Cooke in Breckenridge, CO, which is owned by David Phinney. Over the summer Phinney and Scottie Pippen (that Scottie Pippen) collaborated on a limited 5,000-case release of a mysterious, blended 5-year old Tennessee bourbon.
Shorter version: We now have a Pippen whiskey and it was blended by a guy named Jordan. It's called Digits.
Digits' mash bill runs 75/21/4 corn/rye/malted barley, which means it spits sweet fire as a high-corn high-rye blend that feels a lot older than five years (in a blend you are required to use the youngest juice as your age stamp).
This felt suspiciously similar to the Kirkland brand Tennessee bourbon (pretty obvious that was sourced from George Dickel, 84/8/8) that followed the Kirkland brand Kentucky bourbon (which, Knob Creek is the conventional wisdom). So yes, I loved Digits, which has Dickel's fingerprints all over it.
It's overwhelmingly caramel and vanilla riding the heat up until the finish, which is abrupt. Digits reminded me of the Batch 24 from Barrell from a few weeks ago, another really well-constructed blend.
Digits can be found for a limited time, mostly around Chicago but - like most anything else - online too. I'd price it at $90-$100 due to limited edition/scarcity; otherwise this should sit on a $65-75 shelf.
CLOSING: TRASH DEMONS FROM HELL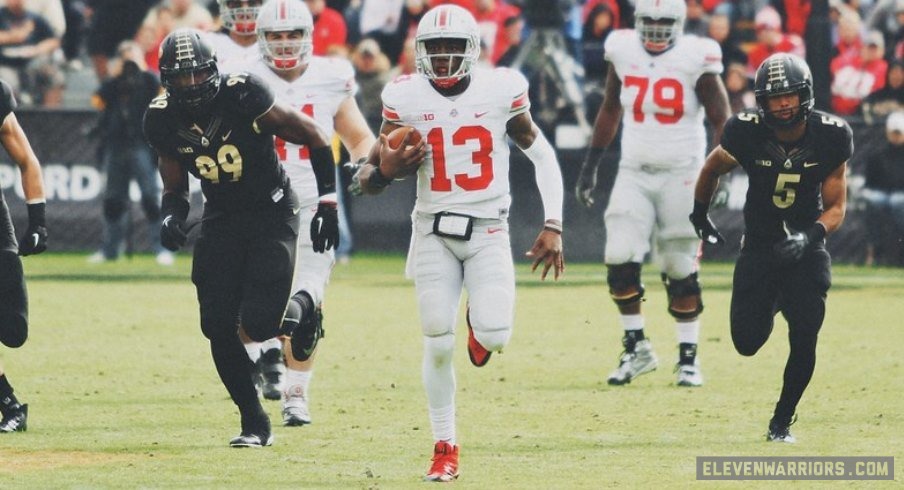 John Cooper started and finished his Ohio State tenure by losing to Purdue. His teams wrecked the Boilermakers every other year in between. Those losses were rise/fall-related.
Purdue paranoia did not exist back then; we had too many other teams to cry about. Every Ohio State coach has at least one albatross and for Coop it was Michigan - and Illinois, and bowl games. Earle had a lot of trouble with Wisconsin, which for you youngsters - prior to Barry Alvarez this made absolutely no sense (it doesn't make sense now, either).
Jim Tressel overlapped the rise of the Southeastern Conference and Urban Meyer bumped up against Michigan State's best post-Duffy Daugherty era. So what Purdue has done to Ohio State since Coop left coaching has spanned college football generations.
OHIO STATE - PURDUE THIS CENTURY

| YEAR | PU RECORD | OSU RECORD | GAME | OUTCOME |
| --- | --- | --- | --- | --- |
| 2000 | 8-4 | 8-4 | WL | L 27-31 |
| 2001 | 6-6 | 7-5 | COL | W 35-9 |
| 2002 | 7-6 | 14-0 | WL | W 10-6 |
| 2003 | 9-4 | 11-2 | COL | W 16-13 |
| 2004 | 7-5 | 8-4 | WL | L 17-24 |
| 2007 | 8-5 | 10-2 | WL | W 23-7 |
| 2008 | 4-8 | 10-3 | COL | W 16-3 |
| 2009 | 5-7 | 11-2 | WL | L 18-26 |
| 2010 | 4-8 | 12-1 | COL | W 49-0 |
| 2011 | 7-6 | 6-7 | WL | L 23-26 |
| 2012 | 6-7 | 12-0 | COL | W 29-22 |
| 2013 | 1-11 | 12-2 | WL | W 56-0 |
| 2018 | 6-7 | 13-1 | WL | L 20-49 |
The Buckeyes are just 8-5 against the Boilermakers this century. That makes Purdue the winningest conference opponent against Ohio State with the fewest attempts.
A couple of striking notes about our Purdue misery - one, the Boilermakers haven't won in Columbus since Oct 15, 1988 which is a day and a game I remember vividly. Two, the last two Ohio State teams without postseason bans which lost to Purdue went to the Rose Bowl. We started this off with a weird game - let's end it with a weird trend.
If the Boilermakers end their Columbus drought (I do not see this happening, nor do I expect Saturday's game to be all that close) then Pasadena becomes a lot more likely, again. Next time you pass the Union Cemetery shout at Woody's headstone that the path to an Ohio State Rose Bowl for the past decade-plus has been losing to Purdue, and then wait for a gust of wind. It will come.
Thanks for getting Situational today. Go Bucks. Beat Purdue. Take care of each other.