Ohio State never led by more than two scores until the final two minutes of Saturday's game against Tulsa, but ultimately made the plays it needed to make to get back in the win column.
In a game in which Tulsa trailed by only one score with less than four minutes to play, true freshman running back TreVeyon Henderson led Ohio State to a 41-20 victory by running for a freshman-record 277 yards.
Ohio State never led the game by more than two scores until a 61-yard pick-six by Cameron Martinez with just 1:50 to play made it a three-touchdown win for the Buckeyes in their first game following their first loss of the season to Oregon.
 
Q1
Q2
Q3
Q4
 

#9

 Ohio State
3
10
14
14
41
TULSA
3
3
7
7
20
Ohio State's struggling defense got off to an uninspiring start, allowing Tulsa to drive 81 yards in 16 plays on its opening possession, though the Golden Hurricane did settle for a 22-yard field goal after a 3rd-and-1 run stop by new Buckeye linebacker Palaie Gaotoete.
The Buckeyes' offense struggled out of the gates, too, punting on its opening possession and settling for a 43-yard Noah Ruggles field goal on its second drive as C.J. Stroud completed just two of his first six passing attempts for 25 yards.
Ohio State's defense struggled to get off the field again on its second series of the day, allowing Tulsa to drive 62 yards in 14 plays. Tulsa settled for another Zack Long field goal, this time from 31 yards out, to take a 6-3 lead with 10:47 to play in the second quarter after Lathan Ransom made a tackle in space for no gain on 3rd-and-4.
| OHIO STATE |   | TULSA |
| --- | --- | --- |
| 501 | TOTAL YARDS | 487 |
| 316 | RUSHING YARDS | 59 |
| 40 | RUSHING ATTEMPTS | 28 |
| 7.9 | AVERAGE per RUSH | 2.1 |
| 3 | RUSHING TOUCHDOWNS | 0 |
| 185 | PASSING YARDS | 428 |
| 15-25 | COMPLETIONS–ATTEMPTS | 31-54 |
| 12.3 | AVERAGE per COMPLETION | 13.8 |
| 1 | PASSING TOUCHDOWNS | 2 |
| 24 | 1st DOWNS | 25 |
| 65 | TOTAL PLAYS | 82 |
| 7.7 | YARDS per PLAY | 5.9 |
| 2-2 | RED ZONE | 4-4 |
| 6-11 | third down conv | 9-16 |
| 8-71 | PENALTIES | 4-35 |
| 30:14 | POSSESSION | 29:46 |
The Buckeyes finally took their first lead of the game with 8:44 to play before halftime by driving 64 yards in six plays on their third possession of the day. Henderson scored the game's first touchdown on a 5-yard run.
Ohio State's defense forced its first punt of the game on Tulsa's third possession, but Stroud followed that up by throwing his third interception of the season. Stroud attempted to complete a deep ball into coverage going across the field to Jeremy Ruckert, and Tulsa's Travon Fuller picked it off.
Denzel Burke appeared to make his first career interception with a spectacular play to steal the ball away from a Tulsa receiver on the Golden Hurricane's next possession. Following a replay review, however, officials ruled the play to be a Tulsa catch. Ohio State still got the ball back, but at its own 20-yard line, after a Tulsa punt into the end zone.
The Buckeyes drove back to Tulsa's 27-yard line but were forced to settle for a 44-yard Noah Ruggles field goal. The Golden Hurricane threatened to score in the final minute of the first half after Davis Brin completed a 31-yard pass to Josh Johnson – which brought Tulsa to 204 first-half passing yards, just nine short of its average in its first two games – but Ohio State ultimately took a 13-6 lead into halftime after Ronnie Hickman intercepted Brin with four seconds to play before the break.
After forcing a 3-and-out on their first defensive series of the second half, the Buckeyes took a two-score lead on their opening drive of the third quarter when Henderson broke free for a 48-yard touchdown run.
SEE YA

There was no catching @TreVeyonH4 on this TD run for @OhioStateFB pic.twitter.com/xxvUq1DXIH

— FOX College Football (@CFBONFOX) September 18, 2021
Ohio State failed to score on each of its next two possessions, and gave the ball back to Tulsa at the 48-yard line when Stroud was hit in the pocket by Tulane safety Kendarin Ray and fumbled. After a streak of six consecutive stops by the Ohio State defense, the Buckeyes left Cannon Montgomery wide open to catch and run for a 21-yard touchdown to make it a one-score game with just one minute to play in the third quarter.
Just one minute later, Henderson made it a two-score game again on the final play of the third quarter by running for a 52-yard touchdown, breaking Ohio State's freshman rushing yards record – which was previously 239 yards by Archie Griffin against North Carolina in 1972 – in the process.
@TreVeyonH4 can FLY

He breaks off for another @OhioStateFB TD pic.twitter.com/QkAvtEa8FJ

— FOX College Football (@CFBONFOX) September 18, 2021
Ohio State's struggles to stop the pass continued on its first defensive series of the fourth quarter, however, and Tulsa cut the deficit back to just seven points with 12:07 to play on a 22-yard touchdown pass from Brin to Johnson.
The Buckeyes were forced to punt on their next possession after a 47-yard pass from Stroud to Chris Olave was nullified by a facemask penalty against Ohio State right guard Paris Johnson Jr., giving Tulsa the ball back with a chance to tie the game and less than 10 minutes to play. True freshman defensive tackle Tyleik Williams made a huge play to get the Buckeyes off the field, though, sacking Brin for a 17-yard loss on 3rd-and-17 after the Golden Hurricane crossed midfield.
Ohio State finally did what it needed to do to all but put the game away when Stroud completed a 12-yard touchdown pass to Garrett Wilson – Stroud's only touchdown pass of the day – to make it a two-score game with just 3:07 to play. Martinez, who played the first defensive snaps of his Ohio State career on Saturday, sealed the result with his first career interception and subsequent 61-yard return just over a minute later.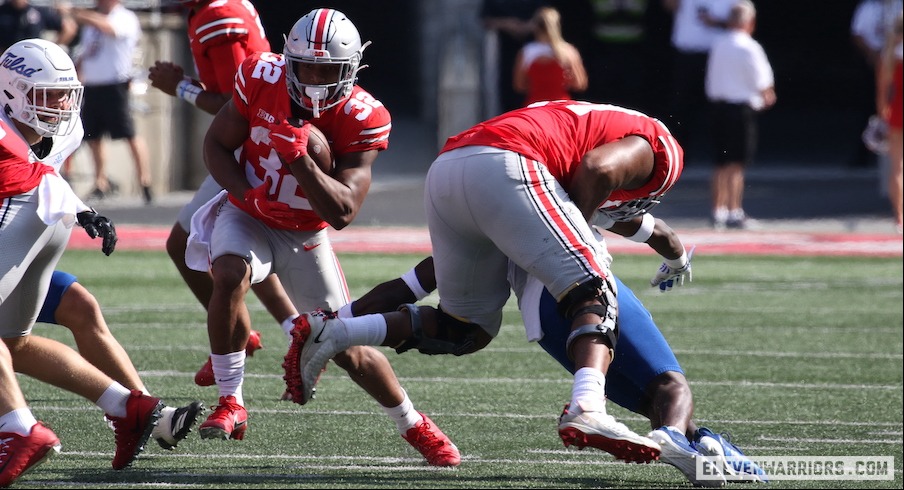 Game Notes
True freshman TreVeyon Henderson made his first career start at running back.
Cody Simon made his first career start at linebacker in place of Teradja Mitchell, who was listed as a game-time decision and did not play.
Javontae Jean-Baptiste started at defensive end in place of Zach Harrison, who was among the unavailable players for Saturday's game.
Bryson Shaw made his second consecutive start at free safety while Denzel Burke and Cameron Brown were the starting cornerbacks for the second straight game.
In a change from previous weeks, defensive coordinator Kerry Coombs coached from the press box while secondary coach Matt Barnes coached from the field.
Chris Olave, Kamryn Babb, Thayer Munford and Mitchell were the game captains for the opening coin toss.
Munford left the game with an apparent ankle injury in the first quarter and did not return. He was replaced at left guard by Matthew Jones. Munford was seen in a walking boot on the sideline.
Sevyn Banks saw his first playing time of the season for Ohio State at cornerback in the second quarter.
Gee Scott Jr. and Cade Stover both made the first catches of their Ohio State careers in the third quarter.
Attendance at Ohio Stadium for Saturday's game was just 76,540, the lowest in more than 50 years – excluding the 2020 season, when fans were not allowed to attend games – since Ohio State's game against Iowa on Sept. 11, 1971, which 75,596 people attended.