When 105,290 fans – most clad in scarlet and gray – descended upon Ohio Stadium on Saturday, none probably realized they'd be celebrating an Ohio State win that will be talked about for years.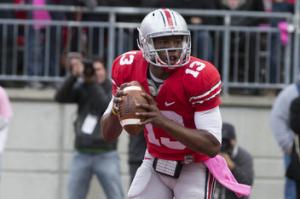 The Buckeyes, an 18-point favorite, overcame an injury to star quarterback Braxton Miller and a lethargic offense to stun upset-minded Purdue in overtime, 29-22. The story of the game, though, was Kenny Guiton.
The junior backup quarterback relieved Miller after he suffered an apparent head injury late in the third quarter. It's a scenario that has been possible for Ohio State all season, with the degree of Miller's running ability.
Miller has been hurt multiple times this season, and in each instance Guiton has come off the bench to lead a touchdown-scoring drive. He wasn't able to engineer much success versus Purdue, though, until 47 seconds remained in the game. Prior to that, Guiton had possessions that resulted in a safety and an interception.
With no timeouts, 47 seconds on the clock and the Buckeyes 61 yards away from the end zone, Guiton engineered a seven-play drive that saved Ohio State's undefeated season.
"A lot of nerves came through my mind," Guiton said. "The people around calmed me down, got me ready to go and just went out and had fun with it. This is what I play football for. I have always wanted to start."
Ohio State still needed a two-point conversion to tie. But Guiton calmly stood in the pocket and delivered a perfectly lobbed pass to Jeff Heuerman.
"I was too happy," Guiton said. "I wanted to tell my team to calm down because I knew it wasn't over. I was happy, but at the same time I was ready to go again."
The Buckeyes scored a touchdown in overtime and Purdue didn't threaten on its possession.
Miller was taken to the Ohio State University Medical Center, where he underwent a series of tests. He was released without symptoms. 
It wasn't the first time the Buckeyes have dealt with injuries, though most of them have come on the defensive side of the ball. Senior captain Etienne Sabino suffered a broken fibula two weeks ago, causing fullback Zach Boren to move over to linebacker. Running back Jordan Hall has also missed nearly the entire season after foot and knee injuries.
"Right now we're on fumes as far as special teams and certain positions," head coach Urban Meyer said. "We've got to regroup fast and have to get a lot better."
On the final drive and in overtime, Guiton showed a level of poise that is reserved for an experienced upperclassman. He's been at Ohio State for four seasons, but his play has been minimal up to today.
"You have to have patience," Guiton said.
Miller's status for Saturday has not been determined. But the chances of Guiton playing are thought to be likely. Penn State's defense is one of the best in the country and coming off five straight victories. Beaver Stadium is also one of the most intimidating environments in the country. Still, Ohio State is confident in its miracle worker.
"He's not nearly the dynamic runner that Braxton is; he's got a little less zip on his ball, but he does a really good job managing the game," offensive coordinator Tom Herman said.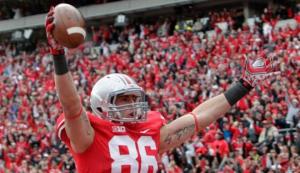 The Great Debate
Y Hide. That was the name of Ohio State's two-point conversion play. But it was almost the play that never happened.
On the sideline Meyer and his offensive line tried to talk Herman out of the play, which was a misdirection play.
"I asked (Herman) before we got the ball, 'What's our two-point play,'" Meyer said. "The offensive line was screaming at me to run the ball. I mean, screaming, and same with Carlos Hyde. And I almost changed that play. I said, 'Tom, let's pound it at them.' He said, 'No, let's go with this.' So he won that battle.
"Great call, great execution."
Making the near perfection on the play even more surprising was the fact that Guiton had never run the play in practice. But Jeff Heuerman, the recipient of Guiton's pass, had been a part of the play with Miller leading the offense.
"We practice it every Thursday, so I have had tons and tons of reps at it," Heuerman said. "When they called it, you take a few deep breaths and it's here we go. I just had to catch it."
He did, and it was a redemption story. Heuerman was responsible for a safety in the fourth quarter after he was flagged for a block in the back in the end zone.
"Coach Vrabel told me after the game those are the hardest ones to catch, and I definitely agree," Heuerman said. "It seemed like the ball was in the air forever."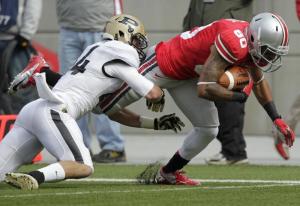 Fields' Day
As unlikely as Guiton playing a starring role today was, wide receiver Chris Fields' emergence was just as stunning.
Much has been talked about Fields during his four seasons in Columbus. But the production never came. On Saturday, it finally arrived.
Fields had a career-high three receptions and 44 yards, though none was bigger than the final one – a two-yard touchdown reception with three seconds left in the fourth quarter. Guiton underthrew the ball and Fields dove to catch it right at the goal line.
Fields couldn't have picked a better time for the first touchdown of his career.
Complete Game Coverage
"Thirteen years of baseball paid off," Fields said. "I used to be a centerfielder. I used to dive all over the place. I'm used to it. I knew it was a great catch, no question. They didn't even need to review it."
Like Guiton, Fields was pressed into the No. 1 rotation after an injury. Starting receiver Corey Brown suffered what appeared to be a head injury in the third quarter. Fields took over on punts and on offense for Brown.
"After that catch, I think I told (Fields) thank you a million times," Guiton said. "Once I saw his hands under the ball, I knew he had it."