The organized stadium blackout by the Purdue faithful turned out to be prophetic as the OSU defense shut down Joe Tiller's spread attack en route to a 23-7 demolition of the Boilermakers in West Lafayette. It was essentially a shutout considering the first team defense stopped the Boilers on their first 13 possessions before a mismash of first and second teamers gave up an 88 yard TD drive on Purdue's final possession of the game. The victory made it 24 straight in the regular season and opens the door for OSU to move to #2 or #3 in the rankings considering Stanford's upset victory over #2 USC.
The road ready Buckeyes jumped out to a 14-0 lead with just under 5 minutes left in the 1st quarter dominating both sides of the ball. The Silver Bullets forced a punt on Purdue's opening possession setting up the Buckeye offense at its own 13 yard line. That poor field position only served to pad the OSU stats as Todd Boeckman led an 87 yard drive culminating in a 26 yard TD pass to Ray Small that showed just how special he is when healthy. Following a 3 and out by the OSU defense, Todd Boeckman hit Brian Hartline for a 6 yard TD and it was clear Purdue was on life support after Ryan Pretorius added a 44 yard FG to give OSU a 17-0 lead with 10 minutes left in the half.
OSU built the lead to 23-0 as Pretorius connected from 39 yards out midway through the 3rd quarter before hitting a 23 yarder on the first play of the 4th as Purdue managed just 50 yards of offense on their first 5 second half possessions. In fact, the final score would have been uglier if not for Boeckman's 3 second half INT's.
While this game was propped up as OSU's first real test of the season it will be interesting to see if the 'experts' again play the "they haven't beat a quality opponent" card considering it turned about to be another total talent mismatch. That said, I think it's more likely the Buckeyes will reap the benefits of an impressive road victory and jump idle California in the blogpoll. I know its tough to drop a team that didn't play, but just how many points do you think Cal could score against Jim Heacock's Silver Bullets? Regardless, this team will likely control its own destiny and week to week improvement is more important than worrying about rankings with so many games left to play.
---
OFFENSE:
The Buckeyes put together another balanced effort with 200 yards through the air and 181 on the ground but left room for improvement committing three turnovers and converting just 5 of 14 third downs. Boeckman lit it up the 1st half going 14/19 for 134 yards and 2 TD but stunk up the 2nd going just 3/10 for 66 yards and the aforementioned horrific 3 INTs. The living room analysis was that Boeckman was simply staring down his receiver giving the safety time to roll over and provide double coverage thus taking away the receiver's ability to make a play on the ball against just one defender. It could also be argued a couple of those balls were underthrown however Tressel indicated in the postgame that he instructed Boeckman not overthrow the receivers so they could make a play on the ball but that became difficult with the extra defender in coverage.
There was still plenty of good news surrounding the passing game as Jim Bollman and Tressel continue to be agressive calling numerous deep pass plays to stretch the defense. Even better news is that Ray Small continued his emergence into a potential superstar with a career high 6 catches for 70 yards. His 26 yard TD grab showed he's much more than just a track star dressed up like a wide receiver. Not to be outdone, Brian Hartline caught 4 passes for 61 yards including a 6 yard TD and Brian Robiskie hauled in 6 for 64 but was kept out the endzone for the first time since the season opener.
Beanie Wells led the rushing attack with 85 yards on 18 carries and Mo Wells put together an impressive night with 74 yards on 15 totes. Mo is averaging over 14 carries a game the last 3 weeks as Beanie continues to be hampered by ankle tweaks. I've been a critic of Mo's since he got here and it was nice to see him crack the 4 yards per carry barrier (4.9) for the first time since the season opener. I don't know if it's the heat being applied by Brandon Saine or the playcalling of more sweeps/misdirection but hats off the Mo for tonight's effort. Speaking of Saine, he came back from arthroscopic knee surgery to carry 6 times for 20 yards.
All in all, it was solid offensive performance on the road. The biggest areas of concern appear to be Boeckman's INT issues and Beanie's constant ankle problems. I find myself watching to see if he gets up quickly after every carry. As for Boeckman, he's now sitting on a TD/INT ratio of 14/6 but I can recall at least 4 dropped INTs. It's not a panic situation by any means, but improvement must be made as an upset of the Buckeyes would likely be the result of a huge discrepancy in turnover margin considering the dominance of the Buckeye defense.
---
DEFENSE:
How many years do you have to go back to find a better OSU defense than this group? The Silver Bullets held Purdue's vaunted spread offense to 90 total yards in the 1st half and 272 for the game although that number shrinks to 184 if you throw out the Boilers' useless 88 yard drive to end the game. In total, the Buckeyes held Purdue to just 4 yards rushing equating to a microscopic 0.2 yards per carry.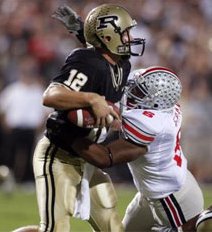 The early lead forced Joe Tiller to abandoned the running game leaving QB Curtis Painter in the unenviable predicament of being forced to throw against a defense that was expecting the pass. The result was a completion percentage barely over 50% as Painter launched 60 passes, completing 31, for 268 yards. Even with the wet touchdown in the final minute, OSU was able to hold its 5th opponent in six games to 7 points or fewer. The defense also forced 7 three and outs bringing the season total to 42.
Virtually everyone on the unit made an impact highlighted by redshirt freshman Chimdi Checkwa's career high 10 tackles, Malcolm Jenkins' 9 stops and Anderson Russel's two sacks and 2 pass breakups. Donald Washington also excelled in coverage as the team combined for 7 pass breakups.
---
SPECIAL TEAMS:
The special units had their best effort of the season buoyed by Pretorius' perfect 3/3 night on FG's and AJ Trapasso's 45.8 yards per punt. The kickoff coverage unit had an improved effort including a forced fumble by Shaun Lane and subsequent recovery by Aaron Gant while laying on his back at the Purdue 33 yard line. The play didn't lead to points as OSU turned the ball over on downs but it was a great play by both Lane and Gant. In a new twist, junior Andrew Good shared kickoff duties with Trapasso. Good recorded one touchback (opening kickoff) in his Buckeye debut while Trapasso had two.
---
NOTES:
Former All-American defensive back William White served as this week's honorary captain...OSU improved to 36-12-2 against Purdue and moved to 68-14 under Tressel.