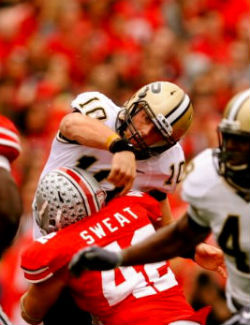 Before anyone jumps down my throat, yes I know it was only Purdue. The same Purdue that lost to Toledo three weeks ago, was in the bottom 20 in the nation in passing, had lost their three best players to injury for the season, and was starting a redshirt freshman at quarterback. This was also a Purdue team that was coming into Ohio Stadium with a little bit of momentum, winning their first two conference games including an upset of Northwestern and having that same redshirt freshman quarterback amass 399 yards and 4 scores in those two victories. 
It was a team catching their opponent at the right time, extremely vulnerable after a deflating 31-18 loss at Wisconsin and damaged both mentally and physically by beat down that the toll of the first seven games had taken on them. Ohio State fans, coaches, and players alike were not sure what to expect after the "Massacre in Madison" and in what direction the rest of the season would hold for a team that had so much promise entering the 2010 campaign, not to mention National Championship aspirations.
After a 49-0 win, we still don't know what the rest of the year holds for the Buckeyes, but one thing we can all agree on is that Saturday proved to be the performance we were all waiting for. Ohio State played as complete of a game as they had all season, doing it all on offense, defense, and special teams (to the best of their ability). The offensive line was moving defenders at will, the defensive line was getting pressure through the middle, the receivers were running precise routes to get open in space, and the secondary was making game-changing plays. This was the offensive juggernaut we all knew was hiding behind semi-stale play calling, and the standard Silver Bullet defense we have grown to expect over the years in Columbus. The question is, where was this team the first seven games and why did it take them so long to emerge?
For some reason or another it seems that Jim Tressel's teams the last three years have been slow starters. In 2008, the Buckeyes got slaughtered at USC without Beanie Wells and had to learn on the fly with freshman quarterback Terrelle Pryor behind freshman center Mike Brewster the rest of the season. Those Bucks tripped up again at home against #3 Penn State before winning a share of the Big Ten title and falling for the third time against Texas in the Fiesta Bowl. In 2009, the team once again was too youthful to pull out a hard-fought game against the Trojans and was upset by this same Purdue team before rebounding to claim their fifth straight conference title and finally getting over the hump in a Rose Bowl win over Oregon.
2010 started and things looked good with wins against Marshall, Miami, Ohio, and Eastern Michigan to start the year, but something just didn't seem right. Why were kicks getting blocked? Why were our special teams allowing multiple returns for scores in a single game? Why was our defense giving up 21 points to EMU? Buckeye fans didn't want to admit it at the time, but adjustments needed to be made for this team to live its dream and go undefeated, an extremely hard feat in college football. 
Illinois proved that, as an underrated but definitely under-matched Ron Zook team hung with the Bucks until the end in a 24-13 loss. The Bucks looked back on track the next week, beating what we know is now an awful Indiana team 38-10, and headed into Wisconsin as the #1 team at 6-0 after Alabama was upset. Things seemed all good and dandy until David Gilreath took the opening kick back 97 yards and the rest is history. Columbus was burning and all of a sudden the sky was falling on Jim Tressel and the Buckeyes.
That is until the perfect formula of wanting to bounce back from that daunting loss and the desire for revenge of "Purdue Harbor" kicked in. That was all this Buckeye team, plagued by injuries on both sides of the ball, needed to turn their season around. It's like the loss in Madison awoke a sleeping giant in this Ohio State team and the slow start of 2010, like in years past, started to become a run to a sixth straight conference title. The Bucks saw what they needed to do to get back on track in a season that potentially can end in yet another conference crown and potentially with the team right back in the thick of the national championship race (check out the remaining schedules of the teams ahead of us). 
The Bucks ran the ball right down the throats of the Boilermakers to start things off and never looked back. It's like they realized "Hey, we're Ohio State, you're Purdue, we shouldn't even be on the field together", and that's how they played on Saturday afternoon. On offense, Mike Adams and Justin Boren lead the way for Boom Herron all afternoon. Terrelle Pryor, sans two throws, showed great presence both inside and out of the pocket, making solid throws and showing his continued evolution as a passer. DeVier Posey seemed to get his head back on straight, while Dane Sanzenbacher continues to be the most underrated player in college football, and Corey "Philly" Brown broke out as the next future stud receiver to hit Columbus. Finally, Andrew Norwell, filling in for the banged up JB Shugarts, continued to make his case to get a start at right tackle. The team sure misses Marcus Hall this season, but the true freshman is showing the coaches and fans he can step in when needed and might even be the team's best option at right tackle while Shugarts nurses his chronic foot injury (and possible even after it's healed).
On defense Cameron Heyward played with the motor of a Hemi engine and the rest of the line was relentless in keeping Rob Henry on the move and out of a comfort zone all day. At linebacker, Andrew Sweat filled in more than admirably for Ross Homan, his second solid showing in a row and showing all the doubters that giving him the SAM spot over Sabino may have indeed been the right choice. In the secondary, Devon Torrence had one of his best games as a Buckeye, Jermale Hines looked at home at the STAR position, Ohrian Johnson finally was in the right place ALL the time and did have his best game in Scarlet and Gray, and Aaron Gant, who seems to be in his 10th year at OSU, had a tremendous game when we needed it most. The Silver Bullets were out to prove a point and did so with their first shut out since New Mexico State last season.
Once again, this was just Purdue, but Saturday showed me a lot of things to be pleased with. This is the team we have been waiting to see all season long and the team we all expected to win the National Championship this season. Both the Big Ten and national races are going to be tough the rest of the way, but both are in reach for the Buckeyes to grab with a little help. If Ohio State plays every week with the same passion and determination that they showed against the Boilermakers on Saturday, I'm confident 11-1 will happen and when you take care of the things that you can control, everything else tends to fall into place.