Does it feel like you can already see what's coming?
The freshman quarterback is coming along just fine, suddenly capable of leading a point-a-minute offense even while he's cooling off on the sideline for a sizable chunk of the garbage minutes.
STROUD vs. BARRETT AFTER 6 GAMES

| QUARTERBACK | TEAM RECORD | ATT | COMP | TD | INT |
| --- | --- | --- | --- | --- | --- |
| J.T. 2014 | 5-1 | 164 | 107 | 20 | 5 |
| C.J. 2021 | 5-1 | 157 | 104 | 18 | 3 |
Impressive, especially since Stroud sat out the Tulsa Akron game to rest his shoulder. You might not remember but Cardale Jones appeared in four of the Buckeyes' first six games of 2014 (not just the last four). So Barrett did his fair share of cooling his heels too.
Their redshirt freshman seasons' respective second halves appear to be frighteningly similar in how they're laid out. Two B1G West challenges, a Halloween week banger with Penn State, an ominous November date with Sparty and the traditional season-ender with Sparty's belligerent brother.
J.T. played through an injured knee. C.J. dealt with a banged-up shoulder. Both defenses were young and stumbled out of the gate but are rounding into, at worst, a worthy identity.
The first halves of Ohio State's 2014 and 2021 seasons have been eerily similar.
Their respective lead tailbacks were held under 100 yards rushing four times in the first six games, while going off in the other two. Halfway through the 2014 regular season, the guy pictured atop this article had 531 rushing yards while sharing carries with Rod Smith and Curtis Samuel. Impressive. TreVeyon Henderson has 612. He shares carries too.
It felt natural to hit the sweet 2014 Virginia Tech comfort hookah after the Buckeyes lost to Oregon last month, but the four games following those two upsets have made it even easier to believe. Demoralized opponents from the MAC, American Athletic Conference, Rutgers and Maryland have seen what this 2021 team is capable of doing.
And yes, that's the same slate that discovered seven seasons ago in gruesome but intimate fashion the Buckeyes who lost to the Hokies at home weren't quite ready to settle for the Capital One Bowl. Let's see if the 2nd half deviates from the script - either Jack Miller becomes a household name in December or the 2021 edition writes its own unique ending. It's not boring!
Welcome back, thirsty comrades! Let's get Situational.
OPENING: THE BOSS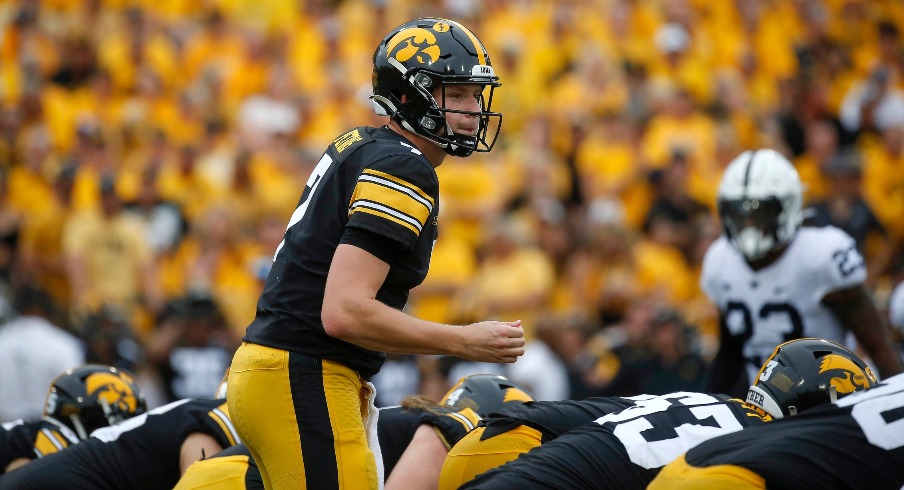 Believe it or not, Iowa could clinch a spot in the B1G championship game before Halloween.
That makes the Hawkeyes extremely dangerous to whoever takes the East in multiple ways. First, the current No.2 team in the country is giving off objectively noisy Team of Destiny vibes. Second, clinching the bid early paints Indy black and gold and provides a significant home-away-from-home advantage typically enjoyed by our beloved incumbents, especially since Wisconsin fans got tired of The Usual and scaled back their December travel plans in recent meetings.
Third, part of Ohio State's degree of difficulty in reaching its fifth College Football Playoff is not only winning out, but doing so against teams currently occupying half the top 10. Iowa has the ability to win the West but also trip all over its own good feelings once or twice, devaluing its own quality. That could affect whoever emerges from the East, especially if they're carrying a blemish or two.
The IOWA Hawkeyes are in total control of the B1G until someone takes it from them.
If that feels familiar, it's the same danger which doomed the flawed-but-explosive 2018 Buckeyes, when Northwestern clinched early and rolled into Indy rocking four losses, making the quality win Ohio State desperately needed for CFP consideration an impossibility.
The 6-0 Hawkeyes have Purdue, Minnesota and Illinois at home along with roadies in Madison, Evanston and Lincoln - the last of which is on Thanksgiving Friday, giving the West champs an extra day of preparation for the B1G East winner.
Iowa already swept its three East opponents and no one else in the West has more than three wins. The Hawkeyes are in total control of the conference until someone takes it from them.
INTERMISSION: THE SOLO
Perhaps you've looked in the mirror and were disgusted by the monster staring back at you. Maybe you lay awake in bed sometimes, reliving your most embarrassing moments on repeat while cringing with regret. Your mind won't shut off. Doubt and despair course through your veins.
The good news is you're not alone. David from Schitt's Creek has been there. We all have, man.
I hope someone somewhere is playing Alaniss That I Would Be Good and feeling themselves.

— dan levy (@danjlevy) January 1, 2021
The four best MTV Unplugged performances by my estimation in order were Alice In Chains, Lauryn Hill, Nirvana and Alanis Morrisette. The best individual song by No.4 in that list is That I Would Be Good, which - if that description atop this section feels a little too familiar - you should shout along to in your car when traffic is snarled. It's therapy.
Or you could do it during the first hour after a hellish year like 2020 finally bows, as Levy suggested. That I Would Be Good closes with a flute coda. Let's answer our two questions.
Is the soloist in this video actually playing the flute?
After pouring her heart out with the vicious details of how disgusted she's been with the woman in the mirror, Alanis herself grabs a flute and ends her soliloquy with it. VERDICT: Yes.
Does this flute solo slap?
There's nothing wrong with the coda's construction (though if you find and play the live versions of this that don't have MTV production quality behind them, you quickly learn she's not...flute-gifted). The problem is the coda is the closing argument. It's a hammer. Everything from start to flute is phenomenal here; absolutely gut-wrenching. And then it finishes with what sounds like an 8th grade flute recital.
Don Myrick's sax coda closing Phil Collins' One More Night is an example of expert punctuation for a song that rips out the soul and scrambles the organs. That's an A+ coda, but this is a pass/fail class, which is cruel and unmerciful. Just like the mirror's reflection. VERDICT: Does not slap.
THE BOURBON
There is a bourbon for every situation. Sometimes the spirits and the events overlap, which means that where bourbon is concerned there can be more than one worthy choice.
Here we have two bottles of Barrell Cask Strength Bourbon, which is a reliable product from a sturdy distillery. But look closely. The one on the left is definitely lighter than the one on the right.
That's because they come from different batches. Batch 19 is on the left while 24 is on the right. Here's the tale of the tape:
BATCH 19 vs. BATCH 24

| BATCH | BOTTLES | AGE | ALC | PROOF |
| --- | --- | --- | --- | --- |
| 19 | 14,255 | 9.5 | 54.7% | 109.4 |
| 24 | 6,598 | 9 | 56.95% | 113.9 |
Batching is an important process distillers use to fight flavor drift. Basically, it's quality control meets surgery meets consistency. It's probably also super fun mad scientist shit and whoops I'm angry at my guidance counselor again.
Batch 19 is the herbier of the two, and as you can see Barrell made a lot more of it. Imagine mashing your face into a stack of saturated pancakes and huffing rosemary. Batch 24 is a lot fruitier but equally complex; sometimes you pick up what has to be cranberry coffee, but other times it's caramel smeared on sandalwood. That's what batching does. Single barrels would never.
The point is these are just two of dozens of batches that are all unique and yet related because they were built in the same lab. So when you see a bourbon that's described as batched that actually means something - it's part of a story with twists at every turn. As for my favorite Barrell batch, it's 12. Not pictured. Haven't seen it recently.
We might have to tap Barrell back in again this season. Is that foreshadowing? Hey have you guys ever noticed how similar the first halves of the 2014 and 2021 season are? It's spooky!
CLOSING: CATCH US IF YOU CAN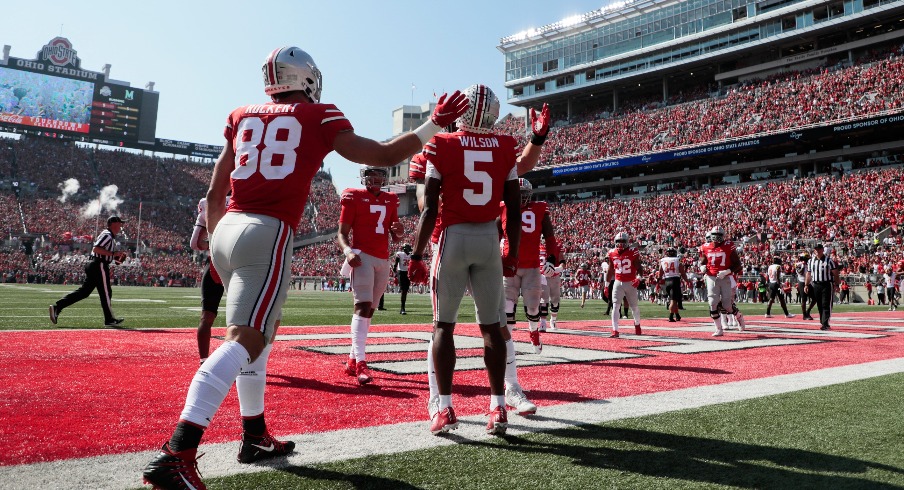 When Ohio State goes four verts as it did numerous times on Saturday against the Terrapins, the defense has to account for Chris Olave, Garrett Wilson and Jaxon Smith-Njigba. There isn't an FBS opponent this season (or in most others) with three DBs good enough.
But you're correct, that's only three of the verts. The fourth could be Emeka Egbuka, Jayden Ballard, Marvin Harrison, Chris Booker or a healthy Julian Fleming. On Saturday, Jeremy Ruckert was the fourth vert a few times. Mitch Rossi was routinely smoking the poor linebacker tasked with shadowing him when he was the fourth vert.
But the surprise reveal in four verts with an offensive line that's been marvelous at keeping its quarterback clean is the tailback, who can stay inside to block for a hot minute and then release into what should be the wide open space of his choosing - since the defenders previously located there vacated them to try and hassle those four verts.
Six games into this season we now expect that to be the freshman Henderson, who has already demonstrated he's the most explosive freshman tailback receiver the Buckeyes have had in ages.
OSU FRESHMAN RB RECEIVING STATS

| FRESHMAN | CATCHES | YARDS | AVG | TD |
| --- | --- | --- | --- | --- |
| ELLIOTT 2013 | 3 | 23 | 7.7 | 1 |
| SAMUEL 2014 | 11 | 95 | 8.6 | 0 |
| WEBER 2016 | 23 | 91 | 3.9 | 0 |
| DOBBINS 2017 | 22 | 135 | 6.1 | 1 |
| HENDERSON 2021 (6 games) | 7 | 154 | 22 | 2 |
Even when Henderson is not the recipient of a pass coming out of that formation - he's only averaging about one per game - he's stealing a defender who is stuck having to account for him on every play when he's on the field.
And he's not even the fourth vert. He's the fifth Beatle. The man behind the curtain of Slobs. The oh shit moment for a defense that's been drawn 25 yards downfield only to notice Henderson has the ball behind the defensive line with absolutely nobody hear him. Or just that one guy accounting for him, and you've seen how that goes (warning, graphic).
Oh, also - Olave is open. So are Wilson and JSN. Yup, Rossi too. Fun offense. It has few peers.
Thanks for getting Situational today. Go Bucks. Beat Bye. Take care of each other.