Ohio State has now played 32 quarters of football this season. It has lost two.
They were the 2nd and 4th quarters of the Florida Atlantic home opener, when the Buckeyes went extremely basic on both sides of the ball with the game out of hand. At the time, we weren't quite sure what to make of it. Lane Kiffin had held serve. Well, kind of.
It was the final day of August, and memories from a mostly unenjoyable 13-1 championship season were still lingering. The Buckeyes flattened the Owls over the first 15 minutes, then let them off the mat for the rest of the afternoon sending many of us into an aw man, not this shit again self loathing. 
Ohio State hasn't lost a quarter since the opening Saturday.
As it turned out, Ryan Day was just using a live game opportunity to take his roster for a spin. FAU was our first glimpse at the new-look Ohio State defense, complete with active linebackers. Nine months earlier, Johnnie Dixon ended the B1G Championship Game with as many tackles as Tuf Borland, and no other linebacker outside of Malik Harrison even registered a statistic. Kiffin winning two quarters didn't quite feel like a big positive shift.
Buckeye fans are just not very good at enjoying flawed victories - but as you've noticed, Ohio State is on a seven-game enjoyable win streak dating back to that FAU home opener.
We are very good and being haunted by bad memories. Twenty-eight days prior to Ohio State's showdown with Wisconsin, the Buckeyes traveled to Lincoln to begin a four-game stretch against B1G West opponents and Michigan State. Fans were understandable skittish, anxious about facing the lesser side of the conference and noted PITA Sparty.
The Buckeyes proceeded to score 172 points in those four games while allowing just 27.
They gave up 21 points in August - all to Kiffin - 22 in September and 20 in October. They haven't scored fewer than 34 in a single game. Ohio State hasn't lost a quarter since that opening Saturday and has been absurdly dominant for the duration.
So rest assured, nervous August selves. It's very much not that shit again. Another bye week has descended upon us. Let's get Situational!
THE SWITCH
Had Urban Meyer returned to Ohio State in 2019, this season he would have passed Bob Reade in winning percentage.
Early next year, we would celebrate his 100th win at Ohio State, moving past Hayden Fry in Big Ten wins and Frank Leahy in winning percentage. One more season and he'd get his 200th career win.
Historical results aren't guarantees of future returns, but Meyer was as bankable as any coach in college football history. So, awkward question - why is this 2019 team firing on every cylinder in his absence? The first reason is because he built nearly all of it.
Meyer was one of the most bloodthirsty, ruthlessly effective recruiters the sport has ever seen, so talent - as usual - not really a problem. The second is that Ryan Day assembled a defensive staff reminiscent of the ones Meyer used to construct earlier in his career, before embarking on too many Friends and Family hiring adventures.
URBAN Meyer was one of the most bloodthirsty, ruthlessly effective recruiters the sport has ever seen.
If you're looking for a third reason, it's that Day is making every bit of use out of the infrastructure he inherited from one of the greatest to ever do it, and he's applied his own lens to winning games and influencing giant adolescents. Every season is its own chapter, which is why Meyer teams don't all run together. Each one was so unique; they were bound by one common element: Winning. It's all Meyer ever did.
Day has now coached 11 games in his career, so it's premature to make comparisons to what his future Hall of Fame predecessor produced in just his final, turbulent season. That 2018 run was wildly unenjoyable right up until its 11th hour, when it suddenly switched. No one saw that coming, despite the fact the most reliable and effective element of Meyer's career - anywhere - was building any given season toward a towering, victorious crescendo.
He lost two November games during his Ohio State career. Day already knows how Buckeye coaches are graded and remembered, and he hasn't coached a game inside of the month where most of that judgement takes place.
And if he happens to forget, he can simply google the name of Jim Tressel's predecessor. Or have coffee with the guy he followed.
THE 1980S SAX SOLO INTERMISSION
Phil Collins' solo career was amplified by two critical events:
the advent of the drum machine, which helped him to innovate as a one-man band and lyricist in his basement - a place he hung out alone in quite often for days at a time, because 
his wife abruptly left him just as he returned home from a lengthy tour, which sent him spiraling into depression and served as the catalyst for his first three non-Genesis albums.
One More Night from No Jacket Required joins just about every song from preceding solo efforts Face Value and Hello, I Must Be Going! in the genre of Divorce And Drum Machine Accompaniment Ditty, aka DAD MAD. This DAD MAD entry happens to include one of the greatest saxophone solos of that decade or any other.
Let's answer our two questions.
Is the soloist in this video actually playing the saxophone?
That's the late Don Myrick from Earth, Wind & Fire closing it out with a wistful, devastating solo which only amplifies the desperate lyrics that preceded it. It wanders into the abyss, after not achieving just one more night which tells the listener that Collins ultimately failed in his quest. Myrick is doing more than just playing the saxophone. He's trained it to speak.
Does this saxophone solo slap?
It's perfect. Thank you eternally, Phil Collins' ex-wife (there have been several of them, but thank you in particular to that one). VERDICT: Slaps, with divorce papers.
THE BOURBON
There is a bourbon for every situation. Sometimes the spirits and the events overlap, which means that where bourbon is concerned there can be more than one worthy choice.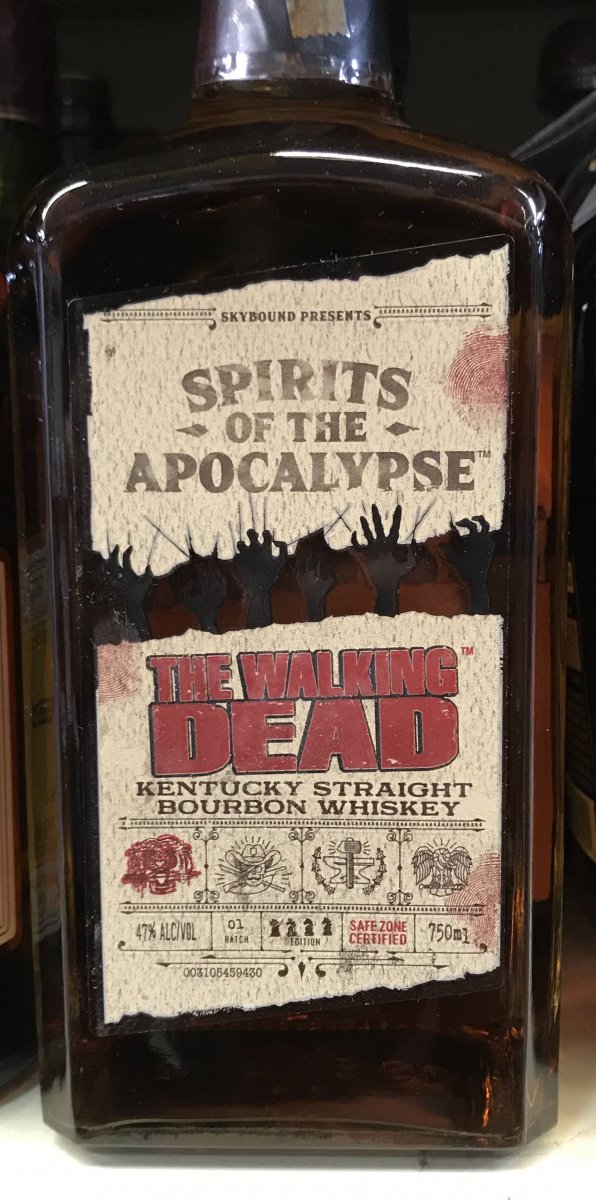 We're into the seventh season of this series which means we've gone through numerous Halloween-themed situationals, from what to sip on while greeting trick-or-treaters to which bourbons pair best with specific candies. You're currently reading an article named for, among other Ohio State things, a horror movie.
But until right now, there hasn't been - to my remembrance - a spookily-themed bourbon.
Spirits of the Apocalypse is a new label issued by booze giant Diageo, which owns everything from Bulleit to Guinness. The Walking Dead, pictured to the right on my local liquor store shelf and priced at $35 appeared to be a Charles Goodnight-caliber gimmick at first glance - until I texted one of my bourbon industry whisperers while staring at it - and he Well Actually'd me into picking it up.
As is the custom with unfamiliar spirits, I buried my face into the glass and inhaled to see how this zombie-themed bourbon presented itself, and the one-word answer to that is nectarines. There's also some minty nutmeg to it, and it's...lovely? I'm not sure what I expected, but this wasn't it. Gimmicks put more effort into bottle cosmetics than what the bottle holds.
I don't know the mash bill or the age but TWD tastes young - which is to say the grains are obvious - and it is spicy, which suggests a decent amount of rye was used. This is a warming bourbon, which makes its late fall release well-timed. The finish reminded me of tres leches.
In the absence of cake, a Three Musketeers bar taxed from a child's trick-or-treating pail or the breakroom at work would suffice. TWD is worth the $35. I have never seen the television show for which it is named. If it's this good, I'll binge-watch it.
SAY SOMETHING NICE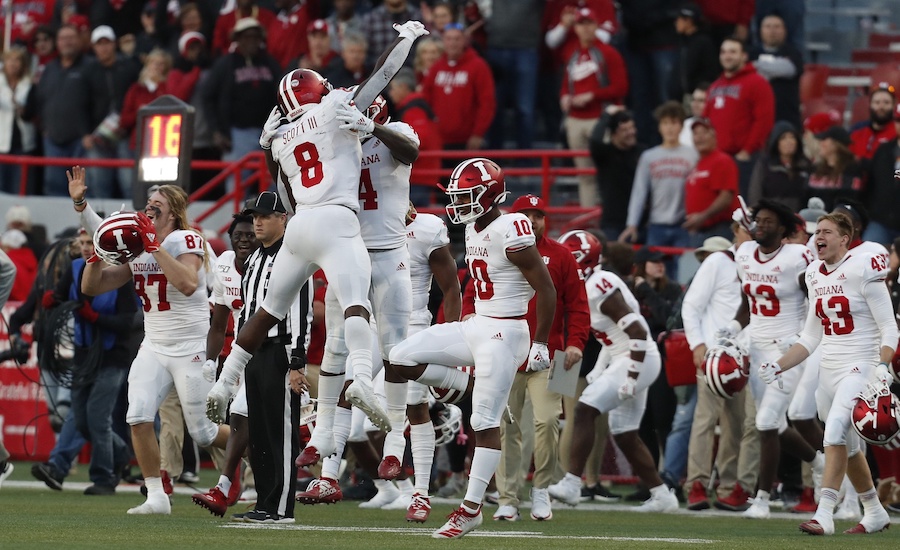 The Indiana Hoosiers gained bowl-eligibility in mid-October.
This has not happened in 26 years, dating back to when I was editing IU football stories for the IDS. Indiana has only been to three bowl games over that span, each clinched at the ends of their respective seasons. Ohio State beat this year's team by 41 points on its own field last month, but it turns out the Hoosiers are quite decent by 2019 standards and trending toward historical greatness by their own.
IU's clinching win came in Lincoln on Saturday, where the blueblood home team wore black jersey alternates; losing at home in cash grab uniforms is a special kind of humiliation in college football. After the game, former 11W beat writer Taylor Lehman reported:
Whop Philyor was asked what Nebraska was saying to the team, in terms of comparing programs and traditions, but he wouldn't elaborate.

"They got what they wanted," he said. #iufb

— Taylor Lehman (@TaylorRLehman) October 28, 2019
Whop, as you might recall from the OSU-IU broadcast is nicknamed for his favorite Burger King sandwich, which in a kind and just world should get the Hoosiers a bowl game on its own. Per Crimson Quarry he's referring to Scott Frost allegedly complaining that Nebraska's crossover meetings with the B1G's better half include too much Buckeye, Nittany Lion and Wolverine and not enough Hoosier.
The Huskers wanted more IU. Well, they got it.
Indiana is in line to win its fourth (!) straight game Saturday when it hosts hapless Northwestern, before getting Penn State, Michigan and its rivalry match with Purdue. Eight wins should be the baseline expectation here, for a program that hasn't had much to expect over the past 26 years.
And as good as the Buckeyes are this year, IU's resurgence is a big part of the reason the East is a hair away from being the FBS' strongest division. That's saying something nice.
Thank you for getting Situational today. Go Bucks. Beat Bye.