"She was the best. If Coach Meyer was created to be a football coach, Miss Shelley was created to be a team mom."
A lot of passengers prefer silence when they're being carted around in an Uber. Years of traveling the world alone have given me great empathy for how isolated life can get when all you have is the road and a radio to keep you company. So I'm happy to return serve with chatty chauffeurs. Loneliness never runs short on inventory.
I was picked up from CMH on Ohio State Homecoming Friday earlier this month by a driver who - after we briefly discussed why I was in town - revealed that he:
had driven Chris Fowler and Kirk Herbstreit around Columbus when they were in town for due diligence prior to their OSU-TCU broadcast
had actually played college football himself!

...for Bowling Green State University, as a receiver
...and that his freshman year roommate was also a receiver
...a walk-on from Dublin, OH
...who happened to be Earle Bruce's grandson
...and he had been invited to BG to walk on by the head coach
...who himself had been hired, twice, by that grandson's grandfather
...which was how he had first gotten his break into college coaching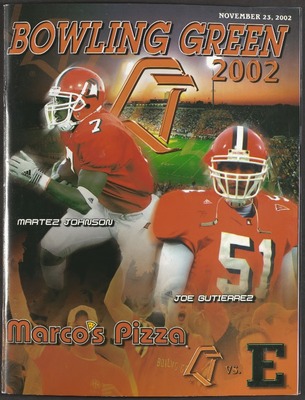 By the time we hit 670 rush hour traffic, he knew about my involvement with this web site ("oh the Eleven Warriors, you guys break absolutely everything!" - I didn't correct him; it wouldn't have been polite) and by the time he dropped me off I knew that on weekends his freshman roommate's high school girlfriend-slash-future-ex-wife would come up to BG to visit, providing him a glimpse into what their shaky relationship would portend in the years that followed college.
Everything is so clear in hindsight. It always is.
There are two points to sharing that story, and the first is that in a lonely, unforgiving world single-serving friends are an underrated life seasoning. The second is this isn't a gossip column, but you deserved appropriate context for the source of the opening quotation above, and also this one right here:
Coach didn't know that much X and O stuff. He wasn't really about the football aspect as much as he was about using that psychology degree to tear us down and build us back up and get us ready. We always played hard and we had guys like Josh Harris. But Coach wasn't the football mind of our staff. That was (Dan Mullen). Coach just got us ready to go and fight.
Mullen followed Meyer from South Bend to Bowling Green to Salt Lake City to Gainesville and coached alongside him for a decade. If you're willing to suspend belief that they never cross-pollinated the skills they each brought to the profession then you're a sucker for confirmation bias and already have your scapegoat for Ohio State's latest and recurring malaise.
But if you subscribe to the first part of what he said - that Meyer's true superpower at BG, and since the beginning of his head coaching career - was the fire that keeps his teams burning angry and hot, then you can arrive at the same destination I have about the current and recurring malaise. 
And that's that the fallout from August 2018 involving that former walk-on receiver whom Meyer invited to Bowling Green 16 years ago as a favor to his grandfather - a favor that was extended and renewed repeatedly until Bruce passed away earlier this year - dampened his superpower, and in August no less, the second-most important month of the football season behind November.
Everything is so clear in hindsight. Tip your drivers. Let's get Situational.
THE RUNDOWN: WEEK 8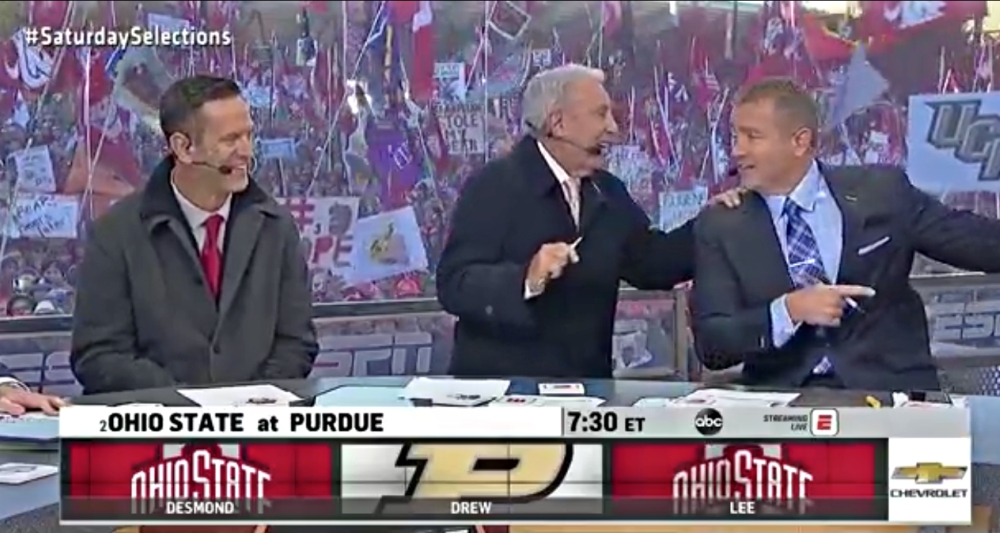 When your team loses by 29 points to a double-digit underdog your reward is postmortem takes hot enough to melt steel beams. Those are the rules online. I have no intention of having my #takes license revoked. Let's go.
11. The offensive line coach from that BG team Meyer coached back from oblivion - his first foray into disaster recovery - was this guy. Those two men go way back. The Buckeyes' current offensive line coach is this guy. Yeah, it's the same guy.
Greg Studrawa has a quarter-century of collegiate OL coaching experience, which on paper makes him one of the most qualified position coaches of all time - and yet his unit is wholly incapable of run-blocking, and almost exclusively against players Ohio State would never stoop to recruit. Sure, scheme is absolutely part of it. But scheme doesn't rack up false starts, commit amateur holding penalties or get turnstiled by 3-star recruits.
Nepotism is the current dirty word that we're now empowered to say without whispering in a post-Zach Smith coaching continuum. Stud is not a nepotism case, but history can be just as blinding as family ties and mentor loyalty.
6. DV allegations aside, it's evident Urban's nepotism heavily influenced his management. His inability to act on red flags due to personal relationships was dangerous, it warrants punishment. His best friend and son in law remain on his staff, he can't just have "blind spots."

— Elika Sadeghi (@steakNstiffarms) August 24, 2018
You know what else can blur judgement? Tenure.
Tenure is how Penn State tolerated late-stage pre-Sandusky revelation Joe Paterno living like the Queen of England in State College for a dozen years, only showing up for big events and mumbling incoherently at his shadow. Meyer is not abusing tenure, but Stud isn't exactly making the case for meritocracy, especially while his deposed predecessor is over-performing in Ann Arbor.
Best Man Bill™ Davis is not a tenure case, despite his decades-long resumé. But he had never coached college linebackers in his life prior to Ohio State hiring him. Davis' top qualification was being Urban's best friend. Otherwise, journeyman NFL position coach who who racked up lateral moves might have gotten a courtesy interview. It will be interesting to see what if any kind of corrective action the head coach puts into upgrading these units in light of his infrequent but conspicuous Friends and Family hiring practices.
By the way, if you'd like an analogue to the maddeningly up-and-down 2018 Slobs, take look back at LSU's offensive line from 2014. It was coached by this guy.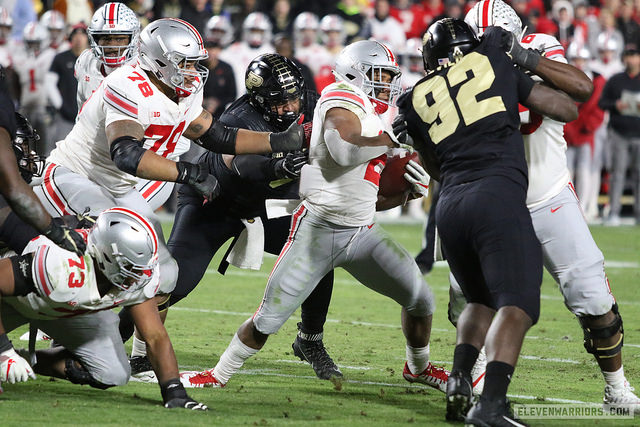 10. The Buckeyes are unable to run the football with even the slightest hint of competence, and this is not a glitch. A glitch lasts a game or two. This is a feature. Having no running game whatsoever means the football team you've been watching is masquerading in Ohio State's uniforms pretending to be something it's not.
From offense to defense, this team is a bad caricature of Texas Tech but with significantly higher operating costs. If you've been trying to put your finger on why something has felt off throughout a 7-1 campaign, here's what you can do with that finger:
Point. Now extend your thumb too
Do that with your other hand
Raise your arms and point your finger gunz up in the air
Go Scarlet Raiders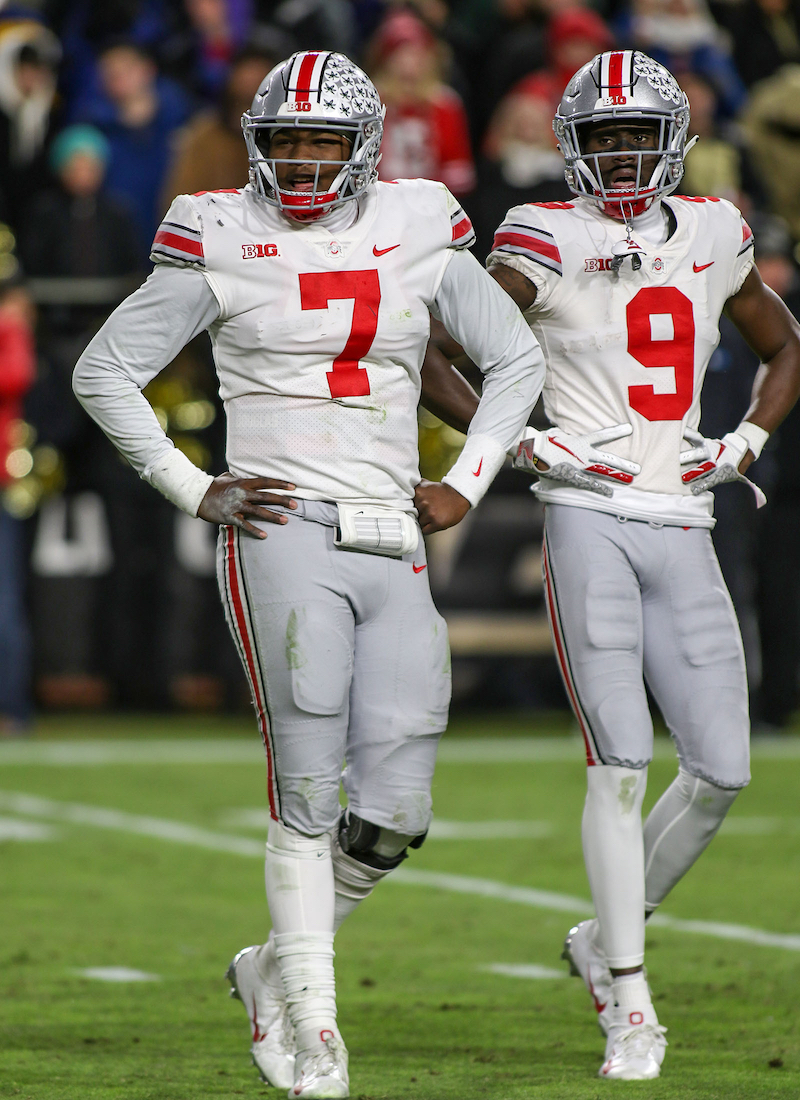 9. Dwayne Haskins is not only not a runner, he's barely mobile at all - which like the running game, is also not a glitch. His scramble against Michigan last season amidst his heroics in relief defies every observation since. Todd Boeckman ran like a gazelle by comparison.
As we've all seen, this is a major part of the reason why Mike Weber and J.K. Dobbins can barely get past the line of scrimmage anymore - Ohio State is still deploying an offense out of formations predicated on the quarterback being a viable rushing option.
This weekly self-own gives defenses an extra man as well as an extra step every time the Buckeyes try to run the ball. They're making it easier for opponents by handicapping themselves, and it's entirely fixable - the only question is if they're too arrogant to concede and make a conspicuous philosophical shift before they play Nebraska. Who is going to be this staff's Dan Mullen?
If they fix this and Ohio State starts rushing the ball competently and ferociously as it always should - the goodwill toward this team's potential and worthiness will blossom with haste.
8. The Buckeyes are also supposed to have a ferocious, technically-sound defensive back seven.
They're supposed to have linebackers who are everywhere, flying around and leading the team in tackles in every game. Defensive backs and safeties that in the pre-targeting era would turn out your lights without the slightest hint of guilt. These are requirements. They're the law. Ohio State is breaking the law.
As we've seen all season, Expensive Texas Tech has catastrophic issues on that side of the ball. This year's team is unrecognizable to virtually every one of its predecessors. Even the disappointing editions looked like Ohio State. They just weren't very good at executing the script.
7. If the NCAA decides to invent a new penalty this week in its secret lab of unending shittiness, this Ohio State team will feverishly work on perfecting it during the bye and then get flagged four times against Nebraska. Defensive Lineman Literally Cartwheeling into a Punter is now a real sentence that happened, and if your healing process hasn't allowed you to enjoy it yet, the GIF above is for you.
That penalty barely makes the top ten through the first eight games. That's what 2018 is like. When you're taking delay-of-game penalties before 2-point conversion attempts, you're just raising the bar.
This is the stupidest team Ive ever seen in my life.

— Ramzy Nasrallah (@ramzy) October 21, 2018
You've probably blocked out much of West Lafayette, but let's take a moment to remember the Buckeyes' first two offensive plays of the game:
1st & 10 at OSU 23: Penalty, false start

1st & 15 at OSU 18: Penalty, illegal formation
Two offensive penalties before they gained a single yard while running scripted plays in the eighth game of the season against a .500 team. At some point it stops being sports and becomes performance art. On Saturday that happened in the opening seconds.
From obvious holding penalties to defensive backs refusing to look back toward an incoming pass while committing interference in plain sight, Ohio State celebrates the entire yellow hanky catalog. They're 119th in the FBS in penalties currently, and if you're blaming the refs for hatin' on your team, may I recommend to you my new favorite song Defensive Lineman Literally Cartwheeling into a Punter by Davon Hamilton.
I adore this wildly talented and viciously stupid team

— Ramzy Nasrallah (@ramzy) October 6, 2018
Thick and thin, comrades. Love is stronger than hate. Every football season is worth savoring.
6. Each week Ohio State's best-in-class social media and promotions team produces dynamic, clicky content capturing and promoting the Buckeyes on the field, steeped in tradition and excellence. It's gotten to the point where their content is so well done we feature it on the site while we're still viewing it ourselves for the first time - it's that reliable.
I'm old enough to remember fan-produced hype videos set to queefcore rock or homeless-grade trap music owning all of the market share in this entertainment category. Those were driven into irrelevance by the OSU digital empire, and we're all better for it.
MEYER'S SLUMPING sideline demeanor DOES NOT MATCH the fiErY LOCKER ROOM FOOTAGE WE SEE IN OHIO STATE'S OWN HYPE VIDEOS.
Buckeye football is a machine with as much glorious traveled road behind it as it has runway ahead of it, precisely the image it wants to portray not only for fans but to impressionable and talented teenagers. It's a tireless digital effort producing precisely what is intended.
And then each Saturday, the Hall of Fame head coach of that high-flying program carries himself on the sideline with the demeanor of a broken man being eaten alive by his own anxiety, whether his defensive lineman is gloriously cartwheeling into a punter or his record-breaking quarterback is tossing another scoring rope into the endzone.
To quote Gandhi from back when he was on the corporate lecture circuit preaching about the consequences of negative body language: that shit is hella contagious. Perhaps Meyer should watch the videos his own digital team is producing. It would be a healthy step in the right direction if his sideline demeanor matched the fire he spits in the locker room on YouTube.
HALFTIME: THE BOURBON
There is a bourbon for every situation. Sometimes the spirits and the events overlap, which means that where bourbon is concerned there can be more than one worthy choice.
Halloween is next week. You should be prepared.
THE SITUATIONAL GUIDE TO HALLOWEEN CANDY-BOURBON PAIRING

| CANDY | BOURBON | RATIONALE/DIRECTIONS |
| --- | --- | --- |
| REESE'S CUPS | Makers Mark | Let's be honest, you could pair Reese's Cups with an emergency appendectomy and they would still rule. |
| SNICKERS | Jim Beam Devil's Cut | DC's richness helps the nougat and peanuts pop. WARNING this combo will give you superhuman strength |
| APPLES CONTAINING RAZOR BLADES | Old Granddad, because he started the rumor that this kind of urban myth actually happens | 1. Call the imaginary police 2. Remove the imaginary razor blades 3. Make apple pie bourbon with real apples |
| SKITTLES | Lexington | You need a bourbon to stay out of the way. Skittles shine. Lexington keeps a low profile. |
| M&MS | Evan Williams Single Barrel | Neutral milk chocolate only needs a modest boost. Also, you'll have a new cavity before you finish the bag. Back left side of your mouth.  |
| STARBURST | Basil Hayden | Shhhh Basil is just slightly more expensive Lexington. Same rationale as Skittles. Starbursts are the main event. |
| CANDY CORN | Kentucky Gentleman | Because bullshit candy deserves a bullshit bourbon. |
| TWIX | Jefferson's Small Batch | This is a god mode combination. For best results, don't wear pants either. |
| KIT KATS | 1792 | Kit Kats are more texture than flavor, and 1792 gives it a modest lift. |
| Bubble GUM | N/A nope nope nope | This is your moment, vodka drinkers. |
| BUTTERFINGER | Larceny | The rule is wheated bourbon for peanut butter-based candy. Same reason Makers is paired with Reese's Cups. Trust the science. |
| TAFFY | Knob Creek | Taffy needs help and Knob is spicy enough for the job. |
| HOT TAMALES | Early Times | Make Fireball from scratch. |
Please remember to consume your children's Halloween candy responsibly. 
THE WALK-UP: WEEK NINE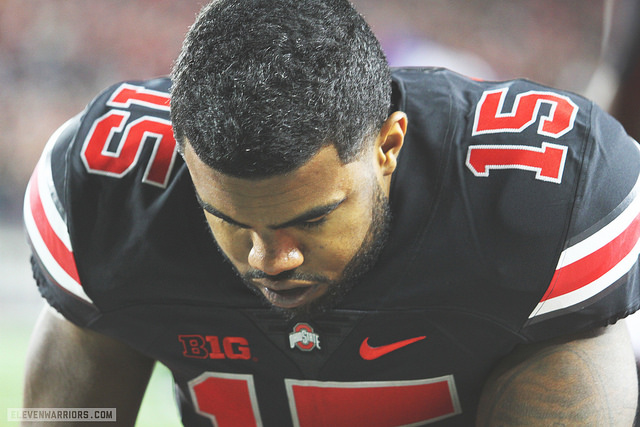 4. The blackout that arrives when Ohio State takes the field in a week and a half appears to be the most tepid attempt at uniform hyping in the Buckeye Alt Uni era. It also began in the aftermath of the loss to Purdue [trombone.wav] which created the narrowest possible retail window at a low point for consumer enthusiasm. 
October 22, 2018
In a season where everything has felt damp since the Bad August Surprise, it's just a curious route to take with a promotion the university has leaned into since it began in 2009. Even in the throes of Tatgate during Luke Fickell's interim year they made a big deal about their alternate uniform outing. Last season they wore two of them. Makes you think.
3. Speaking of the Nebraska game, you should come to Eleven Dubgate 8 Presented by Buffalo Wild Wings on Nov 3, and if you haven't exercised your right to vote yet, please do so by choosing which hot dogs Dirty Frank's will be serving up for us that day (tubesteak descriptions and candidates are here).
Thank you for voting. See you at the Dubgate.
2. Is this it for Meyer? Man, I get get these texts every day from people I haven't heard from in years, people who casually follow sports and people who I don't even have programmed in my phone (wtf man, who are you and how did you get my number). I'm sticking with no. Urban is not going out like this. Legacy matters way too much to him.
1. The best Ohio State-related Twitter account in 2018 is Buckeyes Brasil. If you're seeking context for the Portuguese joy and pain below, check the dates and times.
Tivemos j 19 snaps ofensivos, o QB no correu nenhuma vez, j uma grande diferena em comparao a Era Barrett

— Buckeyes Brasil (@OhioStateBrasil) September 1, 2018
Com um passe de 51 jardas de Tate Martell para McLaurin, aumentamos nosso placar para 28x0 pic.twitter.com/Wnfw9Tt6nB

— Buckeyes Brasil (@OhioStateBrasil) September 8, 2018
E esse HYPEEEEE!!! pic.twitter.com/fLkCvSiBEh

— Buckeyes Brasil (@OhioStateBrasil) September 12, 2018
DRE'MONT JONES SALVANDO O DIA

— Buckeyes Brasil (@OhioStateBrasil) September 16, 2018
KJ HILL EU TE AMO

— Buckeyes Brasil (@OhioStateBrasil) September 30, 2018
vamos para o punt pic.twitter.com/4vuRXneyBC

— Buckeyes Brasil (@OhioStateBrasil) October 13, 2018
And that brings us to the Purdue game.
MAIS UMA PENALIDADE PARA OSU

— Buckeyes Brasil (@OhioStateBrasil) October 21, 2018
FUDEU GERAL GALERA

— Buckeyes Brasil (@OhioStateBrasil) October 21, 2018
T perdendo por 22 pontos? Pois POUCO. Precisa perder de 50 pra ver que zona est esse time inteiro, que esses treinadores assistentes no prestam? Reforma geral j!

— Buckeyes Brasil (@OhioStateBrasil) October 21, 2018
pick 6 contra OSU. PARABNS SEUS PIPOCAS

— Buckeyes Brasil (@OhioStateBrasil) October 21, 2018
HAHAHAHAHAHAHAHAHA IDIOTAS

— Buckeyes Brasil (@OhioStateBrasil) October 21, 2018
the grand finale, em ingles:
THANK GOD WE'RE A BASKETBALL SCHOOL! pic.twitter.com/8exdATtHaU

— Buckeyes Brasil (@OhioStateBrasil) October 21, 2018
Thank you for getting Situational today. Go Bucks.