In the early minutes of Ohio State's season opener against Florida Atlantic on Saturday, it looked as though the Buckeyes would be able to clear their bench by the end of the game.
With a 28-0 lead just eight minutes and 10 seconds into Saturday's game, Ohio State appeared to be well on its way to a blowout victory over FAU, which would have opened the door to extended playing time for the Buckeyes' backups. Instead, the Owls ended up outscoring the Buckeyes for the remainder of the game, and most of Ohio State's starters ended up playing into the fourth quarter of the contest, which the home team ultimately won 45-21.
Even so, a total of 71 Buckeyes – the exact same number as last year's season opener –saw snaps in Saturday's game between offense, defense and special teams, including seven true freshmen and several other players who made their scarlet and gray debuts as Ohio State opened its season in the Shoe.
We take a look at how much playing time each of those Buckeyes received and what roles they played in the season opener in the season's first edition of Snap Counts.
All snap counts were compiled by Eleven Warriors and should be considered unofficial.
Quarterbacks
Justin Fields: 73
Chris Chugunov: 5
In his first game as Ohio State's quarterback, Fields played every offensive snap until the last series of the game, when the Buckeyes took all of their starters out of the lineup. Chugunov received the nod over fellow backup quarterback Gunnar Hoak, who was available to play, to finish out the game with the second-team offense.
Running Backs
J.K. Dobbins: 49
Master Teague: 18
Demario McCall: 6
Marcus Crowley: 5
As expected, Dobbins played the majority of snaps at running back with the first-team offense. He took the field for all but five snaps in the first half and continued to see playing time in the fourth quarter as the Buckeyes' primary ballcarrier.
McCall was the only other running back to see playing time in the first half of Saturday's game, but he never played more than three offensive snaps at a time in the season opener, and on three occasions checked in for just one play. 
Teague did not play until the second half of Saturday's game, but he was given the opportunity to carry the load for one series in the third quarter and one series in the fourth quarter – both of which ended with the Buckeyes putting points up on the board (one touchdown, one field goal).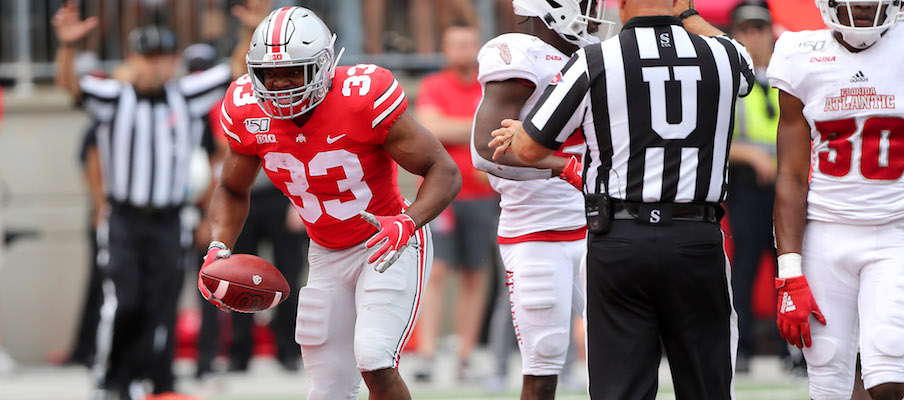 Crowley entered the game for Ohio State's final offensive possession and carried the ball four times for 27 yards in just five plays.
Wide Receivers
K.J. Hill: 45
Binjimen Victor: 41
Chris Olave: 41
Austin Mack: 30
Garrett Wilson: 29
Jaelen Gill: 6
Jaylen Harris: 5
Jameson Williams: 5
Ellijah Gardner: 2
Xavier Johnson: Special teams only
More multi-tight end sets (more to come on that) meant less three-receiver sets in Saturday's season opener, but when the Buckeyes did have three receivers on the field, Hill was the slot receiver for the vast majority of plays. Gill also saw six snaps at the H-back position, but only two of those came before the final offensive series. Mack also moved inside to the slot for a three-play sequence.
Mack started the game at Z receiver opposite Victor at X receiver, but Olave ended up playing a majority of plays – and leading the Buckeyes with five receptions for 68 yards – at the Z spot. Gardiner checked into the game for two snaps at that position, while Williams came on for the game's final five plays.
Wilson rotated in with Victor over the course of the game at X receiver – and played the most snaps among all true freshmen for the Buckeyes in the process – while Harris played the final series at that position.
Tight Ends
Luke Farrell: 53
Jeremy Ruckert: 34
Jake Hausmann: 16
Brock Davin: 2
Mitch Rossi: 2
Derrick Malone: 1
Ohio State lined up with two tight ends on the field for 22 offensive snaps and three tight ends on the field for four offensive plays in Saturday's game, and all three scholarship tight ends who were available to play were beneficiaries of substantial playing time as a result.
Farrell started the game and played 53 snaps, marking the seventh time in eight games dating back to last season that he has played at least 50 snaps. Ruckert, who played just 129 offensive snaps in 2018 as a true freshman, saw career-high playing time. Hausmann, who played just 11 offensive snaps in 2018, played more snaps than last season in Saturday's game alone.
Davin, Rossi and Malone, all walk-ons, each saw playing time on the Buckeyes' final possession of the game.
Offensive Linemen
Jonah Jackson: 73
Josh Myers: 73
Wyatt Davis: 73
Branden Bowen: 63
Thayer Munford: 54
Joshua Alabi: 24
Nicholas Petit-Frere: 15
Gavin Cupp: 5
Harry Miller: 5
Matthew Jones: 5
Kevin Woidke: Special teams only
All three starting interior offensive linemen – Jackson at left guard, Myers at center and Davis at right guard – played every offensive snap of Saturday's game until the final possession, when they were replaced by the second-team lineup of Jones at left guard, Miller at center and Cupp at right guard.
Bowen started and played every snap at right tackle until the final two offensive possessions, which Petit-Frere played in his place. Munford started at left tackle but was replaced by Alabi – who split first-team reps with Munford throughout preseason camp after Munford was sidelined while recovering from back surgery for most of the offseason – for two possessions in the first and second quarter as well as the game's final two series. 
Defensive Ends
Chase Young: 42
Javontae Jean-Baptiste: 33
Jashon Cornell: 32
Zach Harrison: 24
Alex Williams: 14
Noah Potter: 8
Aaron Cox: 6
With Jonathon Cooper, Tyreke Smith and Tyler Friday all sidelined by undisclosed injuries, Cornell started opposite Young at defensive end. Cornell also played three snaps at defensive tackle, where he's expected to play primarily this season once the injured defensive ends are healthy, but played primarily on the edge as he did last season.
Jean-Baptiste and Harrison saw the most playing time in the defensive end rotation behind the starters, with Jean-Baptiste actually finishing the game with one more snap played than Cornell. Williams played one series with the first-team defense in the third quarter and also checked in for the Buckeyes' second-to-last defensive series of the game. Potter played two snaps alongside first-teamers in the third quarter, then played opposite Cox – a walk-on – for the Buckeyes' final defensive series of the game.
With many of their more experienced defensive ends out – Jean-Baptiste, Harrison, Williams and Potter were all playing in their first games as Buckeyes on Saturday – Ohio State did not deploy a Rushmen package in the season opener.
Defensive Tackles
Haskell Garrett: 35
Tommy Togiai: 29
Davon Hamilton: 26
Robert Landers: 25
Antwuan Jackson: 18
Jerron Cage: 14
Zaid Hamdan: 6
Hamilton, who rotated with Landers at the nose tackle position throughout the 2018 season, shifted over to the 3-technique defensive tackle position to start alongside Landers on Saturday. 
The Buckeyes continued to play a deep defensive tackle rotation on Saturday, even with Cornell at defensive end and Taron Vincent unavailable, and second-team 3-technique Garrett and nose tackle Togiai ended up playing slightly more snaps than the starters. Jackson also mixed in for playing time throughout the game as the third-team nose tackle, while Cage saw his share of playing time in the second half at the 3-technique spot. Hamdan, a walk-on, checked in for the Buckeyes' final defensive series at nose tackle.
Linebackers
Pete Werner: 60
Malik Harrison: 53
Tuf Borland: 36
Baron Browning: 36
Teradja Mitchell: 25
Jahsen Wint: 19
Dallas Gant: 6
K'Vaughan Pope: Special teams only
Craig Young: Special teams only
Werner played all but three of the Buckeyes' first 63 defensive snaps in Saturday's game, as he was the only player to line up at the strongside linebacker position with the first-team defense. Wint, who also saw four snaps at bullet with the first-team defense, replaced Werner in the lineup at Sam linebacker for Ohio State's final two defensive series.
Borland started the game at middle linebacker, but Browning ended up playing the same number of snaps over the course of the game. Harrison started at weakside linebacker, while Mitchell rotated in for some playing time at that spot, mostly in the second half. All four of them played at least one snap at both the Mike and Will linebacker positions, which are considered to be interchangeable in Ohio State's new defense, in Saturday's game. 
Gant checked into the lineup for the Buckeyes' final defensive series at weakside linebacker, with Mitchell playing alongside him at middle linebacker.
Cornerbacks
Jeff Okudah: 63
Damon Arnette: 61
Sevyn Banks: 17
Cameron Brown: 15
Okudah played every snap at cornerback until the final two defensive series of the game, while Arnette did the same with the exception of a pair of plays in the third quarter on which Banks briefly took his place in the lineup. Banks and Brown finished out the game as the Buckeyes' outside cornerbacks for the final two defensive series of the afternoon.
Slot Cornerbacks/Bullets
Shaun Wade: 42
Brendon White: 19
Marcus Williamson: 7
Amir Riep: 6
While they are different players with distinct skill sets, Wade and White spent most of Saturday's game substituting in and out of the lineup for each other as the fourth defensive back in the Buckeyes' 4-3 defense. 
White, who is playing a safety-linebacker hybrid role this season at the new bullet position in Ohio State's defense, was in the starting lineup for Saturday's game. Wade, who plays primarily as a slot cornerback, ended up playing more than twice as many snaps as White over the course of the game, though.
Williamson entered the lineup to play slot cornerback for Ohio State's second-to-last defensive series of the game, while Riep finished out the game as the fourth defensive back for the Buckeyes on FAU's final possession.
Safeties
Jordan Fuller: 61
Isaiah Pryor: 12
Josh Proctor: 6
Marcus Hooker: Special teams only
With the exception of two punt returns for which the rest of the defense stayed on the field, Fuller played every snap until the Buckeyes' final two defensive series of Saturday's game. 
For most of those plays, Fuller lined up as the only deep safety on the field, though Pryor joined him as a second safety in the Buckeyes' nickel defense for three third-down plays. Pryor replaced Fuller in the lineup as the Buckeyes' deep safety for their second-to-last defensive series of the game.
Proctor's only playing time on defense came on FAU's final drive of the game, but he took advantage of it, showing excellent range to make a diving deep-ball interception on Ohio State's final defensive play of the contest.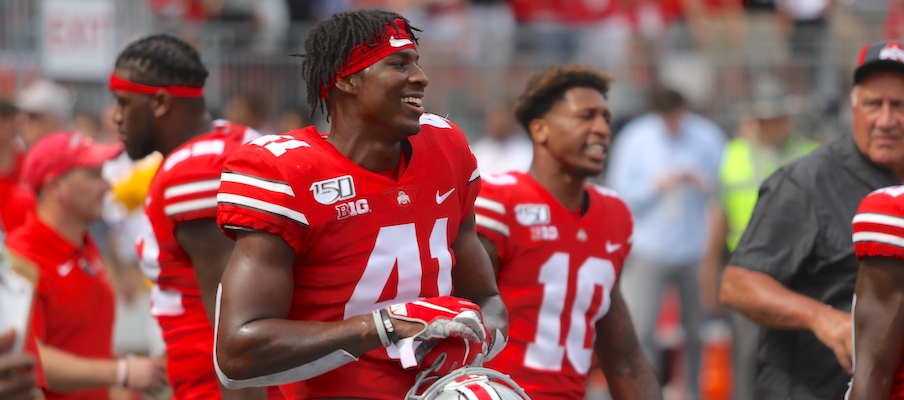 Field Goals/Extra Points
Blake Haubeil (kicker)
Drue Chrisman (holder)
Liam McCullough (long snapper)
Luke Farrell (blocker)
Joshua Alabi (blocker)
Wyatt Davis (blocker)
Gavin Cupp (blocker)
Jerron Cage (blocker)
Nicholas Petit-Frere (blocker)
Kevin Woidke (blocker)
Jake Hausmann (blocker)
Ohio State's battery of specialists remain the same as last season, with McCullough snapping, Chrisman punting and holding and Haubeil kicking. Farrell, Alabi, Davis, Cupp and Woidke are also all holdovers on the field goal unit from last season as blockers up front. Cage, Petit-Frere and Hausmann were all new additions to the placekicking unit on Saturday, replacing Hamilton, Myers and Rashod Berry (who was unavailable to play in Saturday's game), respectively.
Kickoffs
Blake Haubeil (kicker)
Baron Browning or K'Vaughan Pope (gunner)
Brendon White or Cameron Brown or Xavier Johnson (gunner)
Jahsen Wint (gunner)
Marcus Williamson or Marcus Hooker (gunner)
Josh Proctor (gunner)
Dallas Gant (gunner)
Ellijah Gardiner (gunner)
Amir Riep or Craig Young (gunner)
K.J. Hill or Chris Olave or Garrett Wilson or Amir Riep (gunner)
Isaiah Pryor (gunner)
To go along with Haubeil kicking off for the third year in a row, returning members of the kickoff coverage unit from last season include Browning, Wint, Proctor, Gardiner, Riep, Pryor, Hill and Olave. Gant, Pope, Williamson, Hooker, White and Brown are also players who have seen snaps on the kickoff team in the past. New additions in kickoff coverage for the season opener included Wilson and Young, both true freshmen, and Johnson, a walk-on who has bounced between several positions in his first two years at Ohio State but has established himself as a regular on special teams.
Kickoff Returns
Demario McCall or Chris Olave (returner)
K.J. Hill (blocker)
Xavier Johnson (blocker)
Mitch Rossi (blocker)
Jake Hausmann (blocker)
Dallas Gant (blocker)
Josh Proctor (blocker)
Jaylen Harris (blocker)
Chris Olave or Brendon White or Ellijah Gardiner (blocker)
Marcus Williamson (blocker)
Isaiah Pryor (blocker)
McCall, who finished last season as Ohio State's lead kickoff returner, lined up as the deep return man for all but one of FAU's kickoffs on Saturday, and he returned two of them for a combined 52 yards. The only other Buckeye to return a kickoff on Saturday was Olave, who gained 15 yards on his lone kickoff return but was also on the field as a blocker for at least one other kickoff return.
Returning members of last year's kickoff return unit who reprised their roles as blockers for Saturday's season opener included Gant, Hausmann and Proctor. Brand new additions to the unit included Harris and walk-ons Johnson and Rossi.
Punts
Drue Chrisman (punter)
Liam McCullough (long snapper)
Tuf Borland (upback)
Teradja Mitchell (upback)
Luke Farrell (upback/wing)
Dallas Gant (guard)
Malik Harrison (guard)
Jordan Fuller (tackle)
Isaiah Pryor (tackle/gunner)
Chris Olave (gunner)
Ellijah Gardiner or Cameron Brown (gunner)
Many members of the punting unit who took the field for the Buckeyes on Saturday played the same roles last season, including Borland and Mitchell as Chrisman's backfield protectors and Harrison and Pryor up front. 
Olave, who saw some snaps on the punting unit as a gunner last year, appears to have succeeded Terry McLaurin as the Buckeyes' top gunner to start this season. Gardiner and Brown both saw snaps in the other gunner spot opposite Olave.
Punt Returns/Blocks
DeMario McCall or K.J. Hill (returner)
Damon Arnette (rusher/blocker)
Xavier Johnson (rusher/blocker)
Sevyn Banks (rusher/blocker)
Chris Olave or Jameson Williams (rusher/blocker)
Dallas Gant (rusher/blocker)
Marcus Williamson (rusher/blocker)
Jahsen Wint (rusher/blocker)
Isaiah Pryor (rusher/blocker)
Josh Proctor (rusher/blocker)
Jeremy Ruckert (rusher/blocker)
McCall, who began last season as the Buckeyes' lead punt returner before ceding that role to Hill, was deployed deep for all but two of FAU's punts on Saturday and returned a pair of them for a combined 40 yards. Hill was also given the opportunity to return two punts, but gained just 13 combined yards on his returns. Williams replaced Olave in the lineup for four FAU punts to earn his first playing time as a true freshman Buckeye.
Returning players on the punt return/block unit for Saturday's game who were also regulars on that unit last season included Arnette, Banks, Olave, Wint and Proctor.
SNAP TRACKER: OFFENSE

| POS | PLAYER | FAU |
| --- | --- | --- |
| QB | JUSTIN FIELDS | 73 |
| QB | CHRIS CHUGUNOV | 5 |
| RB | J.K. DOBBINS | 49 |
| RB | MASTER TEAGUE III | 18 |
| RB | DEMARIO MCCALL | 6 |
| RB | MARCUS CROWLEY | 5 |
| WR | K.J. HILL | 45 |
| WR | BINJIMEN VICTOR | 41 |
| WR | CHRIS OLAVE | 41 |
| WR | AUSTIN MACK | 30 |
| WR | GARRETT WILSON | 29 |
| WR | JAELEN GILL | 6 |
| WR | JAYLEN HARRIS | 5 |
| WR | JAMESON WILLIAMS | 5 |
| WR | ELLIJAH GARDNER | 2 |
| WR | XAVIER JOHNSON | ST |
| TE | LUKE FARRELL | 53 |
| TE | JEREMY RUCKERT | 34 |
| TE | JAKE HAUSMANN | 16 |
| TE | BROCK DAVIN | 2 |
| TE | MITCH ROSSI | 2 |
| TE | DERRICK MALONE | 1 |
| OL | WYATT DAVIS | 73 |
| OL | JONAH JACKSON | 73 |
| OL | JOSH MYERS | 73 |
| OL | BRANDEN BOWEN | 63 |
| OL | THAYER MUNFORD | 54 |
| OL | JOSHUA ALABI | 24 |
| OL | NICHOLAS PETIT-FRERE | 15 |
| OL | GAVIN CUPP | 5 |
| OL | MATTHEW JONES | 5 |
| OL | HARRY MILLER | 5 |
| OL | KEVIN WOIDKE | ST |
| K | BLAKE HAUBEIL | ST |
SNAP TRACKER: DEFENSE

| POS | PLAYER | FAU |
| --- | --- | --- |
| DE | CHASE YOUNG | 42 |
| DE | JAVONTAE JEAN-BAPTISTE | 33 |
| DE/DT | JASHON CORNELL | 32 |
| DE | ZACH HARRISON | 24 |
| DE | ALEX WILLIAMS | 14 |
| DE | NOAH POTTER | 8 |
| DE | AARON COX | 6 |
| DT | HASKELL GARRETT | 36 |
| DT | TOMMY TOGIAI | 29 |
| DT | DAVON HAMILTON | 26 |
| DT | ROBERT LANDERS | 25 |
| DT | ANTWUAN JACKSON | 18 |
| DT | JERRON CAGE | 14 |
| DT | ZAID HAMDAN | 6 |
| LB | PETE WERNER | 60 |
| LB | MALIK HARRISON | 53 |
| LB | TUF BORLAND | 36 |
| LB | BARON BROWNING | 36 |
| LB | TERADJA MITCHELL | 25 |
| LB/S | JAHSEN WINT | 19 |
| LB | DALLAS GANT | 6 |
| LB | K'VAUGHAN POPE | ST |
| LB | CRAIG YOUNG | ST |
| CB | JEFF OKUDAH | 63 |
| CB | DAMON ARNETTE | 61 |
| CB | SHAUN WADE | 42 |
| CB | SEVYN BANKS | 17 |
| CB | CAMERON BROWN | 15 |
| CB | MARCUS WILLIAMSON | 7 |
| CB | AMIR RIEP | 6 |
| S | JORDAN FULLER | 61 |
| S/LB | BRENDON WHITE | 19 |
| S | ISAIAH PRYOR | 12 |
| S | JOSH PROCTOR | 6 |
| S | MARCUS HOOKER | ST |
| P | DRUE CHRISMAN | ST |
| LS | LIAM MCCULLOUGH | ST |