With the first game of the season now in the books, we should now have a better idea of which Ohio State players will see the most playing time this season – and conversely, which Buckeyes might have to continue to wait their turn.
A total of 71 Ohio State players – some much more than others, but all for at least one play on offense, defense and/or special teams – saw the field in the Buckeyes' season opener against Oregon State on Saturday, as their 77-31 victory over the Beavers gave them the opportunity to get many of their backups some playing time in the first game of the season.
While the Buckeyes continued to play some of their starters into the early fourth quarter – in part because the Beavers had a 17-point third quarter that kept Ohio State from building a completely insurmountable lead until the final frame – and went deeper into their rotations at some positions than others, Saturday was an opportunity to see how their pecking orders stack up at each position and to see a multitude of players in the first or most significant snaps in their careers.
As we did throughout last season, Eleven Warriors will take a look at how many snaps each Ohio State player plays in each game in our weekly Snap Counts series.
Once again, all snap counts listed should be considered unofficial, as Ohio State does not make its official snap counts public. It is not always possible to see all 11 players on the field from TV broadcast angles, particularly on special teams plays, so exact special teams snap counts are not included and offensive and defensive snap counts could potentially differ from those tracked by Ohio State's coaches.
Undeterred, here's our first report of the season on how much each Buckeye played in the first game of the year.
Quarterbacks
Dwayne Haskins: 68
Tate Martell: 20
With the exception of the first two snaps of the Buckeyes' fifth possession of the game, Haskins took all the snaps with the first-team offense on Saturday, while the rest of Martell's snaps came with the second-team offense – mostly in the fourth quarter, with the exception of one series in the second quarter. Martell could potentially earn an increased role with the first-team offense as the season progresses, but the offense was clearly at its best when Haskins – the Big Ten Offensive Player of the Week – was on the field Saturday.
Running Backs
J.K. Dobbins: 38
Mike Weber: 34
Brian Snead: 11
Master Teague: 7
Although Weber stole the show on Saturday, running the ball 20 times for 186 yards and three touchdowns and also catching a 3-yard touchdown pass, Dobbins actually started the game and played slightly more snaps – but ultimately, playing time was shared about as evenly as possible between them, with the two backs mostly alternating series, as was the case when Weber was healthy last season, and will likely continue to be the case as long as both backs are healthy this season.
Snead and Teague, both true freshmen, got their opportunity to make their debuts when the second-team offense was in the game, and both capped their playing time with touchdown runs. Snead was in for the first two of three series behind the Buckeyes' backup offensive line, while Teague checked in for Ohio State's final offensive possession of the game.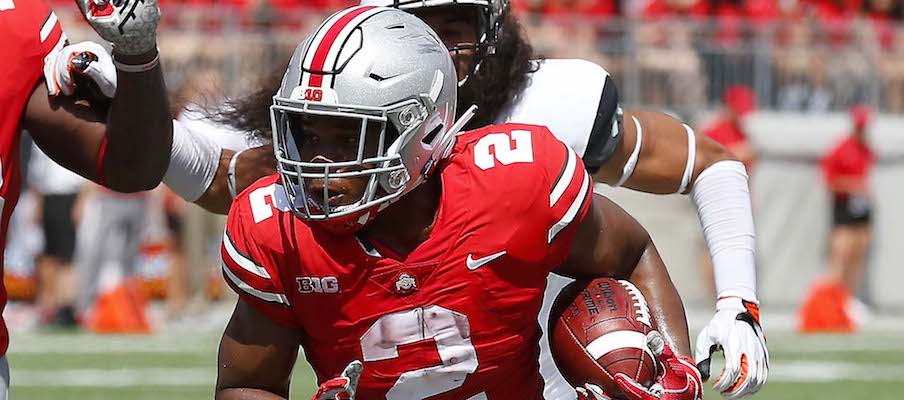 Wide Receivers
Binjimen Victor: 41
Austin Mack: 38
Parris Campbell: 36
Terry McLaurin: 35
Johnnie Dixon: 35
K.J. Hill: 22
Chris Olave: 18
C.J. Saunders: 14
Jaylen Harris: 7
Demario McCall: 4
While there was talk leading up to the season that the Buckeyes could potentially either shorten their wide receiver rotation or expand it, they largely used the same receiver rotation on Saturday that they did throughout 2017 – with Mack and Victor splitting snaps at X, McLaurin and Dixon splitting snaps at Z and Campbell and Hill splitting snaps in the slot.
Mack and Campbell, who were listed as solo starters instead of co-starters on the Buckeyes' game-week depth chart, did see somewhat more snaps with the first-team offense than their counterparts, though Victor ultimately played the most snaps of any receiver as he continued to play deeper into the game than any of the other five returning veterans.
Olave took all of the reps at Z with the second-team offense, while Saunders took most of the second-team reps in the slot with the exception of the Buckeyes' final four offensive plays, when he was replaced by McCall. Harris checked in at X, replacing Victor, for the final offensive possession of the game.
Tight Ends
Luke Farrell: 43
Rashod Berry: 34
Jeremy Ruckert: 23
Unlike last season, when Marcus Baugh played the lion's share of snaps at tight ends and Berry played only occasionally as the second-string tight end, Farrell and Berry split snaps much more evenly on Saturday, even though Farrell supplanted Berry for the starting role.
As offensive coordinator and tight ends coach Kevin Wilson suggested might be a possibility at the end of spring, Ohio State also used more "12" personnel on Saturday, as the Buckeyes ran a total of 12 plays in which they had both of their top two tight ends on the field simultaneously – the first three of which all resulted in touchdowns in the red zone.
Ruckert, another true freshman, also saw five snaps of action with the first-team offense while taking all the reps with the second-team offense. Jake Hausmann, the Buckeyes' only other scholarship tight end, did not play in Saturday's game after missing time in fall camp with a hamstring injury.
Offensive Line
Thayer Munford: 70
Malcolm Pridgeon: 70
Michael Jordan: 70
Demetrius Knox: 70
Isaiah Prince: 70
Joshua Alabi: 18
Brady Taylor: 18
Josh Myers: 18
Wyatt Davis: 18
Nicholas Petit-Frere: 18
Kevin Woidke: Special teams only
The Buckeyes didn't do anything unusual with their offensive line rotations on Saturday, as Munford, Pridgeon, Jordan, Knox and Prince – from left to right – took all the snaps with the first-team offense, while Alabi, Taylor, Myers, Davis and Petit-Frere took all the snaps with the second-team offense, with the latter three all seeing the first playing time of their collegiate careers.
Defensive Ends
Nick Bosa: 35
Chase Young: 28
Jonathon Cooper: 25
Jashon Cornell: 18
Tyreke Smith: 17
Tyler Friday: 12
Aaron Cox: 3
Noah Donald: 3
Unlike last season, when Ohio State's top four defensive ends all rotated equally with one another, Bosa played a vast majority of the first-half snaps – 35 of 45 – before taking a seat on the bench for the second half.
Cooper started Saturday's game opposite Bosa, but Young ended up seeing more snaps because he lined up opposite Bosa in the Buckeyes' nickel pass-rushing packages – both in the 4-2-5 and 3-3-5 alignments – whereas Cooper only saw playing time in those packages in the second half of Saturday's game.
Smith lined up at defensive tackle in the first-team "Rushmen" package – alongside Bosa, Young and Dre'Mont Jones – and saw some playing time at defensive end in the base defense later in the game. Cornell also played some snaps as a defensive tackle in the 4-2-5 package while seeing playing time at defensive end in the base defense rotation.
Friday also saw some snaps in the defensive end rotation in his first game as a Buckeye, while Cox and Donald – both walk-ons – got their chance to play a few snaps on the game's final defensive series.
Defensive Tackles
Dre'Mont Jones: 33
Robert Landers: 18
Haskell Garrett: 15
Davon Hamilton: 14
Tommy Togiai: 13
Taron Vincent: 12
Jerron Cage: 6
Antwuan Jackson: 4
Like Bosa, Jones played a majority of snaps in the first half – lining up at defensive tackle in both of the Buckeyes' pass-rushing packages in addition to his role as the 3-technique tackle in the base defense – before being rested in the second half.
Landers started alongside Jones at nose tackle, but rotated in and out of the game more frequently – and did not play in the Rushmen package with the first-team defense – while Garrett, Hamilton, Togiai and Vincent all saw their fair share of snaps in the rotation over the course of the game as well.
Jackson and Cage checked into the lineup on the Buckeyes' final defensive series as fourth-string defensive tackles, with Jackson only playing one snap before that – on which he missed a tackle on Oregon State running back Artavis Pierce that led to an 80-yard touchdown – and Cage playing three snaps before playing three more snaps on the final series.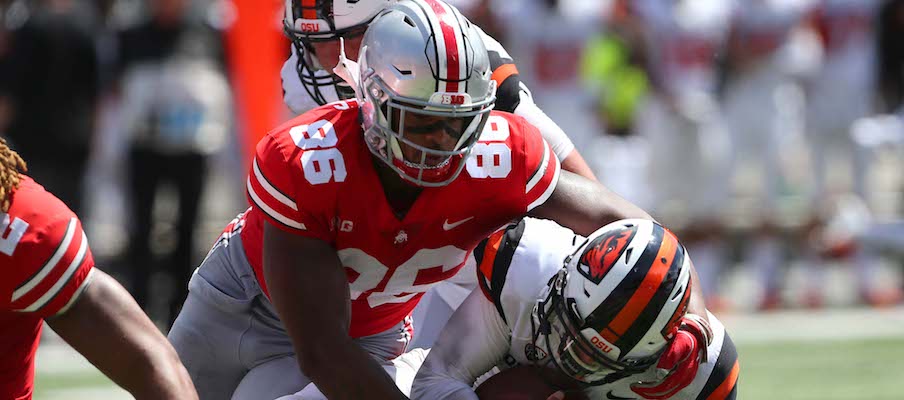 Linebackers
Malik Harrison: 56
Pete Werner: 56
Baron Browning: 37
Tuf Borland: 9
Dante Booker: 9
Justin Hilliard: 9
Keandre Jones: 9
Dallas Gant: Special teams only
K'Vaughan Pope: Special teams only
Teradja Mitchell: Special teams only
Harrison and Werner both started at outside linebacker on Saturday, were also the Buckeyes' two linebackers in their 4-2-5 nickel defense, and were both on the field for every defensive snap until Ohio State's final two defensive series of the game.
With Borland still working his way back from suffering an Achilles injury this spring, Browning started in his place at middle linebacker and played the majority of snaps at that position, though Borland did check in to play a pair of series – limited playing time that was by design, according to defensive coordinator Greg Schiano, who said Monday that Borland was on a "pitch count" as part of his recovery.
Jones and Booker checked in at outside linebacker, while Hilliard checked in at middle linebacker, for the final two defensive series of the game.
Cornerbacks
Kendall Sheffield: 49
Jeffrey Okudah: 42
Damon Arnette: 34
Shaun Wade: 9
Cameron Brown: 9
Marcus Williamson: 1
As expected, Ohio State deployed a three-man cornerback rotation once again on Saturday, with Arnette and Sheffield starting but Okudah also playing regularly. Perhaps because he is the only cornerback on the roster with more than one year of playing experience for the Buckeyes, Arnette saw less playing time than the other two cornerbacks in the second half with the outcome of the game already in hand.
Williamson checked in for one snap at slot cornerback in place of Arnette in the fourth quarter, while Wade and Brown – each playing their first career games for the Buckeyes – replaced Sheffield and Okudah as the cornerbacks in Ohio State's base defense for the final two defensive series of the game.
Safeties
Jahsen Wint: 56
Isaiah Pryor: 53
Amir Riep: 12
Brendon White: 9
Josh Proctor: Special teams only
With Jordan Fuller sidelined by a hamstring injury, Pryor and Wint both made their first career starts for Ohio State on Saturday. Pryor played every snap until the final three defensive series, at which point Riep replaced him in the lineup, while Wint played every snap until the final two defensive series, at which point White replaced him in the lineup.
Ohio State has not indicated which safety will continue starting once Fuller is able to return to the lineup, but Schiano suggested last week that Pryor and Wint could be used in a rotation with one another until one separates himself from the other.
Extra Points
Sean Nuernberger (kicker)
Drue Chrisman (punter)
Liam McCullough (long snapper)
Luke Farrell (blocker)
Joshua Alabi (blocker)
Wyatt Davis (blocker)
Josh Myers (blocker)
Davon Hamilton (blocker)
Malcolm Pridgeon (blocker)
Kevin Woidke (blocker)
Rashod Berry (blocker)
Ohio State did not attempt any field goals on Saturday, but Nuernberger did kick 11 extra points, and the Buckeyes used the same lineup of 11 players for every one of those point-after attempts. Nuernberger, Chrisman, McCullough, Pridgeon, Woidke, Berry, Alabi and Hamilton all saw at least some playing time on this unit in 2017, while Farrell, Davis and Myers are new additions.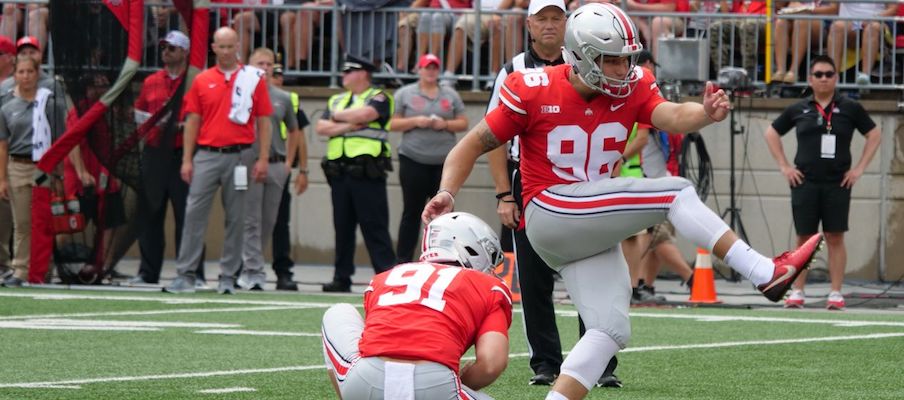 Kickoffs
Blake Haubeil (kicker)
Jeffrey Okudah or Shaun Wade (gunner)
Pete Werner or Dallas Gant (gunner)
Marcus Williamson or Brendon White (gunner)
Baron Browning or K'Vaughan Pope (gunner)
Dante Booker or Teradja Mitchell (gunner)
Justin Hilliard (gunner)
Keandre Jones or Chris Olave (gunner)
Austin Mack or Brian Snead (gunner)
Isaiah Pryor or Josh Proctor (gunner)
Amir Riep (gunner)
Early in the game, the players who lined up alongside Haubeil on the kickoff unit were Okudah, Werner, Williamson, Browning, Booker, Hilliard, Jones, Mack, Pryor and Riep. In a game where Haubeil kicked off 12 times, though, the Buckeyes substituted most of those players off the unit by the end of the game in favor of less experienced players, including seven playing in their first games as Buckeyes: Wade, Gant, Pope, Mitchell, Olave, Snead and Proctor.
Kickoff Returns
Johnnie Dixon or Demario McCall (returner)
C.J. Saunders (returner/blocker)
Luke Farrell (blocker)
Justin Hilliard (blocker)
Dallas Gant (blocker)
Brendon White (blocker)
Shaun Wade (blocker)
Isaiah Pryor (blocker)
Dante Booker (blocker)
Jahsen Wint (blocker)
Rashod Berry (blocker)
Dixon lined up as Ohio State's primary kickoff returner in the first half of Saturday's game – though he didn't actually return a kick – before being replaced by McCall in the second half. The rest of the unit remained the same throughout Saturday's game, with Saunders replacing K.J. Hill and Antonio Williams from last season as the Buckeyes' secondary returner.
Punts
Drue Chrisman (punter)
Liam McCullough (long snapper)
Pete Werner (upback)
Jonathon Cooper (upback)
Luke Farrell (wing)
Baron Browning (tackle)
Malik Harrison (guard)
Justin Hilliard (guard)
Terry McLaurin (gunner)
Jeffrey Okudah (gunner)
Kendall Sheffield (gunner)
The Buckeyes only punted once in Saturday's game, but it was a good one, as Chrisman booted the ball 65 yards and McLaurin downed it at the 3-yard line. Cooper, Harrison, McLaurin, Okudah and Sheffield also saw playing time on the punting unit last season, while Werner, Farrell, Browning and Hilliard are new additions to the unit.
Punt Returns
C.J. Saunders or Demario McCall (returner)
Kendall Sheffield (rusher/blocker)
Keandre Jones (rusher/blocker)
Shaun Wade (rusher/blocker)
Pete Werner (rusher/blocker)
Justin Hilliard or Dallas Gant (rusher/blocker)
Marcus Williamson or Josh Proctor (rusher/blocker)
Isaiah Pryor (rusher/blocker)
Dante Booker (rusher/blocker)
Amir Riep (rusher/blocker)
Jeffrey Okudah or Damon Arnette (rusher/blocker)
Like on kickoff returns, McCall took over as Ohio State's punt returner in the second half of Saturday's game after Saunders handled that responsibility in the first half. In front of them, the Buckeyes played several players who were also on the punt return/block unit last season – including Hilliard, Pryor, Sheffield and Werner – along with several players making their Buckeyes debuts in Wade, Gant and Proctor.
Snap Tracker: Offense

| POS | PLAYER | ORST |
| --- | --- | --- |
| QB | DWAYNE HASKINS | 68 |
| QB | TATE MARTELL | 20 |
| RB | J.K. DOBBINS | 38 |
| RB | MIKE WEBER | 34 |
| RB | BRIAN SNEAD | 11 |
| RB | MASTER TEAGUE | 7 |
| WR | BINJIMEN VICTOR | 41 |
| WR | AUSTIN MACK | 38 |
| WR | PARRIS CAMPBELL | 36 |
| WR | TERRY MCLAURIN | 35 |
| WR | JOHNNIE DIXON | 35 |
| WR | K.J. HILL | 22 |
| WR | CHRIS OLAVE | 18 |
| WR | C.J. SAUNDERS | 14 |
| WR | JAYLEN HARRIS | 7 |
| WR | DEMARIO MCCALL | 4 |
| TE | LUKE FARRELL | 43 |
| TE | RASHOD BERRY | 34 |
| TE | JEREMY RUCKERT | 23 |
| OL | THAYER MUNFORD | 70 |
| OL | MALCOLM PRIDGEON | 70 |
| OL | MICHAEL JORDAN | 70 |
| OL | DEMETRIUS KNOX | 70 |
| OL | ISAIAH PRINCE | 70 |
| OL | JOSHUA ALABI | 18 |
| OL | BRADY TAYLOR | 18 |
| OL | JOSH MYERS | 18 |
| OL | WYATT DAVIS | 18 |
| OL | NICHOLAS PETIT-FRERE | 18 |
| OL | KEVIN WOIDKE | ST |
| K | SEAN NUERNBERGER | ST |
| K | BLAKE HAUBEIL | ST |
Snap Tracker: Defense

| POS | PLAYER | ORST |
| --- | --- | --- |
| DE | NICK BOSA | 35 |
| DE | CHASE YOUNG | 28 |
| DE | JONATHON COOPER | 25 |
| DE | JASHON CORNELL | 18 |
| DE | TYREKE SMITH | 17 |
| DE | TYLER FRIDAY | 12 |
| DE | AARON COX | 3 |
| DE | NOAH DONALD | 3 |
| DT | DRE'MONT JONES | 33 |
| DT | ROBERT LANDERS | 18 |
| DT | HASKELL GARRETT | 15 |
| DT | DAVON HAMILTON | 14 |
| DT | TOMMY TOGIAI | 13 |
| DT | TARON VINCENT | 12 |
| DT | JERRON CAGE | 6 |
| DT | ANTWUAN JACKSON | 4 |
| LB | MALIK HARRISON | 56 |
| LB | PETE WERNER | 56 |
| LB | BARON BROWNING | 37 |
| LB | TUF BORLAND | 9 |
| LB | DANTE BOOKER | 9 |
| LB | JUSTIN HILLIARD | 9 |
| LB | KEANDRE JONES | 9 |
| LB | DALLAS GANT | ST |
| LB | K'VAUGHAN POPE | ST |
| LB | TERADJA MITCHELL | ST |
| CB | KENDALL SHEFFIELD | 49 |
| CB | JEFFREY OKUDAH | 42 |
| CB | DAMON ARNETTE | 34 |
| CB | SHAUN WADE | 9 |
| CB | CAMERON BROWN | 9 |
| CB | MARCUS WILLIAMSON | 1 |
| S | JAHSEN WINT | 56 |
| S | ISAIAH PRYOR | 53 |
| S | AMIR RIEP | 12 |
| S | BRENDON WHITE | 9 |
| S | JOSH PROCTOR | ST |
| P | DRUE CHRISMAN | ST |
| LS | LIAM MCCULLOUGH | ST |