"I think when you look at college football today, I think it's important to have a balance. I think it's important to be able to line up under center, run the football, play-action pass and do some things, and also run the spread and run with tempo." - Ryan Day

With so many elements in the Ohio State football program changing throughout the transition from Urban Meyer to Ryan Day, few expected the offensive philosophy to be one of them. Day, of course, had been the brains behind the explosive units in Meyer's final two seasons, setting records with two very different quarterbacks and finishing in the top-10 in total offense both times.
Now fully in charge of the program, Day spent the offseason overhauling the defense, replacing all but one assistant on that side of the ball while essentially leaving the offensive staff unchanged. Yet in his first contest in charge, it became evident that the purely shotgun, spread-to-run system for which his predecessor had long been known was no longer in place.
Each of the Buckeyes' first three drives resulted in easy touchdowns, though it was apparent that all three scores were the result of breakdowns in the Florida Atlantic defense. On Fields' long run, no one stayed home to fill the backside A-gap while two long touchdown passes came as receivers were left completely uncovered downfield.
Elements of Meyer's system surely remained, as the Buckeyes' first drive resulted in a 51-yard touchdown run from new quarterback Justin Fields, thanks to a Meyer favorite, BASH.

On the second possession, however, it was clear that change was afoot. As Fields marched out to begin the second possession, he immediately did something Ohio State fans had hardly seen in almost a decade - he lined up directly under center.
Not only was the Buckeye quarterback not in the shotgun, but he did so with two tight ends lined up in a wing alignment to the same side. The look was something straight out of Day's three seasons spent as an NFL assistant, not the shotgun spread for which the Utes, Gators, and Buckeyes had become known under their previous leader.
This alignment wasn't just to show a new look, either, as the Buckeyes used it to run Duo, a popular NFL running play that looks like a tight zone run but is actually more similar to the Power concept, just without a pulling guard. 
The concept would be featured throughout the afternoon with solid results, especially in short-yardage situations.
But as he laid out in his spring clinic speech on game-planning, Day had a complementary play-action pass for Duo, featuring just two receivers releasing downfield. Thanks to the established run fake and a great route from receiver Chris Olave, Fields had another wide-open throw as the free safety in the middle of the field (#27) was completely out of position.
Moving under center wasn't just a gimmick, either, as there were multiple elements of the game plan which Fields executed from that position. The Buckeyes regularly called for outside zone runs from this look, which is a popular change-up to Duo at the professional level.
For anyone who has watched an offense led by Mike and Kyle Shanahan or Rams coach Sean McVay, this was a familiar concept, as was the parallel play-action pass. Given that the quarterback and the offensive line must move laterally to execute the run play, it's much easier to execute a roll-out, flood concept from the look, with the front-side receiver running a deep comeback and the backside receivers both executing crossing patterns.
Not everything went to plan, however. After jumping out to a quick, 28-0 lead, the OSU offense sputtered. A rash of penalties, pressures, and turnovers saw the Buckeyes fail to score on seven consecutive possessions (not including a kneel-down to end the first half).
"A lot of times today the defense we were seeing was very different than what we see in practice," Day said following the game. "It was a three-down front and they were dropping eight some. And so the windows weren't as clean. And he had to scramble sometimes, had to keep us on schedule."
With eight defenders dropping in coverage, Fields had trouble finding open windows through which he could throw, opting instead to try and move the chains with his feet.
But as the second half wore on, the sophomore showed he's not shy to throw off his first read, hitting receivers in-stride once he hit the top of his drop.
As the Buckeyes re-entered the red zone in the third quarter, their final wrinkle was unveiled, as Fields returned under center in 13 personnel (1 back, 3 tight ends). As Luke Farrell motioned across the formation, he essentially settled in as a fullback, creating an I-formation between Fields and backup running back Master Teague.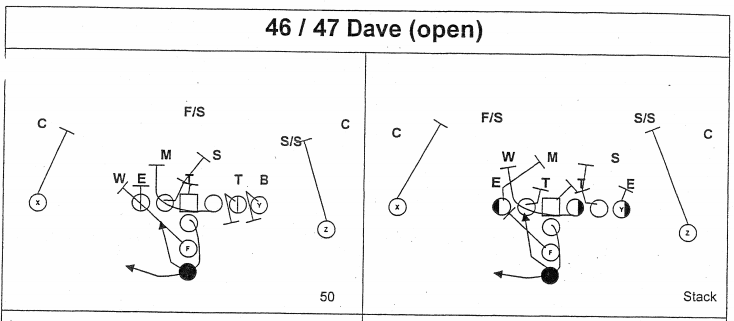 The play-call was downright Tressel-like, as Farrell kicked out the end while the backside guard pulled around, creating the version of Power known under the Senator as "Dave" and resulting in a 1st & Goal scenario.
Like all the running plays we saw on Saturday, Day had a correlating play-action pass for this concept as well. With the defense locking in on Teague on the very next play, Jeremy Ruckert slipped through to the back corner of the end zone for another wide-open score.
This entire package showed that even without injured senior Rashod Berry, Day has faith in his tight ends and is willing to feature them when necessary. Such a move is a departure from the past, as Meyer operated almost exclusively from 11 personnel in his strain of the one-back offense.
"We're lucky enough to have some tight ends with some experience," Day added after the 45-21 win. "And we can put those guys in there and do some things with them as well. I think it brings a different level of preparation for the defense and it's something we really haven't done a bunch of here. So I think it's an edge for us."
It's hard to say what one game means for the future of the Buckeye offense. Day admitted after the game that he didn't know exactly what to expect from FAU's defense, given it was their first game under new defensive coordinator Glenn Spencer, and perhaps the reliance on heavier personnel was a response to his three-man fronts.
It may also be the case that this game plan was largely meant to throw off Luke Fickell in his preparation for Saturday's much-anticipated contest with Cincinnati. After years of practicing against it, Fickell may know Meyer's system better than any other defensive coach in the country. The ultra-vanilla defensive game plan signaled that the Buckeyes weren't willing to show too much in advance of week 2, and perhaps the offense's play script took the opposite tack.
But if this more pro-style system is here to stay, it marks an interesting transition, given the timing.
For 12 seasons, the Buckeyes have been running a scheme inverse to their rivals in Ann Arbor. First, it was Rich Rodriguez's super-spread system against Jim Tressel's conservative approach, while Meyer made the Buckeyes much faster and more aggressive, Brady Hoke and Jim Harbaugh took their program in the opposite direction.
This season, however, the Wolverines have removed the fullback position entirely while the Buckeyes are the ones operating with multiple tight ends. As the 2019 campaign progresses, the evolutions of both teams' identities will be fascinating to track.