Ever since Ryan Day stepped foot inside the Woody Hayes Athletic Center 28 months ago, Ohio State's offensive record books keep getting rewritten.

It began with J.T. Barrett in 2017, with the senior quarterback reaching new heights in an already accomplished career by gaining more total yards in a season (3,851) and collecting the most total touchdowns in a season (47) of anyone to ever wear a Buckeye uniform. Day's influence that fall didn't just affect the signal-caller, of course, as the unit as a whole averaged 506 yards-per-game, the seventh-highest average in the nation and a full 47 more yards-per-game than the prior season.
After deferring such duties to fellow coordinator Kevin Wilson that season, Day returned in 2018 as the main play-caller for the Buckeyes. Once again, his influence led to both literal and figurative gains, as the Scarlet and Gray attack trailed only Oklahoma in average yardage-per-game with 535, and tallied more passing yards (5,100) than any other team in the country as Barrett's successor, Dwayne Haskins, shredded virtually every single game and season school passing record.
As Haskins' stock rose among NFL scouts, so did that of his coach:
Watch Dwayne Haskins, and you realize something very quickly...Ohio State passing attack conceptually is very very good. Do not ever tell me that there arent some very good coaches out there that need to be talked about more and praised. #ryanday

— Louis Riddick (@LRiddickESPN) December 29, 2018
Week after week, the Buckeyes have seemed to always stay one step ahead of their opponents, out-witting respected defensive minds like Gary Patterson and Don Brown thanks in large part to the way Day not only calls plays but the manner in which he organizes the entire offensive philosophy. Now, with the program fully under his control in just his third year on campus, Day shared some of the secrets to his success at the Ohio State Coaches Clinic earlier this month. 
"I believe with all my heart in bucket organization," he told the audience. "We have certain buckets on offense. They are concepts that our players will learn."
These buckets are grouped as concept types, with runs characterized either by zone (such as Tight or Outside zone) or gap principles (like Power or Counter). Within each bucket, there are numerous variations that may be incorporated to attack the weakness of that week's opponent. However, each and every variation is taught beforehand during the offseason and spring practice so that the players are familiar with them by the time they're included in a fall game plan.
"Our job now is to implement this in the offseason. As we go to gameplan, we need two tight zones, two mid zones, one outside zone, a power, a counter, maybe two perimeter runs. That's our run game for the week," Day said. "Offensive line coach comes in, he draws them up against the looks we're seeing that week, and our game plan is done. There's no new plays being put in."
This model of installing every concept before the season starts removes any questions about what players may be asked to practice, as it's all made clear beforehand.
"How many of you guys have been there? I've been there," Day went on to the audience of coaches. "It's a Monday or Tuesday morning and somebody wants to put in a new run play. Bad news. That going to be a long day at the office on Saturday. It's very, very difficult to put in a new scheme for a high school or college kid in three days. We all know that's not going to happen. It might look good against one look, but the minute they bring the WILL, or they bring some sort of stunt or change the front we're in trouble."
According to Day, what makes the different plays within each bucket different is simply a change in responsibility for only one or two players, making it much easier for the team to execute while changing the look entirely for the defense.
"We're not running a new run scheme, we're coming up with a new way to run Power and that's how we get creative," he went on. "So, it can be the same thing for the guys up front, the guys who are blocking it, and the same thing for the quarterback."
When it comes to designing the passing game, the process is no different. First, he and the staff create buckets for short passes (like screens and RPOs), medium passes (like Snag), crossing route combinations (like Mesh), isolations (that get a specific player matched up against an overmatched defender), shot plays down the field (such as Sail), and finally, situational passes that should only be called inside the red zone or in two-minute scenarios.
"We're not running a new run scheme, we're coming up with a new way to run 'Power' and that's how we get creative."
"We'll have a couple from each bucket, and now we have a comprehensive game plan and it's all organized," Day said. "Before I had this, this was not organized like this. It was kind of 'here are a couple passes, here's some things we know, where do we go?' and it was really unorganized."
Day works closely with Wilson, the position coaches, and quality control coaches Corey Dennis and Keenan Bailey who, according to the head coach, play a pivotal role in the development of the weekly game plan and are actually in charge of its organization. But the buckets themselves are organized this way for a reason, as Day likes to always be prepared with at least one call from every bucket, regardless of what the scouting report may say.
"One of the things I found early on when I was gamplanning, let's say the team has never played man, they're always zone," Day said on this topic. "Ok, we're not going to put any crossers in that week. Then all of a sudden you get into the game and what do you see? Man. And you don't have it on the game plan. So you always have this on the call sheet, and that's why these buckets are created, so you're always covered in every area if somebody pops a defense on you."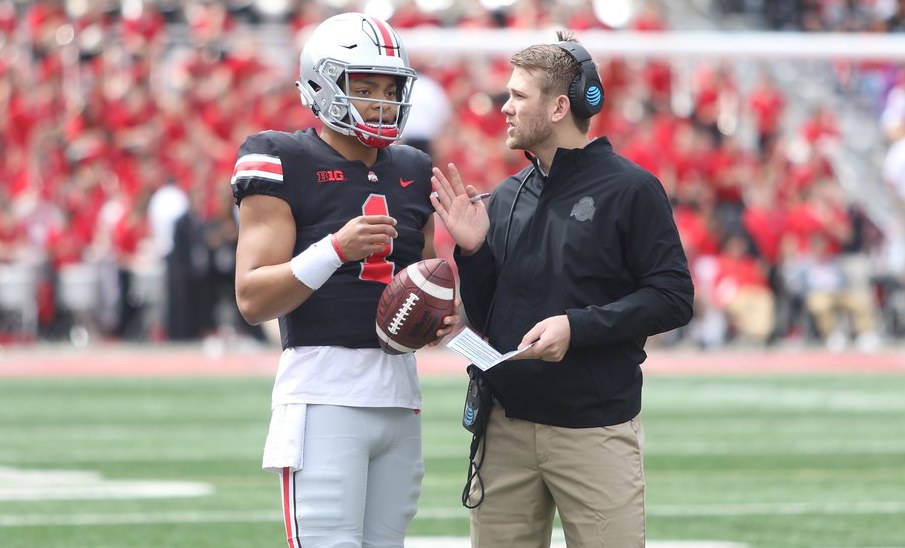 It's not as if the running and passing buckets are built separately, either, as one should complement the other. According to Day, every single run call should have a play-action pass off of it, and, in a perfect world, have a screen as well.
But sometimes the hardest part of creating the game plan can be the editing process. When Day and his staff broke down how many calls they actually needed in a game, they began by studying the many specific situations (such as 1st-&-10, 3rd-&-short, etc...) they saw in an average game, which is often just 85 snaps total.
The result is a play-call sheet organized not only by concept bucket but by the situation as well. 
"In shorts, I only need Quicks and Screens. That's fine," Day said. "Build your quicks and screens up and realize how you're going to practice them on a daily basis so that the quarterback knows what's going on."
That last part may be the most important piece of Day's entire philosophy, as he firmly believes that if a quarterback hasn't practiced a play over 100 times before running it in a live game, then it won't achieve his desired result. His job is to teach the concepts in their limited time together in the spring so that the team can rep it over and over again during summer drills when he's not there.
"A lot of it has to be done in the offseason, as you can tell. A lot of that planning has to be done this time of year. You're training your guys and you're teaching them how it's done. But then you can be really efficient during the season and then really hit it from there."