BLOOMINGTON, Ind. – At the beginning of the week of preparation for Ohio State's first road game of the season against Indiana on Saturday, Ryan Day said there would be three keys for the Buckeyes to return home from Bloomington with a win. 
"When you go on the road, you got to run the ball, you got to stop the run and you got to bring toughness," Day said Monday. "Those are the three things we talk about when we go on the road."
Toughness can't be measured by statistics, but how well a team runs the ball and how well it stops the run can, and the box score from Saturday's 51-10 win over Indiana proved that those were in fact the keys to Ohio State's success against the Hoosiers.
Offensively, the Buckeyes ran for 314 yards and three touchdowns on 41 carries, an average of 7.7 yards per carry – the most rushing yards Ohio State has had in a game since its 2018 season opener against Oregon State, and the best rushing average the Buckeyes have had since they ran for 335 yards on 42 carries against Michigan State in 2017.
J.K. Dobbins led the Buckeyes' ground game with 22 carries for 193 yards, including a 56-yard run and a 26-yard touchdown. Master Teague added 10 carries for 106 yards, including a 40-yard touchdown.
Day said before the season that the Buckeyes would need to lean on Dobbins early in the season as Justin Fields gained experience as Ohio State's new starting quarterback, and that's exactly what they did Saturday in their first Big Ten game of the year. 
By running for 193 yards, Dobbins posted the second-highest rushing total of his Ohio State career – surpassing his previous performance at Indiana, in his first game as a Buckeye in 2017, by 12 yards – and did so even though he did not play after the Buckeyes' first possession of the second half, when the Buckeyes took a 37-10 lead.
After the season opener against Florida Atlantic, in which Dobbins averaged just 4.3 yards per carry, Day expressed that he did not feel Dobbins had played up to his ability. In his last two games, Dobbins has responded to that challenge, gaining 334 yards on 39 carries – an average of 8.6 yards per rush.
"I think that we're gonna see some things on film with J.K. that were really good," Day said after Saturday's game. "He was running so hard in the preseason ... I was expecting these last two games, and we didn't get it the first game, and it was just one of those games, but the good news is, hard work is paying off for him."
Dobbins' highlight of the day was his 26-yard touchdown run in the second quarter, as he stiff-armed one defender and made his way through or around several other Hoosiers on his way to the end zone. He felt like he reminded everyone on that play that he still has the ability to be one of the best running backs in college football.
BEAST. MODE. pic.twitter.com/srb2PLQkyl

— Eleven Warriors (@11W) September 14, 2019
"I think a lot of people forgot what I could do," Dobbins said after the game. "So I just want to keep showing that, keep getting better."
As impressive as Dobbins was, Teague was equally impressive off the bench, showing why he has surpassed Demario McCall on the depth chart to become the Buckeyes' No. 2 running back. He didn't get that job initially coming out of the preseason, but his performances so far this season – and especially on Saturday – have made it clear that he is the second-best runner on the team right now.
"Really good to get Master to come on," offensive coordinator Kevin Wilson said. "Preseason, he was a little limited with some slight injuries, so now he's got a little momentum, and hopefully the momentum like J.K. to be a great practice player. He's coming on strong, and that's good to see, because we need that."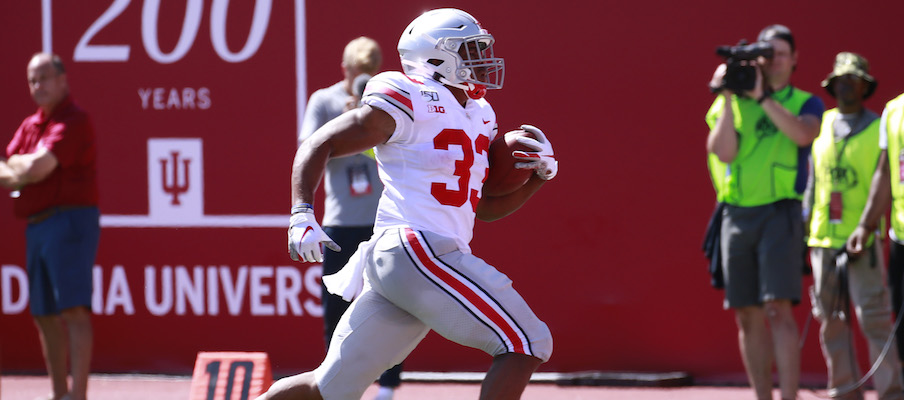 Fields wasn't quite as sharp on Saturday as he was in the Buckeyes' first two games – his 14 pass completions, 199 passing yards and 11 rushing yards were his lowest totals of the season so far – but because of the performances by Dobbins and Teague, he didn't need to be.
"Having the running game just to pick me up and carry the team, that was great to see," Fields said. "It makes the whole offense flow, so if we can keep it going, that'll be a great thing. It definitely makes my job easier as a quarterback."
Of course, the running backs are only one part of the equation of a running game's performance. To have a day like Dobbins and Teague did on Saturday, they need great play from their offensive line up front, and both running backs gave credit to their blockers after the game for the holes they opened up for them.
"They're blocking great," Dobbins said. "If those guys keep going, this offense is gonna keep going."
Ohio State's rushing offense got much of the attention for its performance in Saturday's game, and deservedly so, but the Buckeyes' rushing defense was just as dominant, holding Indiana to just 42 yards on 31 carries, marking the second time in three games this season that Ohio State has held its opponent to fewer than 50 rushing yards and fewer than 1.5 yards per carry.
The Buckeyes talked all offseason and certainly going into this week's game about how they wanted to dominate the line of scrimmage on both sides of the ball, and they certainly did that on Saturday, when Ohio State's defense recorded 12 tackles for loss – including 2.5 by Chase Young and two each by Pete Werner and Tyler Friday.
"We think we should be able to win the line of scrimmage," Day said. "That's where all the battles are won, and I think today was an example of that. But this is just one week. It has to continue to build as we go because we're gonna start to see teams down the road that have really good offensive and defensive lines, and we'll have to keep building on it."