Hey, remember when Joey Bosa used Akeel Lynch as a weapon?
That was one of the best show-closers you've ever seen in your life. Bosa sacked Christian Hackenberg on 4th down in double OT by blindsiding him with his own damn running back. That happened one month after he hit Cincinnati QB Gunner Kiel so hard the football he was holding launched backwards into the Bearcats' endzone. 
Every game during that 2014 season, save for Virginia Tech, delivered moments we grew to appreciate even more once The Chase was complete. Everything that preceded Michigan, the Big Ten Championship, the Sugar Bowl and the Championship Game aged far better than we realized it ever would at the time. 
Barring the absolutely bizarre that same progression will be the path the Buckeyes are forced to navigate in order to collect all of those rings again. That's what we think about. That's what they're trying to do. We've all been there before. That progression is our happy place, but it upgrades everything that came before it. The flip side is losing late degrades everything. How often do you fondly look back on the 2006 regular season? Yeah.
It's fascinating to look back at the 2015 season and try to mine as many high points to savor again. The Braxton spin move happened on the Buckeyes' one-game Revenge Tour, but then after that? The top moments of 2015, leave for Ohio State's welcome gift for Jim Harbaugh, were the grand finales of 2014.
Perhaps if the Buckeyes had been able to repeat as champions we would remember Adolphus Washington's pick-6 more easily, Zeke's field day in Bloomington or that Illinois literally triple-teamed Bosa. Those moments would have been gilded.
They would be part of somewhere greater. The 2014 season was pure elation. The 2015 season? Bosa hit DeShone Kizer the exact same way he thumped Kiel and it ended his college career. The 2015 season was great, but we never quite found that happy place.
Ohio State's top moments of 2015 were THE grand finales of 2014.
And that's genuine comfort and joy you can't contain. Far different from forcing yourself to appreciate a 12-1 season and a top-5 finish. It's something you can't help but subscribe to involuntarily, as opposed to when Buckeye fans cheekily suggest Michigan's coach will bolt for the NFL soon. He won't. It's just cheap shade, like when Michigan fans would parrot Brady Hoke in calling the Buckeyes Ohio.
That fails to offend or inspire because deep down everyone knows how dumb it is. But Bosa flicking Lynch at Hackenberg wasn't dumb. You can't help but still love it, especially now that it's gilded as part of somewhere greater. By the way, Lynch ended up transferring to Nevada. Probably for the best.
Hey look, it's already April. Let's get Situational!
---
The Disadvantage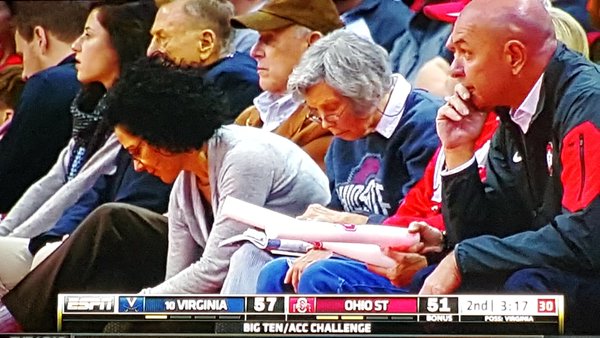 You can pinpoint the year when sterile, multipurpose stadiums fell out of favor with the general public. It was 1992, when Oriole Park at Camden Yards opened in Baltimore and Americans suddenly rediscovered the importance of atmosphere. A modern stadium built for baseball could deliver both amenities and nostalgia.
It made the entire game feel different. Multi-purpose facilities immediately seemed tacky.
Within a decade the cookie cutter eyesores in Cincinnati and Pittsburgh were both demolished and replaced with charming, sports-specific stadiums. Their ugly twins in Philadelphia and St. Louis came down shortly thereafter. This happened all throughout the country (let's ignore, for now, how taxpayers are soaked by billionaires to fund their stadiums and focus only on the buildings themselves).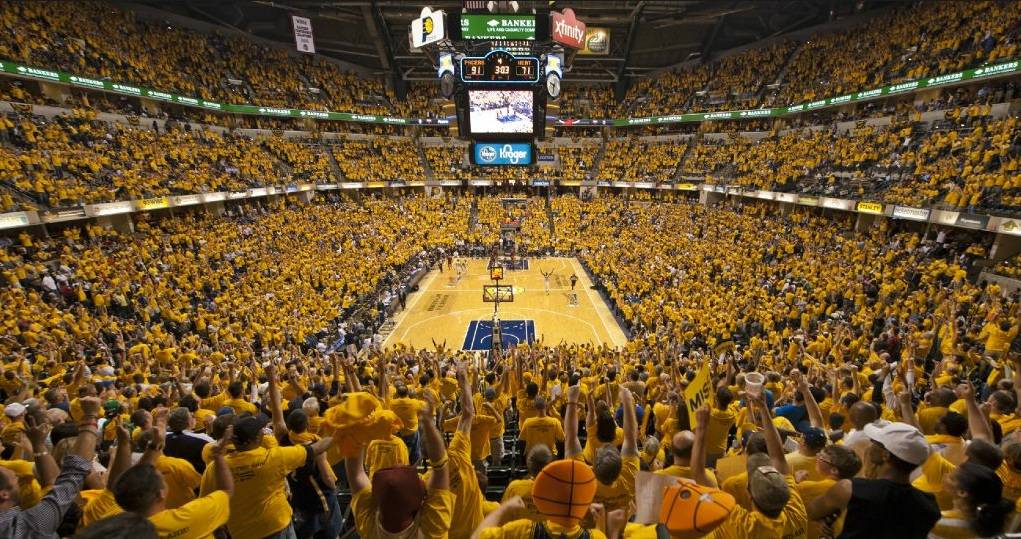 The Horseshoe is a stadium that was conceived and built out of the enthusiasm Ohioans have for football. It's on Woody Hayes Drive. About 1,000 yards away on Olentangy River Road is Value City Arena at the Schottenstein Center, which is a sterile, multipurpose facility that was completed shortly before the eyesores in Cincinnati and Pittsburgh were imploded. Nice timing.
If that isn't depressing enough for you, the Schott opened only a year before what's now called Bankers Life Fieldhouse in Indianapolis made its debut. That multipurpose facility was designed to look like and feel like an old high school basketball gym. But, you know, new and gigantic. A modern stadium built for basketball that delivers both amenities and nostalgia.
The biggest and most expensive construction mistake Ohio State has ever made definitely contributed to this year's basketball attendance being the lowest since that building opened its doors. The Schott offers no home court advantage. The experience of going there is entirely disposable. The only nostalgia anyone feels is whimsically remembering St. John Arena, which delivers the atmosphere the Schott magnificently failed to capture.
The Horseshoe's lamest crowds are bailed out by the building while Value City Arena drags down its best games. But Ohio State wanted multipurpose, and it got it: The Schottenstein Center is also - quite literally - a library for senior citizens.
That's arguably the worst possible thing that could be said about a college basketball arena. Asbestos would be less of a problem. The university should probably fix it. That will require more than just winning.
---
The Decline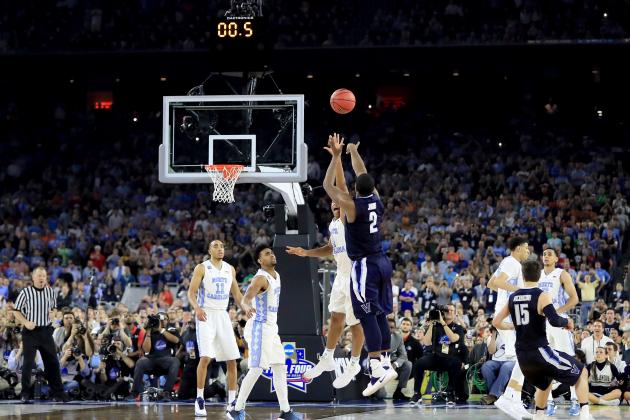 You woke up Tuesday morning, turned on your television and - weird - Married with Children was on. If you decided to stay in bed for, say, three more hours, you saw six more episodes.
Four episodes of The King of Queens then began at 9 a.m., followed by two of The Cleveland Show and four of American Dad. It's now 2 p.m., and you've watched Goofy Dad Comedies for eight straight hours, because your television was still on TBS from the Villanova-UNC NCAA championship game the night before. Yeah, TBS.
How did that work out advertisers?
Source: I'm told last night's game pulled a 10.6 in fast nationals across TBS, TNT, truTV - down 34% and the lowest ever for an NCAA Final.

— John Ourand (@Ourand_SBJ) April 5, 2016
The Villanova-UNC final averaged 17.8M viewers across TBS, TNT, truTV, down from 28.3M for Duke-Wisconsin (CBS) last year.

— Richard Deitsch (@richarddeitsch) April 5, 2016
For you mathematicians, that comes out to roughly two-thirds of a Shining Moment.
The biggest deterrent to cutting the cord - which is killing ESPN - is live sports access, which has to be why Viacom dropped the biggest games of the NCAA tournament on its Married with Children channel instead of CBS. It wasn't just the title game, either - the entire Final Four suffered:
Per @AustinKarp:
UNC-Cuse: 12.9 million viewers, down 43% from Wisc-UK in 15.
Nova-Okla: 10.5M viewers, down 31% from Duke-Mich State.

— Richard Deitsch (@richarddeitsch) April 4, 2016
A game as good as Villanova-UNC deserved a wider channel, at a more accommodating time for the East Coast where both finalists were based. Somehow, the late tip on TBS wasn't even the worst decision the NCAA made during the current school year, with the CFB Playoff games on New Year's Eve (it's going to happen again this year!) instead of New Year's Day. How did that turn out again?
CFB title game viewership (including Megacast):
2014: 34,148,000 (Ohio State-Oregon)
2015: 26,182,000 (Alabama-Clemson)

— Richard Deitsch (@richarddeitsch) January 12, 2016
Title game viewership numbers:
Duke-Wisconsin (CBB): 28.3 million (CBS)
Alabama-Clemson (CFB): 25.7 million (ESPN)

— Richard Deitsch (@richarddeitsch) January 12, 2016
At any other business the person responsible for allowing this to happen would be thrown through the window of their own office. Figuratively. Maybe.
The games themselves have been great. As for the delivery of those games, that's a dang NCAA mistake. The kids are playing their tails off and the adults are screwing it up.
---
The Bourbon
There is a bourbon for every situation. Sometimes the spirits and the events overlap, which means that where bourbon is concerned there can be more than one worthy choice.
Recently I was gifted a bottle of Charles Goodnight Bourbon. I was warned ahead of time this was going to happen - and thought it was a joke - but Charles Goodnight Bourbon is the real name of an actual bourbon. Here are some facts about this auburn stranger: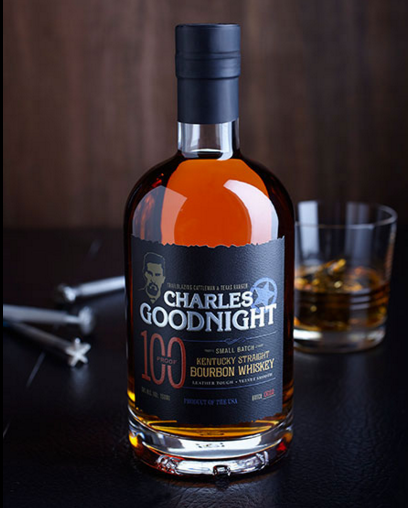 Its namesake appears to have been Texas cattle rancher who was born in Illinois and lived in Colorado.
When the Civil War broke out Mr. Goodnight joined the Confederate Army, leaving his career war record at 0-1.
There's no evidence he ever drank bourbon.
The Goodnight Distillery is in California.
Goodnight's Great-Great-Nephew, Bill Foley II is the mind behind Charles Goodnight Bourbon.
By "the mind" I mean "the successful financier who saw that bourbon is hotter than ever so he approached Wild Turkey and had them make a bourbon that he named after his Great-Great-Uncle."
So this Kentucky bourbon, which honors an Illinois native who lived in Colorado and Texas and fought for the Confederacy...is made in California. The authenticity reaches through your screen and is either stroking your cheek or picking your nose.
Charles Goodnight is much smoother than its 100 proof bottle might lead one to believe. The confidential mash bill spills its secrets pretty easily - this clearly is corn-heavy, sweet and quite good. It's tasty whisky.
However, you drink bourbon with your eyes, heart and brain - not just your mouth. Charles Goodnight is marketing. It's probably Wild Turkey, or damn near close to it. Wild Turkey is lovely, costs less and is named for a delicious bird. Drink Wild Turkey instead, unless you get Charles Goodnight in the mail in which case, hey congrats - gift bourbon.
Both are open and smooth enough to be consumed neat. Goodnight, Chuck.
---
The Playoff
Straight remakes of original songs offer nothing of value. At their worst they make you cringe, like when Blue Traveler needlessly covered Sublime's What I Got and applied artificial soul to a 1990s ska punk anthem nobody should ever sing outside of a dollar beer night on a lost bet, let alone record and then put on their own greatest hits album. A thousand cringe points for Blue Traveler.
If you're going cover and release a song, bring something new. Tiffany's masculinized version of the Beatles' I Saw Her Standing There is a paradox here, and we shouldn't argue its merits because such a debate would produce no winners, only sadness and shame.
So instead let's agree that Nine Inch Nails' Hurt is a great song, and that Johnny Cash showed up in the final year of his life and covered it and then Depeche Mode's Personal Jesus before dying, undefeated. He was just showing off at the end. 
Cash covering industrial rock as a death rattle was gilded after he passed. We appreciated what it meant more once he died; something very similar later occurred with Steve Winwood's pop anthem, which was the 1987 record of the year:
High was the recurring theme of that album, which also contained Higher Love and featured the Queen of Funk on the chorus. Back in the High Life had Chaka Khan, James Taylor and a whole host of other cameos joining the former lead singer of Traffic all popping their collars and dancing out the cocaine decade against a synthesized horn section with plastic martini glasses in hand. 
Fifteen years later Warren Zevon transformed it into his own requiem.
The song is on an album called Life'll Kill Ya, which contains the title track along with ominous songs like I Was in the House When the House Burned Down, Don't Let Us Get Sick and My Shit's Fucked Up, the last of which follows his own melancholy version of Winwood's pop anthem.
He died three years later at 56 from peritoneal mesothelioma, in large part to avoiding doctors for decades out of the fear of getting bad news. His somber version of Back in the High Life is thereby gilded, as is his advice on facing death: Enjoy every sandwich.
It's good advice. Sacking Death with a Penn State running back might work too. Someone should try that.