Sixty-two points against Michigan. Holy crap, it still doesn't seem real.
We knew the Buckeyes could score points; just not like this, against a defense like that. Ohio State had already put up 52 on both of the East Division's expansion programs and 49 on the Hoosiers. Producing points was never the problem. Preventing them was.
That "defense" is now withering in the backs of our minds months later. The offense, which shattered the conference records for yards per game (535.6) passing yards (5,100) passing yards per game (373) touchdown passes (51) completions (396) and total plays (1,131) gets written down in conspicuous places, like, uh, history books. It's going to be remembered for awhile.
But as time peels off the seasons beyond the fading 2018 campaign, the sour particulars of a four-month journey will wash away - and all that will remain for the future generations to remember a 13-1 campaign are those offensive records above along with the following epitaph:
OHIO STATE FOOTBALL 2018
ROSE BOWL CHAMPIONS
B1G CHAMPIONS
B1G EAST DIVISION CHAMPIONS
NO. 3 FINAL RANKING
6-0 vs. RANKED TEAMS
BEAT MICHIGAN 62-39
VISITED WEST LAFAYETTE DRUNK
This would qualify as the best season in program history for the majority of the conference.
Woody Hayes coached 28 seasons in Columbus and produced only five that could begin to compete with what Ohio State produced during Urban Meyer's final turbulent season. And yet, the journey itself gloriously crumbled beneath the 62 points piled onto Jim Harbaugh's fourth edition from Ann Arbor.
Let's head back to Homecoming and remember for one final time what will soon be forgotten.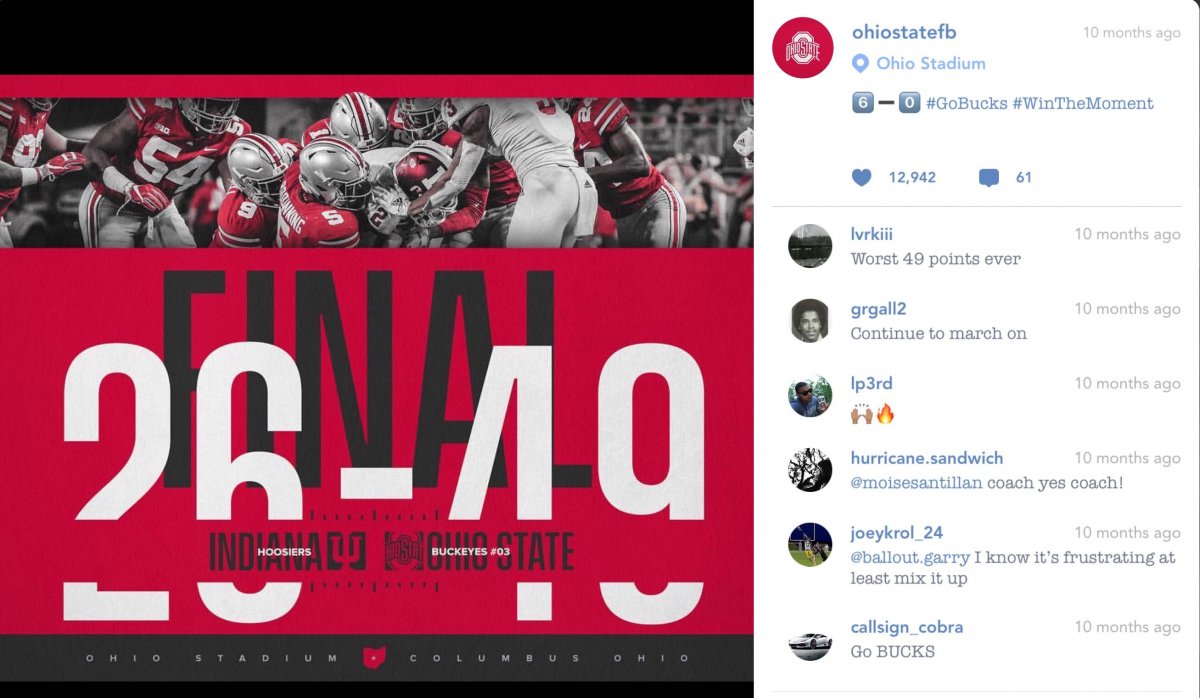 Worst 49 points ever
One week after surviving another White Out at State College, the Buckeyes outlasted the Hoosiers, who were fresh off of a one-score escape at Rutgers. Ohio State moved to 6-0 and still had not figured out how to play anything resembling a four-quarter football game, even against a four-touchdown underdog.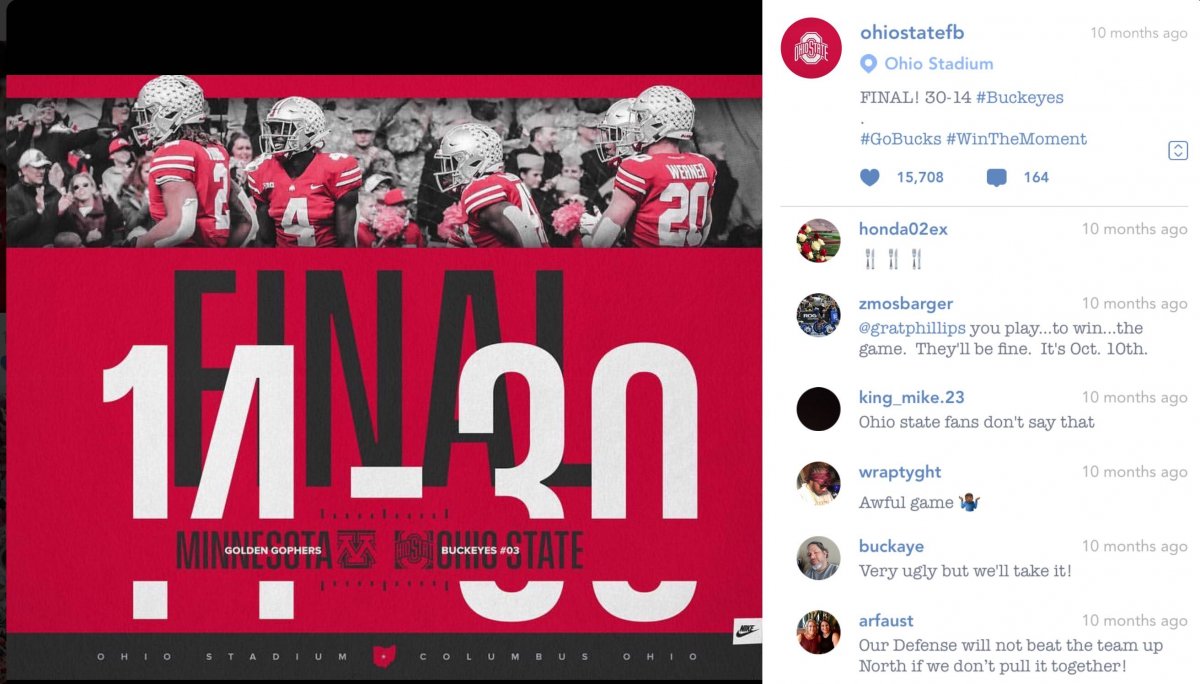 Awful game
One week later, a 16-point win over a 30-point underdog. Ohio State was still tripping over itself into the second half of the season, which, red flags (and yellow ones - no one was more penalized than the 2018 Buckeyes). Every conspicuous weakness was exploited by a severely under-talented Minnesota team, which succumbed to superior recruiting as weaker teams usually do. Usually. This is foreshadowing.
Halfway into October, Ohio State was still surviving every Saturday via Signing Day. 
A week later the Buckeyes visited West Lafayette. There's no screen cap of the final score at Purdue from that evening because the Ohio State Football Instagram account wisely chose to stop posting updates beyond the 3rd quarter.
The bye on the schedule arrived next, which allowed fans to savor that sweet fecal aftertaste for an extra week. And then, an ill-conceived Daytime Blackout; a phenomenon previously reserved for residents living in hurricane alleys.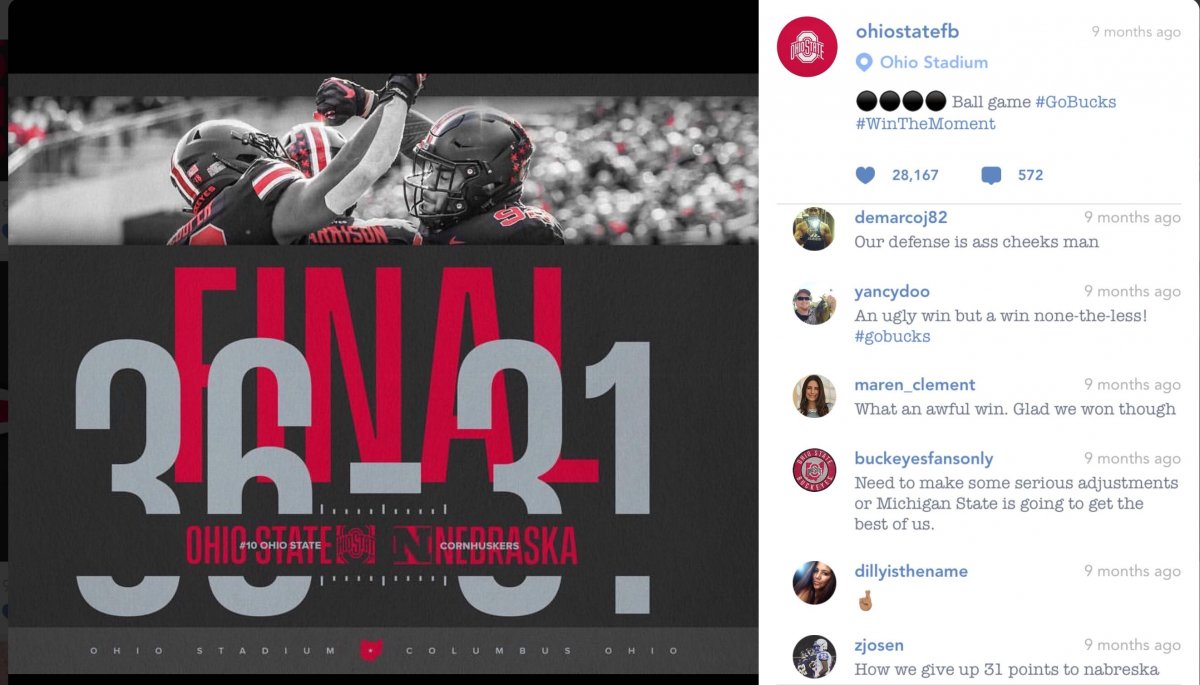 Our defense is ass cheeks man
Ohio State escaped Nebraska - a 22-5 point underdog which gave five points back to Vegas by the time kickoff arrived - and it seemed the journey was destined to be both linear and disappointing. The Buckeyes were willing their way to wins against programs that would fall short of their stretch goals of bowl eligibility. Bullies beating up on weaklings, like in a bad movie.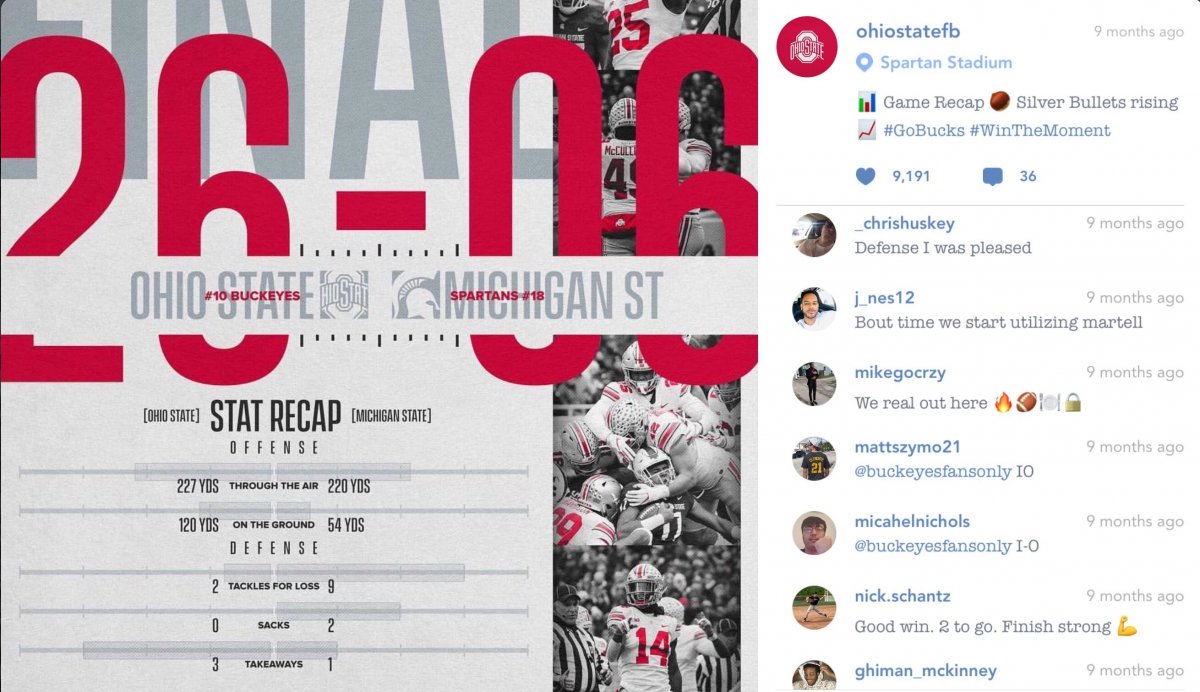 Defense I was pleased
And then the Buckeyes covered their first spread since the Tulane game. They traveled to East Lansing and survived Dollar Store Tresselball while - irony alert - turning in the greatest punting outing of the decade. A homecoming trip for Dwayne Haskins was the only formality that stood between Ohio State and the game that mattered most. And that maligned defense finally had some momentu- *record scratch*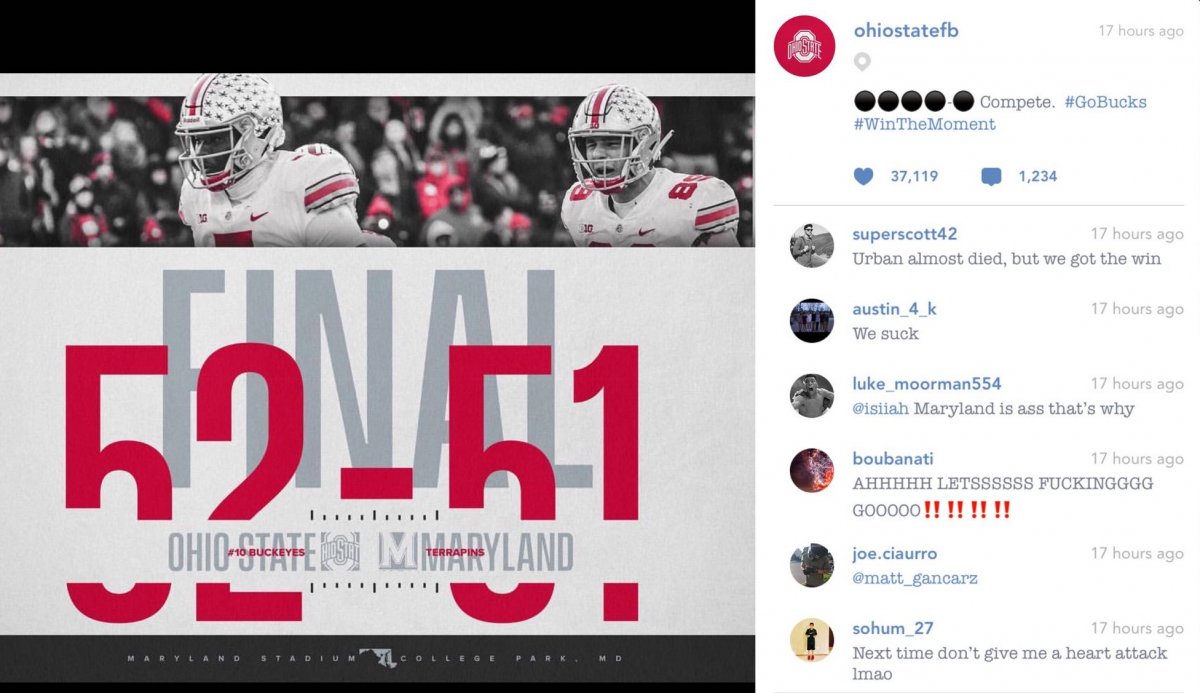 We suck
A two-touchdown favorite won by a point when the home team failed to convert an open two-point conversion in overtime (yes, you haven't forgotten about the egregious uncalled holding that put the play in position to work either - thank you). Michigan had plotted its revenge parade to Indianapolis through Columbus, and the four points bookmakers were giving the Buckeyes felt like a nod to the old Throw Out the Records adage generously applied to rivalry games when one side is perceived to be much stronger than the other.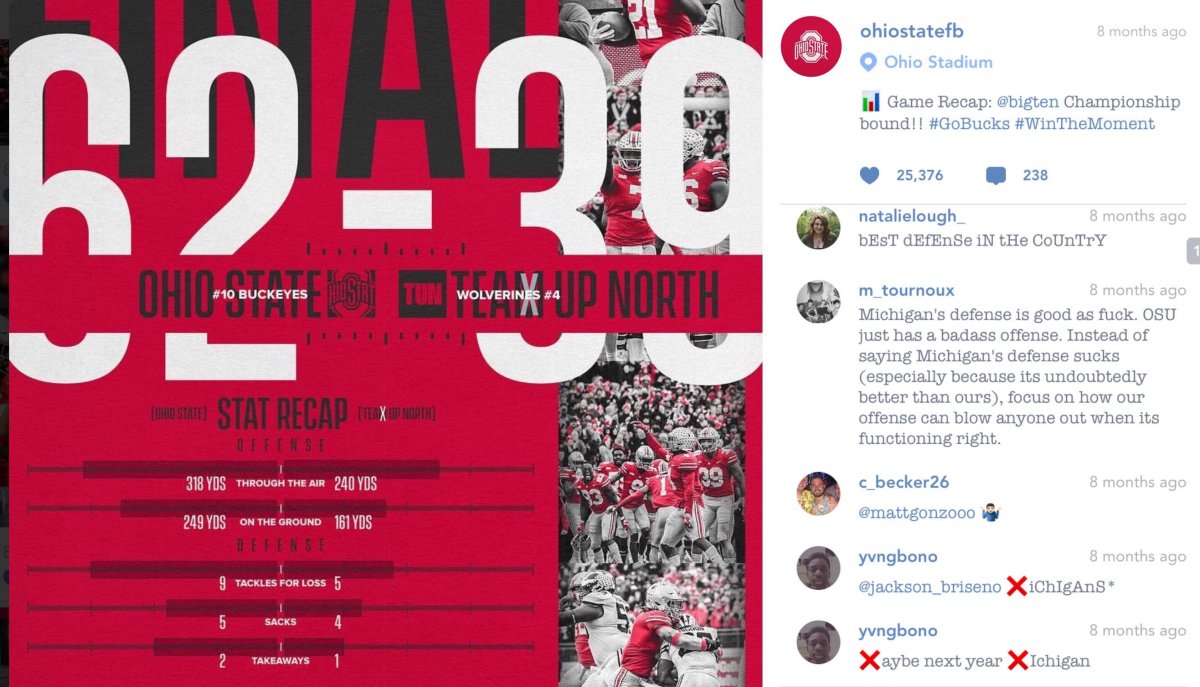 bEsT dEfEnSe iN tHe CoUnTrY
The 2018 season wasn't defined by the journey, which makes it unique in Ohio State football history. The 2004 season is the closest in similarity, where walloping the winged-helmeted B1G champions overshadowed a campaign that contained a three-game losing streak (including one in West Lafayette, hmm).
Contrast the 2018 season against the 1996 one, which both produced B1G and Rose Bowl champions - and try to determine which is remembered more fondly. One delivered three satisfying months of dominant football and a shocking loss to Michigan as a 17-point favorite; the other gave us three months of ass cheeks-caliber defense, punctuated by the worst humiliation of any Michigan team in its history.
When you win, nothing hurts. Forgetting last season's lousy parts is effortless to the point of being automatic. Aftertaste matters. So if 2002 isn't available, I'll always take another 2018.