Holy Buckeye was *that* Ohio State football moment.
You remember exactly where you where when it happened. That means you've got a personal story to share when you're mixing it up with other fans while reliving that ridiculous and magical 14-0 run.
Everyone who experienced it live as it unfolded has a unique story. All of them are great because Holy Buckeye was supernatural. I've rewatched it hundreds of times and still get emotional. If I need a quick dopamine boost - bam, YouTube, search: Holy Buckeye. Only Zeke blowing the doors off the Crimson Tide in the Superdome can compare.
The B1G Moment: "Holy Buckeye"
Maybe you were in Ross-Ade Stadium for that classic Purdue Nooner. Perhaps you were watching at a bar, a party or from your couch. I was in a tuxedo, alone and on the phone talking to a friend who was at the game with my TV volume muted, so I did not actually hear Brent Musberger's legendary call as it happened.
But I had been tipped off to the outcome of the play prior to the snap, so I've never seen Holy Buckeye without already knowing a touchdown was about to happen. Yeah, including the first time.
My personal Holy Buckeye story was filmed as part of The B1G Moment: Holy Buckeye debuting this Saturday night on BTN. Earlier this summer I shared it while awkwardly staring into a 4K camera lens as masked BTN producers observed from a distance. Filmmaking is an adventure in a pandemic.
It will be edited down for the final production. Either way, here's how I spent Nov 9, 2002.
---
I did not have one wedding to attend that Saturday. I had two weddings to attend.
Chicago was my home base. I was writing for Bucknuts and flying to wherever the Buckeyes were playing that weekend, which was usually back in Columbus. I had skipped the Kent State game to attend Florida-Miami in Gainesville, but other than that I had been in the buildings for the entire 10-0 ride up until that point.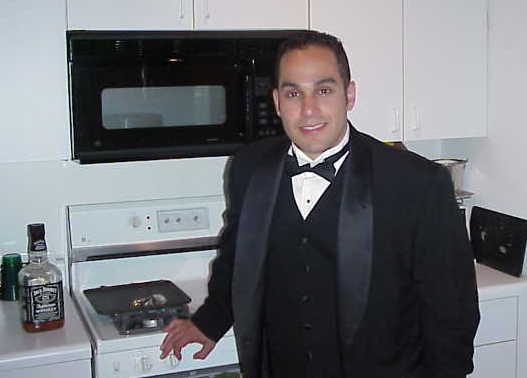 Purdue would be the second and final game I'd miss in person that season, and it was on account of fall weddingsesss which is a weaponized, pluralized, radioactive version of the already-dangerous fall wedding. This lovebird double-header opened with my wife's friend getting married in the late afternoon downtown, with the nightcap being my friend's black tie affair on the north side.
I got dressed for the latter in the morning and planned to watch the game until I absolutely had to leave to get to the church, which by my estimation would cost me a chunk of the 4th quarter.
It would be a small sacrifice, after all - it's Ohio State at Purdue. Would it even be a game in the 4th quarter? The 2002 Buckeyes generally put lesser teams away with relative ease before halftime, right? Still, a hassle. I didn't want to miss any of the Buckeyes' style points.
My friend Matt had made the trip to West Lafayette and I called him shortly after the game kicked off - and this is an appropriate time to remind everyone that in 2002 text messaging was still a fringe activity. I had that little navy blue Nokia phone that you could drop off a building without breaking. It was plastic, did not have a touchscreen (what's a touchscreen?) and had exactly 10 keys: 1,2,3,4,5,6,7,8,9,0. 
Back then when you wanted to communicate with someone using your cell phone, you used your cell phone. I called Matt - signal was fine; no smart devices in existence to bog it down with heavy data usage - and we watched the 1st quarter "together" on the phone.
I had no idea who this team was that had showed up in West Lafayette for ONLY one play.
It ended 3-0 Purdue, and it already getting warm in my tux. Ohio State couldn't do much of anything even with Maurice Clarett in the game, and it was clear this was going to be another Saturday of the Buckeyes trying to win with defense and field position. They wouldn't get on the board until there were zero seconds left in the 2nd quarter.
So it's 3-3 at halftime, barely. There would be no style points. Noon games in West Lafayette, man.
Early on I noticed that there was a 5-7 second lag between my conversation with Matt on the phone and what I was seeing on television. On the first play he shouted damn it, no! before Purdue had even snapped the ball on my screen. A few seconds later the Buckeyes were penalized for a late hit. 
That drive ended with a Dustin Fox interception in the back of the endzone.
I heard it happen before I saw it on my television. The same thing happened a few minutes later with this interception.
IN MY EAR: [home crowd screaming] Awww, shit! Shit Shit Shit! 

ON MY TELEVISION: [Krenzel still under center]
Moments later:
We both watched, seconds apart, as Ohio State and Purdue traded punts. The next big joyous shout came when Matt Wilhelm picked off Kyle Orton.
By this point in the 2nd quarter I was accustomed to bracing for bad moments and celebrating good ones before I even knew what they were going to be. Happy noises in my ear got me excited for what was about to happen. Expletives had me tensing up.
One exception to this was the 20 seconds of panicked screaming to end the half. Here's why that happened (sped up) and it was justified.
At halftime I hung up and drank an entire pitcher of lemonade, as I had been talking non-stop while drinking whiskey. Standing around in a tuxedo all day being anxious is the stuff wedding days are made of - but I wasn't getting married. Super fun times.
My palate was remoistened, my voicebox got a break and when the 3rd quarter began I was back on the phone with Matt. The Buckeyes came out of the locker room intending to run over the Boilermakers, and Clarett was running downhill with extreme violence and footwork precision. We could both see how the 2nd half was going to go, and it was good.
But then:
IN MY EAR: NOOOOO! NO!NO!NO!NO!NO!NO!NO!NO!NO!

ME: WHAT?!

ON MY TELEVISION: [Krenzel still under center]
Ah. No. Please, no.
Lydell Ross came in and fumbled on the next play. Krenzel was sacked by half of the Purdue roster after that. Minutes earlier we had visions of multiple Clarett touchdowns dancing in our heads. Minutes later the whiskey bottle was in grave danger of not surviving the quarter.
And so this continued, as Purdue added a field goal to go up 6-3 with me hearing about positive and negative plays moments before I could see them. Before we get to the exciting conclusion of The Best Thing to Happen in an Otherwise Gruesome Game, I feel obligated to share a non-Spring Game Bam Childress highlight from that afternoon.
It happened. People forget.
The Buckeyes might have cobbled together 50 yards of offense in the 2nd half? They received the ball for what appeared to be a last gasp attempt to get into field goal range and maybe tie it up at 6-6. A loss felt inevitable. Lost in Holy Buckeye is just how effectively Purdue had bottled up the Ohio State offense (and, let's be real and fair, vice versa).
Here's how I experienced that sequence, standing in that apartment alone, wearing a tux I had filled with nervous, liquor-tinged sweat and listening to the stadium sounds in my ear seconds before they paired with what I was seeing on my screen:
[IN MY EAR] 4th and 1, ugh not Lydell.

[ME] Not Lydell.

[IN MY EAR] They're going off-tackle to Lydell.

[ME] Noooooooo

[IN MY EAR] COME ON LET'S GOOOOOOO
On my screen: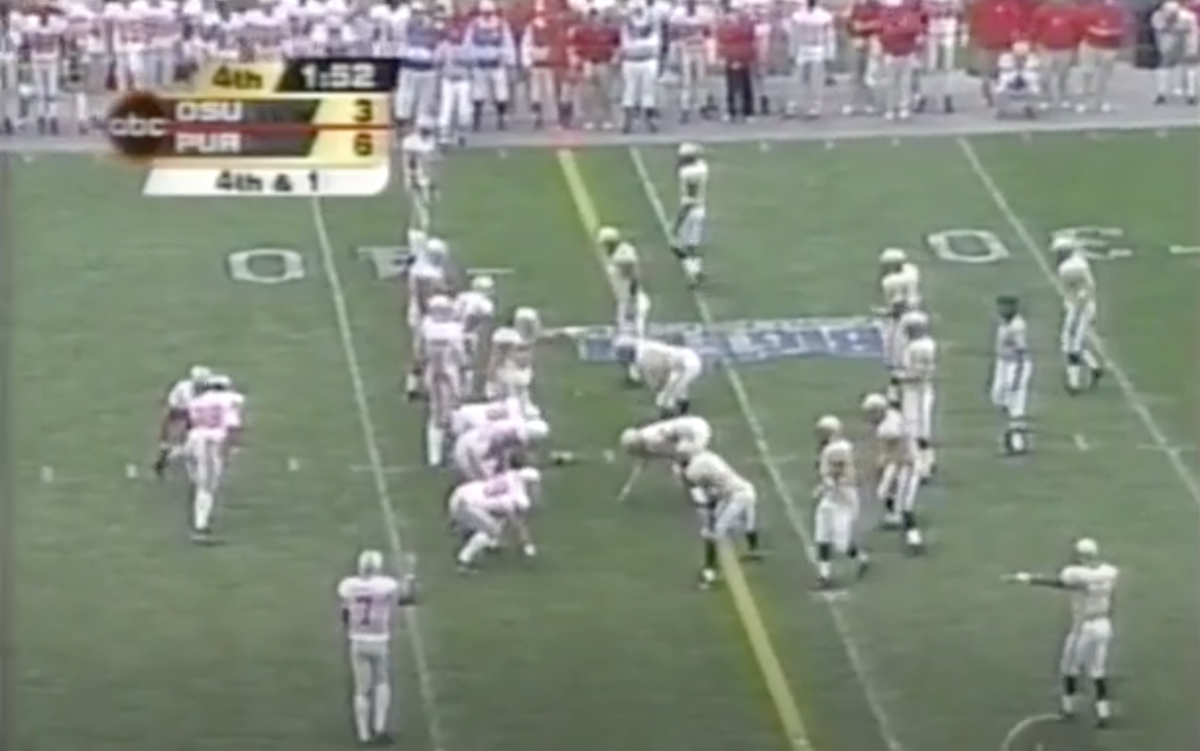 While Ohio State was lining up for the play, the ambient crowd noise that had been staticky in my ear the entire afternoon suddenly disappeared. It was eerily quiet. My brain did cartwheels over a matter of seconds - wait why is it quiet? Did the call drop? That's good, right - if it was bad for Ohio State it would be loud as shit? Do I have a signal?
ME: Hello? Hello?
What is happening? Why is it so quiet?
[IN MY EAR] Touchdown.
He said it in an absolute deadpan. No screaming, no emotion. Touchdown.
What. Touchdown? WHAT?
On my screen: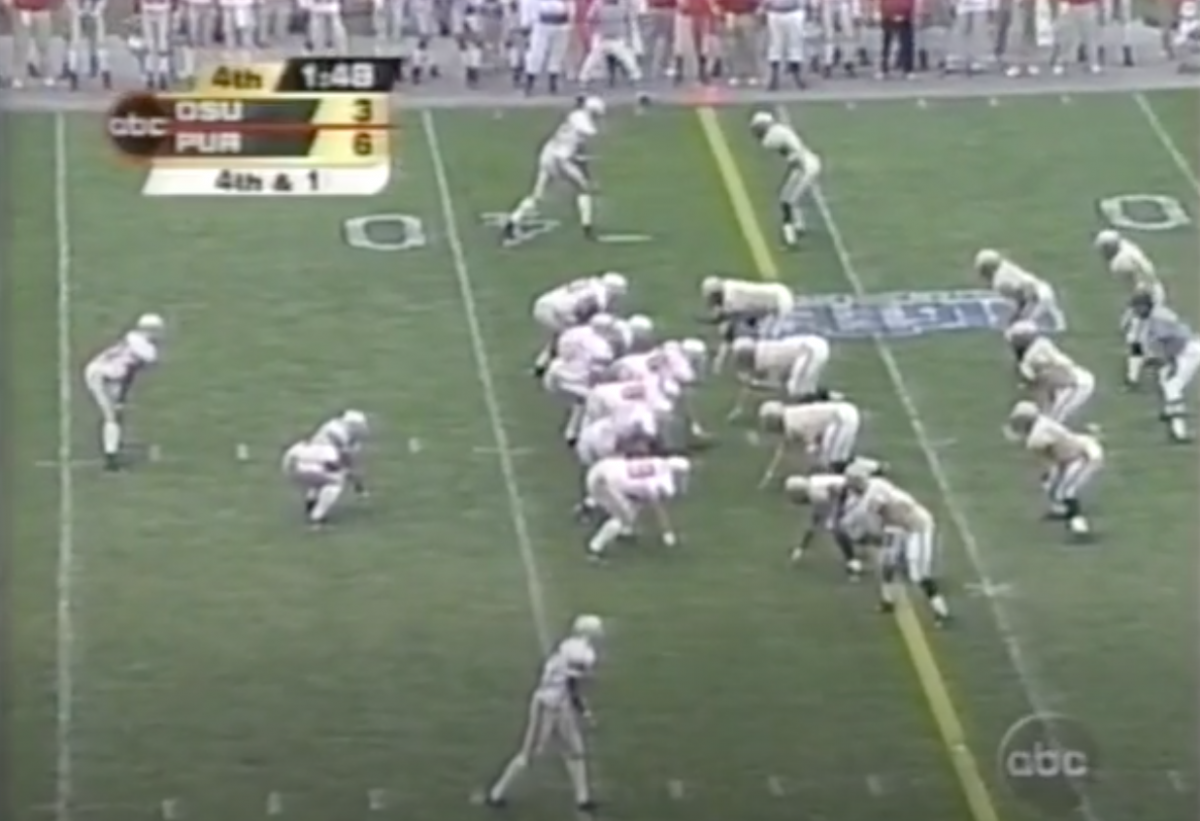 WHAT.
Right as Alex Stepanovich snapped the ball, the eerie silence in my ear exploded into chaos.
[IN MY EAR] *unintelligible screaming at every possible octave*
Holy shit. Touchdown? Lydell you beautiful boy. How did you score so fast?
On my screen: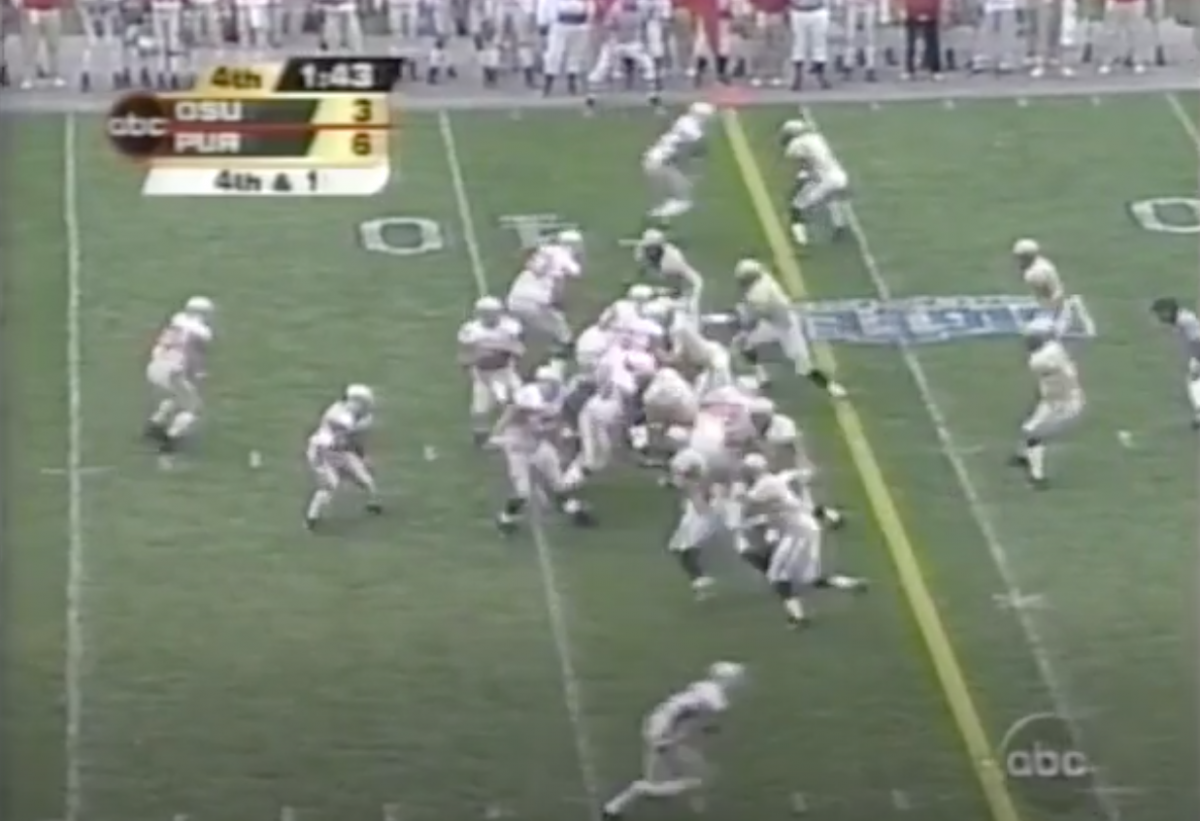 At this point in the play the celebration in my ear had only been happening for seconds but my body had already absorbed it with the certainty of the Allies winning the war in Europe. I watched it with amazement, confidence and excitement as I listened to strangers I would never see slam their bodies into each other in the Ross-Ade Stadium open endzone through my phone.
My television was still muted. As brilliant as Musberger was, I'll take the sounds that I heard on that little brick Nokia to my grave. Alas, I only got to hear them once.
This, I'll get to hear forever.
Matt was sitting in the endzone where the play ended, which meant Jenkins was running toward him. As soon as he got into his route he saw Krenzel release in that direction. His brain blurted out touchdown without any emotion as the ball sailed toward him in the silence, landing softly in Jenkins' breadbasket. 
Everyone in his section was frozen watching the play, which is why it was so quiet. When Jenkins caught the ball everything in that section detonated. No words, just sounds.
I try to imagine what that must have felt like. I heard all of it, and the visuals didn't overlap the way they're supposed to in a manner that allows our brains to properly consume events. The shock of a Tressel-coached team going for the ballgame on 4th and 1 had no peer in that era, with a polite nod to the play-action dive to Beanie Wells that turned out to be a deep shot to Ted Ginn - lined up as a TE - on a fly route early in the 2006 Michigan game.
There's nothing else like Holy Buckeye. It was completely out of character. Zeke running left on pin-and-pull was Ohio State's identity. I had no idea who this team was that had showed up in West Lafayette for exactly one play in a game where their only points came on a field goal that might not have counted during the replay era.
We screamed together on the phone once my screen caught up to reality. Nugent kicked the extra point and the game cut to commercial. I looked at my watch to see how much time I had before I absolutely had to leave for the wedding, and...I had to leave in negative 10 minutes. I was late. I hung up with Matt.
I jaywalk-ran across River North streets to the wedding in my tux, giggling like moron and getting strange looks from pedestrians and drivers that didn't bother me a bit. Nothing could bother me in that moment.
As I ran through the front doors of the church several blocks from my apartment, I passed the bride and her father who were waiting in the atrium for their signal to walk down the aisle.
I smiled at them both as I raced past them. A genuine, elated smile. Hey! Congrats!