"I'm telling you here today, 212 days from now, your Michigan Wolverines team will go down to Columbus, march into that stadium and we will beat you-know-who to bring back that familiar feeling of victory back to The University of Michigan again."
That broken promise is 214 days old today. Charles Woodson delivered it during his commencement speech to the University of Michigan's Class of 2018 on April 28, and newspapers and web sites - this one included! - quickly ran the story about how the Michigan Heisman Trophy winner had guaranteed the Wolverines would beat the Buckeyes in The Game, which was finally played four days ago.
Woodson's promise was problematic from the moment he made it. Bringing that familiar feeling of victory back is a mild contradiction, for one. His math was also off; 212 days was Monday. Jim Tressel's famous 310 days speech included a countdown too, which continues to be distracting from how he strategically went about ending Michigan's dominance and creating a sustainable era that is only threatened from within. 
Woodson casually broadcasted Michigan's big, catastrophic systemic failure to the newest crop of Leaders and Best in an attempt to ape Tressel's moment from 17 years earlier. We'll discuss that feature-which-is-definitely-not-a-glitch in time, but first we need to flip the 2018 calendar forward from April to June, and we need to move the location from Ann Arbor to Allendale.
Michigan enthusiasts: Welcome to the hell of your own making. Let's get Situational.
THE RUNDOWN: WEEK 13
11. The main event in Allendale wasn't on the agenda that was mailed out all over the country.
Ohio State's head football coach appeared in none of Grand Valley State's Best of the Midwest football camp promotions for a good reason - he wasn't on the schedule. Urban Meyer was a last-minute addition to the festivities. On Sunday, June 3 shortly before 11am he strolled into the camp wearing his 2014 CFP national championship jacket.
Jim Harbaugh and the entire Michigan football staff were in attendance, as planned. Both were given a few minutes with the microphone and every camper's undivided attention. Meyer went first, emphasis added:
How do you play in a big game? I have no desire to watch a game when you beat the hell out of someone 40-0. I quit watching. I don't want to see that. I want to see you in your rivalry game. I want to see you on 4th down. How do you perform on 4th down when the team needs you? Not when you're running around in shorts and t-shirts doing vertical jumps.
Harbaugh watched from about 30 feet away with his arms folded. Meyer skipped town as soon as he finished. Harbaugh took the mic, gave his own speech and then stuck around with his staff to help administer the camp as the last-minute speaker traveled back to Ohio.
As the details of Meyer's appearance began to leak out - his choice of wardrobe; dwelling on rivalry game performance - the impression among Michigan media members covering the event was that he was being passive-aggressive about Harbaugh's 1-5 record against Michigan State and Ohio State at the time. Urb out here talkin' shit. No, he wasn't.
Meyer treats the Wolverines in precisely the same fashion he once treated the Rockets, the Cougars and the Seminoles. Michigan sits on the same high pedestal those rivals used to occupy and is revered year-round, which does exactly two things:
it elevates the importance of winning that game and makes doing so a pillar of the program.
it shares a recipe for rivalry management institutionally impossible for Michigan to copy.
The latter is what allows Meyer to openly talk about the importance of rivalry games at a football camp in Michigan with Harbaugh and his entire staff in attendance - it has nothing to do with the record. There was nothing passive-aggressive about it. He would say the same thing at any camp representing any school with any record in any rivalry.
HOW DO YOU TACKLE A RIVALRY? YOU SHOW THE MOST INCREDIBLE AMOUNT OF RESPECT YOU CAN FOR THAT RIVALRY.– Urban Meyer
There are winged helmets displayed all over the Ohio State practice facility, year-round. They don't call Michigan disparaging names - or any name at all. Fans can say or do whatever they want, but as an institution and a football program Ohio State reveres and respects its rival.
Michigan reveres and respects Michigan. This strategy is not in the cards.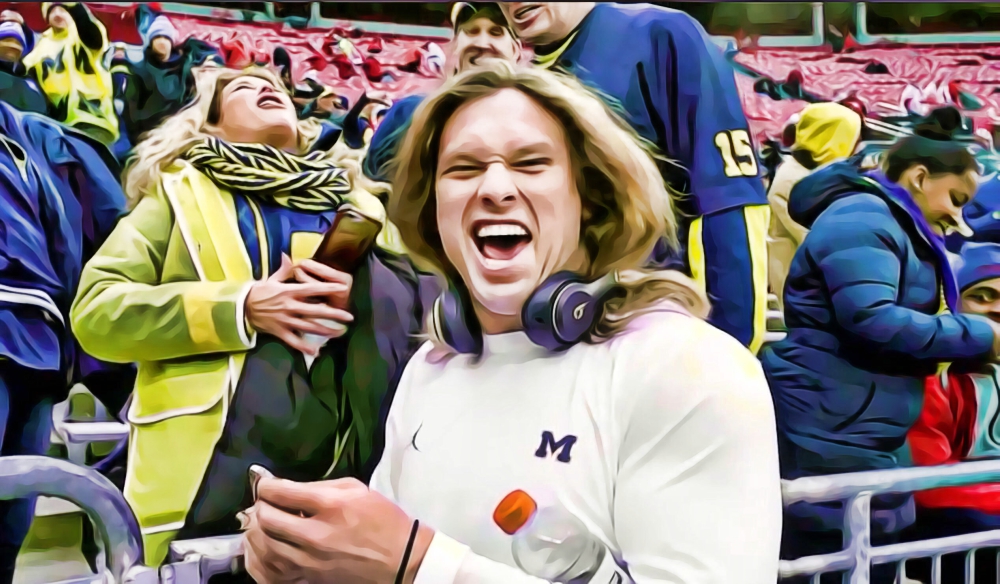 10. The Wolverines carry the burden of being a rivalry game for every team they face. That's a fate inherited from mostly a bunch of dead guys, many of whom played in sweaters and stitched helmets. A Michigan Man is handed something he had no part in creating but is responsible for looking after before passing it on to the next Michigan Man, preferably in better condition than how he received it.
This is a reality deposed Michigan Man Dave Brandon defiantly refused to understand, which, irony.
It's an endless game of hot potato. Everyone who gains admission also inherits The Victors and enters into the pantheon of being Leaders and Best through superior standardized testing scores, high school grades and having a conspicuous amount of extracurricular activities. If only the rest of us knew how important the ages of 13-17 really are.
With today's loss, Michigan's 14-year Big Ten championship drought is officially the longest in the football program's history

— Marcus Hartman (@marcushartman) November 25, 2018
Harbaugh followed Meyer's speech in Allendale with his own guidance for campers, which was to obey to their coaches, play their best - and if they did those things, everything would work out fine - which makes perfect sense. When you are the Leaders and Best, that suggests your best is always better. It's a cheat code. When you're the best in perpetuity you chase nothing. Everything chases you.
Unfortunately, leadership is an action, not a title. The best is fleeting bullshit. When either is cheapened into a slogan® or a battle cry™ they both become ornaments. Pretty on the outside and hollow in the center. Fun to look at. Easy to break.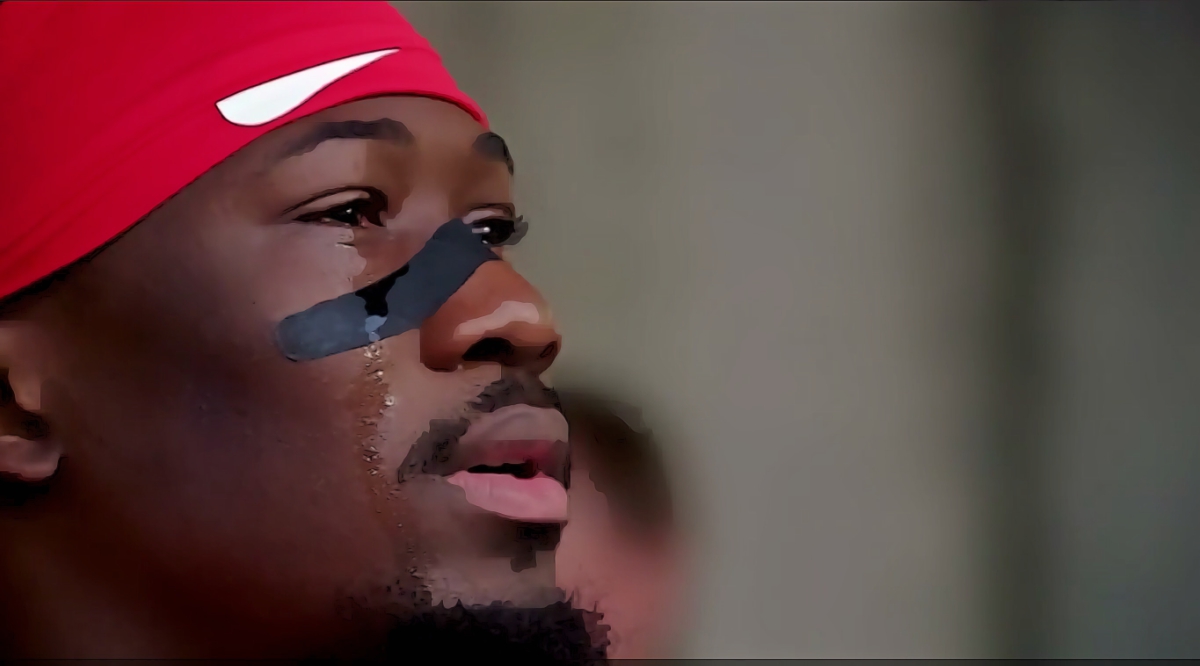 9. Meyer speaks of the best all of the time. It might be the phrase he repeats the most often when addressing the team, but it is always in victory: When I needed you the most, you played your very best. He's never said that phrase just once. It's usually repeated at least two or three times, growing louder each time.
But best is finite, past-tense adulation and that fits Ohio State so well, a place where every fight song (that isn't about returning to Columbus to get keg party-hammered) sings of either winning the future or overcoming the past. Every message that comes out of the Woody is about what's next. Every closing argument Meyer gives a potential recruit ends with the future is bright for the Ohio State Buckeyes. 
He's never said that phrase just once, either. It's usually repeated at least two or three times, growing louder each time. And he wears that jacket. He doesn't talk about it; it speaks for itself.
Which brings us back to the 1997 Heisman Trophy winner's empty promise.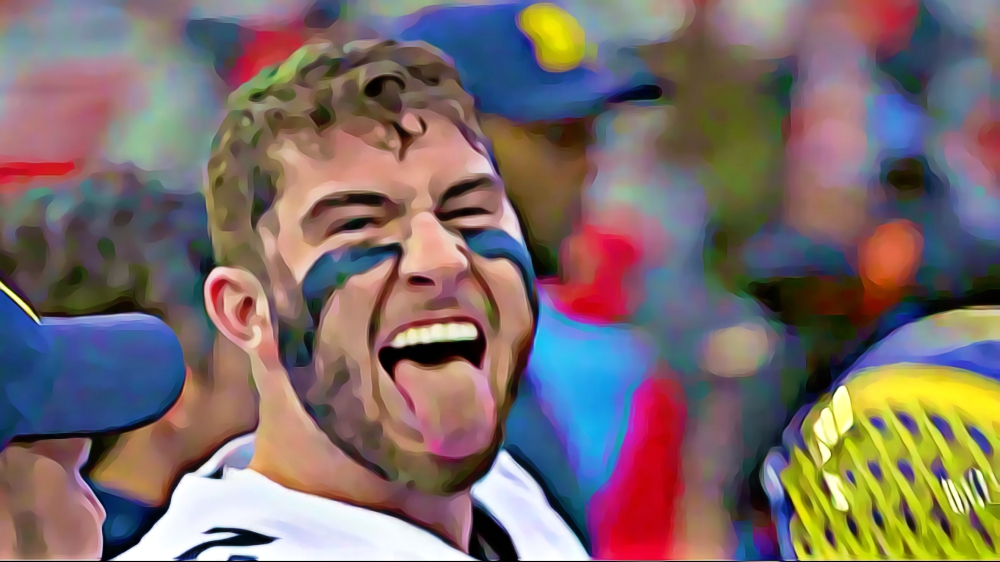 8. Woodson's guarantee was that Michigan would "(get) that feeling of victory back" at Ohio State's expense. 
Tressel promised Ohio State's beleaguered fans and alumni - prior to even meeting with their broken football team he had just inherited - that they would be proud. The Buckeyes were on a 2-10-1 stretch against their rivals. Who's got it better than us? Michigan had it objectively better. Circumstances are fluid. There wasn't a whole lot of pride.
When Harbaugh was introduced as Michigan coach he was asked about the program's struggles over the past several years and against Michigan State and Ohio State. Here are his responses, emphasis added.
Q: From a distance, how much did it pain you to watch Michigan's struggles the last six, seven years?

HARBAUGH: I didn't see the struggles you're talking about.
Michigan was 46-42 in the seven seasons prior to Harbaugh's hiring. That's the same number of losses from the day Harbaugh was born in Toledo until he arrived to play football in Ann Arbor.
Q: You don't want to make any guarantees about Michigan State or Ohio State, but can you talk about how you'll approach it?...What are you going to tell your guys about how to approach those games and the intensity they have to have?

HARBAUGH: First understanding what their intent is, you know, what our team's intent is going to be. And you got to be wiling to work for that, you gotta be willing to earn that. That's why I'm so excited for the first week of winter conditioning. Let's get that started. Let's find out what our intent is.
Both Woodson and Harbaugh openly treat the current condition of Michigan's rivalry game performance as an awkward and unfortunate blip rather than two decades of normalcy. 
And Harbaugh confused intentions with intensity and gave a word salad answer to a pressing question at his introductory news conference. The local media was too smitten by his presence to say anything about it. Huh.
Family chants are fun. Every clan deserves to have its own personal O-H.
7. Location, location, location: Michigan's Revenge Tour ventured out of state only once, last Saturday. That's not much of a tour.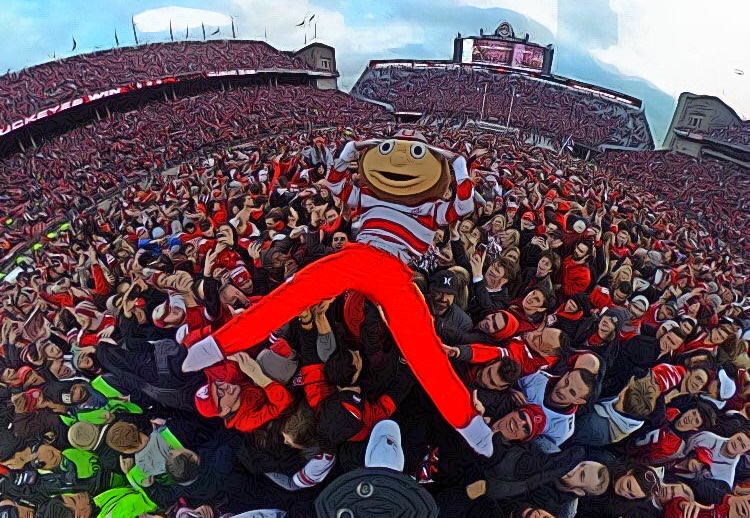 ...you'll be proud of our young people, in the classroom, in the community and especially in 310 days in Ann Arbor, Michigan, on the football field. 
That was a one-game revenge tour. It just wasn't presented that way.
Nothing makes me Prouder than to get a Text from THE @JimTressel5 this morning saying this! GO BUCKS pic.twitter.com/XQu5OjlS58

— Jonathan Wells (@JW_Mediagroup) November 25, 2018
Pride flows in one direction. Vengeance is a boomerang.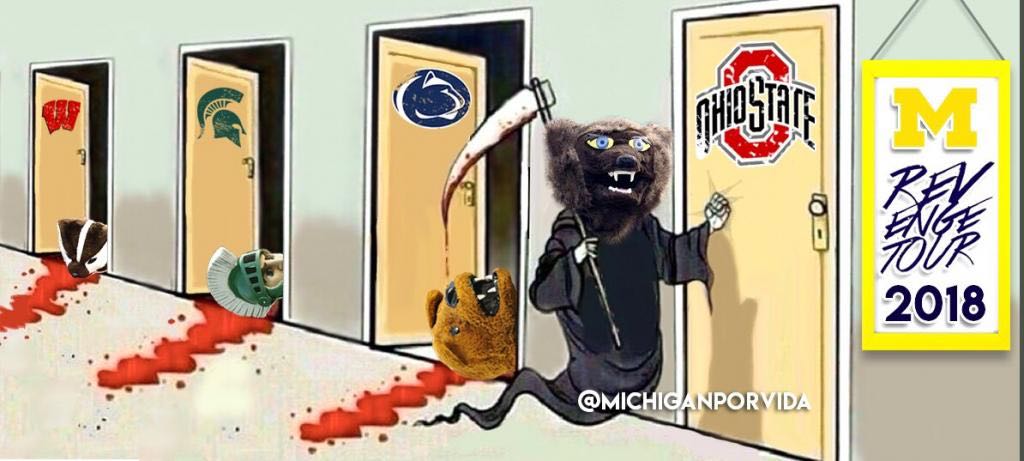 6. The Revenge Tour was the starkest contrast yet to showing the most incredible amount of respect you can show for a rivalry and Michigan in the throes of struggling to justify its program vanity. That's not on Chase Winovich, the other players who made it a battle cry or the burgeoning free marketeers who found a way to monetize it (hello, and thank you) it's on the guy in charge for allowing it to flourish.
Harbaugh's college coach would have hated every bit of Michigan putting Ohio State inside of the same box with Wisconsin, Penn State and Michigan State. Buckeye players insisted they didn't require any so-called bulletin board material to fuel their preparation for Michigan, which produced a lot of eye-rolling among the faithful, but...it's probably true?
The Buckeyes' rivalry management system post-Cooper works quite well, is indefinitely sustainable and doesn't rely on unsolicited contributions from a rival for energy. If they drop one or three to the Wolverines, they'll keep the Ohio State-Michigan game on the same pedestal.
"The last stop on the Revenge Tour is in Columbus, Ohio."

-@Chase_Winovich has led the @UMichFootball Revenge Tour, which has one final box to check in 2018. Karan Higdon has guaranteed a win over the Buckeyes.

It's ON Saturday at The Shoe: pic.twitter.com/YeJnhr0uhP

— Big Ten Network (@BigTenNetwork) November 23, 2018
Michigan quickly drained the flood of tackiness from the athletic department under Brandon but some of it trickled into Schembechler Hall and left puddles. Congratulations to Dollar Store Mike Hart for taking some shine off of what his coach did as a player and adding himself as a comedic footnote to the tapestry. His visage will be next to Walter Smith's.
Much respect to Ohio State for showing up to a rival game year after year and sorry Michigan pisses down their leg. Michigan fans need to shut the fuck up until this team can grow a pair of balls and actually win against them. period.

— Michigan Por Vida (@MichiganPorVida) November 24, 2018
That's from the fan who created the Revenge Tour artwork at the top of this section. Sounds like 2 Revenge 2 Tour might already be in jeopardy, but really - fans should say and do whatever they please. We need more revenge tours. As as site we are struggling to keep those shirts in stock.
HALFTIME: THE BOURBON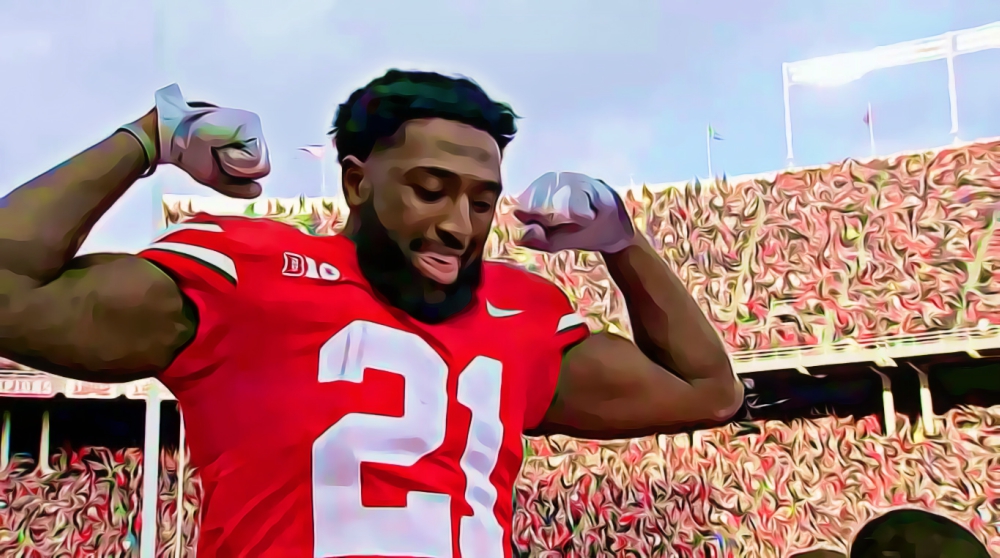 There is a bourbon for every situation. Sometimes the spirits and the events overlap, which means that where bourbon is concerned there can be more than one worthy choice.
Josh Metellus on SEC speed: Im from South Florida. Theres nobody faster than me.

— TheWolverine.com (@TheWolverineMag) September 3, 2017
When we last saw Metellus he was dropping a gimme interception last season in Ann Arbor right before J.T. Barrett galloped into the end zone for Ohio State's first touchdown. Here he's talking about his feet, prior to Michigan's game against Florida, invoking his Southern Speed™.
Metellus is even with Akron native Parris Campbell at the beginning of this GIF and by the end of it...oh dear.
HYPOTHESIS: Campbell is faster than Metellus despite not being from Florida. We need more evidence to determine if this is, in fact, true. But as you probably expected, there's a bourbon for that.
And it's Tom's Foolery, the pride of Burton, OH - about an hour drive from where Campbell grew up, which means he could probably get to the distillery on foot in 4-6 seconds; faster if Metellus happens to be chasing him. Iron sharpens iron, or something.
Tom makes a variety of spirits, but I've only had the bonded product. It had a lot of potential; kind of a cocoa and rosemary dance with some great heat behind it. You can definitely see that Tom's has a high ceiling it hasn't quite reached yet - but it should continue to get better.
Tom's Foolery is the sophomore year Parris Campbell of bourbons. Keep an eye on this one.
THE WALKUP: WEEK 14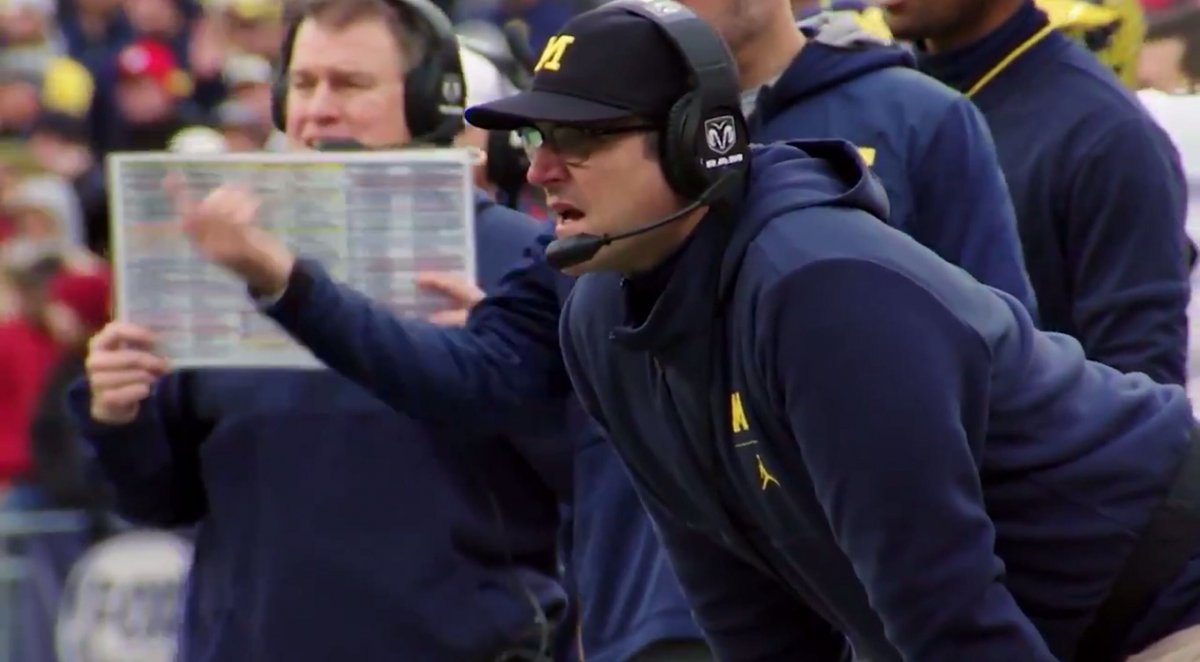 4. Here's Ryan Nanni talking about Ohio State defensive back seven on the rivalry preview episode of the Shutdown Fullcast:
It's IKEA furniture, hastily put together. All of the pieces are there...but you missed some steps. It's leaning!
This is a perfect metaphor if you ignore what IKEA's colors are and pretend IKEA's best man from IKEA's wedding was involved in packing the box.
Nanni is right, and all anyone has to do to exploit that back seven is spread the defense out a little and make those linebackers think too much. Michigan chose a more challenging path of fighting in the trunk of a car which allowed Bill Davis' unit to do...exactly what it's been trying to do all season regardless of the offense? Photo above is relevant. Thank you, gentlemen.
The Wolverines' strategy took the Buckeyes' extremely vulnerable and leaning IKEA furniture back seven and graciously reduced it to four. The defensive backs were torched again, the team committed a dozen damn penalties for over 100 damn yards - but linebackers weren't even given the opportunity to erase themselves on Saturday. It felt like old times, like 2016, or 2015, or 2014, or really any season post-Cuban Missile Crisis except for 1999 and ever since Davis was given a half-million dollar salary to coach college players for the first time in his life.
Speaking of Ohio State's defense, back in March one of our writers pointed out:
the only defensive front the Slobs consistently had trouble blocking while Ed (Warinner) was in Columbus was the one they faced every day in practice.
The Rushmen came to play on Saturday and they treated Ed's unit like they always used to. A competent front seven was all it took to hold Michigan to just...39 points.
3. I was in a New York Times article last week that discussed the history of The Game. It's the paper of record, which means everything you read in it must be trr-- **record scratch**
"Every year is its own chapter, but the story doesn't really change," said Ramzy Nasrallah, executive editor of the Ohio State site Eleven Warriors. "The story is that Ohio State's aspiration is to be Michigan."

...

"Michigan does not want to be Ohio State," Nasrallah, the Eleven Warriors editor, said, "because Michigan wants to be Michigan and still beat Ohio State."
Oh no. Did he really say that? Yes, he did.
I said all of those words within my broader explanation to the author about how the Gold Pants tradition began, by making superiority over the arch-rival a relatable and reachable exercise. I probably spoke for 20 minutes without stopping to breathe, detailing the Ohio State football tradition from pre-Chic Harley through the Maryland OT win the previous Saturday.
About 12 seconds of context-less sentence fragments were all that made it to print though, and it made me look...well, I want to kick my own ass for saying that, even though I didn't say that. It's not a journalism thing; I spoke too casually to a writer unfamiliar with Buckeyes and Wolverines. I guess what I'm trying to say is Go Blue, hey let's all be Michigan fans.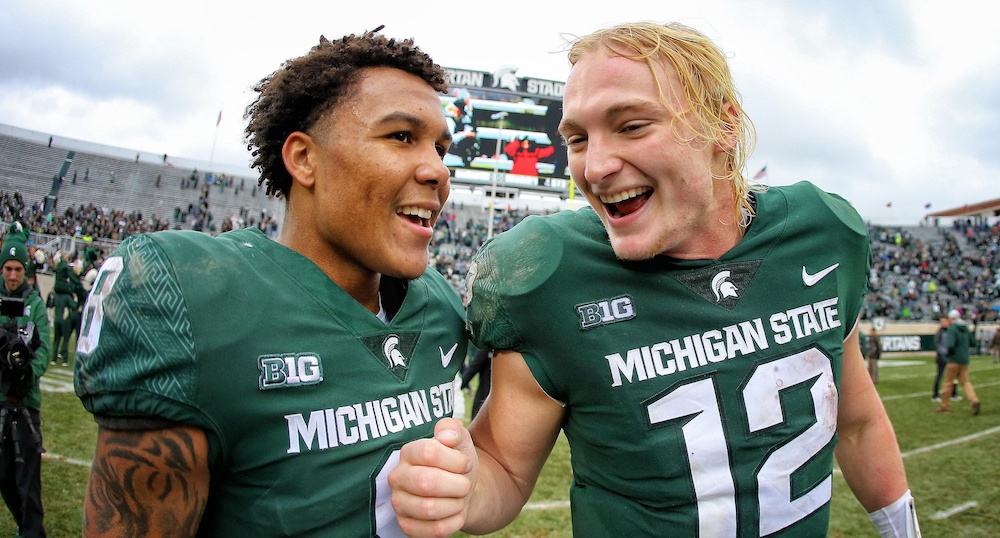 2. Even before Ohio State escaped College Park with a 52-51 OT win, it was clear the Terps would not get that elusive sixth victory to propel them into the bowl eligibility zone.
Btw Penn State will beat Maryland next week by five TDs. Ohio State is flawed as hell but it tenderizes everyone it plays for the next opponent.

— Ramzy Nasrallah (@ramzy) November 17, 2018
The science was well-established. Playing Ohio State is very bad for what happens next.
OHIO STATE BROKE NEARLY ALL OF ITS OPPONENTS IN 2018

| OPPONENT | OSU SCORE | NEXT FBS GAME | BOWL ELIGIBLE? |
| --- | --- | --- | --- |
| OREGON STATE | W 77-31 | L 35-37 @ NEVADA | NO |
| RUTGERS | W 52-3 | L 14-55 @ KANSAS | NO |
| No.15 TCU | W 40-28 | L 16-31 @ TEXAS | YES |
| TULANE | W 49-6 | W 40-24 MEMPHIS | YES |
|  @ NO.9 PSU | W 27-26 | L 17-21 SPARTY | YES |
| INDIANA | W 49-26 | L 16-42 IOWA | NO |
| MINNESOTA | W 30-14 | L 28-53 NEBRASKA | YES |
| @ PURDUE | L 20-49 | L 13-23 @ SPARTY | YES |
| NEBRASKA | W 36-31 | W 54-35 ILLINIOIS | NO |
| @ No.24 SPARTY | W 26-6 | L 6-9 @ NEBRASKA | YES |
| @ MARYLAND | W 52-51 (OT) | L 3-38 @ PENN STATE | NO |
| NO.4 MICHIGAN | W 62-39 | TBD | YES |
Ohio State's non-Michigan opponents went 2-9 after playing Ohio State, with Sparty and Scott Frost being the primary beneficiaries of the tenderization. In conclusion, had Maryland been able to beat the Buckeyes in OT, Michigan would be losing in Indy on Saturday.
1. Northwestern faces Ohio State on turf this weekend, which means it's not going to be able to grow Ryan Field's grass two extra inches to try and mitigate the speed disparity. FOILED AGAIN, NERDS.


Play without 3/4 of your secondary, a starting LB, and two kickers.

Sit your offensive starters in the 4th.

Beat your rival.

Win your seventh straight Conference game.

...Drop one spot. https://t.co/zQY0Ftf1D1

— Northwestern Football (@NUFBFamily) November 25, 2018
Grass can't be grown indoors, but #disrespekt can flourish in any environment. Here's your tale of the tape for this epic clash of midwest titans:
THE SHOWDOWN EVERYONE HAS BEEN WAITING FOR

| IMPORTANT COMPARISON | OHIO STATE | NORTHWESTERN | EDGE TO |
| --- | --- | --- | --- |
| LAST LOST TO AN OHIO TEAM | 1921 | September | OSU |
| LAST LOST TO MICHIGAN | 2011 | September | OSU |
| LAST LOST TO NOTRE DAME | 1936 | November | OSU |
| LAST LOST AT PURDUE | October | 2007 | NU |
| LAST LOST TO EACH OTHER | 2004 | 2016 | OSU |
| WINS VS EACH OTHER | 61 | 14 | OSU |
| NEUTRAL SITE WINS VS. EACH OTHER | 1 | 0 | OSU |
| NATIVE OHIOANS ON THE ROSTER | 52 | 17 | OSU |
| PLAYING FOR | Rose Bowl* | Rose Bowl | PUSH |
Gotta give the edge to Ohio State here. See you in Indy, friends. 
Thanks for getting Situational today. Go Bucks. Beat Northwestern.