What's happening to the Wolverines is gruesome, clownish and almost entirely self-inflicted.
Michigan definitely isn't struggling only because its contemporaries are improving while it is stagnating. The program is beyond well-equipped to enter and win any arms race; this decline has been a disparate mix of the competition doing what's necessary paired with the most destructive institutional vanity in college athletics today.
Dave Brandon's Michigan is a nice lesson other college football empires could learn from - if they're able to break from gawking at its slow burn long enough to diagnose and understand how this has been willfully allowed to happen. Ann Arbor's festering cautionary tale is going to be a riveting Harvard Business Review case study someday. 
Maybe you enjoy seeing Michigan's struggle, but this type of unthinkable decline is capable of happening anywhere - especially at our favorite ivory tower. All it requires is unchecked power in the hands of the wrong goddamn person guarded by influential people supporting him or her for all the wrong reasons.
Much has been made of Brandon's corporatizing Michigan's game day experience, alienating students, alumni and season ticket holders, overseeing embarrassing ticket giveaways, tacky skywriting pranks and generally being a tone deaf helicopter dad with the football program - but those are merely symptoms of the larger, debilitating problem.
Michigan's TRUE conquering heroes - its ADMINISTRATORS - HAVE SEEN THEIR SALARIES INCREASE 72% SINCE BRANDON ARRIVED IN 2010.
Michigan hand-picked a megalomaniac with no experience as a collegiate administrator to treat its football legacy as his own personal toy. He rules over Michigan football like a child emperor unaffected by criticism and while rejecting the possibility that perhaps he might have something to do with this burgeoning crisis.
The university and its regents have been complicit in allowing him to consolidate power and balloon spending: Michigan's AD budget has skyrocketed from $94.4MM to $151MM during his four years. Meanwhile, the U-M AD's administrators - the real conquering heroes of the university - have seen their salaries increase 72% in that time.
Brandon himself was hired at $560,000 a year, will earn $900,000 in 2014 and is predetermined to receive $50,000 raises in both 2015 and 2016 (these are all base salaries that don't include his bonus opportunities which extend well into six figures). If Michigan parts ways with him prior to that he will be rewarded with a $3MM buyout. Brandon's predecessor Bill Martin made $380,000 when he retired.
That atrocious contract is not Brandon's fault. Michigan signed off on all of it, as if to suggest its newly-hired AD with zero experience was a flight risk.
So you've got an expensive, high-profile administrator spending unprecedented amounts of money while the football team has lost nine of 13 games playing in a stadium where season tickets have been consciously devalued by the university and attendance has fallen off a cliff.
Clearly, it's not going well. Brandon for his part refuses to point the blame at anybody or anything: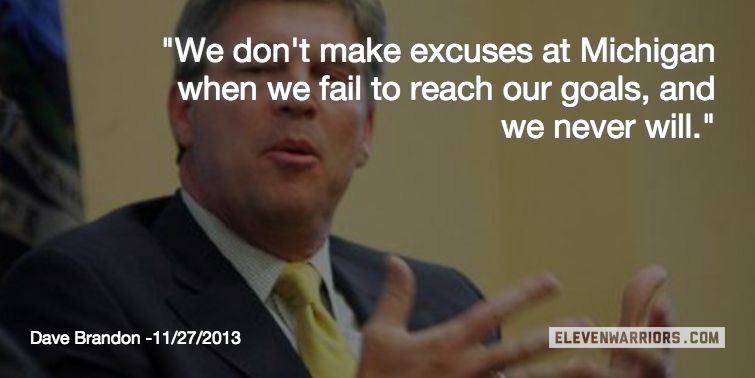 ...except when it comes to Michigan's declining stadium attendance, which is all the Big House's fault for being too big.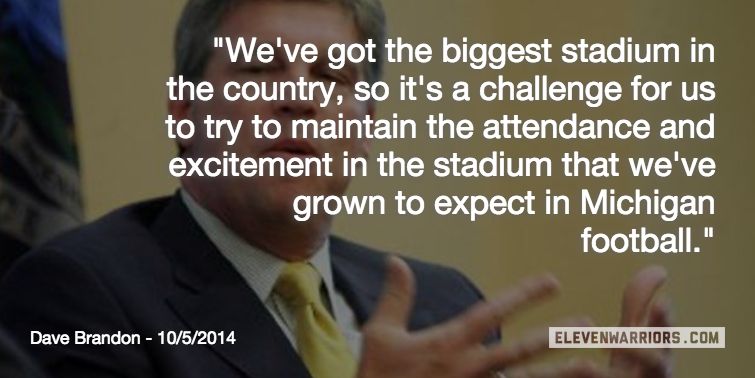 Exceptional institutions like Michigan football are run and maintained by temporary caretakers. That's all university administrators are supposed to be. Their job is to safeguard an intangible inheritance that will never be spent; primum non nocere. Michigan football is an heirloom that's passed along from generation to generation in perpetuity. 
Ohio State is no different. This fiasco could happen in Columbus someday (and the current university administrators are entirely capable of making it happen). All it takes is the wrong goddamn person guarded by influential people.
Michigan isn't just owned by Brandon or its regents. It belongs to the every one of its stakeholders - past, present and a whole bunch who have not yet been conceived. Leaders and Best is a virtue; a constant challenge to meet and exceed a legacy largely established in an era that predates tone-deaf million dollar administrators. 
It's not an entitlement, a bumper sticker or a forgone conclusion. That seems to be lost on Brandon and his enablers, and it's this institutional vanity that has corrupted Michigan to the point where its athletic director runs a passive-aggressive campaign against his detractors:
Brady Hoke is the man for @umichfootball http://t.co/XsxkBjfUb5 #GoBlue

— Dave Brandon (@DaveBrandonAD) November 27, 2013
In the words of the man who hired Brady Hoke:
Anyone making efforts to stir up a coaching controversy at Michigan is ill-informed and is likely promoting a personal agenda that is not in the best interest of Michigan Football.
If you voice your displeasure at the decline of Michigan football you must hate Michigan, basically. Brandon is waiting for Godot where the Wolverines' resurgence is concerned, and at some point this tragicomedy is going to end.
However, that doesn't necessarily mean the wholesale changes many are hoping for will happen. You can't just terminate institutional vanity. Michigan's flaws with pride and politics are marrow-deep; it's how Leaders and Best becomes an entitlement rather than a virtue for the wrong goddamn people.
This means it's entirely possible Hoke's exit will be technically similar to Jim Tressel's where there is no executioner on record. He could simply go somewhere else on his own, and Brandon will have been spared of pulling the trigger (publicly) on what would essentially be an admission of his own failure to land the right coach after firing one who is doing just fine now that he's 2,000 miles away from Ann Arbor.
it's possible Hoke's exit will be similar to Jim Tressel's where there is no executioner on record.
Michigan's million-dollar administrator then gets another shot at hiring a guy better-suited to handle one of the biggest jobs in football at any level, and Michigan's regents and caretakers get some cover while the Wolverines hit the reset button for the third time since 2007.
Dignity, preserved. Vanity, triumphant. Hoke, elsewhere. Michigan's problems would be solved, albeit cosmetically. Unfortunately the underlying disease would still be there. Michigan's nemesis isn't Ohio State, Notre Dame or anyone promoting a personal agenda that is not in the best interest of Michigan Football. 
No, the real threat is a lot closer than Columbus or South Bend. On November 20th of last year Michigan finally determined there was a "preponderance of evidence" to suggest kicker Brendan Gibbons committed sexual misconduct, and it notified him of that finding.
It took two police departments, three university offices and nearly four years to reach that determination. There had been grumblings for years the entire assault was being ignored or covered up. The day before that determination was finally issued - which led to Michigan expelling Gibbons from school days later - its AD proudly announced: 
No surprise-Brendan Gibbons named #B1G & #CollegeFootball Performance Specialist Player of Week http://t.co/Z4I6nTb2EY

— Dave Brandon (@DaveBrandonAD) November 19, 2013
Keeping a player with a brain injury on the field isn't so bad by comparison. 
Perhaps that was yet another miscommunication regarding Michigan football. Or maybe it's just one more symptom of the larger, debilitating problem.