We need to talk about Ed Warinner coaching at Michigan.
But first of all, before we say anything let's get this out of the way: Ed is righteous. He's royalty, he's immortal, he rescued the Buckeyes' offensive line from the lazy, depthless dreck of Jim Bollman. He's better than the fifth Beatle. He's basically Ringo.
Ed is an Ohio State football national champion, just like Bo Schembechler and Gary Moeller. There are others too; I just can't remember any of them at the moment
Now, let's discu- **puts finger in ear** hold on, I'm being told there's one more thing to get out of the way before we talk about Ed Warinner coaching the Buckeyes' arch-rival. Okay then, second of all - here is Ed telling Michigan jokes to Ohio State boosters:
For you time-sensitive readers, here are the applause lines: (please tip your waitress)
If you're worried about Wolverine fans, just move to Pasadena. You'll never have to deal with 'em.

I heard some playbooks were stolen and Brady (Hoke) hadn't finished coloring them yet.
Well that's awkward. You know what, let's just clear the deck completely before we talk about Ed at Michigan.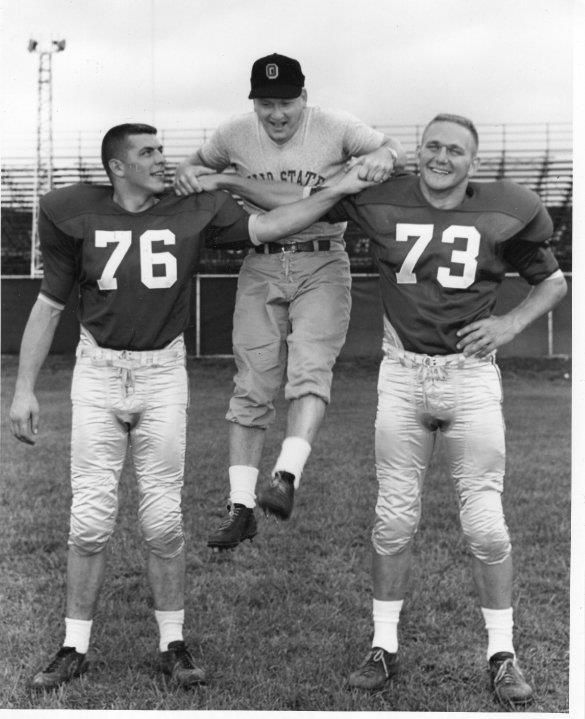 Third of all, he coached at Ohio State from 2012-2016, which falls within the Second Renaissance of Buckeye football (2012 - present) which followed the Dark Ages (2011-2011) and the first Renaissance (2001-2010) so of course there's film of Ed Doing Ohio State Things.
Referring to Michigan as That Team and cracking jokes at their expense, flashing his record in The Game with his position group on the field in Ann Arbor, belting out Carmen Ohio, modeling his championship rings, all of that Renaissancy stuff was part of the job. Of course there are artifacts. This isn't a big exposé.
Ed owns five Gold Pants for beating Michigan, same as Bo. And a national championship ring with a giant O on it (Ed's is a little bigger). Ed's from Strasburg; Bo was from Barberton. That's not even an hour drive, folks. The irony of parallels is sometimes the lines do cross. Chew on that for as long as you need to.
But his past is in the past. It was all part of his vocation in Columbus, which makes anything Ed said or did while wearing his old company uniform forgivable in Ann Arbor. 
Okay then. Fourth of all...oh noooo Ed cleanup in aisle four -
Go Bucks!!! pic.twitter.com/ulsgFjIERP

— Ed Warinner (@4Warinner) June 7, 2016
Well, that's benign enough. Posting your grandma's recycled Facebook meme is hardly a crime.
This is a crime.
Go Bucks!!!! pic.twitter.com/oGN5NFBtzz

— Ed Warinner (@4Warinner) November 27, 2016
Oh dear. Okay fine, just one more.
4 Slobs earn their 4th pair of Gold Pants! Billy gets his 3rd pic.twitter.com/ju9hioSSO8

— Ed Warinner (@4Warinner) November 28, 2015
I lied.
It's a Great day to be a Buckeye! pic.twitter.com/ASZuD19H1c

— Ed Warinner (@4Warinner) April 17, 2015
Fifth of all, Michigan is Ed's 10th coaching stop, which is to say he's sung nine fight songs. Akron, Army, Michigan State, Air Force, Kansas, Illinois, Notre Dame, Ohio State, Minnesota, Michigan. Five B1G schools in there. That's a lot of company-issued polo shirts. This is how the coaching profession goes. 
Ed shook down the thunder in South Bend. He spent five years singing Carmen Ohio at the student section. Maybe they do the Rock Chalk chant at KU football games too but nobody knows for sure. He did whatever they do at Illinois (I've been to a dozen of their games and have no idea). He not only Rowed the Boat™ at Minnesota, he led the Gophers' conspicuous Ohio Operation:
Back in the state of Ohio to continue finding future Gophers. RTB pic.twitter.com/3wW6q2KnFK

— Ed Warinner (@4Warinner) September 22, 2017
Very interesting "Ohio Operation" graphic from Minnesota. Looks like next to the Rock n' Roll Hall of Fame graphic is the Pro Football Hall of Fame. The most recent Gopher inducted in Canton is Tony Dungy, who exhausted his college eligibility a scant 42 seasons ago. Minnesota has far better representation in the Rock n' Roll shrine. 
I got distracted, where was I. Right, after five years of not saying the word Michigan at all, Ed now gets to sing The Victors after games. It's only weird if you make it weird.
Sixth of all, the sour ending of his Ohio State tenure should not be allowed to dampen his contribution to the program and by direct correlation, your happiness and self worth. The final Ohio State points scored on his watch were at Michigan's expense. They made a Lego movie about it. We made a t-shirt about it. 
And then a month later, his offensive line and strategy were neatly folded like a 200-thread count bed sheet by Clemson's defensive front. The former was a rarity; the latter a regularity. Ed and Tim Beck both found themselves seeking employment elsewhere before the following weekend. Remember the good times instead. They were exceptional. We should send Ed that shirt.
Seventh of all, it's a trap. Michigan exclusively promoting Ed's pupils at Ohio State over anyone else he coached at his other eight schools is a trap. Don't step in the trap.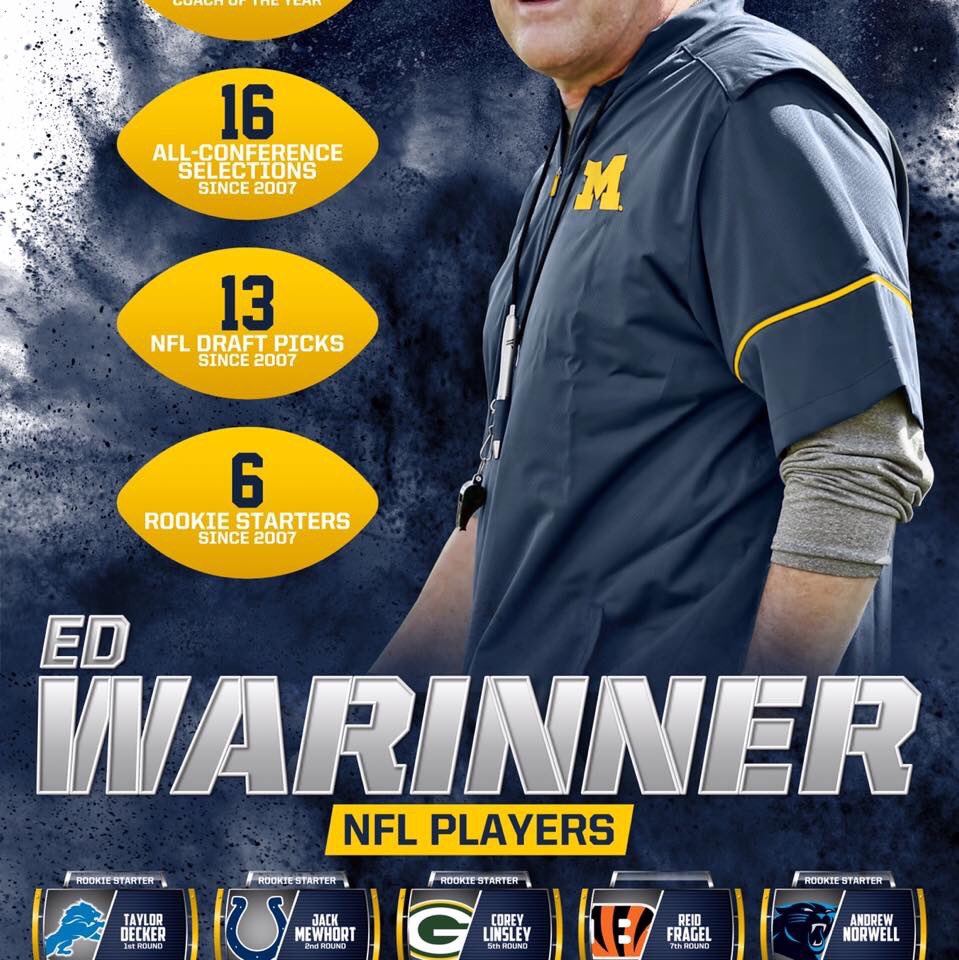 The 16 All-Conference Selections, draft picks and rookie starters timeframe begins...in the middle of his Kansas tenure? You're not supposed to drill down into the details whenever you see on these recruiting postcard claims. It's a trap. All of the stuff that preceded this is worth talking about because it's fun. This is a trap.
We're only three years removed from Michigan promoting Jed Fisch over Zach Smith to sway recruits while omitting Fisch's 100-ranked offense at Minnesota from his tenure (hey why is Michigan always omitting Minnesota?) and the fact that Fisch had, you know, been fired.
Billy Price and Jamarco Jones will hear their names called next month at the NFL Draft. Pat Elflein just played his rookie season in the town where Ed was coaching the Gophers. It's going to be weird as hell when Ohio State manages to continue sending offensive linemen into the NFL without Ed's assistance.
Take us home, former 11W beat writer:
If Don Brown became Ohio State's defensive coordinator, it would be very odd if OSU made a graphic touting Chris Wormley, Taco Charlton and Jourdan Lewis. This isn't very complicated to understand.

— Kyle Rowland (@KyleRowland) February 28, 2018
Okay, with all of that out of the way now we can finally talk about Ed Warinner - who gets to live and work very close to his son in East Lansing as an added bonus - coaching in Ann Arbor.
It's very nice for him. It's a colorful story for a sport that thrives on them and it's good for him personally, independent of how awkward it may be contrasted against his upbringing and recent career. It also serves as an important reminder that the only defensive front the Slobs consistently had trouble blocking while Ed was in Columbus was the one it faced every day in practice.
Good luck, Ringo. Beat Penn State.