CONFIRMED: Urban Meyer has $50,000 riding on The Game.
If Ohio State beats Michigan for the 16th time in 18 years the Buckeyes will end their regular season tied with the Wolverines for first place in the East. But beating Michigan head-to-head slides the tiebreaker to Columbus, giving Ohio State another division crown.
That would transfer 50 grand from the university to Meyer's bank account. If his team is able to defeat Northwestern in Indy the following week, that unlocks another $100,000. Now, if those hypothetical 12-1 Buckeyes are then selected for inclusion in the College Football Playoff, Meyer receives a $200,000 bonus, just in time for Christmas.
JIM HARBAUGH STANDS BETWEEN URBAN MEYER AND EXACTLY $700,000 IN POTENTIAL BONUS MONEY.
Your brain is crunching big numbers and realizing that reaching the CFP is worth more to Ohio State than winning the B1G regular season and B1G title game combined. Compensation shapes behavior. Organizational priorities ladder down to the guild. And the bonuses only get bigger now.
Upsetting whomever that CFP Semifinal opponent would be (it would be an upset, right?) is worth a cool quarter mil. Winning the final game of the season and getting a second golden trophy to pair with the 2014 one means the Meyers will get an additional $350,000.
That means Jim Harbaugh, his dastardly football program and about four hours of vicious, televised anxiety this Saturday are all that stand between Urban and $700,000 in potential bonus money. Ohio State's head coach is already a fierce and maniacal competitor when personal finance isn't involved, so you'll have to forgive him for lacking Jim Tressel's sideline demeanor. He's never been wired that way.
Meyer rubs his head, puts his hands on his knees and doesn't try to wear a poker face during football games. This was the case in 2012 when he arrived (go ahead and kill two hours rewatching that season's Purdue game if you refuse to believe this) and it's the case now. Television producers are suddenly keen to position this as an emerging new behavior, which, well. No. It is not.
Meyer puts his anguish on display when the Buckeyes are soaring as well as when they're struggling. He's a ball of nerves when there's no TV camera on him (ask anyone at the games watching him when the cameras aren't, hi, can confirm) or when there's one permanently trained on him like there was at Maryland.
It's because he cares that much, whether it's due to a giant payday riding on the outcome, or his brain cysts are flaring up - or just because he really wants to beat the shit out of Michigan.
Which he does. We all do. Let's get Situational.
THE RUNDOWN: WEEK 12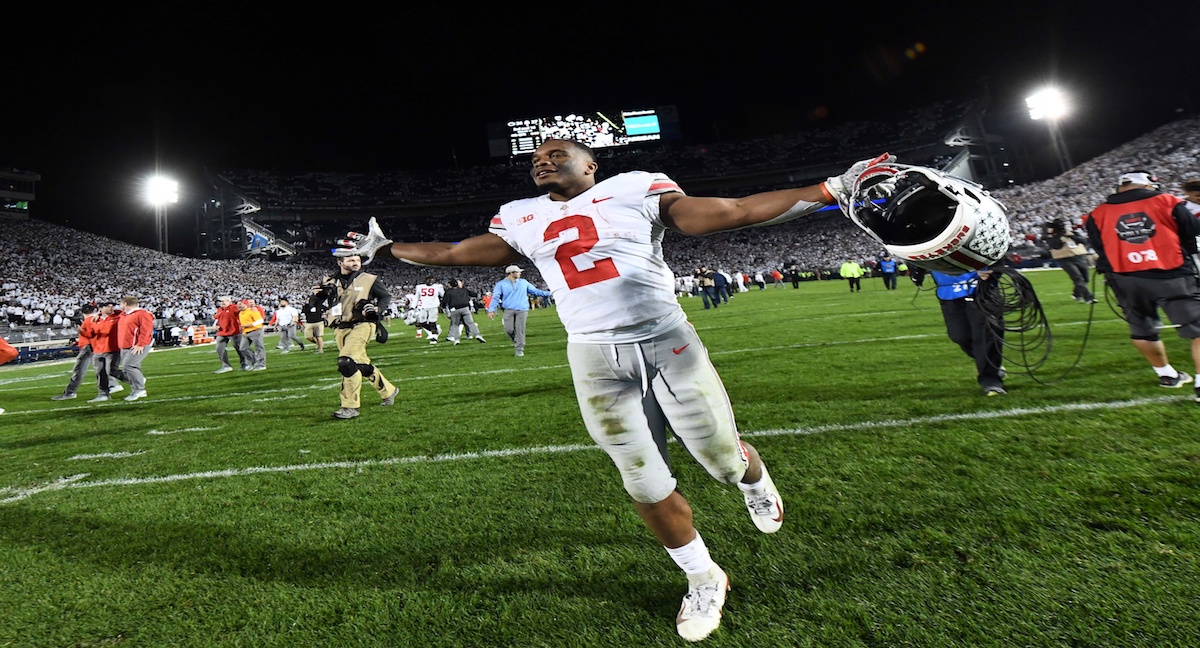 11. It's not just you. This hasn't been an enjoyable college football season.
Ohio State is 10-1 heading into the Michigan game which is precisely the same position they were this week, two seasons ago. And three seasons ago.
And four seasons ago.
This is the eighth time in history 10-1 has happened with one to go. Your Buckeyes are on the homecoming court once again with a giant forehead zit that all of their friends and enemies are pointing at while either laughing or screaming. It should feel better than this, but it doesn't.
You're excused for failing to find the joy in giving mediocre opponent after mediocre opponent a moral or actual victory this season. This whole campaign began with a sour taste that has stubbornly lingered for the duration. And yet, 10-1. Title contention.
Is it the worst 10-1 ever?
WHEN OHIO STATE IS 10-1 AND FACING MICHIGAN

| YEAR | THE LOSS | OSU RANK | MICH RANK | THE GAME |
| --- | --- | --- | --- | --- |
| 1997 | at PSU 27-31 | 4th | 1st | L 14-20 |
| 2003 | at Wisconsin 10-17 | 4th | 5th | L 21-35 |
| 2007 | vs. Illinois 21-28 | 7th | 23rd | W 14-3 |
| 2010 | at Wisconsin 18-31 | 8th | UR | W 37-7 |
| 2014 | vs. Va Tech 21-35 | 6th | UR | W 42-28 |
| 2015 | vs. MSU 14-17 | 8th | 12th | W 42-13 |
| 2016 | at PSU 21-24 | 2nd | 3rd | W 30-27 2OT |
| 2018 | at Purdue 20-49 | 10th | 4th | Saturday |
The data say...probably? This is the first 10-1 team that wasn't safely ranked in the single-digits. But no one cares about 10-1 teams heading into the Michigan game. Check back with your feelings late Saturday afternoon for a proper grade. 
Two final things for my salty comrades:
Comparing shitty 10-1 seasons is peak #OhioStateProblems. We're just a few months removed from laying to rest to a beloved former coach and Hall of Famer whose nickname was Ol' 9-3 because...guess why.
The worst 10-1 season conceivable is better than the best 8-3 season.
Go Bucks. Hey, nice zit.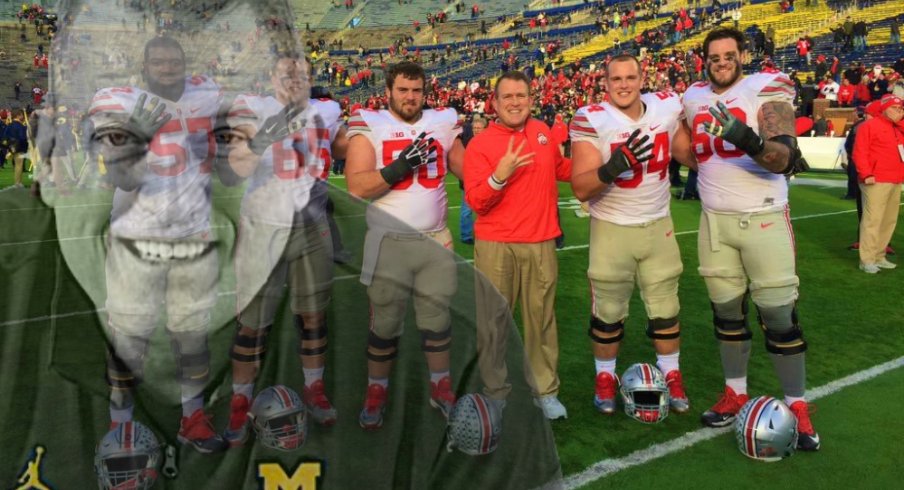 10. Congratulations to Karan Higdon, who will show up again later in this broadcast, on being the first Michigan running back to have 1000 yards rushing in a season going back to the days when Meyer's paychecks were still coming from ESPN. Trivia answer: Fitz Toussaint. You blocked out 2011 which is why it didn't come to you immediately.
Higdon is - what's the most tepid insult possible - comprehensively average? But he's having a breakthrough season for a program that hasn't been able to get game-changing production out of running backs since Brady Hoke was winning conference coaching awards that John Cooper, Jim Tressel and Urban weren't and aren't talented enough to win even once, combined.
Those same elevated expectations that have kept you miserable throughout 10-1 are similar to what keeps Ohio State head coach trophy shelves empty every postseason. You expect more. More is expected of them. We're grading on the toughest curve.
Anyway, Higdon's breakthrough is not because he's suddenly good. It's because Ed Warinner is the latest Ohioan to contribute to the legacy of singlehandedly keeping Michigan football, as Chris Spielman is fond of saying, from being Purdue. Yes, I know what happens when Ohio State plays Purdue. I'm just summarizing a Spielman quote and you get the point.
Ed is the best OL coach I've ever seen in Columbus and the reviews in Ann Arbor from their football people have been as gushing as ours were when he was running the Slobs. Ed wants this one badly. Larry Johnson's unit has been, well, comprehensively average since losing the team's best player, and the second level is mentored by Bill Davis. We've said enough. I regret writing this section now.
Here's to the Slobs finally getting the snap count and pad level right on Saturday, and to Ed being present once again for a Gold Pants celebration he and Bo Schembechler used to enjoy so much.
9. Last week following the Michigan State game I screamed into the abyss:
 I need to know why Haskins ran the speed option before I expire
I still have no answer. But the R in RPO was suddenly more than an ornament in College Park.
Dwayne Haskins rushed for 59 (!) yards on 15 (!!) carries and had three (!!!) rushing TDs. I've watched this GIF a couple hundred times and wondered what could have happened had Michael Jordan, who like his basketball namesake should only play guard, been able to locate the defender to block at the second level instead of abruptly turning into Vincent Vega.
I no longer care about the speed option whateverthatwas in East Lansing. Let's update the question:
I need to see Haskins in an open field footrace with a head start against Michigan's secondary.
Least appreciated recent tradition of this rivalry, folks. Jabril Peppers still hasn't caught J.T. Barrett.
8. It took 11 games, but I think we can agree that the flow of each game is virtually identical. Only Purdue found a way to be glitchy.
[five minutes in] Oh hell, the game started?
Yoooo, they're scheming against our obvious tendencies. That can't be legal.
Touchdown, Buckeyes. Look at all this talent, peasants. Sucks to suck.
Why get low while run-blocking when you can just kind of swat at dudes instead.
[linebackers distracted by a laser pointer during a live play, run off the field chasing it, through the tunnel and into the parking lot leaving Ohio State in an 8 vs. 11 situation for 2-3 drives]
They're still scheming against our tendencies! This is an outrage. Eh, let's discuss it at halftime.
Fans, worry less about safeties "setting the edge" and try to appreciate their "fearless creative expression."
Halftime. Okay, let's talk about maybe changing things up so they can't keep antagonizing us.
Touchdown, Buckeyes. We're onto your tricks and schemes, peasants. Well, possibly.
Isaiah's fine. Malcolm's fine. They don't need help. This is a moment for growth, or humiliation.
Only five penalties thus far? That seems low. Hold on, let's just start grabbing dudes.
4th down muhahahaha you've unlocked our punter! Kill them, Drue. [Drue kills them]
Touchdown, Buckeyes. Now you guys are in trou- [slips and falls, hitting head/passing out]
Whew that was a close one. Character builder. Let's learn from this and never let it happen again.
Carmen Ohio
[repeat everything from the top the following week]
You hate this cadence, but you'll run toward it on Saturday. A disappointing win or an inspiring loss? Take a minute to weigh your options. Gotta hear both sides.
7. We're a little sensitive around here about trademarks. You'll notice this web site has a black color scheme, for example. That's because a certain institution informed us awhile back that using scarlet or gray would infringe on marks that belong to them. Colors. On a web site.

You pick your battles. So we picked black. AC/DC's lawyers have not commented thus far.
Our charity tailgate used to be Eat Too, Brutus until lawyers from that same institution tapped us on the shoulder to let us know their interpretation of what intellectual property encompasses includes cheeky Shakespearean puns that overlap with certain mascot names. So it's the Eleven Dubgate now. Our store contains items that hold only our marks, our intellectual property but most importantly - nothing that could even possibly be construed as belonging to someone else.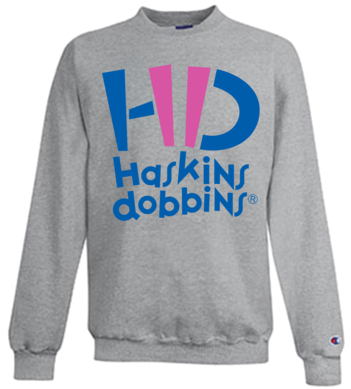 From journalism standards to commerce, we play by the rules - however draconian they might seem. It's less complicated that way. Anyway, someone noticed that Ohio State's QB and shiftier RB have names that when said together, kind of sound like an ice cream chain! The company producing Columbus' hottest new sweatshirt trend has a profit motive, but it's driven by altruism:
Ohio Grit currently is working to obtain the organic cotton shirts made by these formerly trafficked women, giving more opportunities for others to also be freed. Ohio Grit is meant to give everyone a chance to be able help women that are on the opposite side of the world. People that have no way of ever reaching these parts are now able to make a difference in each of these women lives. 
Using player names is a no-no in the world of amateurism (google O'Bannon vs. NCAA). Coaches are off-limits too; Urban Meyer and Woody Hayes are trademarked and owned by a certain institution. Just imagine if, oh, let's take a random example - sexual abuse was policed as vigorously or with as much urgency by universities as the knock-off t-shirt business is.
There are exactly two people being treated unfairly by this creamy sweatshirt, and hopefully they'll be running roughshod over Michigan this weekend. They should get something out of this. Hell, it could be ice cream. Who doesn't love ice cream.
6. The football program has been issuing Champions for each game for several years now under its Everything is a Competition mantra, which applies to all units now that the waiver Zone 6 used to name six starters for three straight seasons was revoked with the termination of previous/disgraced position coach Neppy Bloatarski.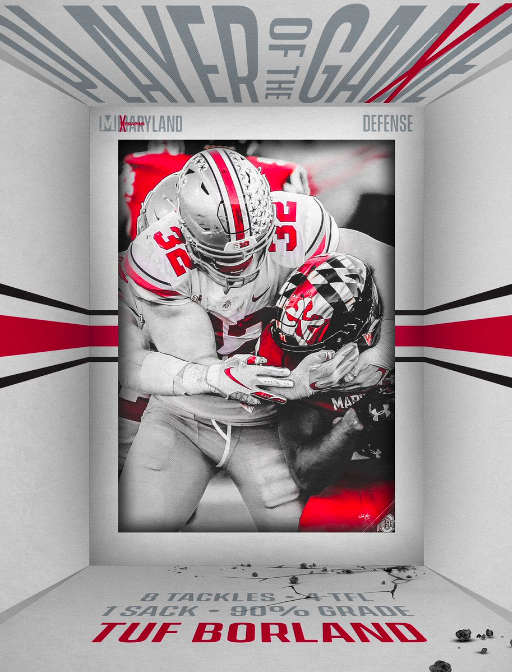 This season's defense has been a textbook example of how to properly run a cutting edge college football defense in 2008. Opposing offenses with caretakers capable of running a 2018 defense have exploited its dated concepts all to hell at every opportunity, which is what makes the portioning of blame heavier on the side of the grownups than at the kids' table. This is a timely Thanksgiving analogy.
There have been some curious champion grades awarded this season, and I'm one of those types who believes in symbolic gestures, like - random example - no champions from the unit that allowed 535 yards, 45 points and a half-dozen huge plays to a shitty offense that's been shut out and held to just 3 points this season, and with a backup QB. No champions. It's symbolic.
But that takes us back to the grownups table. They're the ones setting the menu, and if the kids are eating it properly, despite being seasoned poorly and possibly laden with e. coli, then - yeah, it's hard to fault them. Clean plate club is awarded no matter what the food was. This is America, damn it. 
If I understand Ohio State's grading scale correctly, Champion Tuf Borland attempted to do the right thing nine times out of ten against the Terps. Trying matters. It's a little late now, but maybe update the menu? Use ingredients that didn't expire when you were still coaching Rutgers, for example.
HALFTIME: THE BOURBON
There is a bourbon for every situation. Sometimes the spirits and the events overlap, which means that where bourbon is concerned there can be more than one worthy choice.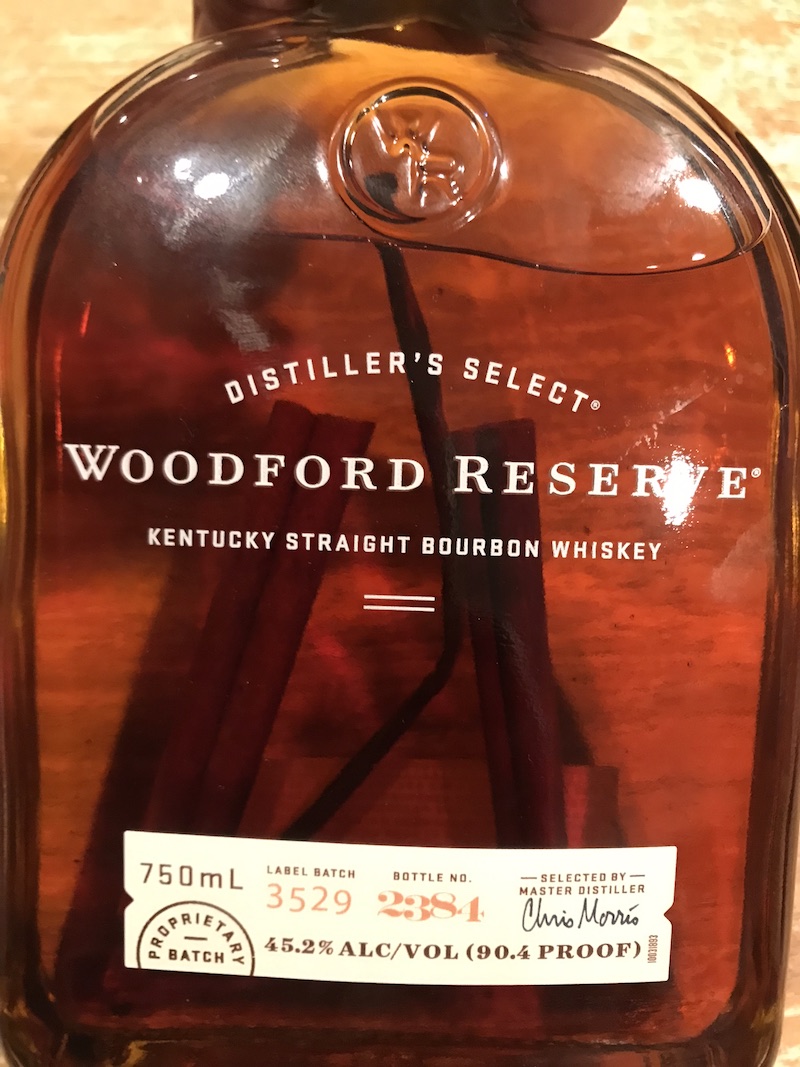 Chances are you're one of the millions of Americans who has voluntarily chosen to participate in the country's worst traffic week by hitting the roads or skies to spend Thanksgiving with family. The good news is your reward will be spending ample time with old/young relatives who are as opinionated as they are clueless.
You're going to get in an argument, and this is important: If you fight long enough and make your case (PRO TIP: shouting helps) you'll change those ignorant minds, because let's face it - you're always right. So stick to your guns. But not literal guns; you don't want to end up on the news or in prison - for a number of reasons, but mostly because bourbon is hard to come by behind bars.
A fun way to break the tension is to infuse bourbon together. Family activities often feel forced or contrived, but making holiday bourbon together provides one - maybe even two - full minutes where you're not giving your layered analysis to what the real unemployment numbers are, and how statistics can be manipulated by anyone to make the point they want to make. Watch a different news channel. What are you, in a cult? Be better, old/young person. Be like me. Say it forcefully; it's inspiring.
Pick up some cinnamon sticks and Madagascar vanilla beans (which look more like twigs than beans). You want a decent bourbon in a unique bottle because aesthetics matter, and Woodford - pictured here on my bar as I type this - was born for this role. Put the sticks and twigs in the bottle as soon as you arrive, so before you complain about traffic or tariffs.
It will already pack holiday flavor by the time you finish the big meal/your first three fights. When Michigan runs out onto the field to a chorus of boos Saturday, it will taste like Christmas in Kentucky. Love one another. Infuse bourbon together.
THE WALKUP: WEEK 13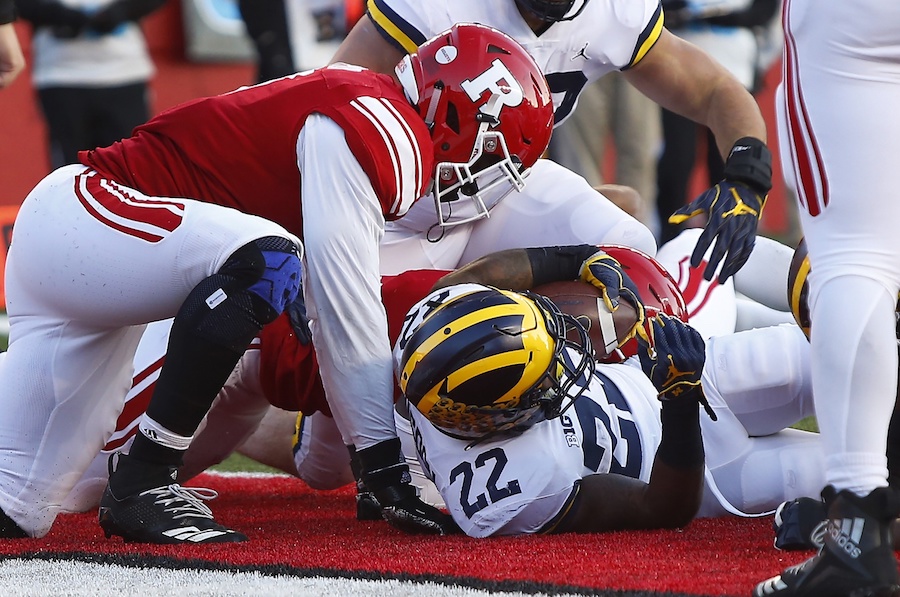 4. The team that runs the ball better has won every Ohio State-Michigan game for well over a decade. Michigan has *tries to find the right word* sucked at running the ball for years now, while Ohio State has been the superior team holistically - so this is one of those correlation/causation arguments. 
This edition of The Game has been rich with animus, as the Wolverines are rightfully sick and tired of losing to the Buckeyes. Higdon, the comprehensively average yet 1000-yard rusher we discussed earlier already guaranteed a Michigan win. Michigan native Mike Weber responded, which pulled Karan's brother Kavon into the ring:
Subtweeting my brother when he ran you out of your own state https://t.co/m91uVH9zEq

— Kavon Higdon (@KD_2RAW) November 20, 2018
Kavon is referring to Weber believing he was the only running back Hoke was taking back in the 2015 recruiting cycle, prior to his successor flipping Higdon from Iowa on signing day. It's a he-said he-said affair, which - let's just avoid that and focus on what's important.
First:
WEBER vs. HIGDON: THE GAME

| RB | 2016 | 2017 | 2018 |
| --- | --- | --- | --- |
| WEBER | 11 carries for 26 yards & 1 TD | 12 carries for 57 yards & 1 TD | TBD |
| HIGDON | 3 carries for 5 yards | 11 carries for 55 yards & 1 TD | TBD |
Higdon has 100 more career rushing yards than Weber on 46 more attempts, and neither has done enough to end up on the ceiling of the rivalry's Sistine Chapel (Weber's game-clincher last year was the only play of his you remember because...it was his only play worth remembering).
And second: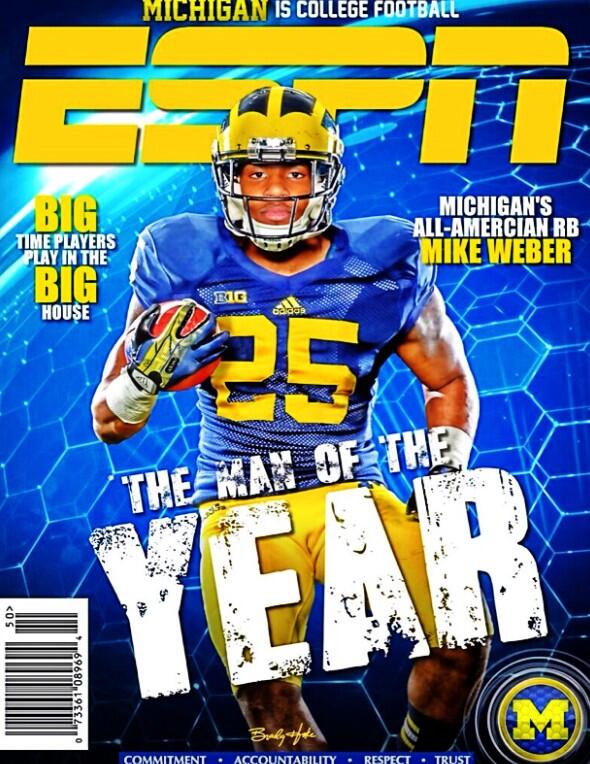 Still can't believe Weber didn't end up playing for Amercia's team.
3. Lost in the madness of Ohio State's inability to perform basic defensive tasks properly:
D. Haskins 28-38, 405 YDS, 59 RUSHING, 6 TD, 1 INT, 1 FUMBLE

J.K. Dobbins 37 CAR, 203 YDS, 1 TD

T. McLaurin 4 REC, 118 YDS, 1 TD
Maryland fell almost two dozen spots in FBS total defense after playing the Buckeyes. Even with Greg Studrawa's unit living into its discombobulated caricature all season long, this offense still has the kind of momentum you would hope to see heading into a meeting with the nation's top defense.
2. It's not just Ed. Michigan DL coach Greg Mattison is also a former Meyer assistant who won a national title while reporting to him, and whose ceiling is position coach. There's a lengthy list of former colleagues who have gotten the chance to stick it to their old boss, and the club of guys who have actually done it successfully is *drumroll* Dan Mullen smoking a Dominican cigar by himself with his feet up on Meyer's old desk in Gainesville.
No pressure. If you're wondering if Urban realizes this, yeah don't.
1.Twenty years ago Ohio State came into this game brimming with confidence and trepidation. The Buckeyes ripped the Wolverines apart, sending fans onto the then-grass field to rip up chunks of turf as personal keepsakes with the Horseshoe beginning the biggest renovation (RIP, track) in its history.
Confidence and trepidation. An uncomfortable, symbiotic feelings salad made possible when history and the present collide. Twenty years ago the Buckeyes were decidedly on the darker side of the rivalry, and beating the Wolverines felt almost mythical. Michigan was built into a standard that Ohio State simply could not reach, whether it had an unstoppable offense in 1995, an impenetrable defense in 1996 (they allowed nine points a game!) or a title-worthy team in 1997.
Three straight losses. Three games they could have won, and arguably should have. Ohio State has lost three games to Michigan since 2000. It lost three times from 1995-97.
Tim Biakabutuka was a comprehensively average back the Buckeyes transformed into a superhero. He rushed for 313 yards against Ohio State. In Michigan's next game - the Alamo Bowl, a destination for comprehensively average teams - he couldn't hold onto the ball and rushed for 94 yards on 24 carries. The 17 points Vegas was giving the Wolverines a year later against a senior-laden Rose Bowl bound national title contender hellbent on avenging the previous season's upset weren't enough points.
Holding the eventual co-national champions to one yard per carry in 1997 on their own home field (42 yards on 42 carries!) is enough to win most games, but not that one. Peyton Manning lost the Heisman Trophy that afternoon in Ann Arbor, and he didn't even participate.
It's the Wolverines who are now brimming with confidence. These players have nothing to do with the failed versions that preceded them. Their losing streak is their own; short and recent - they're not playing to avenge losses the took place when they were children or unborn.
But the fans in attendance - the crowd, an Ohio audience notorious for only showing up when the game really matters - they know. They're responsible for the tone on Saturday, whether it's the triumphant inevitability of victory or the ambient feeling of hellish dread. Ohio Stadium has not been an X factor for the Buckeyes in a long time. If it veers toward hellish dread the first, second or fourth time the home team allows a big play - it's going to feed the visitors.
So if you're going to be in attendance on Saturday, please don't feed the visitors. Smash through to victory, and cheer them as they go.
Thank you for getting Situational today. Go Bucks. Beat Michigan.