Seven straight road wins against ranked teams.
That includes a perfect 2-0 record this season against Ohio State's two Premium Divisional Non-Rivals, at No.9 Penn State in white-out conditions and at No.24 Sparty Spartington. If you'd prefer embellishment, the TCU Horned Frogs were America's No.15 squad in the hours prior to the Buckeyes irreparably damaging them at a neutral site game played 20 minutes from their campus.
That brings OSU's ranked road streak to eight*. Either way, the last time the Buckeyes lost to any ranked team that was hosting them, Luke Fickell was the head coach.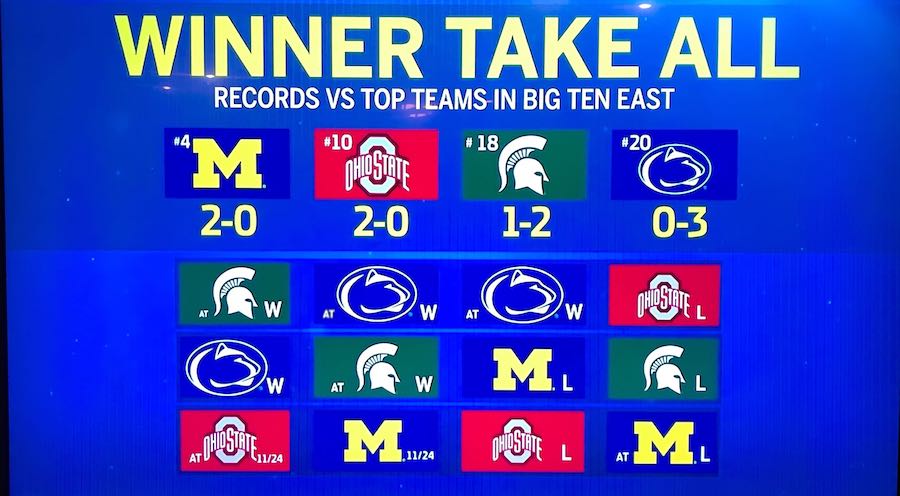 Since this weekend's non-Michigan opponent Maryland is unranked, Ohio State will carry this streak into an eighth season. By the way, the Terps haven't taken down a ranked FBS team on their own turf since 2010, when defecting from the ACC for a midwestern-centric new home wasn't even a glimmer in Maryland's finance department's eye.
One fun trend to look out for on Saturday is that the Buckeyes just held Sparty to a condescending sixer at home - right after allowing its biggest outputs of the season in consecutive games against Purdue and Nebraska (hi sticklers, 17 of Oregon State's points arrived in garbage time).
Meanwhile, here are Maryland's scoring outputs over the past nine games. Trend? Trend!
45, 14, 42, 21, 34, 0, 66, 3, 32 <-- this was last week
Zero, sixty-six, three is a scoring cadence you normally see mediocre SEC teams pulling off with the benefit of a Chickenshit Saturday™ opponent bolstering the ol' November confidence (by the way, that's this weekend - go Citadel!) The Terps are destined for another small number based on their sine curving scoring trend.
The good news is that's generally what they do against the Buckeyes anyway. Let's get Situational!
THE RUNDOWN: WEEK 11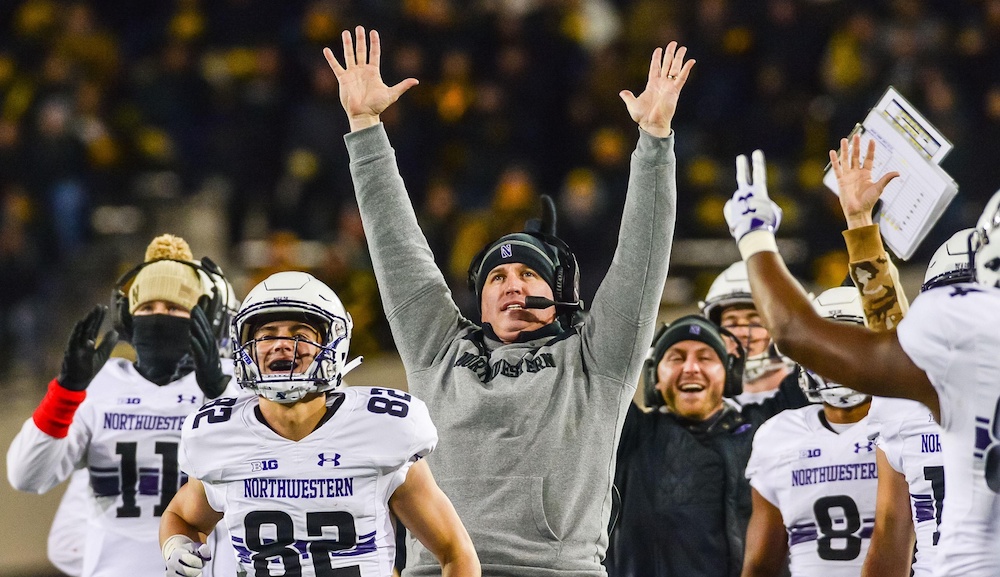 11. For the sixth straight year we're well into November and still talking about Ohio State's path to the business class section of the college football postseason. That's a great indicator of Urban Meyer's big picture consistency, but the clearest path I can see with the Buckeyes winning out is being the first one discarded for the second straight season.
Go ahead and light up your pitchforks; this is going to suck and I hate writing it.
It's not Alabama, Clemson, the B1G XII contenders or Notre Dame's fault, either. It's partially Ohio State's, which has looked dreadful far more often than it has flashed (this was also low-key the most damaging blow to the failed 2015 repeat campaign, not losing to Sparty) but mostly because of goddamn Northwestern, which clinched the West on November 10th.
Michigan has the B1G's only shot, having lost a close game on the road to to a playoff contender with an offensive line that now looks nothing like the current one it is deploying each week - this is where not looking dreadful is an asset. Ohio State was Iowa'd a few weeks ago in West Lafayette, and the word cloud around the Buckeyes in 2018 isn't great: can't run the ball ZACH SMITH linebackers erasing themselves NICK BOSA GHOSTED mcmurphy CHAOS pesky brain cysts. Being 9-1 is supposed to be shinier.
Short of Ohio State tripping up again, the Wildcats have done the most damage to eliminate the B1G from CFP by losing in literally every non-conference game they have played this season. In related news, they also locked up the mediocre division that contains a team that beat the Buckeyes by 29 points.
Anyway, the playoff is optimal. But Pasadena is nice too.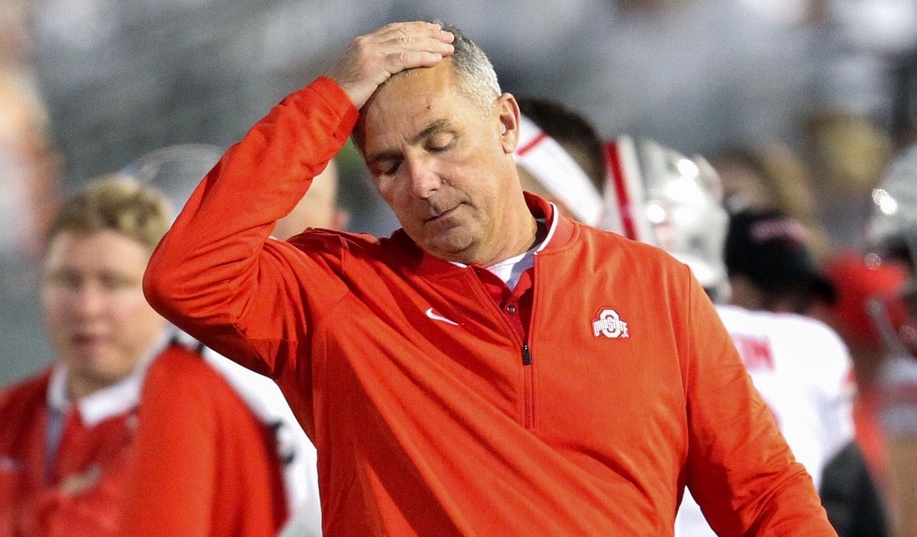 10. Back when I was bouncing between undergrads in Columbus and Bloomington I got the chance to cover and write about Bob Knight near the peak of his powers. Sit tight; this story finishes up in East Lansing last Saturday.
For you youngsters, it was a wild time for Big Ten basketball - during that era IU kept its bench on the opposite side of the scorer's table at the request of the head basketball coach, which resulted in TV viewers only seeing him from behind. He did not enjoy seeing himself shouting on television, so he flipped the court and put the audience behind him.
The problem was that by the early 1990s ESPN had exploded and game coverage had expanded. Cameras began showing up behind baskets, in corners, up in the rafters and behind the scorer's table itself - which gave fans outside of Assembly Hall plenty of angles of Knight as he screamed. It was being in attendance at those standard definition games that gave me the relevant epiphany I remembered this past Saturday.
You could not watch an IU broadcast without being treated to multiple close-ups of Knight's tensed face as he screamed at an official or his players - and that's because there was always a camera trained on him for a producer to switch to as it happened. Whistle? Pan to Knight. Turnover? Knight. Traveling call? Knight. They were always ready for the reaction. 
But if you were actually in the arena for those IU games, you knew that Knight was mostly...boring? He sat or quietly spoke to players for no fewer than 38 minutes of game action, game after game. When his temper flared, cameras made sure you saw it.
Urban has been getting Bobby Knighted by TV cameras this season ever since he awkwardly made his post-suspension debut in Game Four. His visceral anxiety and those cysts have pulled cameras on him like never before, and Fox finally came up empty in East Lansing when Meyer's pained and angsty demeanor took the weekend off. He did not cooperate.
That's how you make these little subplots go away. Knight was never disciplined enough to do it, flipping the sideline to try and silence it. Meyer has it. Let's see if he does it.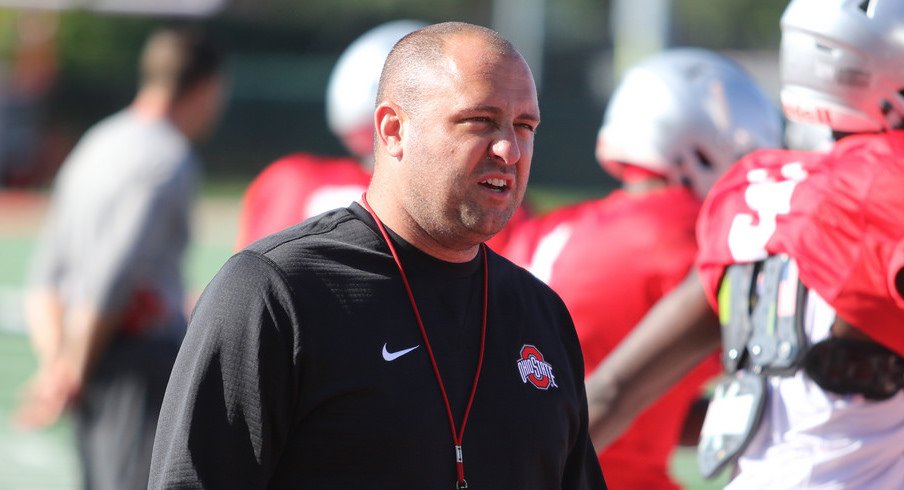 9. Zach Smith's unsolicited exit interview continued Sunday night when he once again turned Twitter into a podium-shaped breathalyzer to drag Tom and Michelle Herman himself in another attempt to tell his side of the story. It happened right at a moment when his former team had turned a corner and emerged from a dark cloud he had an active role in creating. Oh. You again.
This pageviews train whistle woke Brett McMurphy out of his slumber, and well you know what has happened since. Bad Journalist Publishes Bad Story About Bad Person. Ohio State PR got its first A of this entire shitshow escapade with its response, and this might just create more positive energy for a program that has been trying to manufacture it since August.
8. Speaking of positive energy, screen passes have bailed the Buckeyes out all season as they've struggled to establish a rushing attack. This has invited pressure on the QB, and in game after game Ohio State has dialed up a screen with favorable results.
On Saturday they got a little too excited and brought it out early, against Michigan State's soft zone coverage that's designed to devour things like screen passes. As if that wasn't bad enough, Dwayne Haskins running the speed option is somehow a better setup for a knock-knock joke than a play call, and yet it's something that actually happened in East Lansing.
I don't know what this team is trying to do. Winning is fun, but ever since I was a kid I've latched onto the fight song where we win the game or know the reason why. I need to know why. I need to know why Haskins ran the speed option before I expire. This is my personal Citizen Kane moment.
7. Sparty is the one game where you're allowed to look clunky. Ohio State looked awful and ugly and that's what playing against Michigan State is supposed to do. You can still win without the aesthetics as the Buckeyes have, and last season's outlier blowout might have caused a little amnesia to this fundamental truth of playing Michigan's little brother.
The key is to never care that you're clunky and just hope MSU is clunkier, and that's exactly what happened. Handed them their biggest loss for the second straight season. 
6. Michael Jordan tells on himself from his shoulders up on every snap. I'm not spilling state secrets here; anyone scrutinizing his play, as opposing coaches and players generally do can see it - he's tipping the snap count. There is at  least one major breakdown on his line on any given play, and any team deploying a rushmen-type package of all-ends against it typically produces a bunch of turnstiles.
The Slobs end up looking like the entrance to Disneyland. Screen passes of all types work. Draw plays can be interesting. We don't talk enough about J.T. Barrett making veteran decisions behind two consecutive Rimington winners making line as the untangling force this unit sorely misses.
The good news about having this much upside is that there's still time to peak.
HALFTIME: THE BOURBON
There is a bourbon for every situation. Sometimes the spirits and the events overlap, which means that where bourbon is concerned there can be more than one worthy choice.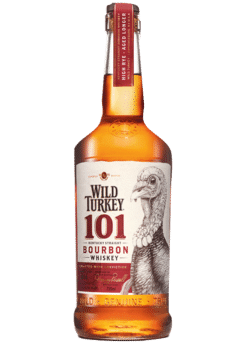 I ordered another Ohio turkey from Danny Catullo for next week's celebration of gratitude and gluttony, because Danny's meat is a grade of quality that grocery stores cannot meet or exceed. You can get a bird anywhere. I get mine from Youngstown.
The bird always does the heavy lifting next Thursday. You, your loved and possibly unloved ones will do the work required to get it dressed and to the table, but ultimately every casserole, starch, bowl, side, boat and plate that surrounds the bird is an accoutrement to the main event. Turkey is on lead vocals. Everything else is on the periphery.
Thanksgiving offers great latitude vis a vis situational bourbon because the holidays can be joyous, ordinary or hard as hell. They can be a cause for celebration or reflection; you might find yourself at home or in someone else's home.
And you may find yourself on this great holiday of gratitude and gluttony with people who are all over the board in this vast sea of variables. If that's the case, you bring Turkey. It's a bourbon that smells less like alcohol than any other whiskey, and carries a nice maple-cinnamon sweetness that should pair well with both watching the Detroit Lions lose and every treat on the dessert table.
If you would like to get a little fancy, you might remember Longbranch from Week Zero, which is made by Turkey's master distiller and - kind of random - actor Matthew McConaughey. You can find Turkey anywhere liquor is sold. Even Youngstown.
THE WALKUP: WEEK 12
4. We have reached the one-year anniversary of the most egregious display of bad officiating college football has seen since the 5th down. This isn't hyperbole; let's walk through just how bad the grown-ups were with Denzel Ward's ejection last season against Maryland.
Here is what should have happened:
Ward cleanly destroys Taivon Jacobs, who fumbles the ball.
Ward picks it up and runs for a touchdown, with nobody obstructing his path to the endzone
Pretty easy. Here's what happened instead:
Ward cleanly destroys Taivon Jacobs, who fumbles the ball.
Ward picks it up and starts running, but the play is prematurely blown dead, erasing the touchdown.
Officials then charge Ward with targeting and take it to a booth review.
The booth confirms the call and ejects Ward from the game, erasing a fumble recovery that preceded the already-erased touchdown, keeping the ball in the Terps possession, giving them 15 extra yards - and removing Ward for the afternoon.
The Big Ten formally apologizes to Ohio State on Monday.
This wasn't a blown call. This was a cascade of outright incompetence and dumbfuckery that blasted through every bad call guardrail, from the premature whistle to the targeting call to the review of the penalty and its confirmation. The Buckeyes were screwed no fewer than four times on one single play. It was just a colossus of failure.
How every official involved hasn't been shipped off to The Hague defies our democratic ideals. Jacobs returns to the field again on Saturday. As for Ward, he was basically ejected forever and sentenced to life with the Cleveland Browns. Avenge him, Buckeyes. 
3. When Meyer arrived in Columbus there was vocal apprehension to what he might do to the aesthetics of Ohio State football. This fear and loathing of a flag football offense replacing what the Buckeyes traditionally looked like largely came from the section of the fan base that overpronounces the R in Washington.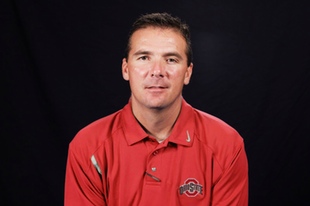 One 12-0 season with two 1,000-yard rushers later, they got over it. The Braxton-Guapo ticket set the expectation of what was to follow, and that was Barrett-Zeke, Cardale-Zeke, Barrett-Samuel and Barrett-Weber-Dobbins. We're now at Haskins-Weber-Dobbins and it took seven seasons to remember what scared the old guard about Meyer at the start.
Flag football is fine if you're a legitimate threat to RTDB. It started to come around last week against the first in a final threesome of teams that are pretty damn good at stopping the run. Everyone looks forward to The Game, but the Final Exam began last Saturday and they got a whole bunch of those questions answered correctly.
Dobbins and Weber are, for all intents and shortcomings of this offense, already a 1,400-yard rusher. There's a non-zero chance one if not both of them will eclipse 1,000. Finals are half the grade. It's their time.
2. Trap game is an overused term. Fans look ahead to games more than players do. Players can get caught up in championship grandeur fantasies but those aren't the IEDs in Iowa City or West Lafayette that the end the trip. The trap is being conspicuously vulnerable. You don't need to think too hard about where the vulnerabilities are at this point.
If you're facing Ohio State in 2018, you're attacking the offensive line and linebackers. The safety spot has been significantly upgraded in recent weeks, which leaves those two spots as the places you make your mark when the Buckeyes line up across from you. It's mid-November, which can fool us into believing what's baked is baked (hi, guilty) but here's something to consider.
108, 152, 86, 69, 254, 132

69, 109, 69, 154, 91, 107
The top numbers are Weber and Dobbins' rushing outputs heading into Saturday. The bottom is Ezekiel Elliott's in 2014 leading up to the Michigan game, with those final two coming against lightweights Minnesota and Indiana.
The numbers that would come next for Zeke would be 121, 220, 230, 246. Nothing is baked, aside from Haskins' inability to run the speed option. The two-headed monster that lines up next to him - despite the vulnerability it runs behind - can still become a monster.
1. Drue Chrisman was robbed, and the Big Ten should just end its Special Teams POTW award permanently because as of this week it will never hold any value again. If they tried to make it right and sent him a token, America's Punter would simply kick it into the air and Terry McLauren would down it at the Michigan State two. He was robbed.
Thanks for getting Situational today. Go Bucks. Beat Maryland.