Welcome back to My Favorite Things.
This year is well on its way to being among of the most tumultuous in our country's history - and on top of all of that, sports are on hold. This sucks.
My Favorite Things is an escape to happier days and nights. The philosophy is simple:
When I'm feeling sad
I simply remember my favorite things
And then I don't feel so bad
So let's do that. Today we're at TCF Bank Stadium on Nov 15, 2014. It's c-c-c-c-c-old!
---
EPISODE 15: DAY OF THE DILLY BAR
Look, My Favorite Things is personal, selfish and self-explanatory.
This series isn't Ohio State's Greatest Games or Fantastic Finishes Where the Buckeyes Always Win or Let's All Laugh at Michigan - even though those are all definitely some of my favorite things. MFT is a bunch of Buckeye-related elements that make our currently dark room a little brighter.
This explanation is required today because the 2014 Minnesota game was not one of my favorite things. It was the lowest winning scoring output that season for the Buckeyes, who had just taken down defending conference champion Michigan State a week prior and still had Indiana the following Saturday before getting Michigan to end the regular season.
So Minnesota was the first of two trap games, but it was also the setting for two unforgettable moments that deserved a better game. This episode will honor those two moments and nothing else. Here's our setting:
That looks pretty damn cold, guys. How does it compare to other cold games for both programs?
COLDEST GAMES EVER BASED ON FLIMSY INFORMATION

|   | GAME | YEAR | GAME TEMP |
| --- | --- | --- | --- |
| Ohio State BUCKEYES | THE SNOW BOWL | NOV 25, 1950 | 10° |
| MINNESOTA GOLDEN GOPHERS | WISCONSIN BADGERS | NOV 23, 2013 | 18° |
| NOV 15, 2014 | OSU @ MINN | 2014 | 15° |
Couple things of note - 1) the Snow Bowl was played in howling winds with 2 inches of snow accumulating every hour, and that GIF above shows you just how far we've come vis a vis snow removal 2) the Gophers played in a dome for 26 years prior to TCF Bank Stadium opening in 2009, so this was the coldest day in TCF Bank Stadium.
If there's ever an SEC-B1G challenge in November, God help whoever visits Minnesota. Let's cut right to the first jarring and fun moment of the afternoon.
*David Byrne voice* You may asks yourself, why are there no Buckeyes on the screen with J.T. Barrett? We'll get to that in a bit - it's further testimony to how mystical this play was.
While it only seems like it took forever, Barrett actually ran 86 Yards Through the Heart of the Twin Cities (86YTTHOTTC) in a smoooooth 14 seconds. If you're wondering how long it took Ezekiel Elliott to complete the second-longest rushing play from that season, he took three fewer seconds to go one less yard.
Sure, the Superdome is climate-controlled but 85YTTHOFS also happened toward the end of the 4th quarter while 86YTTHOTTC took place less than five minutes into the game. Everyone was fresh, albeit frozen. This play defied all logic, science and religious scriptures:
Barrett had a sprained left MCL and wore a giant leg brace - yet still outran everyone.
Barrett was a redshirt freshman from Texas dusting a veteran-laden secondary acclimated to Minnesota winters.
Barrett only had to break one tackle on the play and made one move. This was all speed and psychology.
The DB Michael Thomas is blocking (top of the screen) had a running start - and lost ground.
There are six Gophers - two LBs and four DBs - chasing Barrett and he's separating from all of them.
Was this play an abberation or an ominous sign of Barrett's deceptive speed? Two years later he would run away from a player - basically two All America LBs and four Thorpe-caliber DBs all by himself - who played for another U-M.
One of the confounding elements Barrett brought to the Buckeyes was that he didn't do any one particular thing extraordinarily well, but damn it - there was nothing he could not do either, and he typically did it when he was far from 100% healthy, as was the case that frigid afternoon in Minneapolis.
Was Barrett sneaky-fast, sneaky-sneaky or just regular-fast? This GIF adds nothing to the discussion, but it's one of my favorite things so we're just going to include it for that reason.
Anyway, back to Minneapolis and we will now answer Talking Heads' question from earlier.
You need to see the press box view of Barrett's touchdown because it is absolutely clear that none of teammates believe this play has any shot in Wind Chill Hell of finishing in the endzone. They're just casually jogging to where they assume 1st down is going to be, which is why there is no downfield blocking at all.
They quit on the play. Barrett's teammates don't pick up their jogs until he is inside the 5-yard line. This was Oregon Trail on a single play and only Ohio State's QB didn't die of dysentery. Every Minnesota player thought someone else was going to make the tackle and 86 yards later, the road team has scored.
Earlier we said:
Minnesota was the first of two trap games, but it was also the setting for two unforgettable moments that deserved a better setting.
The Buckeyes only won by a touchdown because they were sluggish, cold and probably thinking about how cool it would be if they covered the spread against Wisconsin in the B1G title game by 62.5 points which was three weeks away.
Later on in the broadcast one of the cameras found Dan Lehman, a technician whose job is to make sure the Gophers' communications are functioning properly. He was eating a Dilly Bar in a snowstorm, as heroes generally do.
Let's be clear: ice cream is weather-agnostic. You can enjoy it while trekking across Rub' al Khali in 120° heat or while drowning in a tsunami - no one should be judging this. You also never know when you're going to be on camera as a spectator, and the novelty of the moment is what made it great.
I mean, here's how Kerry Coombs looked during that afternoon in 15° weather. He didn't go viral.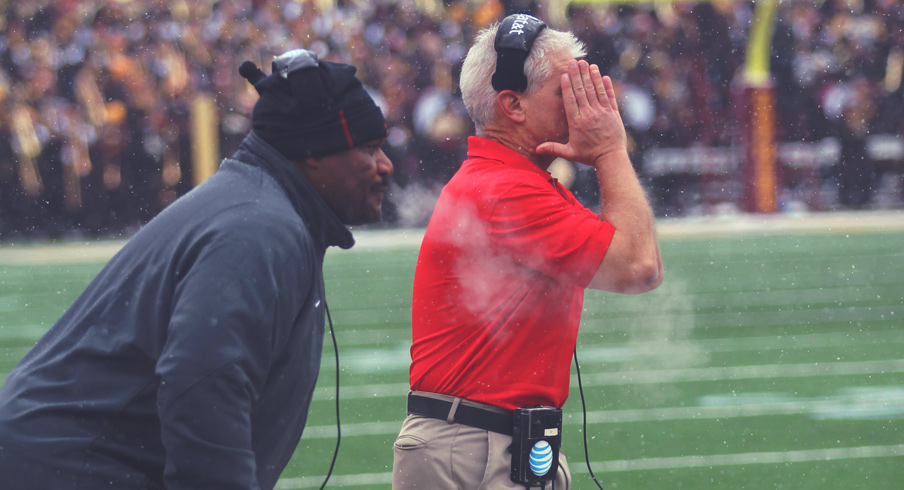 Coombs: Oh, it's cold? I had no idea. #mybodydoesnotreacttotemperaturesonlyfootballthings
In 2014 we were well into the current Meme Era and so Dilly Bar Dan, America's Ice Cream Gladiator was an immediate hit. At first he was misidentified as then-DC Tracy Claeys, because if you're blonde, pushing 300 and in Minnesota you're the best-selling model at the Minnesota human factory. You're basically a Toyota Camry. The confusion was justified.
A coach crushing Dairy Queen mid-game would have been a phenomenal moment in American history. But alas, Dan was just an IT guy. This game served as the moment his nearly two decade in-game ice cream habit tradition was finally revealed to the world, as no camera operator had been wise enough to capture it previously:
(Lehman) has worked for Pioneer Communications for the last 19 years, and every game his boss goes to the press box at halftime to check on equipment. He then brings back ice cream treats for his employees.

Lehman told ESPN he's eaten an ice cream bar at every game he's ever worked at the stadium, adding "It's never too cold for a Dilly Bar."
His legacy was profound. Here's how Minnesota promoted the Gophers' trip to Columbus the following November.
Your 11W game poster also paid homage to Dilly Bar Dan, one of two shining moments in an otherwise forgettable game. But Nov 15, 2014 was the day the earth stood still (except for Barrett). And it also gave us the best commercial Dairy Queen never made.