Two years ago, Ohio State lost Kerry Coombs – the program's sentient can of Red Bull – to the NFL. It hurt our hearts so deeply that we put together a top-10 list of our favorite Coombs moments to give him the send-off he deserved.
Today, however, we're happy to report that Coombs is coming back to Columbus as Ohio State's new secondary coach and defensive coordinator. But the send-off salute wasn't for naught – it now simply serves as a celebration of what's to come.
So here are your top-10 moments from Coombs' previous Ohio State stint, as we welcome him back home.
#10 – "We're stretching—and you're a kicker!"
Football practice safety standards have come a long way since the days of coaches treating water as a radioactive substance. That only matters to real football players, of which Coombs does not include kickers.
Thanks to the camera angle, we can't be sure which kicker drew Coombs' ire, we can only know "Sunshine" died in spring practice 2013. 
#9 – Checking Jabrill Peppers
Ohio State fans rushed the Ohio Stadium field after their team beat Michigan in double overtime back in 2016. In that chaos, a Buckeye fan said something that was probably unkind to Wolverine cornerback Jabrill Peppers, who had just witnessed Curtis Samuel plunge him to a 0-3 record vs. Ohio State.
Peppers pushed/punched/slapped the Buckeye fan in the most viral incident of the 2016 season, and things might have gotten even more out of control had the Man-God Kerry Coombs not descended from the heavens and wrangled a wayward Wolverine.
#8 – Still Blazin'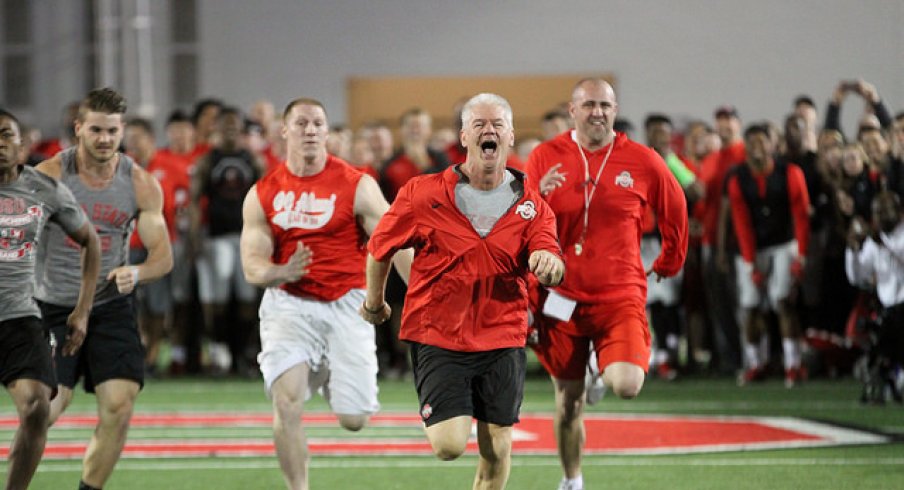 Coombs' love of life was on display at Student Appreciation Day in 2016, when he participated in the 40-yard dash. Compare that to the other participants, who look like they're about to kiel over while Coombs appears to be enjoying an afternoon jaunt through his favorite park.
The photoshops were pretty good, too.
#7 – Hashtag Champion
Great day today planting flags all over Indianapolis! #Buckeyestakingrootalloverthemidwest! #movingatanIndy500pace #goingtocapturethepole

— Kerry Coombs (@OsuCoachCoombs) April 27, 2016
Back in the Queen city planting flags today! #youcantravelthecountryseelotsofgreatpeoplebuttheresstillnoplacelikehome! #GoBucks

— Kerry Coombs (@OsuCoachCoombs) May 19, 2016
2nd stop of the day-Lone Star State! Specifically Dallas! #mighthavetogetZeketoruninterferenceformehere #toomanygreatplayersallovertheUSA

— Kerry Coombs (@OsuCoachCoombs) May 16, 2016
The day in the sun is done! Flags planted in south Florida! Time to set the sights northward! #hotmusichottercarsgreatfootball #Motownbaby!

— Kerry Coombs (@OsuCoachCoombs) January 29, 2015
The hashtag is the one positive thing Twitter contributed to online culture. No other human being was able to capture the essence of a good hashtag than Coombs, who turns 56 in September.
Sadly, anthropologists expect we will see less of this usage now that Coombs won't spend his offseasons recruiting.
#6 – Sleeveless in a Snowstorm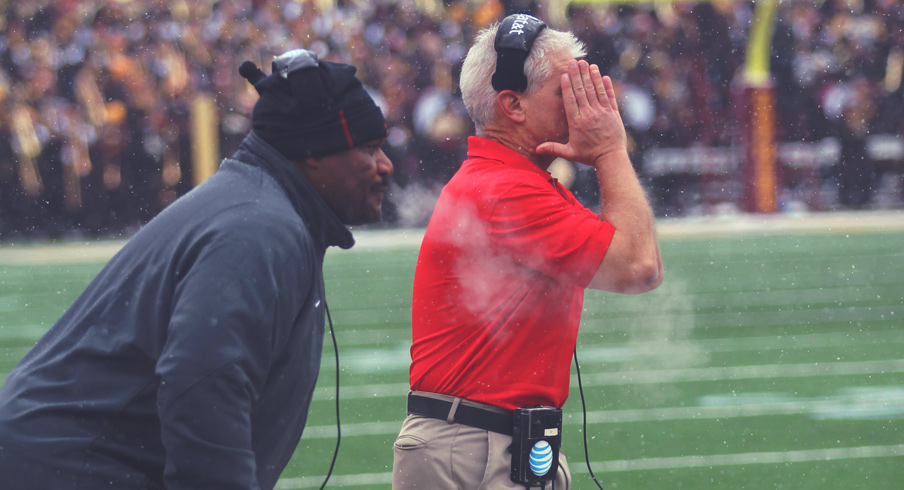 Urban Meyer, on multiple occasions, has cited Ohio State's trip to Minnesota in 2014 as one of the worst weather conditions he's endured as the Buckeyes' coach.
Coombs wore a shirt, like the Don Dada himself, Woody Hayes.
#5 – "We're a family! We're The Ohio State University!"
Throughout his tenure, Coombs showed a knack for building relationships with prospects from coast to coast. No video better showcased what made him a special recruiter than than the pitch delivered to parents in 2013.
And yes, that lumbering teenager in the background is Jamarco Jones, a name Buckeye fans might recognize.
#4 – "Coach Coombs is a Genius!"
Brady Hoke and Michigan almost upset Urban Meyer and Ohio State in 2013. That sentence sounds hilarious, and that's thanks to Tyvis Powell, who intercepted Devin Gardner's two-point conversion attempt to seal the Buckeyes' 42-41 victory.
In the aftermath, Powell immediately credited Coombs, who had predicted the Wolverines would go to their go-to two-point in attempt to win the game.
#3 – DB U
Coombs wasn't the sole reason for Ohio State's cornerback pipeline to the NFL, but he undeniably played a massive role in developing six draft picks in six years:
Bradley Roby, Denver Broncos, 31st pick of 2013
Doran Grant, Pittsburgh Steelers, 121st pick of 2015
Eli Apple, New York Giants, 10th pick of 2016
Marshon Lattimore, New Orleans Saints, 11th pick of 2017
Gareon Conley, Oakland Raiders, 24th pick of 2017
Denzel Ward, Cleveland Browns, 4th pick of 2018
#2 – No Blood, No Gold Pants
.@OsuCoachCoombs had all the feels after the win. Tears streaming down his face singing Carmen Ohio. @fox19 #Buckeyes pic.twitter.com/NJpjWtftCH

— Jeremy Rauch (@FOX19Jeremy) November 25, 2017
There is no better Carmen Ohio than that sung by a Coombs covered in the blood of his enemies after The Game of 2016.
(You might say, "That's his own blood, obviously." To which I say, "Don't be naive; does that honestly look like Red Bull to you? Grow up.")
#1 – Championships Give You Wings
If you could have bottled Coombs on the night Ohio State won the 2014 championship, the federal government would consider it a Schedule I narcotic within 72 hours.
Welcome home, Coach Coombs.
Follow Eleven  WarriorsFacebook, Twitter, Instagram and YouTube