By holding Western Kentucky to only 10 points on Saturday – its fewest in any game since the start of the 2021 season – Ohio State has successfully held all of its first three opponents of the year to 10 points or fewer.
As a result, Ohio State has allowed fewer points in its first three games of the season than it has in any of the last 47 years. The 20 total points the Buckeyes gave up to Indiana (who scored only three points), Youngstown State (who scored seven) and Western Kentucky are the fewest surrendered by OSU in a trio of games to start the season since the scarlet and gray held Michigan State, Penn State and North Carolina to 16 combined points in its first three games of the 1975 season.
While Saturday was the first time this season that Ohio State allowed an opponent to score twice, Western Kentucky was expected to be a tougher test for the Buckeyes, considering the Hilltoppers led the entire FBS in passing yardage in 2022. Add in the fact that Ohio State's defense scored 14 points of its own with two defensive touchdowns against Western Kentucky, and Ryan Day had plenty of reason to be pleased with his team's defensive performance in the third game of the year.
"Bunch of guys playing fast, violent … That's what we're looking for. Guys flying sideline to sideline, we were getting our hands on balls in the secondary."– Ryan Day on Ohio State's defensive performance
Second-highest-scoring quarter in 73 years
Ohio State's 35-point second quarter against Western Kentucky was Ohio State's second-highest-scoring quarter in the last 73 years.
The Buckeyes' five-touchdown second-quarter outburst wasn't quite as prolific as their second quarter against Miami (Ohio) in 2019, when they scored 42 points in the second frame en route to a 76-5 win. But it was the only other time Ohio State has scored 35 points in a quarter since it did so in an 83-21 win over Iowa in 1950.
Ohio State scored touchdowns on all five of its possessions in the second quarter, accumulating a whopping 294 yards on 18 plays. Two of its second-quarter touchdown drives consisted of just one play as Kyle McCord connected with Marvin Harrison Jr. for a 75-yard touchdown (the longest of Harrison's career) on the first play of Ohio State's second drive of the quarter while Chip Trayanum ran for a 40-yard touchdown (the first of his Ohio State career) on the Buckeyes' next possession.
Chip said SEE YA @OhioStateFB adds on another TD in the first half pic.twitter.com/mLjzDQa7cV

— FOX College Football (@CFBONFOX) September 16, 2023
Brown, Tate link up for first career scores
Trayanum was just one of five Buckeyes to get their first touchdowns as Ohio State players in Saturday's 63-10 win. Two of them did so on the same play.
Backup quarterback Devin Brown threw his first career touchdown pass in the fourth quarter of Saturday's game to Carnell Tate, who made his first career touchdown catch on the receiving end. The toss was a beautifully placed ball over Tate's outside shoulder on the left edge of the end zone, resulting in a 28-yard touchdown that extended Ohio State's lead to 56-10 in the fourth quarter.
Devin Brown with a DIME to Carnell Tate. pic.twitter.com/t8fLL7pcYc

— Eleven Warriors (@11W) September 16, 2023
It marked the first time an Ohio State quarterback has thrown his first touchdown pass as a Buckeye and an Ohio State player has scored his first touchdown on the same play since Justin Fields connected with Jeremy Ruckert for a 25-yard touchdown in the first quarter of Fields' Ohio State debut against Florida Atlantic in the 2019 season opener.
Brown completed three of four passing attempts for 40 yards and the score in relief of McCord, who was officially named the team's starting quarterback by Day on Tuesday. Tate accounted for all 40 of those yards, hauling in an additional 12-yard reception to go with his end-zone trip.
Mathews and Williams score, Melton gets first sack
The other first-time scorers on Saturday came on the defensive side of the ball. One was Jermaine Mathews Jr., who scored a touchdown on what was also his first career interception. The freshman cornerback showed some of the skills that made him the No. 51 overall prospect in 247Sports' composite rankings by jumping a curl route from WKU wide receiver Blue Smith, hauling in the football and running 58 yards the other way for a pick-six.
Jermaine Mathews Jr. to the CRIB. pic.twitter.com/gh6uJn696x

— Eleven Warriors (@11W) September 16, 2023
"He does it in practice all the time and there's going to be more for him to come. He's going to be a great cornerback here at Ohio State."– Denzel Burke on Jermaine Mathews Jr.'s interception
Tyleik Williams also scored his first career touchdown on his first career fumble recovery when he plucked the ball out of the pile in the end zone off of a strip by Ohio State cornerback Denzel Burke.
The Buckeyes can't stop scoring

The @OhioStateFB defense adds on a TD pic.twitter.com/4IvF8rU6lK

— FOX College Football (@CFBONFOX) September 16, 2023
Another first for Ohio State on the defensive side of the ball came from Mitchell Melton, who picked up his first career sack against Western Kentucky backup quarterback Bronson Barron in the fourth quarter. Melton's sack was also the first by an Ohio State defensive end this season, as he collected a quarterback takedown before starters JT Tuimoloau and Jack Sawyer as well as second-teamers Caden Curry and Kenyatta Jackson Jr.
Marv hits 100, Tommy hits 200 and Emeka hits 1,500
Several veteran Buckeyes also reached career milestones against Western Kentucky.
With five catches for 126 yards and a touchdown against the Hilltoppers, Harrison has now caught 102 passes for his Ohio State career. He is the 24th player in Ohio State history to record triple-digit receptions as a Buckeye.
MARVIN HARRISON JR.

There's just no catching the @OhioStateFB WR pic.twitter.com/M1kkQa9sA7

— FOX College Football (@CFBONFOX) September 16, 2023
He achieved that milestone just one week after becoming the 24th player in Ohio State history with 1,500 receiving yards. He was joined in the 1,500-yard club this week by Emeka Egbuka, who reached that milestone for his career amid his four-catch, 57-yard, two-touchdown performance vs. the Hilltoppers.
TreVeyon Henderson had the 10th multi-touchdown game of his career as he rushed for a pair of touchdowns for the second week in a row. Egbuka's two-touchdown game was his third as a Buckeye and his first this season.
On the defensive side of the ball, Tommy Eichenberg surpassed the 200-tackle mark for his career by recording 10 total tackles, including nine solo tackles, vs. Western Kentucky. Entering the game with 196 career tackles, Eichenberg reached 200 on Western Kentucky's first possession of the game, as he racked up six tackles on that series alone.
Day pleased with third-down improvement
One of the biggest storylines after Ohio State's first two games of the season was its lack of success converting third-down opportunities. The Buckeyes showed improvement in that area on Saturday.
For the game as a whole, Ohio State's offense went 5-of-10 in third-down situations, but four of the Buckeyes' five unsuccessful third downs came in the second half after a victory was already firmly in hand. Most importantly, Ohio State went 4-for-4 on third downs of four yards or shorter, showing it could make the plays it needed to make to move the chains in short-yardage situations.
"We converted on some third downs much better. Wasn't perfect again. We'll keep working at it. But there was some really good things there."– Ryan Day on third-down performance
Ohio State failed to convert its first third down of the game when McCord missed Julian Fleming on a 3rd-and-5 pass, but he made up for it on 4th-and-5 by completing a 7-yard pass to Egbuka, leading to a 21-yard touchdown run by Henderson one play later.
The Buckeyes converted on three straight third downs on their second scoring drive of the game. Henderson turned a short pass into a 27-yard gain on 3rd-and-2, McCord connected with Harrison for an 18-yard gain on 3rd-and-10 and Henderson finished the drive by running for a 7-yard touchdown on 3rd-and-3.
Ohio State's only other unsuccessful third down of five yards or less came early in the fourth quarter when Miyan Williams ran for four yards on a 3rd-and-5, but the Buckeyes went 2-for-2 on fourth-down conversion attempts as Williams followed that up with a 3-yard run on 4th-and-1, extending a drive that would ultimately culminate with the 28-yard touchdown pass from Brown to Tate.
It's not exactly a surprise that Ohio State would have more success on third downs against Western Kentucky, which entered the game allowing the third-most rushing yards per game (264.5) among all FBS teams. But it was nevertheless a step in the right direction for the Buckeyes in an area where they'll need to be able to get the job done next week against Notre Dame.
Jordan Hancock, dime defense see increased workload
Jim Knowles opted for more pass-centric defensive packages against Western Kentucky's Air Raid offense, making frequent use of personnel subpackages that countered the Hilltoppers' frequent four-wide receiver looks.
Jordan Hancock played a hefty amount of reps at nickel in rotation with Sonny Styles, matching up as more of a pure coverage option against Western Kentucky's star receiver Malachi Corley. Hancock collected five tackles, broke up a pass and forced a fumble with a big hit against Smith, making up for an early-game pass interference penalty and a 34-yard pass he allowed to Corley.
The Buckeyes also made use of their dime package on several plays, a look with three defensive linemen, their usual two linebackers in Tommy Eichenberg and Steele Chambers and six defensive backs. That typically meant another of the team's nickels in the "dime" position, with either Sonny Styles or Cam Martinez joining Hancock.
Pryor returns, Cutler and Lewis debut
Evan Pryor returned to the game action for the first time since he tore his patellar tendon during preseason camp last year. The redshirt sophomore running back carried the ball three times for 12 yards in the fourth quarter, while he also saw action on the kickoff coverage team in the second half.
A pair of Ohio State transfers made their Buckeye debuts against Western Kentucky. Former Louisiana-Monroe offensive lineman Victor Cutler Jr. played his first snaps as a Buckeye as the center with the second-team offensive line, which entered the game for Ohio State's final two possessions. Former USC kicker Parker Lewis, who did not play at all in his first year with the Buckeyes in 2022, handled Ohio State's final two kickoffs of the game, both in the fourth quarter.
Along with Cutler, left tackle Zen Michalski, left guard Tegra Tshabola and right guard Enokk Vimahi also played their first offensive snaps of the year when the second-team offensive line entered the game. Luke Montgomery played his first snaps as a traditional offensive tackle in his Ohio State career as the second-team right tackle, though he had already seen action in Ohio State's first two games as a sixth offensive lineman in jumbo packages.
Notable Quotables
"I'm getting old. My hips, I couldn't get down there. They moved me to the outfield (in baseball) when I was little so I don't have any work getting grounders. I don't know. As long as the Buckeyes got a touchdown, I'm OK."– Steele Chambers on his failed fumble recovery
Before Williams recovered the ball for a touchdown, Chambers had a chance to recover the same fumble in the end zone for his second fumble recovery touchdown in as many years. His scoop attempt proved to be unsuccessful, but Chambers was able to laugh at himself after the game.
"We call ourselves 'Skunyuns.' We're going to put our face in the fan every time. We're going to be physical. We're going to get in your face. We're going to show our presence."– Denzel Burke on the hard-hitting play of Ohio State's cornerbacks
Burke revealed a new nickname for the Ohio State cornerbacks after a standout performance in which he and the other Buckeye corners combined for 12 tackles, an interception, two forced fumbles, a fumble recovery, three pass breakups and a tackle for loss.
"We knew if we went out and we could put together a complete game, it would look really, really good. If we were able to run the ball well, if we were able to pass the ball well, we would be one of the best offenses if not the best offense in America."– Kyle McCord on Ohio State's offense
Ohio State's offense didn't perform up to its recent standard in the Buckeyes' first two games of the season, but they looked like an elite offense once again as they scored seven offensive touchdowns and tallied up 562 yards on just 60 plays – an average of 9.4 yards per play – against Western Kentucky.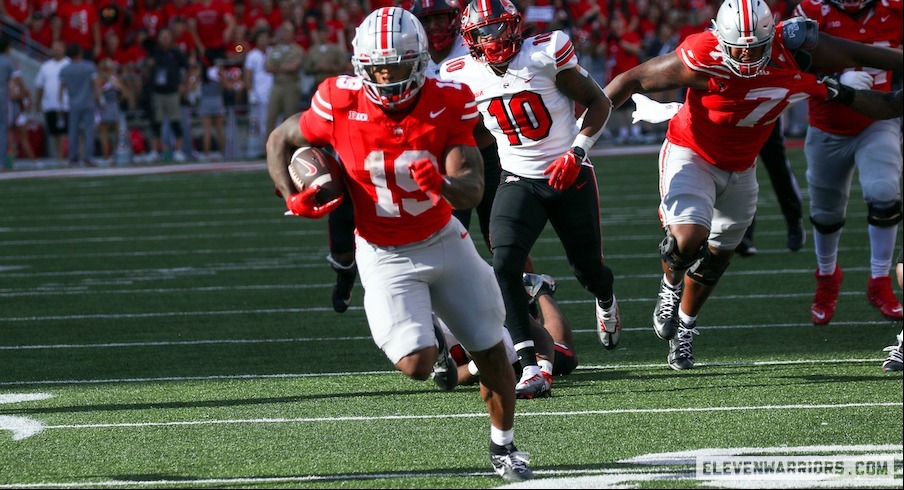 #6 Ohio State 63, Western Kentucky 10
Sept. 16, 2023 • Ohio Stadium • Columbus, OH