The Ohio State offensive line just lost four starters to the NFL.
Replacing 80% of the unit which gates the potential for every other position group will be a daunting challenge, but that's how college matriculation works. Ohio State's veteran center, both guards and a tackle will not be returning.
And coming off a season where the Buckeyes ran the table before dropping their final two games in excruciating fashion, this certainly feels like a dicey transition season for the offense.
We are, of course, talking in past-tense about when Corey Linsley, Marcus Hall, Andrew Norwell and Jack Mewhort all depleted their eligibility a decade ago. The current Buckeyes are only losing three linemen. Apologies for any chest pains experienced while reading the paragraphs above.
Never forget, college football is in syndication and we're just watching new remakes of old reruns.
The only returning OL starter a decade ago was Taylor Decker, best-known for his supporting role in the Khalil Mack snuff film against Buffalo in what was his first start. Decker would move to the opposite side of the line a season later to replace Mewhort at LT, which meant all five starters would be new-ish.
That unit from left to right ended up being Decker, freshman Billy Price, junior Jacoby Boren, sophomore Pat Elflein (back then known as Ohio State's consolation prize after losing Kyle Kalis to Michigan) and converted defensive end/Team Uncle Darryl Baldwin, who had committed to Ohio State back in 2009.
The OFFENSIVE LINE situation heading into 2023 is one the 2014 OHIO STATE COACHING STAFF would have envied.
That's what the Buckeyes would be rolling with, coming off such promise and disappointment. Oh, it got worse; Carlos Hyde, who would have finished no worse than runner-up to Jameis Winston in Heisman balloting if not for a quarter-season suspension which killed his candidacy was out of eligibility, as was his backup Jordan Hall.
When we talked about 3rd string at the start of that season, we meant tailback. But hey, at least Braxton Miller would be back after shoulder surgery! The Ohio State offensive line's condition was a monster concern heading into what felt like a transitional season in 2014.
Ten seasons later, the offensive line is losing a sturdy center and both tackles, all with eligibility left to give. Luke Wypler likely saw one of the weakest C draft classes in recent memory and is shooting his shot. That was the unexpected one, but it makes sense in that context.
Paris Johnson Jr. might be a single-digit pick, while Dawand Jones' business card just has his height, weight and college program on it. Neither lineman should be available by Day 3.
Ryan Day probably has trouble sleeping for a number of reasons, but finding a tackle must be high on his insomnia list. We do know returning starters (more than one!) Matt Jones and Donovan Jackson will be joined by Josh Fryar and two of at least 14 other options.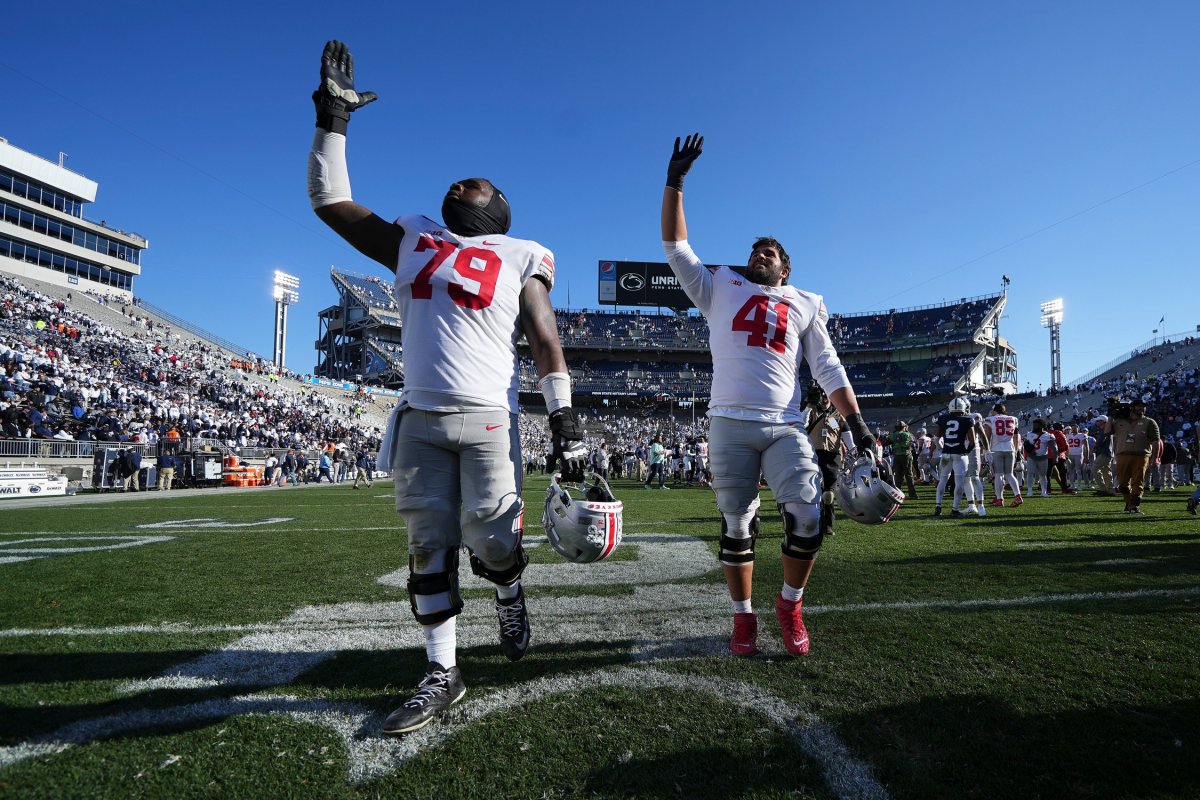 This is what passes for a dire depth chart situation at Ohio State. It will sort itself out with far less drama than pulling Baldwin out of a retirement home for defensive ends and starting him opposite the freshman Mack put in a trash can for four hours.
A year later, replacing Baldwin was the defending national champions' biggest challenge. #DevelopedHere might be a marketing pitch to recruits, but it's built on case studies like that one.
Urgency is a hell of a football drug. It's not quite a mother picking up and tossing a Volkswagen off her toddler but still in the same universe of amazing human feats. The situation heading into the 2023 season is one the 2014 Buckeyes would have envied.
Presumed starter Ezekiel Elliott only had 30 mostly garbage-time carries to his credit, trailing departed backup quarterback Kenny Guiton by a significant margin. Philly Brown had to be replaced, and every other returning receiver not named Devin Smith combined didn't come close to replacing his departed production.
When Miller went down in training camp, J.T. Barrett and Cardale Jones brought a total of one completion for three yards between them to replace the reigning Silver Football winner. Ohio State's quarterback situation may be undecided in 2023, but it is far less unsettled than the one which produced the first-ever College Football Playoff champion.
That team entered spring with a sense of urgency on the defensive side of the ball, the unit which had cost it the B1G title and a BCS title shot as well as its bowl game. The offense had obvious challenges at the skill positions, but the most daunting rebuilding job was the one that would take place along the offensive line.
It's a process the Buckeyes have plenty of time and options to solve. Kyle McCord and Devin Brown will have every running back and receiver C.J. Stroud had at his disposal, along with the head coach who has been on the staff since Ohio State's offense established itself as the most consistently formidable unit in the game.
Urban Meyer would have envied this scenario coming out of 2013, especially after Virginia Tech taught it a hard lesson in its home debut. The 2023 offensive line will have a head start on that 2014 unit in every possible regard.
And if it can jell and finish the way that unit did, we'll still be talking about it a decade from now.