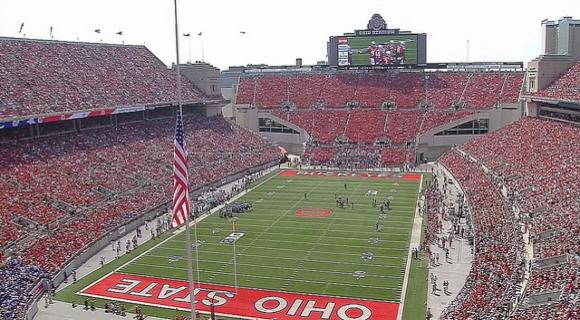 The expectation before head coach Urban Meyer walked into the postgame interview room was that he'd be harsh when retelling Ohio State's 40-20 season-opening win over Buffalo. But Meyer showed satisfaction in his second-ranked Buckeyes' victory.
The offense got off to a tremendous start, something he harped about earlier in the week. It was 23-0 before all 105,000 fans in attendance had even found their seat. The middle portions of the game left room for improvement, and that's where Meyer left it. There was no sulking after Ohio State stretched its nation's best win streak to 13 games.
The first order of business Saturday was coming together as a team with a toast of championship water. If that sounds familiar, it's because the Buckeyes did the same thing last season. Meyer said the toast at Michigan State was the turning point in the undefeated season.
"To honor and defend, we will fight to the end, for Ohio," Meyer exclaimed to the crowd at Skull Session. "For our families, for this great university and more importantly, each other. The journey starts today. Let's get to be 1-0."
It became obvious very early in the game that Ohio State would accomplish the goal for the day – becoming 1-0.
"I thought they came out of the chute fast," Meyer said. "Pretty strong week. Two quick scores. First quarter was script. You can't play much better than our guys did. We're pushing the ball down the field, guys making plays."
"The way we came out, I thought we were going to score 100," running back Jordan Hall said.
The first three touchdown drives all took no more than eight plays. The longest time of possession was three minutes, 46 seconds. One would think the Silver Bullets would tire, especially on such a warm, humid day. Ryan Shazier, who missed time with cramps, said the short series are just fine with him.
"I don't care how quick the offense scores," he said. "They could score on one play every time. As long as they're scoring, I'm all for that."
No one was expecting the Buckeyes to use the swinging gate formation on their point-after attempts. It became clear Buffalo was included in that group, because Ohio State scored on two-point conversations after its first two touchdowns. They call it magic.
"It's a pain in the rear end that you have to prepare for," Meyer said. "Coach Warinner's done a nice job with that. I think as many ways to get cheap points and make people work, it looked good today. Those guys did a nice job."
The turning point of the game – when it went from blowout to serious game – was Khalil Mack's interception return for a touchdown. Mack was a topic all week. Everyone knows he could be a first-round NFL draft pick. Still, Ohio State wasn't able to neutralize him.
"They've got a kid that kicked our tails, that outside linebacker," Meyer said. "He had a couple of sacks, pressures. I know he beat guys that I expect to play very well on our offensive line. So we've got to get that fixed. The good thing is we can. When you score 40 points and gain 460 yards or something like that and you're disappointed, that's a good sign. And the bad sign is we've got a long way to go."
"That one I wish I could get back," said Braxton Miller.
Miller was rolling early. At one point, it looked like he might not have an incomplete pass. He was 12 of his first 14 with two touchdown passes. The improvements were evident for all to see.
"It felt good," Miller said. "I felt good about my fundamentals and how the guys were getting open. It's a big improvement from last year."
Hall had a career day. He finished with his most rushing yards in a game and tallied his longest run. All told, he rushed for 159 yards on 21 carries for two touchdowns. The scoring runs were 49 and 37 yards. The first touchdown run included a gaping hole in the defensive line that not even Hall could believe.
"I was like, 'Wow,'" Hall said. "I didn't know if [the Buffalo defense] messed up or the O-line did what they do. I saw [a hole], and I took it."
Hall's memorable performance came after a sleepless night at the Blackwell.
"I woke up every hour on the hour, and finally just stayed up at 5:30," Hall said.
Buffalo was predicted to be one of the most improved teams in the country this season. It didn't look like after the first quarter. But the Bulls actually won the battle on the scoreboard the last three quarters. Even in a losing effort, Buffalo left Ohio Stadium with plenty of positives to take going forward.
"I give a lot of credit to Ohio State for coming out and putting us down 23-0 early, but I was proud of the way our kids responded," said Buffalo head coach Jeff Quinn. "We were able to outscore them in the second, third and fourth quarters."
"That's part of leadership," Mack said about remaining composed after the opening quarter. "You have to calm down and get your team together, especially when the other team has that kind of momentum."
The biggest play of the game was an illegal hands to the face penalty against the Bulls. Trailing 30-20, Miller fumbled and the Bulls recovered on Ohio State's doorstep at the 1-yard line. The penalty nullified the play, though.
"We knew we would fight until the end regardless of what happened, but I really think that would have changed the game," Mack said. "That was a big blow, but we fought back."
Meyer on Miller's four sacks: "That's unacceptable, completely unacceptable."
Ohio State 40, Buffalo 20
Ohio State had issues with cramping. Three players – Shazier, Miller and Evan Spencer – all crumped to the field in pain. Meyer said the issue will be  addressed with the training staff. He also had his own assessment on the day.
"It was a hot mother out there," he said.
Two things on the defense. Curtis Grant was not outstanding, but he took a step toward becoming the linebacker Ohio State wants and needs. He played by far the most snaps of his career, finishing with a team-high tying seven tackles.
"To be honest, I haven't played a full game since my senior year in high school," Grant said. "Right now, I'm really tired, but it felt great to get out there."
A disappointment on the defense was Armani Reeves' shaky performance. Filling in for Bradley Roby, Reeves was picked on by the Buffalo offense throughout the game. It didn't help Reeves' cause when he had several missed tackles. 
"Bradley will definitely make a difference," defensive coordinator Luke Fickell said. "Not just with his play out there but with his confidence and that little bit of swagger he has. We're excited to get him back. I know this was a hard day for him, and this was part of the growing process for all us."