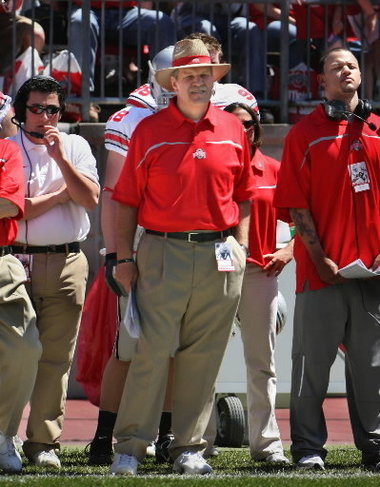 This is not a wake. This is a celebration.
The Walrusball era at Ohio State officially passed when Urban Meyer astutely decided against retaining Jim Bollman, despite his lengthy tenure.
It was a merciful and unceremonious conclusion to his tenure, which was perpetuated only on account of his relationship with Jim Tressel. If his results mattered, Bollman would have been gone years ago.
Now that Boston College has hired the Buckeyes' ex-coordinator to be its offensive line coach, Ohio State's run of football frustration smudged by his fingerprints finally has its closure.
Bashing the Buckeye offense is not gratuitous or too played out. If anything, too many Buckeye fans do not fully realize to extent to which Bollman did everything but steal from Ohio State during his 11 years in Columbus.
Consider the following of the Buckeyes' outgoing OL coach: Since all of John Cooper's holdovers matriculated, Ohio State has finished in the bottom third of the NCAA in sacks allowed three times - and that's largely with mobile, athletic quarterbacks.
In that same period, three times the Buckeyes have been in the bottom third in allowing tackles for loss, the hallmark statistic for poor line play and telegraphed playcalling. Over those past seven seasons Ohio State's total offense has averaged a national ranking in the bottom half of all FBS schools despite recruiting classes that are the envy of 95% of those same programs.
Conservative offensive philosophies are predicated on prudent risk-taking and ball control, not going backwards. The single glaring deficiency throughout the gilded age of Tresselball was the offensive line, which was managed entirely by Bollman.
Since 2008 the Buckeye offense has required a quarterback with the athletic ability to bail out Bollman's line, whose depth has been as thin as its technique has been lacking in precision and discipline.
The hole that he leaves on Meyer's staff still has yet to be filled, and any metaphors about Bollman's successor having big shoes to fill do not apply here: The offensive line has been barefoot for the better part of the past decade.
And that's why this is a celebration: New shoes!
Unfortunately, the Buckeyes' new OL coach will also have his work cut out for him, as Bollman's parting gift to Ohio State is a roster so completely devoid of linemen that next year's depth chart will once again feature the same names twice: Once as a starter, and again - same player - as a backup elsewhere on the line.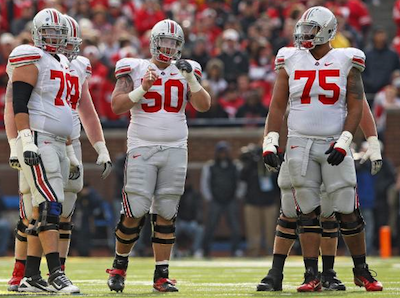 Bollman's replacement will arrive in Columbus and find that he has exactly two returning offensive tackles: Andrew Norwell, who is pretty good, and Antonio Underwood [uncomfortable silence].
Reid Fragel is moving from TE to OT, a position that he has never played, yet he is a shoe-in to be the starter opposite Norwell. Still think Bollman bashing is hyperbolic?
Corey Linsley is a solid guard and while Marcus Hall started at tackle, he does not appear to be a candidate to move back there from the outside. Brian Bobeck will be taking over at center for Michael Brewster. Jack Mewhort also returns at guard.
This is the fallout of Bollman's delinquency, where guards and tackles are interchangeable as a matter of constant, self-inflicted necessity. This your depth chart: Not even two full lines, otherwise known as the norm for Ohio State with Bollman.
Behind those guys are a couple of wholly-inexperienced players who physically appear to have adopted Bollman's "fatten 'em up and slow'em down" philosophy.
These players would not have received scholarships with Meyer running the program. As Bollman slow-played and failed to land better linemen, behind the Buckeye starters you will find former Plan C and Plan D recruits.
Aside from the dearth of warm bodies eligible to play along the line, there's the lack of development: Brewster arrived in Columbus as a pretty decent center, and that's exactly how he is leaving Ohio State.
defense wins championships

| OSU Team | sacks allowed | total offense | TFL Allowed |
| --- | --- | --- | --- |
| 2011 | 118th | 107th | 104th |
| 2010 | 46th | 20th | 43rd |
| 2009 | 57th | 68th | 87th |
| 2008 | 83rd | 76th | 89th |
| 2007 | 29th | 62nd | 75th |
| 2006 | 24th | 26th | 10th |
| 2005 | 21st | 32nd | 7th |
| 2004 | 91st | 98th | 60th |
| AVG | 59th | 61st | 59th |
Brewster's tells (head-bobbing, mostly) gave away the snap count on film; an obvious and terrible flaw that a competent coach should have noticed and fixed at some point during Brewster's 52-game career. Were it not for Terrelle Pryor's 6"6 frame and Braxton Miller's athletic ability, Brewster would be to bad snaps what his line mate JB Shugarts was to false starts.
It took a couple of seasons, but Mike Adams found his mean streak. He leaves Columbus still having fallen short of his tall expectations of developing into a poor man's Orlando Pace.
Like Alex Boone before them, both Brewster and Adams should improve immediately and significantly with competent instruction at the professional level.
What could you say about Shugarts that hasn't already been said a spit-second before the ball is snapped?
One of the great ironies of Bollman's coaching legacy at Ohio State was that while opponents regularly seemed to know the Buckeyes' snap count, Shugarts did not. He finished his Buckeye career with 25 false starts for 125 penalty yardage, an unofficial school record.
With each of the graduating members of 2008's Block O recruiting haul, there were no consequences to their failure to improve. Losing playing time was never a threat. Brewster, Adams and Shugarts had no competition for their jobs. Scandals were the biggest threat to playing time.
Those three seniors - all five-star recruits - finished their careers on the offensive line of 107th-ranked offense in the country despite having over 100 starts among them.
The first time Ohio State played Florida, the Gators' defensive linemen claimed after the game that they knew Ohio State's snap count. The second time Ohio State played Florida - five years to the week - the Gators again claimed they were ahead of the Buckeyes' play calls.
Just this season it was evident that both Michigan State and Penn State knew when Ohio State was going to snap the ball. Try and remember the amount of false start penalties the Buckeyes have had over the last decade and compare that with the number of times an Ohio State quarterback has successfully drawn the defense offside.
And that is why this is a celebration: Ohio State has always been capable of acquiring talent. With Bollman's departure after 11 years, that talent should multiply and actually begin to flourish.
As a teacher seemingly unaware of his own areas of improvement, Bollman's pupils followed his ignorance in kind. Aside from his friendship with Tressel, Troy Smith's development - courtesy of the late Joe Daniels - and Terrelle Pryor's alien athletic ability were Bollman's greatest coaching assets.
And that's to say nothing about his only year as the Buckeyes' official play caller. This is the offensive mind that routinely gave the ball to Jordan Hall between the tackles in short-yardage situations while running Carlos Hyde outside.
Success in Bollman's offense was predicated on the flawless execution of a terrible idea. "This is so stupid, the defense will never expect it."
Walrusball was a staunch believer in play-action on third and forever, which was a fairly standard assignment in his offense. Shorter passing routes were eschewed in favor of ones that took days to develop behind a line that cannot pass-block. It was perfectly-constructed failure.
Beginning in 2013 Bollman's assault on competent coaching and reasonable roster management should be a distant memory. The improvement that Meyer and his still to-be-named line coach bring will seem exaggerated by comparison.
Ohio State regularly finishing in the bottom half of the NCAA in critical offensive categories will once again seem unthinkable, rather than likely.
That's why this remembrance is a celebration. The decade-old tradition of gnashing teeth over Ohio State's line is finally concluding.
Bollman is eating into Boston College's overhead now. This is the dawn of a new era in line play that will be both competent and diverse, two elements the Buckeyes have sorely lacked for too long.
And despite this looming renaissance, it's still defense that wins championships. Bollman's departure simply means that the Silver Bullets should finally have a capable partner in that endeavor instead of an unwilling adversary.