Ohio State received three pieces of bad news and one piece of good news regarding its 2023 offensive line in a 24-hour span between Tuesday and Wednesday.
The first piece of news, Paris Johnson Jr. declaring for the 2023 NFL draft, didn't come as any surprise. Still, it confirmed the reality that Ohio State will need to replace both of its starting offensive tackles next season, as Dawand Jones (who confirmed his NFL draft entry Wednesday) had already signaled his intention to go pro when he accepted a Senior Bowl invitation in December.
That's why Ohio State has been actively pursuing transfer offensive tackles, offering scholarships to four different tackles in the portal. The last of those four offensive tackles came off the board Tuesday, however, when former Washington State OT Jarrett Kingston signed with USC.
Come Tuesday night, Ohio State lost another member of its starting offensive line from this past season when Luke Wypler announced he would enter this year's NFL draft. That news, which was far less of a foregone conclusion than Johnson going pro, leaves the Buckeyes needing to replace three of their starting offensive linemen from 2022.
The good news came Wednesday morning, when Matt Jones announced he will use his sixth year of eligibility to play another season at Ohio State. That gives the Buckeyes two returning starters on their offensive line for 2023, as Donovan Jackson is not yet eligible to enter the NFL draft.
Still, Ohio State's offensive line is surrounded by major question marks as the 2023 offseason begins.
Those question marks certainly start on the edges of the line, as the Buckeyes now have only one offensive tackle (Josh Fryar) who has played any snaps with Ohio State's first-team offense. There's reason for optimism about Fryar, as he performed well in his lone start at right tackle this past season when Dawand Jones missed the Indiana game. He looks like the surest candidate to join Jackson and Matt Jones in the 2023 starting lineup, and he believes his performance in spot duty this past season can springboard him into a full-time role.
"I think it's huge," Fryar said after his start against Indiana. "Just to prove to myself and prove to my teammates that hey, I can play and coming back next year, I can play."
If Ohio State firmly believed it had two ready-to-start offensive tackles on its roster right now, it wouldn't have offered as many transfer offensive tackles as it has. With Kingston off the board, however, there are no longer any obvious candidates in the portal to come to Ohio State as candidates to start immediately.
As such, it's unlikely Ohio State will add a transfer offensive lineman before spring practices. The Buckeyes could still have options to upgrade their offensive line when the second transfer window opens in May. At least for the spring, though, the Buckeyes are likely to proceed forward with the offensive linemen who are already on their roster – which makes Zen Michalski the frontrunner to be the first-team left tackle this spring.
Michalski remains unproven, as all 79 of his snaps this past season came in second-team duty. That said, Pro Football Focus graded him as Ohio State's best backup offensive lineman in 2022 (71.3). He looks the part of a left tackle physically, having bulked up to more than 300 pounds after playing tight end for much of his high school career, and the 6-foot-7 redshirt sophomore looks to continue adding weight to get to 315 pounds this offseason.
While Ohio State might feel more comfortable if it had another tackle with collegiate starting experience, Michalski believes two years of practicing with the Buckeyes have prepared him well for the potential opportunity to start in 2023, and he says he'll embrace the competition if OSU ultimately does add a transfer tackle.
"This offseason, I'm going to do my absolute best to put in all the work I can put in, and wait for the results," Michalski said at Peach Bowl media day.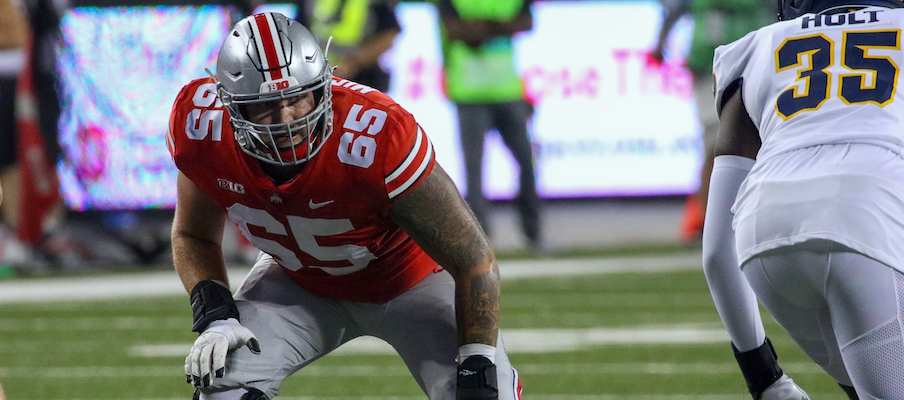 One other option for the Buckeyes could be moving Jackson to left tackle, where he spent time practicing due to injuries on the offensive line last spring. Of course, that would leave Ohio State with a hole to fill at left guard.
Justin Frye faces a similar question at right guard with Matt Jones, who could potentially slide over to center to replace Wypler. Moving Jones seems like a more likely option than moving Jackson, as Jones was originally recruited by Ohio State to play center and showing he has the ability to play all three interior offensive line spots could bolster his stock for the 2024 NFL draft.
If Ohio State moves Jones and/or Jackson, the top candidate to start at guard may be Enokk Vimahi, who started in Jones' place when Jones was unable to play against Michigan due to a foot injury. Vimahi will need to show improvement in pass protection to secure a starting job, though, as he was graded by PFF as OSU's worst pass-blocking lineman (20.9) in 2022 – and was replaced by Fryar early in the Michigan game.
Other candidates to compete for a starting guard job could include Tegra Tshabola, who saw playing time as the second-team right guard in four early-season games as a true freshman before taking a redshirt, and redshirt sophomore Ben Christman, who made his Ohio State debut as the second-team right guard against Indiana.
If Jones stays at right guard, the presumptive frontrunner to be Ohio State's new starting center is Jakob James. Like Michalski, James played 79 snaps with the second-team offensive line in 2022, but has not yet played any first-team snaps at the collegiate level. If Ohio State opts for more experience in the middle with Jones, it's also possible they could switch positions with James sliding to guard for compete for a starting job.
Ohio State will likely experiment with different offensive line combinations during spring practices as it looks to find its best five up front. Whether the Buckeyes find five they feel comfortable with during those 15 practices could determine how aggressively they pursue a transfer lineman – or possibly even two transfer linemen – during the post-spring transfer window.
Considering the offensive line is a position where substitutions are rarely made except when injuries occur, it's not uncommon for a college football team to be in the position Ohio State is in now. It's rare for a team to return five offensive linemen who all have substantial starting experience, and the offensive line is always seen as an offseason question mark when new starters are being broken in.
What makes it feel like more of a concern rather than merely a question for Ohio State this offseason is some of the Buckeyes' recent recruiting misses on the offensive line, both in high school recruiting over the past several years and with transfers over the past month. While four of Ohio State's five starting offensive linemen in 2022 were ranked among the top two prospects at their positions (everyone but Jones) in their respective recruiting classes, Jackson and Jones are the only returning linemen who fit that criteria in 2023 – though Tshabola, Vimahi and Christman were also top-150 overall prospects in their classes, as is incoming true freshman Luke Montgomery.
Michalski, James and Fryar have all shown flashes to indicate they have starting potential despite being less highly touted recruits, but that gives them a bit more to prove if and when they actually get their chance to start.
Ohio State won't have a shortage of bodies along the offensive line in spring practice, as the Buckeyes currently have 17 scholarship offensive linemen on their 2023 roster. That includes four freshmen (Montgomery, Joshua Padilla, Austin Siereveld and Miles Walker) who are all already on campus as midyear enrollees, giving all of them an opportunity to compete right away for spots on the two-deep, though it's rare for a freshman offensive lineman to start at OSU.
Pre-Spring Offensive Line Depth Chart Projection

| Left Tackle | Left Guard | Center | Right Guard | Right Tackle |
| --- | --- | --- | --- | --- |
| ZEN MICHALSKI | DONOVAN JACKSON | MATT JONES | ENOKK VIMAHI | JOSH FRYAR |
| LUKE MONTGOMERY | BEN CHRISTMAN | JAKOB JAMES | TEGRA TSHABOLA | GEORGE FITZPATRICK |
| MILES WALKER | CARSON HINZMAN | JOSHUA PADILLA | AUSTIN SIEREVELD | GRANT TOUTANT |
Even assuming C.J. Stroud leaves, Ohio State certainly has the skill-position talent to have one of college football's best offenses again in 2023. The Buckeyes are returning nearly all of their key contributors at running back, wide receiver and tight end from 2022 with the exception of Mitch Rossi. Kyle McCord and Devin Brown are each talented enough to be Ohio State's next star quarterback depending on who wins the starting competition.
The foundation of any great offense, though, is a strong offensive line. How well Frye and the Buckeyes can rebuild their offensive line over the next eight months could make or break Ohio State's 2023 season, as it's the position group that stands out as the Buckeyes' biggest area of uncertainty right now.