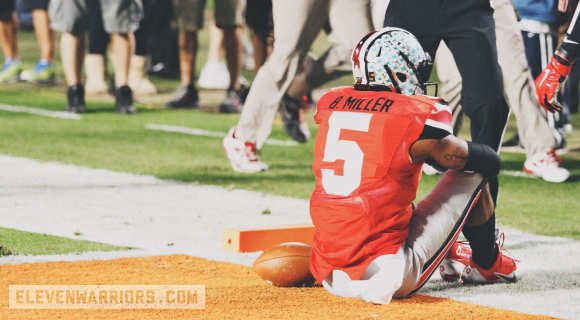 MIAMI GARDENS, Fla. – As win after win piled up for two seasons, it seemed as if every Saturday in the fall would yield positive results for Ohio State. But the team that was once on the cusp of a national championship ended a potential dream season with a whimper.
The seventh-ranked Buckeyes stood at 12-0 – and 24-0 – less than a month ago. Now, the final record stands at 12-2. Urban Meyer said there's a big difference between 12-2 and 13-1, and he was right.
"It's going to sting for a while, probably a long while because we didn't finish," Meyer said after a 40-35 loss in the Orange Bowl. "It was right there."
Both Ohio State and Clemson have fought national perception issues and were using the Orange Bowl as a boost. In the end, it was the Tigers who turned the tide. They enter 2014 coming off their first BCS win in a back-and-forth affair that left defensive coaches pulling out handfuls of hair.
The over/under was topped with plenty of time to spare. For a month, all the talk was about the Buckeyes' and Clemson's efficient, supercharged offenses. They lived up to the hype, providing more fireworks than Dierks Bentley's pyrotechnic-heavy halftime show.
But in the end, it was a defensive play that decided the outcome. First came an inexplicable interception by Tajh Boyd on third down with one minute, 27 seconds left. The miscue gave Ohio State possession of the football 48 yards from victory.
Two plays later, Braxton Miller topped Boyd when he threw a pass right into the hands of linebacker Stephone Anthony. The Tigers ran out the clock on the game and the Buckeyes' 2013 season. A trip to Miami filled with possibilities ended in disappointment.
Miller finished 16 of 24 passing for 234 yards with two touchdowns and two interceptions. He had 18 rushes for 35 yards and two touchdowns. But five of those "runs" were sacks by the Tigers' relentless defense. Miller was pounded each and every corner, nearly into submission due to shoulder and rib injuries. It was an uncharacteristic night for a usual stout offensive line with left tackle Jack Mewhort's nondescript performance acting as a headliner. 
"I'm a competitor. I don't like to sit down. I gave it all I had," Miller said. "Things happen in the game. You get injured and you have to fight through it. On a scale of 1-10, the pain was a 9.5."
After winning the Chicago Tribune Silver Football, Miller said the toll of hits could factor into his NFL decision before backtracking. He hasn't set a timetable on when he'll announce and said he isn't leaning one way or the other.
Running back Carlos Hyde had 113 yards rushing and one touchdown, and Philly Brown recorded eight catches for 116 yards.
It was a week filled with mishaps for Ohio State – Noah Spence's suspension, injuries, flu-gate, etc. Bad news was always lurking around the corner. Clemson happily took any advantage it could gain.
Gain, as in yardage, became a constant for the Tigers. Boyd totaled 505 yards of offense – 378 passing, 127 rushing – and tallied six touchdowns. He completed 31 of 40 passes and ran for a career-long 48-yard touchdown.
"What a legacy," Clemson head coach Dabo Swinney said. "He put an exclamation point on it tonight."
His favorite target, wide receiver Sammy Watkins, finished with an Orange Bowl-record 227 receiving yards and 16 receptions (two touchdowns). Together, Boyd and Watkins produced arguably the biggest win since the Tigers won the 1981 national championship.
The Buckeyes trailed 20-9 in the second quarter, scored 20 unanswered points and then frittered away the lead. The biggest play of the game came in the third quarter when Ohio State led 29-20. Brown attempted to field a punt with pressure bearing down on him and fumbled. Clemson scored on the ensuing possession and again on its next possession. In barely more than three minutes, the Tigers went from down nine to up by five.
"I felt like the offense was starting to get clicking at that point," Hyde said. "I thought we could make it happen."
The Buckeyes retook the lead on a 10-play, 75-yard drive early in the fourth quarter. A 14-yard touchdown run by Hyde put Ohio State in front 35-34. It attempted a two-point conversion, but backup quarterback Kenny Guiton, in for Miller after he was injured on the touchdown play, threw an incomplete pass.
The lead lasted about five minutes after Boyd took Clemson that same 75 yards. The Buckeyes had two chances to win the game in the final six minutes, but couldn't get closer than 46 yards from the end zone. On the first possession, Miller fumbled after being leveled by Bashaud Breeland. The last opportunity was Miller's fateful pick to Anthony.
Clemson finished with 576 total yards.
"We're not a championship-caliber defense right now, although we think about the last two games, we were in position to go win," Meyer said. "Our defense certainly made some plays to help us go win a game."
The Tigers won the coin toss, elected to receive and scored on the opening drive, foreshadowing what was to come for Ohio State. On third down, Boyd ran up the middle for a 48-yard touchdown. Miller answered the call, though, by scampering for a 33-yard touchdown of his own to tie the game at 7.
Then the Sammy Watkins Show started.
"I don't know all the receivers in the country, but I can't imagine any better than that guy," Meyer said.
His first touchdown came in the first half on a 34-yard pass against true freshman Vonn Bell. The momentum would swing yet again when Cameron Johnston pinned Clemson at the 1-yard line. On the first play, Boyd was called for intentional grounding in the end zone, which resulted in a safety and a score of 14-9. The lead was extended to 20-9 before the Buckeyes scored 20 straight.
But mistakes were Ohio State's undoing. Two fumbles and two interceptions loomed large. Ironically, it was Clemson who entered the Orange Bowl with turnover problems.
"It takes teams to win," Swinney said. "And listen, we made enough mistakes to probably lose the game tonight. But we kept picking each other up. Our defense was awesome."