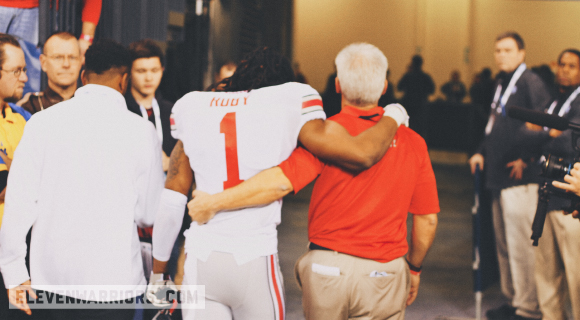 INDIANAPOLIS – For 24 straight games, Ohio State rode a wave that the tradition-rich program had never experienced. Rock-star head coach. Longest winning streak in school history. Wins over Michigan. Even when the odds favored opponents, the Buckeyes somehow, some way came away with a win.
But it all ended on Saturday night at Lucas Oil Stadium with two years of success on the line.
A postseason ban in 2012 meant Ohio State couldn't play for a national championship it almost certainly would have qualified for. So in January, the Chase began. 2012 became the Year of the Buckeyes.
Then Michigan State came along and ruined the same dreams it snatched away in 1974 and 1998. In front of a partisan Ohio State crowd – roughly 70 percent of the 66,000 in attendance – the Spartans extinguished more than a quarter century of frustration, beating the Buckeyes 34-24 for the Big Ten title and a berth in the Rose Bowl.
"It's going to haunt all of us, I would imagine, for a little while," said head coach Urban Meyer after his first loss at Ohio State. "But it's part of the game."
The upset shook the college football world. One week after it appeared the SEC's championship streak ended, Auburn finds itself playing for the national title. This was just the third installment of the Big Ten Championship Game, but the preamble leading to the 2013 edition was something absent from Big Ten football dating to the 2006 Ohio State-Michigan game, which pitted No. 1 vs. No. 2.
Ultimately, it was uncharacteristic sloppiness that plagued Ohio State on Saturday. It converted just one of 10 third down and committed five penalties for 62 yards, three of which extended Michigan State possessions, including one on the first drive of the game.
"Things happen in games, sometimes it doesn't really go your way," Ohio State quarterback Braxton Miller said. "You've got to come back and fix the mistakes."
After beating Michigan by intercepting a two-point conversion in the final seconds, Ohio State's season again came down to one play. Trailing 27-24 with 5:46 left in the game, the Buckeyes faced a fourth-and-the-season. They needed two yards and didn't even sniff it. Miller's rush to the right ended prematurely when Michigan State ran through a block to drag Miller to the ground. The Spartans scored on the ensuing possession to put the game on ice.
A week filled with talk about Michigan State's top-ranked defense ended with the Spartans shutting down Ohio State's high-powered offense for three of four quarters. The Buckeyes finished with 374 total yards – 273 rushing, 101 passing – well under their average of 530.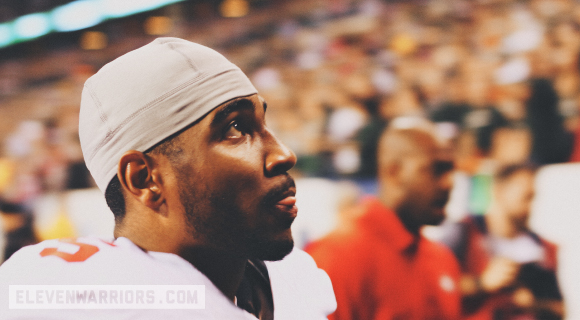 Miller led Ohio State with 243 yards of offense, completing 8 of 21 passes for 101 yards and a touchdown and running for 142 yards and two touchdowns. But it was that 143rd that made the difference.
"It was my call," Meyer said. "I wanted to put the ball in the hands of our best player, Braxton."
Carlos Hyde's season started conversation about its place in the pantheon of great running back performances. He didn't just become the first Meyer-coached running back to reach the 1,000-yard mark. Hyde ran through everything opponents put in place to stop him, gaining well over 1,200 yards. On Saturday, though, even as he ran for more than six yards per carry, the ball was taken out of his hands with regularity. He finished with 118 yards on 18 carries.
The Buckeyes dug themselves a 17-0 first-half hole and didn't score in the opening quarter for the first time all season. However, their fortunes turned immediately after falling down three scores. A five-play touchdown drive cut the deficit to 10 and a frantic possession to end the first half resulted in a field goal thanks to poor time management and mental mistakes by Michigan State.
The third quarter belonged to Miller as he willed Ohio State to the lead. From down 17-0, the Buckeyes took a 24-17 lead after two rushing scores by Miller in the third. But they wouldn't score again. As quickly as Ohio State stole momentum from the Spartans, they took it back just as quickly.
Connor Cook, who played in Miller's shadow as a high school quarterback in the state of Ohio, shined bright on the biggest stage he's performed. Pass defense has plagued the Buckeyes all season and it became the Achilles heel again in the Big Ten Championship Game.
"I'm disappointed with our pass defense," Meyer said. "We have to get this fixed. We're going to get back to work."
Cook completed a 72- and 33-yard touchdown passes in the second quarter. When Michigan State fell behind in the second half, Cook rose to the occasion once more, leading an eight-play 90-yard go-ahead drive. He finished 24 of 40 with 304 yards, three touchdowns and an interception and was selected the game's MVP.
"I've always had confidence in him," Michigan State offensive lineman Blake Treadwell said." The journey was a little rocky for him at first, but I knew in my heart that he was going to lead us to big things."
Running back Jeremy Langford became the first 100-yard rusher against the Buckeyes this season, tallying 128 yards and a touchdown on 24 carries.
The three biggest plays of the game came minutes apart in the fourth quarter. First came a dropped third-down pass by wide receiver Evan Spencer followed by a Ryan Shazier blocked punt deep in Michigan State territory, but Ohio State couldn't capitalize when Allen stopped Miller shy of the first-down marker on 4th and 2.
For the Buckeyes, it's regroup after the first loss in nearly two calendar years. They're likely headed to the Orange Bowl to play Clemson Jan. 3.
"If we do [play in a BCS game], they're going to get a very good Buckeye football team that's going to stick together and try to win a game," Meyer said. "If you're asking me to measure the levels of hurt, I'm not sure I can do that."