After scoring just two offensive touchdowns in each of its previous two games, Ohio State didn't have any problem finding the end zone against Purdue.
The Buckeyes' defense had some trouble keeping Purdue out of the end zone, but Ohio State's offense more than made up for it, as the fourth-ranked Buckeyes scored eight touchdowns on their first 10 possessions to roll over the 19th-ranked Boilermakers for a 59-31 win.
 
Q1
Q2
Q3
Q4
 

#4

 Ohio State
21
24
7
7
59

#19

 PURDUE
7
10
14
0
31
The game got off to an optimal start for Ohio State on both sides of the ball, as the Buckeyes forced a 3-and-out on Purdue's opening possession of the game, got the ball back at Purdue's 39-yard line after a 16-yard punt and took advantage as Garrett Wilson got wide open on 3rd-and-6 to catch a 21-yard touchdown pass from C.J. Stroud.
Purdue responded on its second possession of the game, successfully confusing Ohio State's defense with a bunch formation to get Jackson Anthrop wide open for a 25-yard game-tying touchdown catch.
The Buckeyes responded right back with a 78-yard drive, highlighted by a 49-yard gain by Jaxon Smith-Njigba on a shovel pass and capped off with a 3-yard TreVeyon Henderson run, to score their second touchdown less than eight minutes into the game.
After Jerron Cage made his second fumble recovery in three weeks on Purdue's next possession, Henderson turned on the jets and ran through the Boilermakers' defense for a 57-yard touchdown to give the Buckeyes a 21-7 lead less than 10 minutes into the game.
Untouched. 57 yards.@TreVeyonH4 showed off the speed on his 17th @OhioStateFB TD of the season. pic.twitter.com/1VESTeiAJr

— Big Ten Network (@BigTenNetwork) November 13, 2021
Ohio State finished the first quarter with 206 yards of offense and 21 points on just 18 plays.
Just one minute and 18 seconds into the second quarter, Ohio State scored again when Purdue left Smith-Njigba wide open, giving Stroud an easy 20-yard throw to make it four touchdowns in four possessions for the Buckeyes.
Chris Booker forced a fumble from Anthrop after he hesitated to field the ball on Ohio State's ensuing kickoff, and Palaie Gaoteote recovered the fumble to give the Buckeyes the ball back at the 12-yard line. Two plays later, Wilson made an acrobatic 12-yard touchdown catch to extend Ohio State's lead to 35-7 with 13:28 still to play before halftime.
Purdue scored its second touchdown on its fifth drive of the game, a 10-play, 80-yard drive that included a 24-yard pass from Aidan O'Connell to Milton Wright and culminated with a 12-yard touchdown pass from O'Connell to Broc Thompson, who caught the ball over Sevyn Banks in the end zone.
Ohio State quickly extended the lead back to four scores and made it six touchdowns in six possessions when Wilson turned a jet sweep handoff into a 51-yard touchdown for his third score of the day.
.@GarrettWilson_V is a cheat code.

That's three first half TDs. pic.twitter.com/dr3E19B0ww

— Big Ten Network (@BigTenNetwork) November 13, 2021
Purdue drove back into the red zone on its next possession, but settled for a 32-yard Mitchell Finneran field goal after Cameron Brown dropped an interception on third down.
Ohio State was finally held without a touchdown for the first time in the game on its seventh and final possession of the first half, but Noah Ruggles made a 30-yard field goal to extend the Buckeyes' lead to 45-17 before halftime.
The Buckeyes picked up right where they left off on their opening possession of the second half, when Wilson scored from 24 yards out for his fourth touchdown of the game.
There's 10:48 left in the 3Q.@GarrettWilson_V has 4 TDs, and counting. pic.twitter.com/OGiFF0w9Yt

— Big Ten Network (@BigTenNetwork) November 13, 2021
Purdue also scored on its opening drive of the second half when Wright beat Bryson Shaw into the end zone to catch a 29-yard touchdown pass from O'Connell.
After the Buckeyes were forced to punt for the first time on their ninth possession of the game, Purdue scored another touchdown on its second possession of the second half when the Buckeyes left Anthrop wide open again to score from 9 yards out at the end of a 10-play, 87-yard drive.
| OHIO STATE |   | PURDUE |
| --- | --- | --- |
| 624 | TOTAL YARDS | 481 |
| 263 | RUSHING YARDS | 91 |
| 31 | RUSHING ATTEMPTS | 19 |
| 8.5 | AVERAGE per RUSH | 4.8 |
| 3 | RUSHING TOUCHDOWNS | 0 |
| 361 | PASSING YARDS | 390 |
| 31-38 | COMPLETIONS–ATTEMPTS | 40-52 |
| 11.6 | AVERAGE per COMPLETION | 9.8 |
| 5 | PASSING TOUCHDOWNS | 4 |
| 30 | 1st DOWNS | 28 |
| 69 | TOTAL PLAYS | 71 |
| 9.0 | YARDS PER PLAY | 6.8 |
| 5-6 | RED ZONE | 3-3 |
| 4-7 | third down conv | 5-10 |
| 5-50 | PENALTIES | 4-31 |
| 31:18 | POSSESSION | 28:42 |
Ohio State responded on its 10th possession of the game by scoring its eighth touchdown, driving 75 yards in nine plays and capping it off with a 5-yard touchdown pass to Chris Olave.
Purdue nearly scored another touchdown on its next possession, but what would have been a 24-yard touchdown pass from O'Connell to David Bell on 4th-and-8 was dropped by Bell in the end zone, resulting in a turnover on downs.
Stroud finished the game with 31 completions on 38 passing attempts for 361 yards and five touchdowns, while Wilson caught 10 passes for 126 yards and three touchdowns and Smith-Njigba caught nine passes for 139 yards and a touchdown and Olave had nine catches for 85 yards and a touchdown. Miyan Williams rushed for 117 yards on 14 carries and Henderson had 13 carries for 98 yards and two touchdowns.
The win was Ohio State's first win over Purdue since 2013, as the Buckeyes suffered a 49-20 loss to the Boilermakers in the last matchup between the teams in 2018.
Ohio State is now 9-1 for the season and will look to improve to 10-1 next week when it hosts Michigan State in its final home game of the year next Saturday at noon.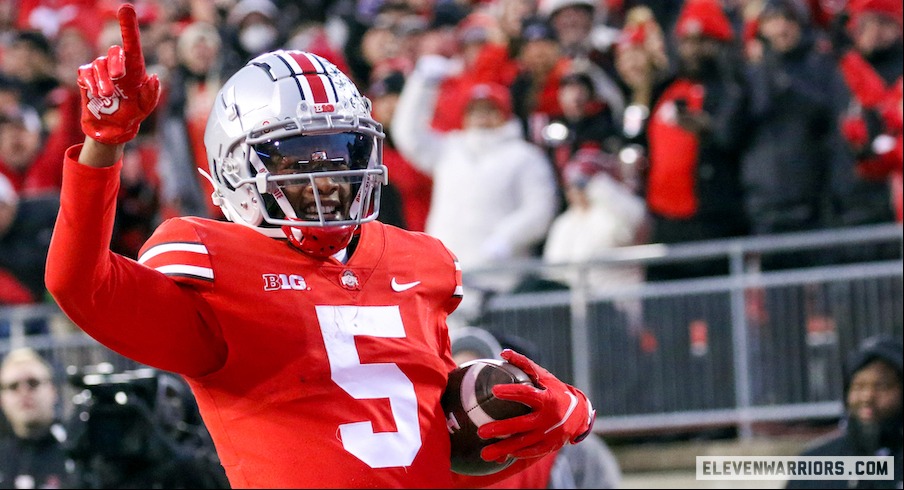 Game Notes
Steele Chambers made his first career start at linebacker, replacing Teradja Mitchell in the starting lineup. Mitch Rossi made his first career start at tight end in place of Jeremy Ruckert.
Kamryn Babb, Thayer Munford, Haskell Garrett and Mitchell were the captains for the pregame coin toss. Ohio State won the coin toss for just the second time this year.
Henderson became the fourth true freshman in Ohio State history to top 1,000 rushing yards in a season during the first half of Saturday's game.
Smith-Njigba became the sixth wide receiver to top 1,000 yards in a single season in Ohio State history.
Wilson became the first Ohio State player to ever have three receiving touchdowns and one rushing touchdown in a game. His rushing touchdown was the first of his Ohio State career.
Olave's touchdown catch was the 33rd of his career, bringing him just one touchdown away from David Boston's Ohio State record.
Saturday's game was the second time this season Ohio State has scored a touchdown on all of its first six possessions, along with the 54-7 win over Indiana.
101,009 people attended the game, marking the second straight game at Ohio Stadium over 100,000 fans after each of the first four home games of the season fell short of that mark.
Ohio State has a 41-15-2 all-time record against Purdue.
Ohio State has now won 28 consecutive games against Big Ten opponents (including Big Ten Championship Games) since its 2018 loss to Purdue.
Ohio State and Purdue combined for zero sacks and zero interceptions in Saturday's game despite 52 Purdue passing attempts and 38 Ohio State passing attempts.