Ohio State is on a roll.
The Buckeyes earned their third straight blowout win on Saturday as the Ohio State offense scored on each of its first five possessions, C.J. Stroud threw for nearly 300 yards before halftime and the home team pulled away from Maryland, 59-17, to complete the first half of the regular season with a 5-1 record.
 
Q1
Q2
Q3
Q4
 

#7

 Ohio State
14
21
21
10
66
MARYLAND
3
7
7
0
17
Ohio State nearly gave up a touchdown on its opening defensive series when it left Darryl Jones wide open for what would have been a 40-yard touchdown, but Maryland ended up settling for a 48-yard Joseph Petrino field goal after Tagovailoa missed Jones and Javontae Jean-Baptiste (who was called for roughing the passer on the play where Jones got wide open) combined with Haskell Garrett for a 3rd-and-3 sack.
The Buckeyes methodically moved the ball through the air on their opening drive of the game, on which TreVeyon Henderson was held to just five yards on five rushing attempts but C.J. Stroud completed nine of 12 passing attempts for 88 yards on a 17-play drive, Ohio State's longest drive by number of plays since its 2015 game against Hawaii. A slip by Garrett Wilson led to an incompletion from Stroud on 3rd-and-goal from the 2-yard line, but the pair made up for it on the next play when the Buckeyes opted to go for it on 4th-and-goal and Wilson beat Maryland cornerback Tarheeb Still for a touchdown catch.
4th and goal and @OhioStateFB comes up with the TD to go up 7-3! pic.twitter.com/YubIwUvW5J

— FOX College Football (@CFBONFOX) October 9, 2021
After forcing a punt on their second defensive series, the Buckeyes made it 14-3 before the end of the first quarter when Henderson turned a screen pass into a 30-yard gain and followed that up with a 4-yard touchdown run.
First he makes the defender look like he's stuck in mud. Then he finishes the drive with a TD.

Welcome to the @TreVeyonH4 experience at @OhioStateFB pic.twitter.com/ccGXLodEbt

— FOX College Football (@CFBONFOX) October 9, 2021
Chris Olave made it 21-3 on Ohio State's third possession when he got wide open to catch a 36-yard touchdown pass from Stroud.
Maryland scored its first touchdown of the game on its fourth possession of the day as the Terrapins drove 75 yards down the field in 12 plays, capped by a 7-yard touchdown pass from Tagovailoa to Carlos Carriere. 
The Buckeyes responded promptly on offense and special teams as Emeka Egbuka returned Maryland's ensuing kickoff to Ohio State's 29-yard line and Henderson scored a 26-yard receiving touchdown just two plays later.
Maryland threatened to score again on its next possession, when it turned a 4th-and-1 into a 30-yard run and drove all the way to Ohio State's 5-yard line. When the Terrapins went for it again on 4th-and-4, however, Tagovailoa fell down under pressure for a turnover on downs.
The Buckeyes scored on their fifth straight possession to start the game and made it 35-10 before halftime when Master Teague ran for an 8-yard touchdown, which was set up by a 42-yard pass from Stroud to Jaxon Smith-Njigba.
Stroud finished the first half with 17 completions for 293 yards and three touchdowns on 22 passing attempts.
The offense kept rolling on its opening possession of the second half, on which Stroud missed a 46-yard touchdown pass to a wide open Olave but made up for it just three plays later with a perfect throw to Wilson for a 26-yard touchdown.
These @OhioStateFB WRs are something else pic.twitter.com/qprUIyxNGf

— FOX College Football (@CFBONFOX) October 9, 2021
Despite already being up 42-10, Ohio State opted to go for it on 4th-and-1 from the 30-yard line on its second possession of the third quarter, and Olave scored Ohio State's seventh touchdown of the day when he made a spectacular catch despite defensive pass interference from Still.
Are you kidding, @chrisolave_

Just can't stop the @OhioStateFB WR pic.twitter.com/dDc0brDpwS

— FOX College Football (@CFBONFOX) October 9, 2021
Henderson made it eight touchdowns in nine possessions for the Buckeyes – with the only one of those possessions without points being a kneel-down at the end of the first half – when he ran 14 yards for his third score of the day.
After that, Ohio State began to take its starters out of the game, and Maryland scored its second touchdown of the day when multiple Buckeye defenders missed tackles on a 44-yard catch-and-run by Rakim Jarrett.
| OHIO STATE |   | MARYLAND |
| --- | --- | --- |
| 598 | TOTAL YARDS | 335 |
| 166 | RUSHING YARDS | 56 |
| 33 | RUSHING ATTEMPTS | 36 |
| 5.0 | AVERAGE per RUSH | 1.6 |
| 3 | RUSHING TOUCHDOWNS | 0 |
| 432 | PASSING YARDS | 279 |
| 26-38 | COMPLETIONS–ATTEMPTS | 28-39 |
| 16.6 | AVERAGE per COMPLETION | 10.0 |
| 5 | PASSING TOUCHDOWNS | 2 |
| 29 | 1st DOWNS | 22 |
| 71 | TOTAL PLAYS | 75 |
| 8.4 | YARDS per PLAY | 4.5 |
| 5-5 | RED ZONE | 2-3 |
| 7-11 | third down conv | 5-15 |
| 4-40 | PENALTIES | 2-15 |
| 25:16 | POSSESSION | 34:44 |
On Kyle McCord's first drive in the game, the Buckeyes drove back inside the red zone and nearly scored a ninth touchdown on a 12-yard run by Marcus Crowley, but a holding penalty against Egbuka brought it back. The Buckeyes ended up settling for a 32-yard Noah Ruggles field goal to make it 59-17 with 10:37 to play.
Ryan Watts picked off Tagovailoa for his second interception in as many weeks on Maryland's next drive.
On its 10th full drive of the game, Ohio State was held without points for the first time all day when a Jack Miller pass intended for Joe Royer was broken up on 4th-and-5 for a turnover on downs. 
The Buckeyes would still score another touchdown, though, when Craig Young intercepted a Tagovailoa pass and returned it 70 yards for a touchdown, marking the fourth straight game with a pick-six for Ohio State.
Stroud finished Saturday's game with 24 completions on 33 attempts for 406 passing yards and five touchdowns. Henderson finished the day with 169 total yards from scrimmage – 102 rushing, 67 receiving – and three total touchdowns. Olave caught seven passes for 120 yards and two touchdowns, Smith-Njigba caught five passes for 103 yards and Wilson had five catches for 84 yards and two touchdowns.
Ohio State will now have a week off before it begins its second half of the regular season on the road at Indiana on Oct. 23.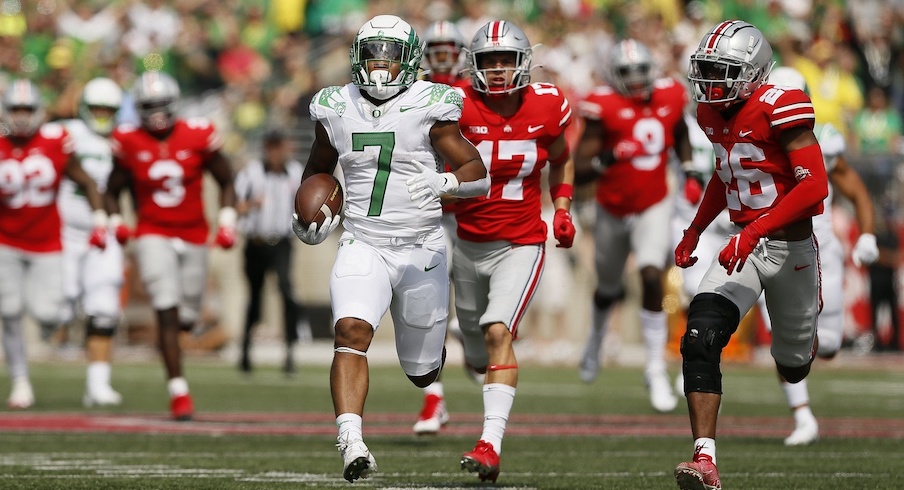 #7 Ohio State 66, maryland 17
oct. 9, 2021 • OHIO STADIUM • COLUMBUS, OH
• PHOTOS 
Game Notes
Miyan Williams was unavailable to play for a second consecutive game. Tyreke Smith, Julian Fleming and Demario McCall were also held out after being listed as game-time decisions.
Kamryn Babb, Thayer Munford, Chris Olave and Zach Harrison were Ohio State's game captains. The Buckeyes lost the coin toss for the fifth time in six games this year.
Jean-Baptiste made his second start of the season at defensive end in place of Smith while Marcus Williamson made his first start of the season at cover safety.
With his first catch of Saturday's game, Garrett Wilson reached the 100-catch mark for his Ohio State career.
Munford left the game on the opening possession with an apparent injury after being rolled upon and was replaced at left guard by Matt Jones, but was able to return in the second quarter. Jones also played snaps at right guard.
Ohio State honored its current and former athletes who participated in the Tokyo Olympics between the first and second quarters.
Olave now has the third-most receiving touchdowns of any player in Ohio State history (29) behind David Boston (34) and Devin Smith (30). He is also tied with Michael Jenkins for the second-most 100-yard receiving games in Ohio State history.
Henderson has now scored touchdowns in six consecutive games to start his Ohio State career.
Cameron Brown left the game in the second quarter after taking a knee to the head on a tackle.
Haskell Garrett left the game in the third quarter after suffering an apparent leg injury. He had to be helped off the field by two members of Ohio State's medical staff. Ryan Day said after the game that Garrett had already been dealing with an injury before Saturday's game and that he hoped Garrett would be healthy after the bye week.
99,277 attended Saturday's game at Ohio Stadium for the second-highest attendance of the season so far.
Ohio State has scored 50+ points in three straight games for the first time since it scored 50+ in four straight games against UNLV, Rutgers, Maryland and Nebraska in 2017.
Egbuka's 166 kickoff return yards in Saturday's game were the second-most by an individual player in a single game in Ohio State history, behind only Carlos Snow's 213 kickoff return yards against Pittsburgh in 1988.
Ruggles still hasn't missed a kick this season and is 6-for-6 on the year on field goals.
Royer's fourth-quarter snaps were his first as a Buckeye.
Freshman safety Andre Turrentine played his first defensive snaps as a Buckeye in the fourth quarter.
Stroud became the first player in Ohio State history with 400+ passing yards, five passing touchdowns and zero interceptions in a single game, per ESPN Stats & Info. He joins Dwayne Haskins as the second Ohio State quarterback to throw five passing touchdowns in back-to-back games.