The good news is the next Joe Burrow might be on the current Ohio State football roster.
The bad news is the next Joe Burrow might be on the current Ohio State football roster.
Yeah, you get it - but that's not really bad news, is it? It's a conundrum you want your beloved college football team to have and bemoan every season. Ohio State's QB room owns arguably the best non-NIL value proposition in high school recruiting today, and even padded its QB transfer value prop over the past two seasons at Georgia's expense (Oklahoma's is still better).
Burrow famously took his Ohio State bachelors degree to Baton Rouge and could have run a successful campaign for Louisiana governor if he didn't skip town with a Masters degree to become the mayor of Cincinnati instead. Seeing him flourish elsewhere produced...feelings, but Monday morning quarterbacking the Buckeyes' 2018 QB derby didn't really change a thing.
We're only a decade removed from Joe Bauserman chain-smokING cigarettes with his neighbors and reassurING them he would not follow Terrelle Pryor out the door.
That's because the man who beat Burrow out after he broke his throwing hand shattered numerous records en route to being a 1st round draft pick after one season, covering most of the blemishes of a down year defensively. Then Dwayne Haskins left, Justin Fields arrived and now Ohio State has back-to-back 1st round NFL draft picks from its historically maligned (at least professionally) QB position for the first time ever.
Meanwhile, Burrow went 1st overall. Every possible outcome was great. It could have only been better. We're only a decade removed from the endless Tatgate summer when Joe Bauserman chain-smoked cigarettes with his neighbors and reassured them he would not follow Terrelle Pryor out the door.
It was a relief to have him returning to the QB room, even if it would be quite literally without a QB coach. See, that's a bad conundrum.
Come to Ohio State and be a legend OR come to Ohio State then transfer somewhere else and be a legend anyway on account of superior QB coaching is a bulletproof sales pitch for high school stars if you ignore UNLV's impending QB derby. But it's as hard to blame Tate Martell for finishing behind Haskins and tapping out prior to Fields' arrival as it was to understand Burrow's grad transfer after waiting behind the king of broken school records before catching a bad, literal break.
And that's where our lizard brains get wrapped up in transfer anxiety and misinterpret it as bad news. If any one or more of C.J. Stroud, Jack Miller, Kyle McCord or Quinn Ewers exhaust their collegiate eligibility wearing a different helmet with a crown atop it, that's just more fuel for Ohio State's value proposition - as long as the quarterbacks who stay in Columbus operate in a similar stratosphere.
This particular derby is unique only in that all four candidates have freshman eligibility (with polite nods to junior J.P. Andrade and senior TAMU transfer Jagger LaRoe). While a lot of life today is unprecedented times a crowded QB room in Columbus is definitely precedented.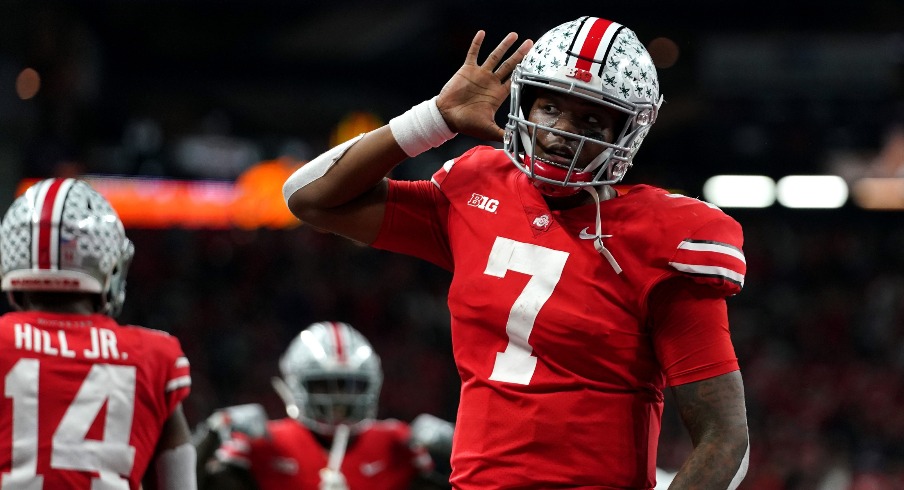 It's a conundrum we never want to be without. The only way this one goes south - outside of Ohio State's 2015 mystifying handling of its title defense making an unfortunate encore - is if the winner of this derby ends up a loser.
And that hasn't happened in Columbus since Walt Harris departed. In his absence, elite safety prospect Steve Bellisari beat out his two hand-picked QB prospects, which sent both Austin Moherman and David Priestley packing - prior to leading two Buckeye teams that combined for 10 losses and one fired head coach.
See, that was unique. Since then Ohio State QB derbies have reached optimal conclusions. Craig Krenzel over Scott McMullen, Troy Smith over Justin Zwick, Pryor over Todd Boeckman (which was the last time an incumbent got ditched in line) and into the current era where QB controversies only spring from incumbents recovering from catastrophic injuries or a ringer changes his mailing address from Athens to Columbus.
Ewers could be that ringer. McCord could too. Let's see how this looks from State College:
The former No. 42 recruit in the country is the underdog in a wide-open quarterback battle. What an embarrassment of riches. https://t.co/QXY2ivjfFw

— Nick Polak (@TheREALNPolak) August 3, 2021
Yup, the underdog mentality-having Stroud was indeed the No.42 recruit in the country. If you're curious, Cardale Jones was the No.22 recruit...in Ohio. This deck is stacked differently than the last time the Buckeyes' QB room was the envy of the country.
It's not a disaster at the quarterback room is so talented, so young and so likely to not matriculate all the way through the next four years together. They all knew this was the reality, if they had looked into how things have gone in Columbus since their early grade school days.
So if one of these four manages to wrestle away the starting job and permanently put space between himself and the rest of the room, that's a strong indicator that Ohio State is going to be treating the rest of the conference as unfairly for the next few seasons as it has over the past decade.
And maybe the next Joe Burrow walks out the door again. He would have a great reason to leave, again. We'd all wish him well again. We might end up comparing a great outcome with a better one, again.
And if these precedented times have taught us anything, this is a conundrum we should welcome back again.