It was a half-hearted attempt at gallows humor.
Columbus, Sunday morning of Thanksgiving weekend: our tribe was nursing itself back to health following the annual celebration that follows every Michigan game, only this time - for the first time that I can remember - it was decidedly bittersweet.
Humor is the best analgesic and I needed a powerful pain killer:
Hey what happens next year when Braxton & J.T. come back healthy - do either of them start over college football playoff MVP Cardale Jones?

— Ramzy Nasrallah (@ramzy) November 30, 2014
We all saw Barrett lying on the Ohio Stadium turf with right leg pointing north and his foot dangling east. My years of medical training at the University of Watching Scrubs Reruns taught me feet shouldn't do that. It takes months of corrective rehabilitation to undo it. 
The ambient stadium noise abruptly switched from cheers to murmurs. I had only confirmed Cordale Jones' birth name was, in fact, Cardale a few weeks earlier.  He sometimes called himself Cordale to mess with people (by the way, Dee Miller isn't Braxton Miller's cousin either. Like Cordale this was another joke that's now out of print).
So the only non-jokester QB the Buckeyes had was now missing a healthy leg, and Braxton's arm was still incapable of swinging 360 degrees. That meant the Buckeyes either had to overdose on Wildcat - or go third string.
AFTER ACCOUNTING FOR ONLY 25 YARDS AGAINST MICHIGAN, CARDALE MADE 13 PLAYS EXCEEDING 25 YARDS IN THE POSTSEASON.
Cardale, who was wearing a headset and had been standing just a few feet in front of me the entire game to that point calmly removed it, replaced it with his helmet, received a dozen rump and helmet slaps from teammates, took a few practice tosses and trotted out onto the field. There would be no Wildcat overdose.
Despite being four years removed from high school Cardale's non-Twitter college highlight reel to that point was 1) jumping over a Maryland linebacker 2) jumping over the entire Illinois defense, and 3) destroying Illini DB and high school buddy V'Angelo Bentley after a fumble recovery that ended up not being a fumble. That was it.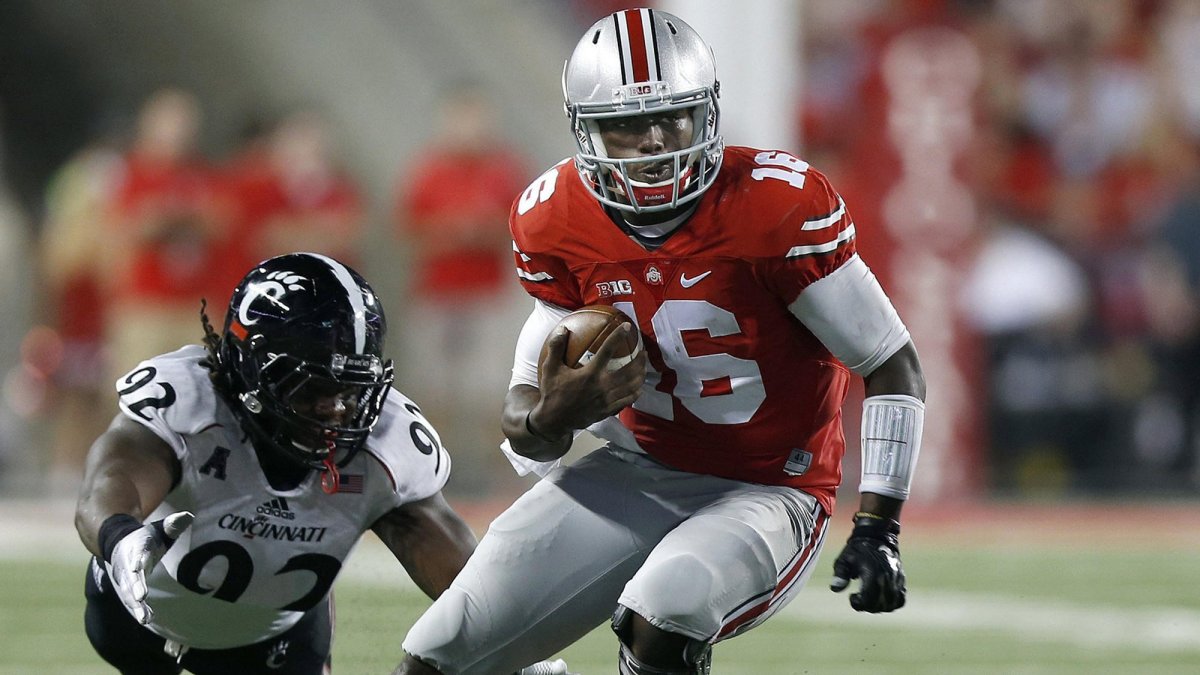 He was a garbage time hero handed a precarious one-touchdown lead against Michigan, of all damn teams. And while the Buckeyes held on to win, Cardale only went 2/3 passing for just seven yards. 
Ohio State was headed to the B1G Championship Game, and Cardale would have to obliterate Wisconsin with the Buckeyes a 3.5-point underdog to have a shot at the playoff.
I hit send on that tweet and promptly forgot about it until a week later as he was raising the game's championship trophy over his head. Nobody realized Cardale was a genie in a bottle.
Turns out the same guy who wasn't good enough to start for Ohio State - twice - was still good enough to win the national championship. That's how we find ourselves anxiously waiting for a resolution to the Greatest QB Controversy of All Time™. 
Welcome to The Situational. Let's talk about that.
---
The Dead Precedents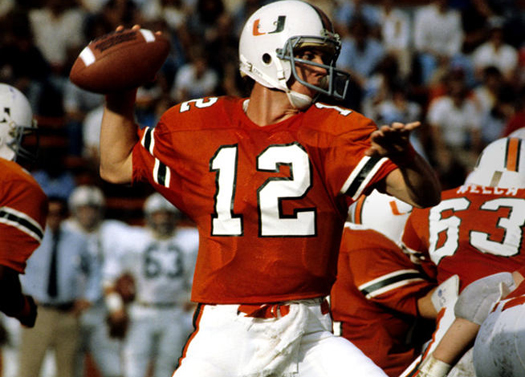 Ohio State's current quarterbacks share two conference MVP awards, two B1G freshmen of the year awards, three B1G QB of the year awards, a B1G championship game MVP and two college football playoff victories. They've combined to go 38-3 with three division titles, a B1G title and a national championship since 2011.
So picking just one isn't like deciding between Steven Threet and Nick Sheridan. Even at its low point of the century Ohio State still had Uncoached Braxton Miller vs. Accidental Starter Joe Bauserman. Who Sucks Less isn't a quarterback controversy; it's a drinking game. Quarterback controversies are defined by too many good choices.
Plenty of schools have had more than one viable quarterback, but it's rare to have three ascendant ones to choose from: after Tennessee lost Peyton Manning to graduation Tee Martin promptly led the Vols to an undefeated season. It was a transition without controversy, though Martin entered1998 with just eight career completions.
Urban had Tebow, Cam Newton and Gatorade Player of the Year John Brantley on his 2009 Florida team.
USC started Heisman Trophy winner Carson Palmer in 2002 before transitioning to 2004 winner Matt Leinhart. Leinhart had to beat out eventual Pro Bowl QB Matt Cassell to get the job. They were all on the same roster together, but it was never a three-man race.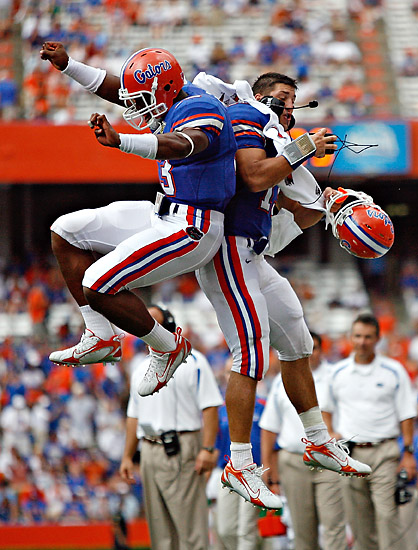 Nebraska replaced the injured Tommie Frazier with the late Brook Berringer, who - until Ohio State's amicable hydra - was the most prominent example of how to handle a quarterback controversy. Urban Meyer had Tim Tebow, Cam Newton and Gatorade Player of the Year John Brantley on the same roster in 2009 - but his backups were largely unproven to that point.
Michigan had Brian Griese starting in front of Tom Brady, who then started in front of Drew Henson. That was more a succession of capable quarterbacks waiting their turns than a controversy from a bygone era when the Wolverines routinely had more than half of a viable quarterback on the roster.
The closest thing to what the Buckeyes are currently dealing with is probably the 1982 Miami Hurricanes, who started future Hall of Famer Jim Kelly at quarterback. He was backed up by Vinny Testaverde, Bernie Kosar and current Georgia head coach Mark Richt. Kelly, Testaverde and Kosar were all 1st round draft picks who played in the NFL for 33 seasons combined.
Regardless of how 2015 shakes out for the Buckeyes, we're already looking at Barrett spending both 2016 and 2017 holding off as many as four shiny blue-chip quarterback prospects - and that seems controversial only if you ignore what's directly in front of us: the most crowded, credible and battle-tested group of quarterbacks on one team that college football has ever seen.
Just imagine if Urban had allowed Evan Spencer to throw passes earlier in his career. Last season might have been even crazier.
---
The Starter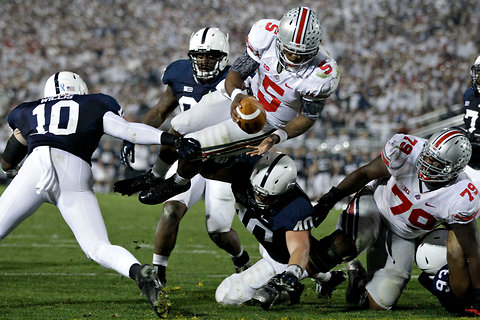 So if you're going to try and figure this beautiful mess out before Urban does you're probably beginning with these three potential scenarios (with apologies to Stephen Collier):
 
OHIO STATE QB DEPTH CHART POSSIBILITIES FOR 2015

| STARTER (HEISMAN CANDIDATE) | BACKUP (B1G POY) | 3rd STRING (CFP HERO) |
| --- | --- | --- |
| BRAXTON MILLER | J.T. BARRETT | CARDALE JONES |
| J.T. BARRETT | CARDALE JONES | BRAXTON MILLER |
| CARDALE JONES | BRAXTON MILLER | J.T. BARRETT |
And that means you aren't thinking hard enough.
Ezekiel Elliott didn't accidentally have three consecutive career highs during the postseason where he exceeded 200 yards on the ground in each game. The offensive line was great and Zeke salmoned through defenses like we've never seen him salmon before - but that was all made possible by the presence of 12Gauge, whose military-grade arm weaponry makes covering a football field a lot harder. 
He forced defenses to guard more ground than they wanted to. Wisconsin went pick-your-poison and ended up drinking all of the damn poison. Alabama saw that film and put its safeties deep while selling out to stop the inside run, daring Cardale to throw into a hole in the middle of its defense.
You cannot teach what Braxton is capable of doing in confined spaces.
So he did that, repeatedly. When Jalin Marshall's helmet wasn't flying off he was catching teardrops for 20+ yards. Cardale also released and rushed for 75 yards into that hole. That loosened Bama up enough for Zeke gash them. Oregon then tried to fill that hole and Jones simply threw to outside routes...while Zeke gashed them.
So it's got to be Cardale then, right? Well...kind of.
Lost in the euphoria of that three-game run was Ohio State's red zone offense suddenly losing efficacy. Sure, Dolo and Zeke were bombing the end zone from great distances but the Buckeyes fell behind Alabama 21-6 in part because they couldn't gain a couple lousy yards inside the 5. Twice. 
That's because Cardale only makes the field bigger when he has enough field to do so. His prolific deep ball is neutered in goal-to-go situations, which almost made him a liability because the other two quarterbacks are significantly more slippery than he is. He is far better at launching passes downfield than he is at throwing wide or running at linebackers without a full head of steam.
Conversely, you cannot teach what Braxton is capable of doing in confined spaces, and Barrett might be the best of the three at red zone decision-making. Cardale simply cannot do what the other two are capable of once real estate becomes a premium.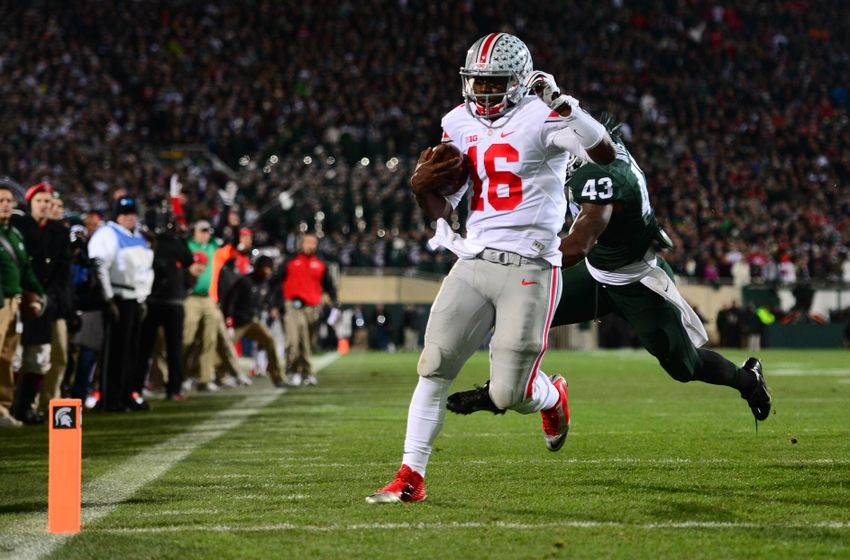 This means split zone empty QB counter plays - like Barrett's TDs at Penn State, Michigan State and his final TD against Michigan before getting hurt - as well as the speed option, power reads and shovel passes can all find their way back into Ohio State's playbook. Meyer loves those plays - and he basically lost them when Barrett went down.
So the question may not be who is starting as much as it is who are the Buckeyes playing and most especially where is scrimmage during those games.
Urban used Tebow the way I think he'll use Braxton and J.T. this fall: Chris Leak began and maintained drives in 2006 before coming off and letting Tebow finish them. He had a starter and a finisher, and the quarterbacks he has available in 2015 should allow him to execute on that same philosophy even more effectively.
Yes, intrepid reader: Ohio State's quarterback in 2015 just might be...Situational.
---
THE BOURBON
There is a bourbon for every situation. Sometimes the spirits and the events overlap, which means that where bourbon is concerned there can be more than one worthy choice.
No depth chart is more crowded than whiskey's, with so many wonderful toxins to choose from - but we're talking about starters today - and by far the most common question I receive from aspiring bourbon enthusiasts is wondering where they should begin.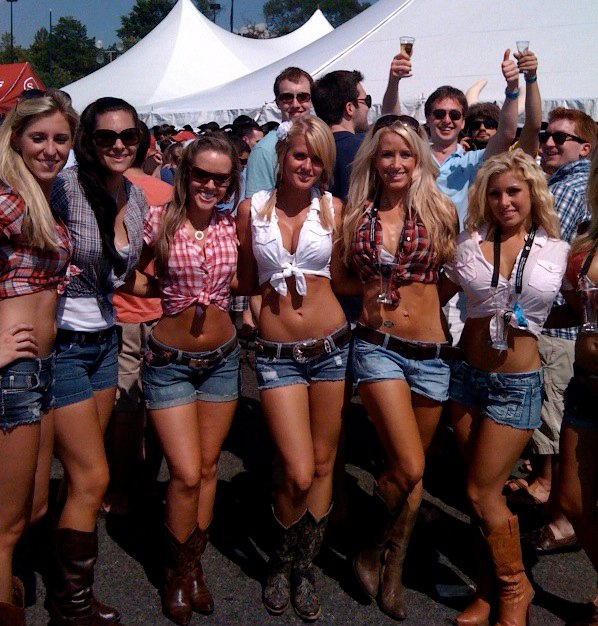 Starter bourbons are all found right on the first shelf. This isn't to say they're not any good; first-shelfers are just easiest to find and you won't pay for an experience your mouth doesn't appreciate yet. (Pappy hunters only in search of vanity - I'm looking at you) (and flicking you off).
As with Ohio State's quarterbacks, there are three bourbons you should consider starting: Basil Hayden's, Maker's Mark and Wild Turkey 101. You start with all three, and here's why: you're trying to find your palate's identity.
If you pour a glass of all three and look at them you'll see that Basil is by far the lightest. It's a mild bourbon with a low (80) proof. The flavor is almost neutral, which is why I've always referred to it as a sore throat bourbon - the last thing you want to do when you're already wincing is wince some more. This is what a high rye content bourbon tastes like. If you find that you like Basil, you'll love rye.
Maker's is 90 proof and contains no rye at all - it is what is referred to as a wheated bourbon, using a red winter wheat and malted barley. Aside from the 51% corn and charred oak barrels required by bourbon production it is nothing at all like Basil. These variants in the mash bill are how bourbons gain their unique characteristics.
I personally don't touch Maker's because I learned long ago just one drink of it will give me a Janice Joplin-sized hangover. It doesn't agree with me at all; it does go down just fine for millions of others. This is why you have to try it for yourself.
Turkey is the strongest of the three at 101 proof, as indicated in its name. The key here is that it's the mildest high-proof bourbon you can find anywhere. Unlike potent bourbons like Bookers or George T. Stagg - both of which will melt your face off and raise your body temperature noticeably - Turkey goes down quite easily. It contains both rye and malted barley, so a mix of the previous two bourbons.
Starting with those three is the smartest way to discover what you like. Try all of them, choose a favorite and then recruit whiskeys with similar mash bills to that one.
That's how you build your own personal bourbon identity. Your mouth may lie all of the time - but your tongue always tells the truth.
---
The Playoff
It will be impossible to replicate the 2014 championship run in terms of enjoyability.
Beginning with Braxton's season-ender, continuing through the Virginia Tech loss and then sustaining weekly disparagement until all the trophies were collected was uniquely satisfying. The Buckeyes damn near ran out of quarterbacks, sneaked into the playoff at the last possible moment and then promptly swallowed the field whole. 
Ohio State's run clobbered every single superlative and was for fans what Buddhists refer to as nirvana - which also happens to be the name of a humble grunge band from my college days that permanently sterilized the 80s glam rock machine from producing any more songs. *sigh* Every rose has its thorn.
The first Nirvana song I ever heard wasn't Smells Like Teen Spirit - because I lived in a fraternity house full of pre-hipster new music aficionados: one afternoon I was walking down the hall past rooms blaring days-old albums like Ten, Screamadelica, the black album and Use Your Illusion II before being tractor-beamed into one that was blasting a song called On a Plain.
It was melodic, chaotic, poetic and angry - not unlike Ohio State's final three games of 2014. On a Plain sounded to me as if the band that played Arnold's diner in Happy Days had booked a gig playing a biker rally. I also initially thought the refrain was I'm on a plane which made it hilarious. These were the least-friendly skies imaginable.
A few years later Nirvana famously transmogrified what could have been a Greatest Hits album into an acoustic set that ended up selling well over five million copies. 
That concludes this Greatest QB Controversy of All Time™ edition of The Situational. Only 138 days until the Virginia Tech game!