Our majestic empire began to crumble on a Wednesday.
Potential Improper Benefits Bomb on the Way was the ominous header atop this web site, which back in December 2010 had a very loyal but paltry following. Then on Thursday morning, There's Fire was the loudest we had ever screamed at our readers.
Turned out we were being alarmist. That whole tattoo thing wrapped up by Christmas weekend!
The violations:

Mike Adams must repay $1,000 for selling his 2008 Big Ten championship ring.
Boom Herron must repay $1,150 for selling his football jersey, pants and shoes for $1,000 and receiving discounted services for $150.
DeVier Posey must repay $1,250 for selling his 2008 Big Ten championship ring for $1,200 and receiving discounted services worth $50.
Terrelle Pryor must repay $2,500 for selling his 2008 Big Ten championship ring, a 2009 Fiesta Bowl sportsmanship award and his 2008 Gold Pants.
Solomon Thomas must repay $1,505 for selling his 2008 Big Ten championship ring for $1,000, his 2008 Gold Pants for $350 and receiving discounted services for $155.
Five Ohio State Buckeyes made some cash selling their stuff. Petty non-crimes, move on.
They'd pay back the their money, push their suspensions into the 2011 season and stay eligible for the Sugar Bowl. Keep in mind that $1,000 in 2010 dollars is worth nearly $1,755 in today's economy, so if you still think Mike Adams was suspended over petty cash...well you're still right.
Those players would all be available in New Orleans, and that was all that mattered at the time.
a contrived circus from start to finish, TATGATE was so stupid it basically killed off the collegiate scandal business entirely.
It was a simpler time. The 11W Skull Session the morning the news broke featured Rex Ryan's wife's feet. Clearly the full aroma of Tatgate had not quite simmered enough for us to truly smell what was coming. Today, you can still smell it. It lingers.
We spare no spoilers for this infamous and deeply stupid tale whose unfortunate climax is somehow turning ten this Memorial Day. While Jim Tressel's final months in coaching feel both fresh and ancient at the same time, we can never allow the sheer stupidity of all of it to be forgotten.
Dohrmann,'I was surprised the resignation happened on Memorial Day, very disrespectful of the troops Tressel always said he respected.'

— Paul Finebaum (@finebaum) June 3, 2011
Friends, it's been a decade since Coach Tressel went out of his way to disrespect the troops.
Tatgate, a contrived circus from start to finish, was so stupid it basically killed off the collegiate scandal business entirely. We owe it to ourselves to remember just stupid it all was, from what Tressel did to how Ohio State handled it to what the media did with it to how it ended several times, most notably ten years ago later this month.
This all nearly happened again in 2018, except there was real, tragic substance behind that affair. Authentic bad news tends to make the media a little too uncomfortable to launch into full-circus mode (unless you're unemployed and using Facebook as your publisher with no version controls, standards, journalistic ethics, oversight or editorial guardrails). Only one exception!
Every bit of Tatgate's substance was manufactured. The FBI is involved! (because the tattoo parlor was raided, which had nothing to do with Tatgate). What else did Tressel cover up? (well, he used his osu.edu email to leave a convenient paper trail; apparently he covered up nothing else because - stay with me - Ohio State and the NCAA read every one of his emails).
Mark Dantonio says the ouster of mentor Jim Tressel at Ohio State is "tragic." Wouldn't fit my definition of the word.

— Pat Forde (@ByPatForde) July 28, 2011
If you want actual substance, look no further than what Richard Strauss did for decades at Ohio State, which still hasn't approached the noise of Tatgate. It's too unsettling and uncomfortable to turn into a circus. Similarly, no one paid any attention to Larry Nassar until America's Sweethearts entered the courtroom. Broken, old wrestlers just don't carry the same media appeal.
Celebrity sells. Doctors who will die in prison do not. Tatgate was giftwrapped. Ohio State did that.
Ten years ago while Tressel was disrespecting the troops, Sara Ganim was knocking on doors in Central Pennsylvania asking brutal questions about Jerry Sandusky too many people had refused to ask for decades. Ten years ago just across town Mike McQueary was using Tatgate subtext as a Penn State recruiting instrument.
Ten years ago Charles Robinson was wrapping up an investigation in Coral Gables that unlike George "Troop Respecter" Dohrmann's bombshell wasn't 99% rehashed stories from old ESPN Youngstown State stories and 1% a rigged camp raffle rumor from the 1980s.
Hearing Jim Delany will push to NCAA Ohio St. losing non-conference games as way around TV ban.

— SportsbyBrooks (@SportsbyBrooks) June 25, 2011
Media organizations ran bullshit like this. No overhead, high payoff. News is boring. Stupid sells. It also costs nothing to harass and make a villain out of someone like Dennis Talbott, who gained villain status for nearly 15 minutes during the summer of 2011.
Sports Illustrated, which largely doesn't exist anymore, wasted every dollar it spent on Dohrmann's expenses when he flew to Columbus and chased disgruntled former players and another Pulitzer around town, coming up empty on both counts. He could have written that bombshell from his mother's basement, to use 11W nomenclature from 10 years ago.
Robinson spent months and money turning over rocks in South Florida. Investigative reporting is expensive as hell and still relies on click-advertising to, at best, stay cost neutral. Meanwhile, SportsByBrooks tweets cost zero dollars. Aggregate a story about them and your margins have never been higher.
The only dollars paid for Tatgate came from the university - the story itself required almost no overhead. Ohio State is forever a shiny object and target. This subject matter wasn't too uncomfortable and this villain dressed like a librarian. It was perfect.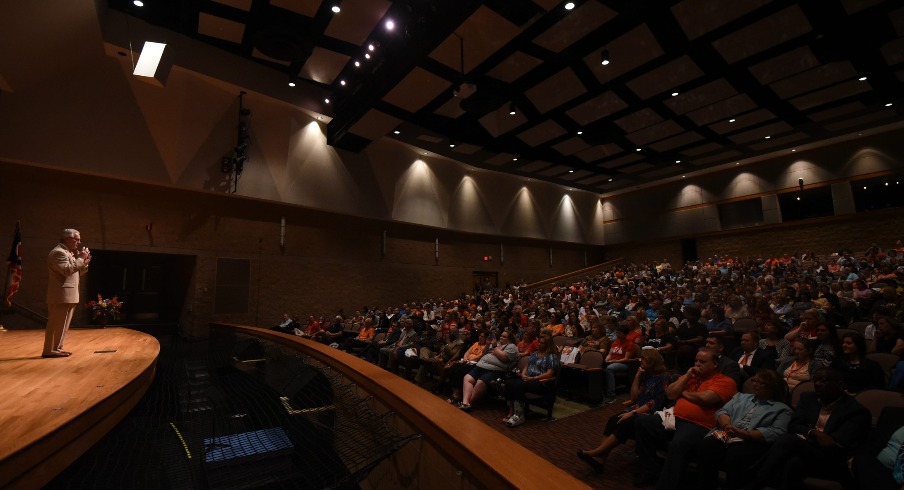 In hindsight, we should have known the affair wasn't over before Christmas because by the time the Buckeyes arrived in New Orleans with a shot at finally vanquishing their SEC donut in bowl games, a pre-game asterisk had already been applied to the final outcome.
The tattoo guys shouldn't have been allowed to play. What else was there besides trading trinkets for tattoos? This is a travesty, the sanctity of the game is at stake. This would drip well into the offseason.
And that drip made everyone a little dumber. Kirk Herbstreit had an AP ballot that season and after insisting for weeks in the buildup to the Sugar Bowl that SEC Arkansas SEC would be SEC nothing like Ohio State had SEC seen that season, he dropped the Buckeyes three spots in his ballot for beating them.
The stupidity was only beginning. We were all only going to get more stupid.
Fickell says administrators haven't told him to stay away from Tressel

— Jason Lloyd (@ByJasonLloyd) July 28, 2011
Body odor? Radioactivity? Social distancing in 2011? What a thing to say out loud.
By February Ohio State's audit had uncovered the emails Tressel had opened, read and responded to with attorney Chris Cicero. The clumsiest press conference of all time ensued and when May rolled around a decade ago, we were entering The Vest's final month at Ohio State and in coaching.
In lighter news, we just glossed right over Will Buford going 2-16 against Kentucky because we're committed to keeping this positive. It was a rough start to 2011, all around.
I had just taken an ownership stake here (fun timing!) and saw our paltry traffic jump significantly, in large part because we were trying to be the adults in the room for a big, dumb scandal - and it turned out that there was a market for being smart about stupid things.
The problem with being a homer site is that it's clear bad news for the Buckeyes is good news for clicks. This presents an agency problem which we were happy to deal with. We like big numbers. We also like integrity.
He had lied about petty cash and trinkets. That's all it was. You can still hear the laughter from Clemson without an FBI wiretap.
Once the news driving our traffic became objectively real, we had to both report it and then - quite separately - responsibly interpret and editorialize it. If Tatgate was as grisly as the national media was painting it to be, we would have said so. As poorly as its handling aged over the past decade, this web site's treatment of Tressel's final days still stands on its own.
He had lied about petty cash and trinkets. That's all it was. You can still hear the laughter from Clemson without an FBI wiretap.
When Tressel addressed the team for the final time he told them it was going to suck for him for awhile, but eventually he'd be just fine. They'd be just fine. Ohio State football would be just fine. He asked them to focus on that horizon instead of the right now.
Ten years later Ohio State football is an absolute monster - in all the right ways. Its current head coach is a football mensch who just isn't all that clicky where page views are concerned. There's nothing teflon, tacky or controversial about Ryan Day.
Meanwhile, Tressel has been enshrined into multiple Halls of Fame. Fickell is one of the hottest coaches in the game and Meyer left the program in pristine condition after retiring again from the sport. The word Tatgate - a very stupid word, as are most gate terms - is now synonymous with the stupidity it fostered more than the appalling scandal it purported to be.
This Memorial Day, please remember those who fought and died for America. That's all that day should ever be remembered for, and anything else that happens to take place on that Monday is just a coincidence.
But you can remember Tressel was right all along. He is just fine. And so are the Buckeyes.