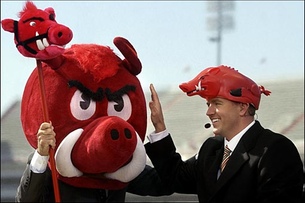 [Ed: The following guest post was submitted by Ramzy Nasrallah. The fine folks at Bucknuts agreed to lend him out to us after we covered Dave Biddle's bail in New Orleans. What did Biddle do? He was nabbed for drinking a non-alcoholic beverage on Bourbon Street. Evidently that's a no-no down there.]
Remember when Kirk Herbstreit consistently brought value to your college football broadcasts? His delivery was just as crisp and articulate back then; his gelled-up tips were just as frosted and the custom suits were just as tailored. Jim Tressel's hair was still mostly brown and you couldn't get through an Ohio State game without hearing, again, about how the starting Buckeye quarterback was majoring in something called "molecular genetics." It all came to you in stunning, standard definition. Yeah, it's been that long.
During the 2004 season – still the only rebuilding year in the Tressel era that actually delivered rebuilding-type results – Herbstreit said on a live, national ESPN broadcast that if he had a son of college age, he would not send him to play at his alma mater in a Tressel offense. The Buckeyes were in the midst of a three-game losing streak and trying to figure out the whole Justin Zwick-or-Troy Smith situation, and one of its famous former quarterbacks in a highly visible position ignored that reality and instead chose to chastise his own school for having the audacity to rebuild.
That season marked the beginning of what has long since become the end of Herbstreit as a recipient of Most Favored Alumnus status. In case you didn't hear, didn't notice or have already forgotten, Herbstreit used his ballot to drop Ohio State three places in the final AP poll, from sixth to ninth. In case you didn't hear, didn't notice or have already forgotten, Ohio State finished the season by beating Arkansas in the Sugar Bowl. Arkansas was the second-place team in an extremely strong SEC West with a top-ten ranking. Try and process that without giving yourself a migraine.
There is no precedent or history to support how Herbstreit treated his alma mater in his final ballot. He punished Ohio State for beating an SEC team that had, in his own words, the "best offensive line and quarterback the Buckeyes would see all year." (Note: He was right.) Strangely, Herbstreit rewarded Oklahoma by moving them all the way up from 14th to seventh for beating UConn, a four-loss team that somehow managed to get schooled by Michigan this season. In terms of difficulty, beating UConn in 2010 ranked somewhere between boiling water and producing flatulence.
Arkansas dropped as many spots in his final poll for losing to Ohio State as Ohio State did for beating Arkansas. It was a fantastic palindrome of Herbstreit failure. If it was a deliberate betrayal of the spirit of voting, he should have his ballot revoked by the AP. If it was by accidental negligence he should have his ballot suspended. If he's become so entitled by his celebrity that he's not going to take the process seriously he should forfeit his ballot. No voter had Ohio State ranked lower than Herbstreit. Not coincidentally, no voter was ranked lower than Herbstreit either.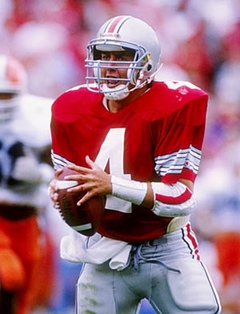 Polarization has never been bigger in the media than it is now. The format has been discovered and replicated in news, sports and lineup programming. Much of the programming on Herbstreit's network relies on manufactured conflict where one talking head takes a position against another talking head, who takes the opposite position. In ESPN's college football landscape, these two positions are normally labeled as Holtz and May. Wait, you mean they don't just naturally disagree on every single topic? It's scripted?!
Despite the rapidly souring distaste for Herbstreit amongst Ohio State fans, his declining favorability cannot be solely attributed to his refusal to be a blind Buckeye homer (which, like his bashing, would also bad). For football fans who expect more layered analysis than middle-aged men shouting catchphrases, trying too hard to be controversial, praising position coaches and hoping to someday get an Applebee's commercial, Herbstreit has succumbed to a media disease he should have been immune to: He's become a shill.
Herbstreit now reliably regurgitates talking points that fulfill a boring narrative which serve to divide college football into good and bad. He suffers from an acute case of message fatigue. Think about what Herbie says in every single game or analysis that he delivers: Speed and confidence. Passes the "look" test. Creating in space. Making all the throws. Looks good in a uniform. It's as though he's imitating himself in the video games he provides the voiceovers for every year. He has become the purveyor of Mel Kiper draft mad libs disguised as a football broadcast. Herbstreit Bingo doesn't exist only because it would be over in the first quarter.
If you can reach satiety just by hearing footballish-sounding expressions whether or not they're relevant, substantial or interesting, then you probably admire Herbstreit's work. You also probably can't get enough of Chris Berman snort-grunting through a highlight and love Paul Keels on Ohio State radio broadcasts, just because he has a deep voice and talks about your favorite team. The next time Keels gets through a single Ohio State football game accurately conveying what's happening for the radio blind without consistently fumbling names of players no casual fan would confuse in anything other than his classic disinterested monotone, it will be the first. But there's no accounting for taste. We're all snowflakes like that.
Herbstreit is a 41-year old millionaire who just this past season engaged in a public war of words with 21-year old Terrelle Pryor. After Pryor singlehandedly pulled off the play of the year at Iowa's senior day and kept his team from losing the game and the Big Ten title, Herbstreit chose to chastise him – again, on a national broadcast – for his body language after a play that absolutely nobody noticed or was discussing.
Pryor responded by calling Herbstreit a "Fake Buckeye" on his Twitter feed. Disloyal, scorned or bitter would have been more accurate. Pryor has beaten Michigan three times, Oregon in the Rose Bowl and Arkansas in the Sugar Bowl. Herbstreit played in a forgettable era when tying Michigan was considered a win while losing close games to Georgia and Syracuse in second-tier bowls were moral victories. Pryor plays his old position in an era completely void of moral victories, dealing with more pressure than Herbstreit could possibly fathom.
He must understand what Pryor has to deal with as Ohio State's quarterback, which is why engaging in the kind of character assassination – and that's what it was after the Iowa game – was all the more galling. DeVier Posey dropped a perfectly-thrown touchdown pass and Pryor briefly reacted with emotion. Then he won the game by himself, and Herbstreit chose to cling to and resuscitate that forgotten reaction, despite having the perfect opportunity to praise Pryor for "making a play in space" or "looking good in his uniform."
Ever since Herbstreit vowed not to send his fictitious college-aged son to play in a Tressel offense in 2004, Ohio State has captured at least a share of every single Big Ten title – six in a row – produced a Heisman Trophy-winning quarterback and won three BCS bowl games. Between his plastic analysis, his hysterically brief involvement in "scoop" (Les Miles replacing Lloyd Carr, anyone?) and his forced disdain for Buckeye football, the only real entertainment left in a Herbstreit broadcast is waiting for the next absurdity to escape his breath
To his credit, it would be difficult to escape the influence of the ESPN machine that blindly and often incorrectly showers praise upon the unbeatable SEC (.500 in bowls this season despite being favored in most of its matchups – don't tell anyone!) while transforming any setback by a Big Ten team into a loss that reflects on the entire conference. If Herbstreit drops Ohio State three spots for beating a good SEC team, you have to wonder what he would have done to them had they lost.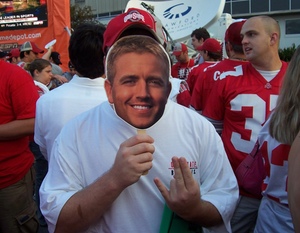 Herbstreit regularly ventures toward breathlessness in extolling the virtues of the superior roster depth in the SEC without ever bothering into examine why or how SEC teams accumulate that depth. He rarely demonstrates the curiosity or the scrutiny to be an analyst or a journalist of value; except, of course, when he's discussing that Tressel offense or Ohio State's quarterback. His colleagues Lee Corso and Holtz both provide their fair share of catchphrases, senior moments and gaffes, but each wears his school biases on his sleeve and both men are (or were) smarter than the average bear with regard to football analysis. Herbie has no excuse.
Outside of that fringe element of Buckeye extremists, nobody expects Herbstreit to be an Ohio State homer-slash-mole implanted within the bowels of ESPN. Nor is he expected to be a smug antagonist like Mark May; Chris Spielman and Robert Smith both manage to bring value and relevant insight to their work without devolving into Ohio State fight song lyrics or outright bias. Herbstreit's favorability decline has far less to do with his curious prejudice as much as it has to do with his atrophied ability to be a capable steward of college football broadcasting. The world does not need any more Dick Vitales. One is already too many.
Herbstreit's decline following his famous 2004 declaration gained steam through the third quarter of the Alamo Bowl, during which ESPN famously devoted its broadcast burying the Ohio State football program as Herbstreit – just as famously – sat silently in the broadcast booth.
Herbie could still reroute his legacy; even those lousy 2004 Buckeyes figured it out, destroyed Big Ten champion Michigan and won their bowl game, constructing two improbably glorious season-enders the likes of which Herbie himself never tasted. For Herbstreit to once again be seen as a credible and beloved homegrown analyst, he'd need to rediscover the wisdom that originally brought him to national prominence. That, and hope for a lot of incredibly short memories.
You can follow Ramzy on Twitter.