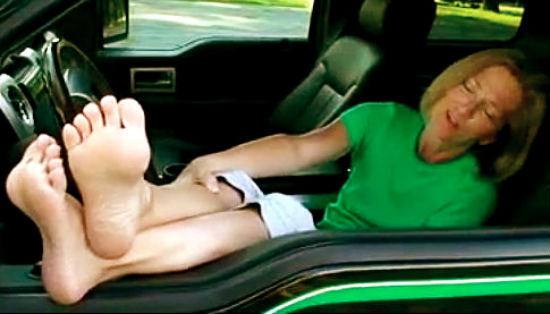 Start Your Morning With A Laugh Living in New York certainly has it's perks, but none may be better than getting some juicy news information and gossip. Check out this story the Daily News broke and Deadspin helped facilitate about Jets' coach Rex Ryan's wife releasing videos of her foot fetish. This is an absolute gem and I'm pretty certain it's legit as Ryan and the Jets did not deny it, but rather just said it was a "personal matter".
 Walk-On Warrior Very few Buckeye fans know who Scott Sika is. The back-up center and fifth year Buckeye currently pursuing his Master's degree in Sport Management walked on to the Buckeyes from Strongsville, Ohio, just hoping to get a chance to don the Scarlet and Gray and maybe one day earn one of the spare scholarships JT usually grants to senior walk-ons in their final season. All goals were accomplished and more by Sika, and a main reason for that is he never missed a single practice while in Columbus. This is apparently a first, at least under Jim Tressel, as players usually miss at least one session to due minor bumps and bruises, having a class or test conflict, or various other reasons. Sika was given an Iron Man award at the team's end of year banquet and congrats are certainly in order for a player who provided the team with so much despite not ever expecting a single minute of real game playing time.
 Oversigning Mania The SEC never has any heart-warming stories on walk-on iron men, because, well, they have so many "scholarship" players that they don't really need walk-ons. Oversigning in the conference has been a prevalent conversation for a while and it seems like finally it is getting the kind of national attention that could lead to some action. Ramzy has a really good opinion piece on the subject, and like others feels like it's time to end the shadiness down south. I couldn't agree more and think this cheating within the rules needs to end, not only to help even the playing field in recruiting, but to also better serve the 18-year old high school kids falling for this nonsense.
 SEC-SEC-SEC! Oh-and-Nine, Oh-and-Nine, Oh-and-Nine! Enough SEC is what Ohio State players are saying, as all they have been asked about is busting the Buckeyes' 0-9 record against TCDS (that conference down south) teams in bowl games. The players want to move on from the talk and just get down to concentrating on beating Arkansas, an attitude that is most likely best for the team to head in with on January 4. I think there has been way too much talk about the 0-9 mark. Yes, four of those losses have come in the last 10-11 years, but the past should not be the stereotype for what will happen in the present. This Buckeye team is definitely out to beat down the Razorbacks and stop the streak, but I think the team would be really focused to win against any opponent, no matter the conference they play in.
 Replacing Hazell The talk lately has been on Rutgers wide receivers coach and former OSU graduate assitant, PJ Fleck, replacing Darrell Hazell at OSU. While nothing will be decided until after the Sugar Bowl, there will certainly be a number of candidates considered for the position. Duane Long throws out a name in former Broncos coach, Josh McDaniels, who attended an OSU practice last week. Long says McDaniels can be given the WR coach/Assistant head coach position as well as some play calling duties before moving on to another NFL gig or a job at the college level. I think it is a long shot, especially with an ego that big, that McDaniels would ever accept such a position. If OSU does want him though, they'll likely have to offer him a salary that tops this list of current Big Ten assistant salaries. 
 Bracketology It's never too early for Bracketology and SI.com's Andy Glockner has come out with his first 68 team projection of the field. Glockner has OSU, Duke, Kansas, and Syracuse as his #1 seeds and has the Bucks playing in Cleveland in the first two rounds and then in New Orleans, where the Southeast regional is being held. That would be pretty awesome and a path of beating Hampton, WVU/UCF, Missouri, and UConn/Kentucky to get to Houston is certainly do-able. Obviously a lot can change in the next three months, but hey, if this happens, you can still make it to New Orleans to see OSU if you missed out on the Sugar Bowl this year.