Pat Forde said the quiet part out loud again.
Been an unusually quiet summer in college football, after upheaval at Ohio State, Maryland, Ole Miss and Baylor in recent years. No high-profile player arrests that I can think of, either. Can we make it to kickoff without any eruptions?

— Pat Forde (@YahooForde) August 5, 2019
He can't recall any college football offseason stuff from this summer. How interesting.
We've all become programmed to gravitate toward player mug shots or deposed/disgraced kings at the expense of less shiny, big-ticket blotter items. Anonymous white collar perpetrators don't get nearly the air time or shaming that a big-time college football player being nabbed for public urination does. There are reasons.
So let's dive into 2019: An Unusually Quiet Summer in College Football.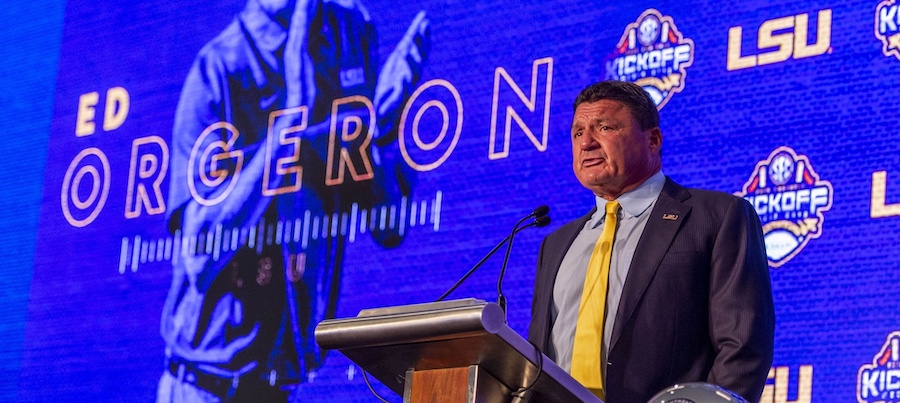 LOUISIANA STATE
SUMMARY: An LSU booster pleaded guilty to taking about $800,000 from a charity for sick children and funneling that stolen money to LSU football players. He also intercepted gift cards intended for pediatric cancer patients while funding LSU and New Orleans Saints football game day festivities with stolen money from the foundation.
Stealing money from kids with cancer to buy players for your favorite college football team and fund tailgate parties seems like a something you wouldn't forget so easily? It elicits every reaction from Yikes to WTF to Hey That's an NCAA Violation. But this scandal seems to have slipped past Forde's long memory, which is odd because his name was on the byline for Yahoo! Sports report about it.
To be fair, Forde has a penchant for being forgetful, but usually it's with the stances he takes on amateurism - like when he loved the NFL suspending Terrelle Pryor over the Tatgate stuff at Ohio State but then hated the NFL suspending Todd Gurley for taking thousands of dollars from autograph dealers while at Georgia. Can't quite figure out what the difference was, but there had to be reasons.
Punching down isn't dignified, but it does have its place. Hey, let's do another one.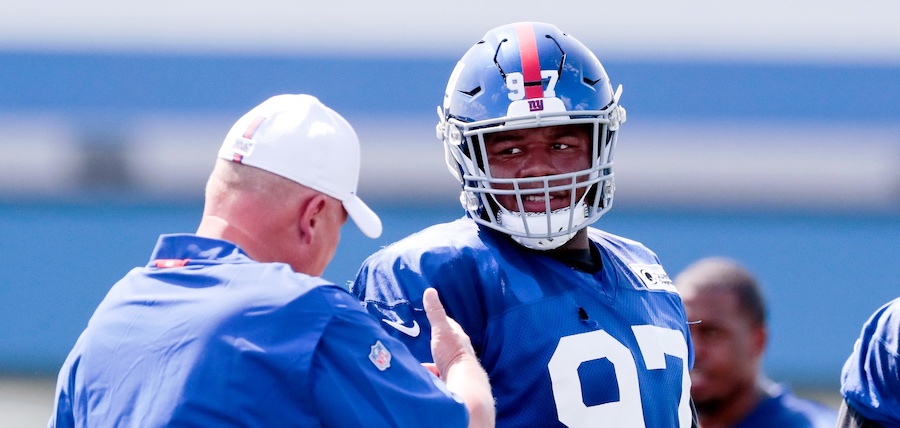 Clemson
SUMMARY: Clemson assistant basketball coach Steve Smith was caught on FBI video wiretap talking with agent Christian Dawkins and an undercover FBI agent about recruiting and paying Zion Williamson's family in July of 2017. Among the many criminal and NCAA elements discussed at the trial was how Clemson's football program and recruiting operate.

"That's why football is so successful, is if you do it and use resources at Clemson, like you can really keep everything tight," Smith said on the wiretap.
That story just kind of disappeared into the offseason mist. It never became a screamy segment on sports talk radio for weeks on end, nor it wasn't an item on Around the Horn or talked about constantly - or at all, really. You can almost forgive Forde for forgetting about minor things like fraud, bribery and a ranking Clemson athletic department employee on FBI video explaining the pay-to-play scheme they use. But hey, recruiting's going well so whatever.
Oh, also - Clemson wasn't the only football program discussed at that trial.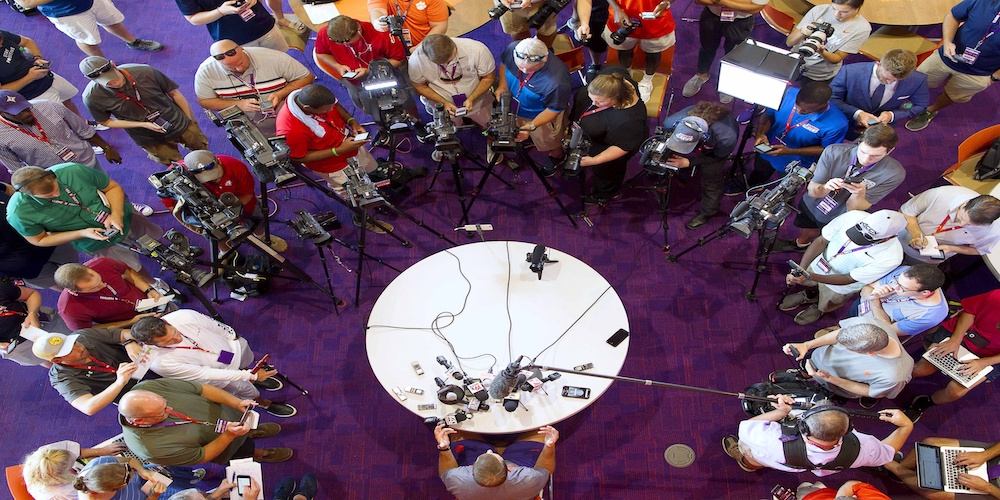 Alabama, Michigan, Notre Dame, North Carolina, Northwestern, Penn State, Pittsburgh
SUMMARY: Government witness Marty Blazer said he understood what Smith had said about Clemson football being "successful" and "kept tight" to be about aid from boosters. He admitted to paying college football players as an investment that would, hopefully, pay off in them eventually retaining him as a financial advisor.

Blazer said he paid football players at Alabama, Michigan, Notre Dame, North Carolina, Northwestern, Penn State and Pittsburgh, and that he found out later that he wasn't the only person paying these same players.
It's been quite the quiet summer out here in college football offseasonland.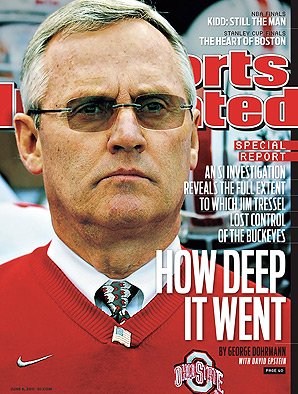 If icebergs still existed Blazer's testimony would be the tip. Someone could do a half-assed investigation into this and call it How Deep it Went if that title isn't already taken.
So let's talk about us. Tatgate began in December 2010 prior to the Sugar Bowl. Ohio State's investigation discovered Jim Tressel's email exchange with now-disbarred attorney Chris Cicero in January, revealed the finding in February and held a terrible press conference in March. Tressel resigned Memorial Day weekend.
Yet Tatgate remained the story of that summer, overshadowing Cam Newton's father bringing the whole Just Funnel Booster Payments Through a Church recruiting strategy into the sunlight, and Bruce Pearl lying to the NCAA and telling Aaron Craft's father to also lie. Eight years later - but starting almost immediately thereafter - far greater NCAA and actual crimes just sort of slip out of the consciousness in a single news cycle, as Forde noted when he told on himself in that tweet.
Could Tatgate have changed how we report and retain college football scandals? Hold that thought; we aren't done with Clemson yet. Our unusually quiet summer continues:
Clemson again
SUMMARY: Fewer than 20 of Clemson's 125 players were drug tested by the NCAA ahead of the college football playoff, yet over 15% of them tested positive for performance-enhancing drugs.

This summer Clemson said it would not release the results of its investigation into PED use within its football program, citing privacy laws. The university only provided 33 heavily redacted documents that shed little light on the scope or focus of its self-investigation.
Clemson's administrators are betting no one will work hard enough to get famous at the university's expense. And they're right.
Tatgate was so over-covered, exploited and wildly exaggerated - by journalists like Forde - that the passage of time made everyone who hitched themselves to it look like grifters in hindsight. The quiet part Forde said aloud was that being able to recall upheaval in college football in a post-Tatgate world requires more than actual upheaval itself. It needs a dedicated, unafraid storyteller to feed it oxygen.
Clemson'S ADMINISTRATORS ARE betting no one will work hard enough to get famous at THE UNIVERSITY'S expense. And they're right.
Ohio State as an institution makes this very easy, but universities are rarely such willing partners in helping journalists investigate what should be public records, while states like Georgia and Alabama have hardwired dead ends into their sunshine laws. Human beings determine if and when news becomes a story. In college football you need:
at least one journalist willing to make her/himself part of it
a palatable scandal we actually want to watch unfold
low-to-no degree of effort
either the highest degree of journalistic integrity, or no scruples whatsoever
Let's pick these off one at a time - journalists inserting themselves into the news boosts their stories, whether it's Charles Robinson's work with Nevin Shapiro and the University of Miami or Dohrmann jumping on the first plane to Columbus. Last summer Brett McMurphy cast himself as supporting actor in the Zach and Courtney Smith saga. You probably remember that.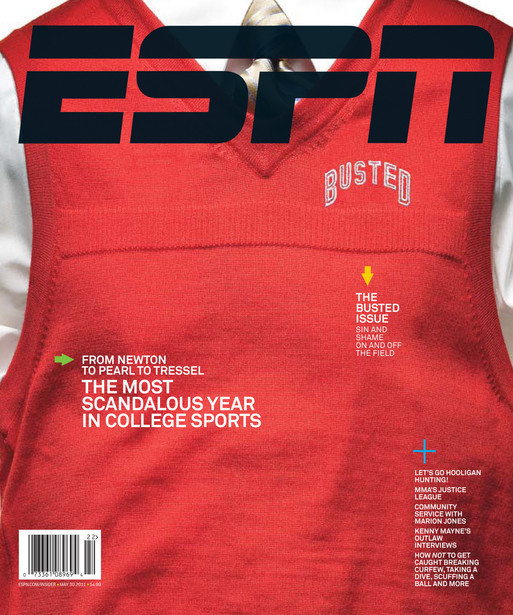 Second, the scandal has to reside within a precise palatability window. We have no tolerance for raping kids, which is why everyone looked away from what Sandusky was doing until Sara Ganim refused to. We didn't pay any attention to Larry Nassar raping little girls until his grown and famous victims paraded into the courtroom to make his sentencing into a spectacle.
We have enormous tolerance for drunk driving, recreational drug use, news of the weird (e.g. public urination citations) and assaulting women. That's the kind of missing upheaval Forde was failing to remember; the low-hanging clickfruit that only requires transcribing unredacted public records before taking the obvious, courageous virtue stance in a column adorned with your headshot. You'll never miss this when it happens. It's some of the easiest content to produce in sportswriting.
Third, news aggregation and corporate vultures picking media companies clean and profiting off of their assets have killed off the exclusive. The upside and resources for conducting investigations are both at historic lows, while the risks for putting yourself out there, swinging and missing - are high. McMurphy was unemployed when he took his swings last summer. He had nothing to lose, which gave him the only wings he's ever had.
Which leads to scruples, or lack thereof. McMurphy repeatedly shadow-edited and retracted key and critical elements to his reporting - which was on his Facebook page. At the same time, he was everyone's source, so all that aggregated echo-reporting never picked up any of his corrections or retractions, and as a result the facts and details of the story spiraled. There were no winners or heroes once it concluded. Just a bunch of losers and villains.
SportsByBrooks emerged as Source Zero during Tatgate. A large part of why both it and what happened last August took off was that every one of those four variables was met. Take a look at the summaries above from our Unusually Quiet Summer and you'll see why they're forgotten, despite being objectively newsworthy.
Anyway, camps are now open and football is back. Players, please remember to pee indoors.