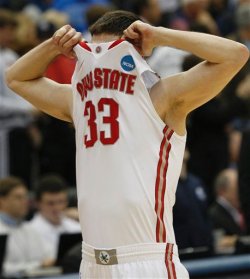 Entering the tournament as the #1 overall seed, Ohio State once again bowed out early, this time 62-60 to the 4th seeded Kentucky Wildcats.
Brandon Knight drained a Craft-contested midrange jumper from the right wing with :09 left and with Thad Matta neglecting to call a timeout, Craft raced up court and fed William Buford who lofted his 14th missed shot of the evening, a three pointer from the left wing with :02 left, to end what seemed like a season of destiny for the supremely talented Buckeyes.
Jared Sullinger led Ohio State with 21 points and 16 boards while Jon Diebler added 16 in his college swan song and David Lighty 12 in his last game as a Buckeye.
Buford's awful night read 2/16 from the floor (9 pts), two rebounds and one assist against two turnovers. I've been in Buford's corner his entire career, and I remain there now, but this was more than a bad shooting night, it was a bad shooting night enhanced by horrendous shot selection including a couple 19 footers late in the 2nd half when it was clear he didn't have his mojo.
Knight bottomed a trey putting the 'Cats in front 56-53 with 5:20 left, foreshadowing his game clinching dagger, but the Buckeyes bounced back after the teams traded a handful of empty possessions as Sullinger putback a Craft miss before Craft went to the floor forcing a jumpball giving OSU possession. Lighty capitalized with a sick drive to his left putting the Buckeyes in front 57-56 with 2:00 to play. After holding Kentucky scoreless for over three minutes, Sullinger was whistled for a blocking foul (correctly) and DeAndre Liggins was clutch as he drained both free throws giving the 'Cats a 58-57 lead with 1:36 left.
With the season on the line, Ohio State turned in another awful possession. Finding little space on the perimeter, the ball was forced into Sullinger about 14 feet from right low block and he forced a bad shot turning to his right. The totally uncharacteristic possession was answered again by Liggins as he dropped a short jumper giving UK a 60-57 lead with :36 left in the Buckeye season.
It looked like the season might be extended as, out of a timeout, Diebler stepped into a triple from beyond the top of the circle tying the game at 60 with :25 left in regulation. Diebler's clutch bomb was then answered by Knight's silky jumper over Craft.
For me, the bottom line is how well the Wildcats defended Ohio State. Calipari opted to play Sully straight up for the most part and while Sullinger got his, the 'Cat defenders used their length to make things difficult on the wings. Buford simply couldn't get in a groove, Lighty finished 5/12 and Craft 0/5 as Kentucky blocked 11 shots. All that rolled up to a 32.8% shooting effort out of Ohio State in the biggest game of the season.
The Buckeye defense wasn't terrible as they held Kentucky to 46% and played them even on the glass (31-30) while forcing 12 turnovers. Craft held Knight to 3/10 shooting and Lighty did the same to Terrence Jones. The problem was Josh Harrellson getting off early and finishing with 17 points on 7/9 shooting (w/ 10 reb) and Diebler struggling in a quickness/length mismatch with Liggins who stepped up big time with 15 points and six boards.
In a classic tournament game, the lead changed hands 19 times and the score stayed within three points for nearly the entire 2nd half. That said, this marks the 2nd straight year the Buckeyes failed to get past the Sweet 16. I'll never pile on Thad Matta - the guy is a freaking GODSEND for Buckeye hoops - but there's no other way to chalk up this season than to call it a disappointment. Sure, the Buckeyes got a raw deal by drawing the toughest bracket despite being the #1 overall seed but the fact is this team must now be labeled as an underachieving disappointment.
With that fact hard to ignore, I must personally say that this is the most exciting Buckeye team I've ever watched in my 37 years and also the most well-liked. I will miss the chemistry shown by this team and while disappointing, I would like to thank them for the ride. Being able to see all the home games courtside, plus the B1G tourney, I will always remember the 2010-11 Buckeyes as my favorite collection of coaches and players. A truly classy bunch that simply didn't get it done.
I can't wait til next year.