Bear Bryant must be spinning in his grave.
Jim Tressel has landed on the 2014 College Football Hall of Fame ballot. Yes, that Jim Tressel. The one who spawned the Tatgate scandal by not reporting some of his players instead of publicly shaming a bunch of mostly-disadvantaged kids who just wanted to make some extra pocket money turning them into the NCAA.
Yes, Tressel also won a bunch of conference and national titles, had over a thousand players graduate - a lot of whom wouldn't have ever attended or matriculated all the way through college - and donated millions to Youngstown State and Ohio State while elevating the importance of the punt like no one at any level of football ever has.
His winning percentage at Ohio State was an absurd .822. Tressel won 12 Coach of the Year awards, though none from the Big Ten, because OSU coaches are ineligible for that one.
But forget about all of that. You're now wearing the comfortable loafers of a highly-refined and judgemental Hall of Fame voter, so you should dwell on the scandal Tressel could have avoided had he simply suspended his players for a few September games...which the Buckeyes would have won anyway.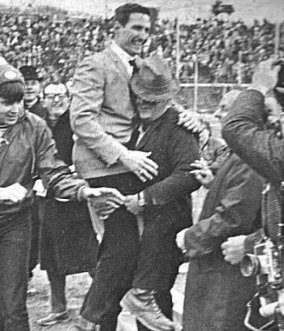 Is this the kind of man you want honored and enshrined among cherished legends like Bryant? Of course the Bear is spinning. In addition to winning six national titles and 13 conference championships at Alabama, Bryant also quickly pulled Texas A&M out from mediocrity. Perhaps too quickly.
His Aggies were given probation and a postseason ban for recruiting violations that occurred on his watch. He later admitted A&M boosters "probably paid some of the boys" who helped with the program's resurgence, but what could Bryant have done at the time? He was A&M's head coach and athletic director, intent on digging out a program that went 1-9 his first season.
Should he have actively pursued those boosters and reported those prized recruits for taking money that led them to College Station? Stop it. Bryant was inducted posthumously in 1986.
Bryant's descendants/coaching tree includes Gene Stallings, Pat Dye, John David Crow, Danny Ford, Howard Schnellenberger, Mike Dubose, Jackie Sherill and Charlie Pell. It's an impressive group of his players and coaches who have gone on to leave indelible marks on college football.
While Schnelly's fledgling Miami program was pinched for rules violations that resulted in probation, he's easily the cleanest branch of the Bryant tree. Ford gave Clemson postseason and TV bans for massive violations and later got Arkansas in hot water with the NCAA as well. Sherill matched Ford in scandal variety, with the NCAA hammering both his A&M and Mississippi State teams.
Dubose gave Alabama five years of probation and a two-year bowl ban. Florida was alleged to have committed 107 (!) violations under Pell, but the NCAA only found him personally responsible for 59 of them (phew). His Gators got the requisite bowl and TV bans and were crushed with scholarship reductions, just as Ford's Tigers were a few years earlier.
Tressel would be the first coach ever enshrined in the Hall of Fame accused of rigging a camp raffle 30 years after it allegedly happened.
But you, judgemental Hall of Fame voter, should not concern yourself with  those branches of Bryant's coaching tree; they're not in the Hall of Fame or on the ballot. Stallings, Dye and Crow are a different story. They're already in.
Stallings had four major violations on his watch at Alabama, including personally working with his athletic director to falsify the eligibility status for a player. Wins were vacated, postseason bans were levied, scholarships were lost and Stallings resigned following the NCAA's investigation. He was inducted in 2010. 
Dye's coaching career ended when the NCAA caught Auburn boosters and members of Dye's coaching staff funneling money to players. Like Bryant at A&M, Dye was both Auburn's head coach and AD when the violations took place. Its football field is still named for him. Dye was inducted in 2006.
Crow resigned in 1993 from the AD position at A&M (which he took over from Sherill after he resigned in scandal) following the ol' getting cash for no-show jobs from boosters scheme - you know, the same one that was revealed at Ohio State where DeVier Posey was overpaid by $3.07, only with a lot more players and a lot more money.  
Crow's alma mater got five years of probation along with postseason and TV-ban combo. He was inducted in 1976 as a player. In 2004 he was given the Doak Walker Legends Award, which is presented by the SMU Athletic Forum (Craig James won it in 2009, so you know it's an honor that carries distinction).
So when you hear "Bear Bryant" you must immediately think "Cheater Zero From Which College Football's Most Prolific Swindlers Sprang," right? You don't? You think "25 years of dominance, houndstooth everything, helping integrate football in the South and the Junction Boys" instead? Oh.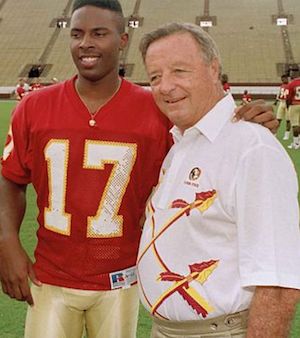 Well, good - you should. Bryant was one of the best things to ever happen to college football. Kind of like Tressel, but with different fashion accessories and less scandalous coaching tree branches - unless you're some weirdo who wants to describe a man who looks like Mark Mangino as a branch.
It's not just Bryant and his Hall of Fame descendants who stand to have their sacred honor tarnished by having Tressel inducted: Barry Switzer won three national titles at Oklahoma and accumulated enough scandals and violations to make SMU blush, culminating in his resignation in 1989. Switzer was inducted in 2001.
Lou Holtz is a Hall of Fame coach. He left Minnesota on probation with a postseason ban, then left Notre Dame on probation after failing to report violations he knew about (hmmm...) then left South Carolina on probation for lack of institutional control. There's a statue of him on campus in South Bend. Holtz was inducted in 2008. He came from the Woody Hayes coaching tree. Woody punched a kid on live television in 1978. He was inducted five years later.
Bobby Bowden made cognitive dissonance an art form. His Florida State teams had street agents, runners, half the roster emptying the shelves at the local Foot Locker, trips to Vegas, cash payments, academic scandals - and he expertly knew about none of it, nailing the role of folksy, oblivious grandpa like nobody else outside of State College, PA. Bowden was inducted in 2006. The State College guy, who operated with literally a one-person Compliance Department (no violations! Ever!) made it in a year later.
Frank Kush was fired by Arizona State for meddling with its investigation into his serial mistreatment of players. He was inducted in 1995. Don James left Washington in 1992 after the NCAA sanctioned it with both a postseason and TV ban for using funds designated for recruiting visits to pay recruits, while dozens of active players were given money for no-show jobs dating back to the 1970s. James was inducted in 1998.
Charlie Bachman coached Northwestern, Kansas State, Florida and Michigan State. He never won a conference title and retired with a career record of 137-83-24, which is almost exactly what Brady Hoke's record will look like in about a decade (seriously). Bachman's coaching career ended right around the same time NCAA enforcement began, so who knows how scandalous he was. What's known is his coaching record is absolutely unremarkable. He was inducted in 1978.
Tressel would be the first coach ever enshrined in the Hall of Fame to have been accused of rigging a high school raffle 30 years after it allegedly happened. He was also complicit in NCAA violations nobody seems to care about anymore.
Tressel is a first-ballot Hall of Fame coach by any standard, especially the one set by so many coaches who were both exceptional and flawed.
The prevailing take on Tressel in the Hall is that it may take a few years for voters to marinate on his entire career instead of the fading headlines from what will undoubtedly be remembered as the height of the stupidest era in sports journalism.
Waiting to induct Tressel would be equally stupid. He is one of the best things to ever happen to the state, impacting the lives of mostly less-fortunate Ohioans in a manner that few if any ever have. Tressel is a first-ballot Hall of Fame coach by any standard, especially the one set by Bryant, Holtz and so many other coaches who were exceptional and flawed.
However, it won't matter if the voters like yourself take years to vote him in on his merits. Regardless of how long you take to do the inevitable there's already a Coach Tressel enshrined in the Hall of Fame. That's because Jim's late father Lee was inducted in 1996. That Coach Tressel routinely had some of his players living in his house, rent-free.
He's probably spinning in his grave too. At least he's in good company.