A strong argument could be made that Jim Tressel is the most important Ohio State head coach since the turn of the millennium. He won a national championship, ran roughshod through the Big Ten and sonned Michigan. By the time the program changed hands, he had accrued well over 100 wins across over a decade in Columbus.
But even Tressel's most ardent supporters would cop to the fact that the guy who replaced him – Urban Meyer – took the talent on the Buckeyes' roster up a notch.
He approached recruiting more nationally, reeled in five-stars and flipped touted once-committed prospects all while putting together what almost immediately became one of the two or three most talent-rich teams in college football. Every recruiting class he signed ranked No. 1 in the Big Ten. All of them were top-10 classes nationally, and each included at least one five-star signee.
When Meyer abruptly retired in December 2018, a simple question had to be asked: Could his successor, a first-time head coach named Ryan Day, really continue to bring in touted prospects at the same rate? And if he couldn't do that, would he be able to sustain the level of success seen in the Meyer era? 
Those, while seemingly antiquated these days, were entirely reasonable things to wonder at the time. Day hadn't ever had a job title higher than offensive coordinator at any level of football when athletic director Gene Smith tabbed him as head coach. And, to be frank, the classes Meyer brought in were among the best in the country every single year. The act of matching them would require a first-ever head coach performing at the level of national championship-winning coaches Nick Saban and Dabo Swinney on the recruiting trail.
Yet Day has done just that.
At the very least, he has achieved what many felt unthinkable by matching Meyer on the recruiting trail. Some analysts even view him as a step up in that department. His first full class – the 2020 cycle – ranked fifth nationally, and the next year he signed the second-best class in the country with an average player rating better than all but one of the classes Ohio State had previously signed in the modern recruiting era.
"It seems like these coaches out-recruit themselves every year," Marcus Williamson said a couple of weeks ago.
Because of that, Ohio State is legitimately stacked with underclassmen on track to make impacts this fall. Spring camp only further clarified that fact.
Perhaps more importantly, the five-stars look like five-stars.
Those once-highly regarded prospects sometimes require some patience. Zach Harrison hasn't broken through yet. Harry Miller endured some fairly significant struggles as a first-year starter. Tyreke Johnson remains buried on the depth chart. It's not as simple as looking at somebody with five stars next to their name and assuming all of them will turn into studs. That happens fairly frequently but not every time. Day brought in eight five-star recruits across the 2020 and 2021 classes, and the majority of them have flashed right away with several in line for important roles this upcoming season.
Paris Johnson is darn near a lock to start at right guard, and Jaxon Smith-Njigba is the clear favorite to open the season in the slot between Chris Olave and Garrett Wilson. The other five-star in their class – Julian Fleming – was just named by Brian Hartline as possessing possibly the best size-speed combination he has ever seen in college football. A shoulder injury prevented Fleming's collegiate career from taking off the way he hoped as a true freshman, but he was in Hartline's rotation in 2020 and figures to compete to wedge his way in there again.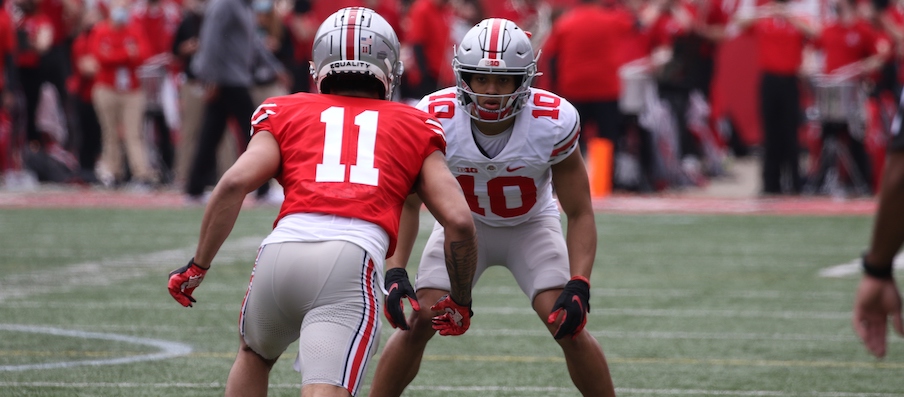 Among the quintet of freshmen who came into the program as five-stars, as many as four could play a significant role in determining Ohio State's fate this fall. 
Jack Sawyer's four-sack spring game performance ensures Larry Johnson will find some way to unleash the potential future top-of-the-first-round NFL draft pick. Emeka Egbuka, who had 129 receiving yards in Saturday's exhibition, figures to be the backup to Smith-Njigba in the slot. TreVeyon Henderson showed some burst in the spring game after arriving as the country's No. 1 running back recruit. Kyle McCord possesses what might be the best physical toolset in Ohio State's quarterback room despite coming onto campus three and a half months ago. Donovan Jackson, the only five-star not yet on campus, is supposed to be the best offensive guard among everybody in his class.
The impact of the two classes Day brought in isn't just felt by the five-stars, either.
All three quarterbacks competing to start – McCord, C.J. Stroud and Jack Miller – were part of the 2020 and 2021 classes. Naturally, there's some uncertainty about how they'll perform once the starter walks onto the field for the Week 1 tilt with Minnesota, but they showed positive signs in the spring game. 
The underclassmen have also helped to make running back one of the team's deepest positions. Henderson and Miyan Williams – who shined in the College Football Playoff semifinal – are both in contention to start at tailback this fall. Along with the additions of Smith-Njigba, Fleming and Egbuka, Marvin Harrison Jr. has quickly become one of the favorites of the coaches, making him a once-unlikely option as a true freshman to be in Hartline's rotation at wide receiver.
Up front, Johnson will start at guard, and both Luke Wypler and Josh Fryar made spring pushes to join him as starters on the interior of the offensive line. Wypler was the No. 2-ranked center in his class, so his ascent hasn't been totally unexpected, but Fryar was a three-star recruit ranked outside of the top-500. 
Defensively, most of the underclassmen's impact in 2021 will be felt in the defensive backfield where Lathan Ransom has remained on the come-up ever since shining late last season. He could start at slot cornerback – otherwise known as cover safety – with Cameron Martinez and Ryan Watts also potentially working their way onto the field. Jordan Hancock and Jakailin Johnson, a pair of incoming freshmen ranked in the top-100 nationally, could factor into the plans this fall if they show up ready to go.
Up and down the roster, you can see the impact of the 2020 and 2021 recruiting classes felt on this Ohio State team. First-year and second-year Buckeyes look the part. Many of them seem destined for big things in Columbus and beyond.
What's most important for this team right now, though, is that many of them – Sawyer, Johnson, Smith-Njigba, McCord, Stroud, Ransom, Williams and more – appear ready to help Ohio State compete for trophies in 2021. 
Not too long ago, the questions of whether Day could stack up talent like Meyer did persisted. Not anymore. Those are long, long gone.
With the way Day has recruited and how these underclassmen look, the Buckeyes – who've been in the upper echelon of college football for many years – aren't going anywhere anytime soon.