The star power and depth at certain spots for Ohio State is quite clear heading into 2021 spring ball.
Chris Olave and Garrett Wilson return to headline the nation's most powerful one-two receiver punch at a position with the most depth in the country, the Buckeyes return probably the best offensive tackle pair in college football and there is a bevy of talent (albeit some unproven) returning along the defensive line.
But at some key positions, Ohio State is going to need some of the youngest players in its program to step up when the Buckeyes start their season in September. Luckily, it appears (let's all knock on a gigantic piece of wood and go hunting for those four-leaf clovers) that we will get a normal schedule of spring practices. (Normal, I guess, is a relative term compared to what we experienced last year.)
This spring will be key in order to see how some of the young players, especially, can develop and provide added depth and impact.
Let's take a look at some young Buckeyes who are either in their first or second year at Ohio State who could make an impact in 2021 and who probably need a productive spring to springboard them to playing time this fall.
TreVeyon Henderson
Start with the obvious, right?
Maurice Clarett, Beanie Wells and Ezekiel Elliott were each hyped up coming into Ohio State, but Henderson is still arguably the most-anticipated running back recruit in program history. The five-star running back is the third-highest ranked RB signee the Buckeyes have ever signed, and after a 2020 recruiting cycle that saw some big misses (and, yes, discovered a hidden gem in Miyan Williams), Henderson was the headliner as Tony Alford bounced back in a huge way in 2021.
But now Henderson is on campus. And he is going to have the weight of a fan base's expectations on his shoulders for an Ohio State team looking to make a third straight College Football Playoff appearance. Master Teague is a fine back, but he does not have the explosiveness or the star power of Henderson, which has many hoping Henderson will make an immediate push for the starting job.
Hailed as the most complete running back recruit in a decade, he was ranked No. 1 at the position in the class of 2021 and would have been ranked in the top 10 overall if not for one recruiting service ranking him criminally low.
The guess here is that he eventually takes over the starting spot midway through the season. Henderson has not played competitive football since fall of 2019 after Virginia pushed its 2020 high school football season to the spring, and Henderson elected to enroll early in Columbus. It might take him a while to get his feet under him and get used to the physicality of the game again, which he's admitted himself.
But if he can regain that familiarity during spring ball, maybe his timeline will get moved up a bit and he can make an immediate impact from Week 1.
Lathan Ransom
One of the most interesting true freshmen from last season, the young defensive back came on strong late in the season and even played nine snaps in the national championship game.
Those snaps came as a slot cornerback, which brings us to the most intriguing aspect of Ransom. Will he stay in that slot cornerback spot with Josh Proctor manning the free safety position? Or will Ransom become the free safety, allowing Proctor to be used in a more versatile way?
No matter where Ransom plays, he has a great shot at becoming a starter in his second season, and that starts this spring as he gets more comfortable in Coombs' system.
Jack Sawyer 
If Henderson is the No. 1 most-anticipated incoming freshman for the Buckeyes this spring, Sawyer is 1B.
The five-star defensive end spent his entire past two seasons ranked in the top five overall in the recruiting rankings, and he comes into the Woody Hayes Athletic Center with expectations just as high as Henderson at his respective position.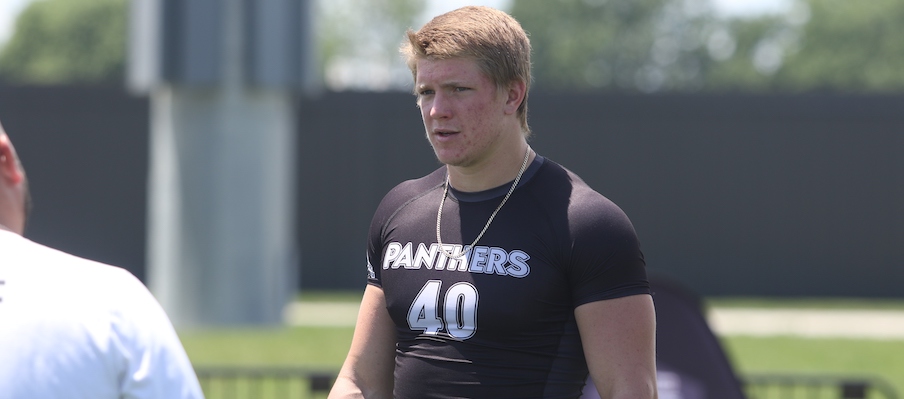 Sawyer is expected to be the next Joey or Nick Bosa, and to his credit he loves and embraces those expectations. He doesn't need to have an All-American season or anything as a true freshman to meet those expectations. But his development as a first-year player with those eyes on his shoulders is one of the more interesting storylines when looking at the Buckeyes' group of young difference-makers.
Even though Ohio State returns Zach Harrison, Tyreke Smith, Tyler Friday and Javontae Jean-Baptiste on the edge, Sawyer could prove this spring he deserves immediate playing time.
Cody Simon, Kourt Williams
The obvious (and probably fair) expectation is that each member of the fourth-year trio of Teradja Mitchell, Dallas Gant and K'Vaughan Pope are finally going to get their shot at making a real impact for the Buckeyes' starting defense in 2021. They've each paid their dues and should be in line for starting spots.
But don't be surprised if Simon and Williams come clawing for playing time and thrust themselves into important roles. Simon, the No. 4 inside linebacker prospect and No. 75 overall player out of the 2020 class, mostly saw special teams action last season (he saw 14 total snaps at linebacker, which was only three snaps behind Pope), but he looked good on both the kickoff and kick return teams. He is most likely to be a backup Will linebacker when fall comes around, but he will have the opportunity to show Al Washington and Kerry Coombs that he deserves snaps.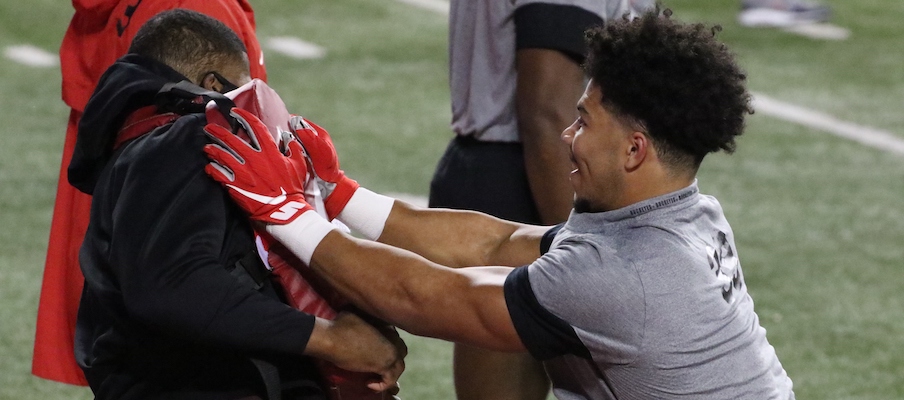 Same with Williams. We're not entirely sure if he will be used as a Sam linebacker or a safety, but we would bank on the former. Williams received adulation from the coaching staff for his practice performance in the spring and fall of 2020 and for his demeanor off the field, but his season ended before the opener with a torn ACL. If he can bounce back from that injury, there is an opening for him to challenge Pope and Craig Young at the Sam linebacker spot.
That, of course, comes with a caveat for Williams. He is only about six months removed from that torn ACL, so it remains to be seen if he will be cleared in time to participate in spring ball or if he will have to wait until summer or fall workouts. If he's good to go this spring, it would be a major leg-up for him to have a chance at making an impact this coming season.
Pick a QB, any QB
Since we're going to be talking about this from now until the end of time, we don't have to dig too deep into this one.
C.J. Stroud, Jack Miller or Kyle McCord is going to be Ohio State's starting quarterback come that Thursday night in Minneapolis on Sept. 2. With the massive amount of inexperience at quarterback for the Buckeyes heading into the season, that spot is by far the one that needs to get the most out of this spring.
Ryan Watts, Lejond Cavazos
We had Cavazos in one of these spots last year, but after some of the things Ohio State assistants have said about Watts – and adding in the fact that he got some playing time as a true freshman as an outside corner – we're including him in this spot, too. While Cavazos did not play last season due to injury, Watts played 28 defensive snaps, the second-most snaps for a true freshman defensive back behind Ransom.
We would include the incoming true freshman cornerback duo of Jakailin Johnson and Jordan Hancock – the highest-rated cornerback recruiting tandem the Buckeyes have signed since Jeff Okudah and Shaun Wade in 2017 – on this list if it was a look at up-and-coming players to look out for in the fall. But since they're not enrolling until summer, that gives Watts and Cavazos a head start on those two in competing for outside cornerback playing time.
Sevyn Banks has one starting spot locked down, and Cameron Brown figures to fill the other spot. But Brown is coming off a torn Achilles, leaving his role up in the air. That opens up the opportunity for Watts and Cavazos to push for a starting job if either of them can have a standout spring.