Miyan Williams landed at Ohio State only after Tony Alford made numerous efforts to reel in touted tailbacks such as Bijan Robinson and Kendall Milton and came up empty. He joined the team's running back room as the only former three-star prospect in a group that included five one-time four-stars whose rankings out of high school dwarfed his. He walked into a situation with several veterans ahead of him right away and two top-100 recruits waiting in the wings in the class behind him.
The 5-foot-8, 227-pound running back was supposed to be the afterthought.
But he isn't. Not anymore. Not after his 10 carries for 64 yards as a true freshman in 2020 opened eyes to what his future could look like.
"Oh, man. Miyan, he's been great," NFL-bound tailback Trey Sermon said a few weeks ago. "I've just seen him improve from when we started camp. You could tell like a freshman coming in he was like a little bit lost, just trying to learn everything. And just to see how far he's come, he just makes plays and he plays with so much energy and emotion. I mean, it just gets everybody motivated and hyped up. It's a good thing to see."
Williams heads into the beginning of offseason workouts this week as a true wild card at a largely uncertain position.
Master Teague, a two-time All-Big Ten honoree, enters his fourth season in the program as the incumbent after opening the 2020 season as Ohio State's starting running back. He's the high-floor option who might not be the most dynamic but, with 1,409 rushing yards and 13 touchdowns on an average of 5.5 yards per tote over the past three years, should offer a good deal of reliability. TreVeyon Henderson, the nation's top-ranked incoming tailback, potentially provides the highest ceiling with his track. Memories of J.K. Dobbins' debut college season in the not-too-distant past make the mind run about what the native Virginian might be capable of this fall as a true freshman.
The options don't end there. Beyond those two, Ohio State also has third-years Marcus Crowley and Steele Chambers, along with incoming top-100 recruit Evan Pryor, in the mix. Alford will have his pick of a bevy of options.
Williams, who almost nobody predicted would factor into the mix so early in his career, will find himself right in the midst of the competition for snaps.
"He's kind of a bowling ball out there," Ryan Day said on his 97.1 radio show a few months ago.
A fair description.
Williams went so far as to call himself "Bowling Ball" on social media for several months in the fall. He also went by "Fat Boy," though the moniker didn't seem quite as apt after he went through a body transformation over a year ago during which he lost 21 pounds before enrolling. The way he plays the game lends itself to an endless supply of nicknames.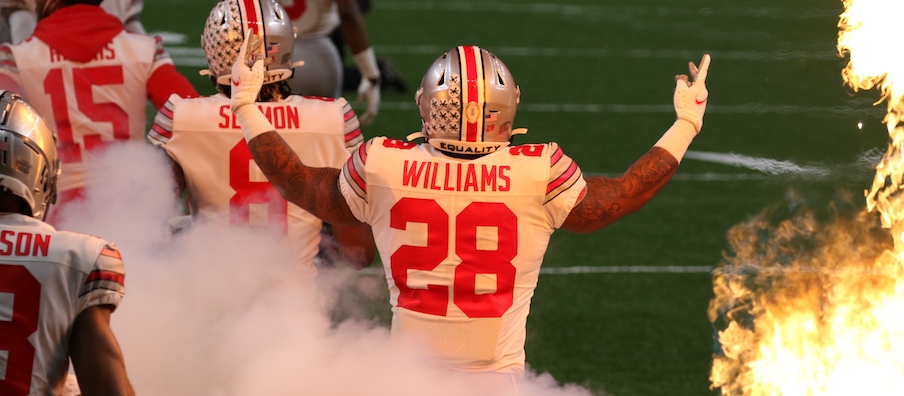 Simultaneously shorter and heavier than most other tailbacks he has a punishing style about him, eminently unafraid of contact – and, more precisely, collisions – yet agile enough to bounce carries around the field when openings get plugged. If it looks like he runs like somebody whose mother once put him on a football team to utilize his aggression in sports instead of beating up kids in the neighborhood, well, it's because that's exactly what happened to the Winton Woods graduate.
"Miyan is going to have a great career here," former center Josh Myers said before the national title game. "He runs the ball extremely hard, and as an offensive lineman, I just love that. The lower your shoulder mentality is – I'd like to think that's how I would be if I was a running back. It's been fun to watch him grow this year and contribute. And man, he's contributed some pretty key moments, as well. It's been fun."
No, Williams didn't get many chances to shine as a true freshman. Those 10 carries were it. Though they were enough to make an impression.
A single play that remains downright impossible to forget is his 15-yard scamper against Clemson when one moment it seemed surprising for him to be in the game and the next he removed all doubt surrounding his presence on the field. Penetration in the backfield forced him to cut up a zone run to the left midway through the third quarter, and with a jab step he cut it all the way back to the sideline where he found a crease. Williams used his outstretched left arm to avoid an ankle tackle then proceeded to lower his head, truck senior All-ACC safety Nolan Turner and flex for the cameras. 
Can we discuss Miyan Williams pic.twitter.com/r6Si6Hs6zq

— Colton Denning (@Dubsco) January 2, 2021
The first-down run both will play on his highlight reels until the end of time regardless of what happens going forward in Williams' career and opened eyes on the biggest of stages to what he can do when given the opportunity.
"He's a guy that's been working really hard in practice, and we've kind of seen it through him getting reps here and there and excel against our defense," outgoing linebacker Pete Werner said a few weeks ago. "When you run the ball like he does in practice you've got to put him in game situations. The times he has been in the game he's done very well."
Williams forced his way onto the field for spot duty as a true freshman. It went well enough that he ensured people would stop overlooking or forgetting about him.
Now a sophomore, he'll try to do the same but with a starting spot on the line.