Watching the return of Ohio State football players shuffling in and out of the Woody Hayes Athletic Center last Monday, there wasn't one single thing that truly stood out throughout a hot morning and afternoon – other than the overall fact that players were actually returning and the debate circling of "Burrito or Bowl?" when dissecting Ryan Day's Chipotle order.
But around hour No. 7 of this player parade, the man they call "Fat Boy" strolled into the facility, equipped with a white tank top, a white mask and a severely outdated nickname. 
Less than seven months ago, Miyan Williams walked through the Ohio Stadium tunnel on a Saturday morning for his first game day visit at The Shoe to watch the Buckeyes beat Penn State, and the sun had barely gone down when he announced his intentions to flip his commitment from Iowa State to Ohio State.
That commitment set off plenty of reactionary analysis and ensuing stories, including from Eleven Warriors, in the minutes, hours and months afterward that the Buckeyes had settled in landing Williams as their running back for the 2020 class. 
Feeding that criticism further was the fact that, unbeknownst to many, Williams had surged up to a sloppy and sluggish 240 pounds with a body fat percentage much too high (we didn't get an exact number) for a position accompanied with the magnitude of being an Ohio State running back.
"He looked crazy. He looked like a nose tackle," Trammell Williams, Miyan's trainer in the Cincinnati area, told Eleven Warriors of what Miyan looked like in November.
So when Miyan walked into the building last week and gave people a glimpse of the physical transformation he had undergone in about a half-year – one that he first unveiled with a Twitter post in March – it rightfully turned heads and ramped up conversation among Ohio State fans who were excited to see this in-state Winton Woods star pull off a 180-degree turnaround. 
Miyan Williams in April 2019 vs. Miyan Williams in June 2020 pic.twitter.com/XQEXRhdcyh

— Zack Carpenter (@Zack_Carp) June 8, 2020
Williams has gotten himself down to a clean 219 pounds with clear-to-see muscle definition in his arms, fat trimmed off his midsection and a thinner face hidden behind a thick beard – but without having lost too much of the size that makes him such a bowling ball force to deal with as a runner.
To get a firm understanding of Williams' impressive physical growth, you have to know the why and the how of the story. 
First, start with the why. Because it's not like it was a couple pounds. It was a drastic physical change, and you don't have to be an Ohio State football player to be able to relate to what Williams went through. 
Losing weight and going through a body transformation like that – especially once you feel like you've hit a point beyond your control – is one of the most difficult, frustrating and rewarding tasks a person can undergo. The amount of discipline it commands means it also demands daily motivations.
For Williams, there are the obvious motivations anyone can probably figure out, in addition to more obscure ones that sparked him. 
The obvious catalysts?
Ohio State's running backs room is banged up, with the top three at the position (Trey Sermon, Master Teague III, Marcus Crowley) each coming off an injury and a subsequent surgery, offering up a legitimate opportunity to contribute early. 
When you're hearing over and over, on Twitter, Instagram and in recruiting analysis, about how your in-state program settled when it signed you, it can light a fire. 
"It's impossible to not see that when you have all those people on social media and all these pages. Everybody talks," Trammell said. "Of course people are gonna talk, and of course he's gonna see it. But it just didn't faze him. He's being driven by something else."
That's where the less obvious driving forces came into play.
Trammell Williams, a former University of Cincinnati and Colerain High School running back, is of no blood relation to Miyan, but he says that Miyan is "like my little brother."
Trammell spent the past eight months training Miyan and guiding him through that physical transformation. Other than Miyan himself, there may not be anybody more suited to explain the psychology behind those motivations.
"He's driven off of his family. He got a lot of people looking up to him," Trammell said. "He brings a lot of joy to his family, and he takes a lot of pride in that. And that bleeds over into everything he do. And that's why he gives 100 percent in his work ethic. Just everything he attaches his name to. Because he understands he represents his family so when he came (into my gym) and was like, 'I gotta get right,' it wasn't just him. He's got a whole family looking up to him.
"He got a lot of people looking up to him so that's more than enough motivation when you're doing it for something that's bigger than you. You're doing it for a legacy – for your mom, your dad, just everybody that's in your family. That's enough motivation for anybody. That's why I say he's different. People don't think like that. People don't understand that it's bigger; that he's a vessel. That's why he works so hard. That's why he's willing to put in that work and sacrifice. He's got people riding with him on his back through this journey."
With all those factors in play, Miyan Williams got to work, bringing us to the how.
Miyan and Trammell first met in the 2018 offseason after Miyan had just popped off for 2,824 yards and 38 touchdowns as a junior at Winton Woods to earn Ohio's Division II Offensive Player of the Year award and a runner-up finish for Ohio's Mr. Football trophy. 
Flash forward a year later, and things were very different. Williams had entered the season as the frontrunner for the Mr. Football award. But slowed in part by ankle and thumb injuries, he rushed for less than 1,000 yards and just 10 touchdowns on 132 carries for a team that missed the playoffs. 
Going into his senior season, Trammell says, Miyan looked really good. Coming out of it, he had a gut, and his face was pudgy. 
Fast food and junk food had gotten the better of Miyan. Chipotle, Chick-Fil-A, unhealthy wings and other fast food places in Cincinnati took its toll on the undisciplined senior throughout the fall. So Miyan, still committed to Iowa State at the time, went to Trammell in November after Winton Woods' season ended, stopping in at Run By U – a private gym in Mt. Healthy, Ohio governed by Trammell, his little brother Tyler and their father Terrell.
Trammell – "Coach Mel" to the athletes he trains – was still two months away from being named Winton Woods' newest strength and conditioning coach, Tyler is the offensive coordinator at Colerain, and Terrell is the director of strength and conditioning at St. Xavier High School. Terrell had a major impact in the physical transformation of Paris Johnson Jr. He was the first to piece together a nutritional plan for Johnson that began in the second semester of his freshman year at St. X. 
"He got a lot of people looking up to him so that's more than enough motivation when you're doing it for something that's bigger than you. You're doing it for a legacy – for your mom, your dad, just everybody that's in your family. That's enough motivation for anybody. That's why I say he's different."– trainer trammell williams on the motivation behind miyan williams' physical transformation
Just like Johnson, Trammell says that Miyan is a grinder, and just like his dad did with Johnson, Trammell put together a plan for Miyan. So they got down to business with Workout No. 1 that day – a blitzkrieg of a leg day that included:
Three sets of every lift
Drop sets
Supersetting with wall sits
Lunges in between sets
Sled work with a push-pull method
Medicine ball slams with triple extensions
Trap bar squat into manual leg curls
Sprints on an assault bike as the finisher
Afterward, Miyan's body felt as exhausted as you would expect it to. And he wanted more.
"The day we was done, he was like, man, 'I'm gonna be in here every day. I'm gonna get right," Trammell said. "He kept stressing that – 'I gotta get right. I gotta get my body right.' I hear guys say that all the time – 'I'm coming tomorrow,' after they got their ass kicked. But he really did. He came every day."
"He was trying to get better in the offseason, and he came in ready to work. He's one of the hardest workers I've ever worked with. He was asking, 'Coach, when can I come back?' Most kids are like, 'Shit, all right. I'll let y'all know 'cause that shit was hard.' It wasn't easy. But he's got a great work ethic. It's unmatched."
Trammell put together a strict workout and nutrition plan for Miyan to follow, telling the young running back, "There can't be no bullshitting in between," and Miyan jumped at it.
It wasn't just a four-day-a-week plan with hour-long gym sessions.
"We wanted to cut, but we also wanted to train that muscle because he was fluffy," Trammell said. "So he needed to move and get some of that (fat) up off of him, but he needed to improve his strength also. So I put him on a progressive program where it was still getting him strong but at the same time getting him in shape. 
"There wasn't a whole lot of time to work with, from November to now, and look at the way he is. That's the type of program that I put him on."
June me now please? pic.twitter.com/0dTTaJPFrE

— (@Miyann28) March 4, 2020
An example of one week of workouts:
Monday: Leg day
Tuesday: Upper body day
Wednesday: Instead of lifting, lots of stretching to maintain flexibility, a cycling class, rigorous boxing and running afterward. (Boxing is something Trammell talked about at length as being especially beneficial in building cardio endurance and mental strength.)
Thursday: Lower body day 
Friday: Upper body day
Saturday: Up-tempo, station-based workouts with less reps that are cardio-centric
Sunday: Core day focused on stretching, ab rollouts and more cardio
Yes, he was often there six or seven days each week, with the majority of workouts lasting an hour or longer but some leaner workouts mixed in to give his body ample recovery time. 
And since Miyan and Trammell are close, if Miyan had his schoolwork done and wanted to stick around for more than an hour to put in more work on the treadmill, stationary bike or stairmaster, Trammell would let him earn that extra credit. 
That was going well for a few weeks, but the results weren't showing quite yet. Miyan still had to break his bad eating habits, and he had to stay disciplined on the nutritional guide laid out for him.
"It was like, 'All right. You gotta get on your shit if you really wanna start seeing results,'" Trammell said. 
Everything was broken down scientifically and in time windows – what he should eat and when he should eat for breakfast, snacks, lunch and dinner. It was a very strict program, but it gave him clear direction. 
An example of one day of nutrition if Miyan's day began at 8 a.m.:
Breakfast: Oatmeal with cinnamon or sugar and a fruit smoothie (strawberry, banana, other berries) to get fuel for the morning before a 9 a.m. workout at Run By U.
Postworkout snack: Turkey sandwich and another smoothie or protein shake.
Dinner: Baked chicken breast, sweet potatoes, broccoli, asparagus and a side kale salad or green smoothie.
Plenty of water included throughout the day.
The biggest thing was making sure to eliminate McDonald's, Chipotle, Chick-Fil-A, etc., from his diet as much as possible. 
"We didn't necessarily demonize food," Trammell said. "Just don't overindulge in those things that don't have your best interests in mind that you can't benefit from."
"He was trying to get better in the offseason, and he came in ready to work. He's one of the hardest workers I've ever worked with."– Trammell Williams, the trainer of Ohio State running back Miyan Williams
After about a month and a half, the changes in Miyan's body began to show, and he was soaking all of it up, sending Trammell photos of his meals, asking him questions about his nutrition and making sure he was eating the right things. 
And then, only a week after Miyan made that progress post after four full months training under this program, the quarantine shutdown hit. 
Having no access to the gym didn't slow anything down, though. 
Trammell put together a home gym filled with dumbbells, a pullup bar in his doorway that could be taken off and used as a Perfect Pushup handle, resistance bands, kettlebells, an ab wheel and an exercise ball. Miyan would call Trammell up early in the morning, head over, and the two would work out together – sometimes after Miyan and Trammell (and sometimes Trammell's daughter) would down a ginger shot to boost their digestive systems. 
Trammell has a big backyard, so before the weights, the two would put their cleats on, and he had cones set up for Miyan to do footwork drills, working on planting and accelerating –  sometimes running uphill – before going inside to hit the metal. 
An example of an arm day:
Four sets of 15 tempo push-ups with the Perfect Pushup handle: Three-second negatives going down with a one-second pause at the bottom. 
Superset with a resistance band pull apart with a one-second pause and control the movement going back.
Dumbbell shoulder press
Upright rows with dumbbells
Dumbbell rolls
Planks, ab wheels and crunches to finish out: Four sets of 25 crunches with a final set of 100 crunches performed in a timely fashion. 
Afterward, Trammell would cook breakfast or make Miyan a fruit smoothie, and Miyan would be on his way. 
"We would work just as hard every day as if we were in the real gym," Trammell said. "Those were some real days. We didn't miss a day."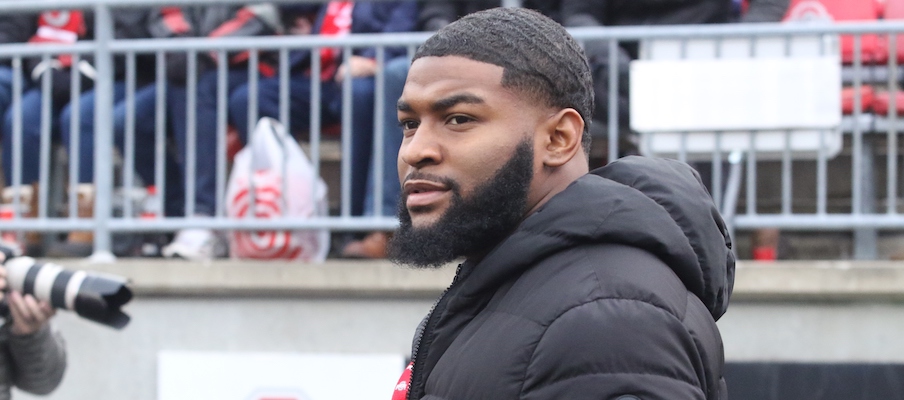 Any complaints from Miyan?
"When I'm kicking his ass, he'd be like, 'Mannnn,'" Trammell says with a laugh. "But, on a serious note, no. He might play around, but when some guys are bitching and moaning, he's never done that. Everything I've thrown at him, he's excelled at. He completes it. There's nothing I've ever thrown at him where he's not good at or where he's bitching about it. He won't complain one time."
That's what Trammell says he was just as impressed by – not just the physical growth of going from 240 pounds to 219 that quickly without losing any strength, but the mental gains as well. After making plenty of mistakes workout- and nutritional-wise over the previous few months, Miyan was sparked by all those factors we mentioned earlier, and he disciplined himself to get up at 8 a.m. almost every day – knowing what was waiting for him in an hour at Run By U. 
"That's what I'm impressed by because that's what's gonna help him at the next level," Trammell said. "You're not gonna have to tell Miyan to eat right or to get up and go to a workout or do this and do that. He understands that he has to do these things. It lets me sleep at night because I know he's going in there with the right mindset. 
"Expect some big things from him. He's a hard worker and a silent assassin. He's not gonna say too much, but he's gonna work."
And he's gonna need a new nickname.