At some undisclosed point in the near future, Ohio State will begin spring practices.
How much information about the team actually spills out of those sessions at the Woody Hayes Athletic Center will be an unanswerable question until they get underway. Given the pandemic, the facility is expected to remain tight on attendance, so access might be more limited than usual. But after a couple months off of football in Columbus, the Buckeye faithful are plenty interested in what the 2021 edition of this team will look like, so any and all information will be welcomed. With upcoming practices in both March and April, everybody outside of the program should get a chance to learn about the latest Ohio State team together.
There are plenty of intriguing position battles, breakout candidates, proven studs and under-the-radar players to keep an eye on. Which position groups, though, are the most interesting to follow this spring? That's what we're here to answer, from least to most.
8. Tight End
At the top of the depth chart, there's approximately zero intrigue. Jeremy Ruckert will start and play the brunt of snaps at tight end. Naturally, given his status as a senior who's played a bunch of snaps already, Ohio State's coaches won't want to run him into the ground in the spring.
All of the drama at tight end this spring will be elsewhere.
The one overarching question for this position group entering the spring is pretty simple: Who else outside of Ruckert will contribute? There are four main candidates: Cade Stover, Joe Royer, Sam Hart and Mitch Rossi.
Stover is a converted linebacker/defensive end now entering his third year in the program and second year as a tight end. He played just five snaps at the position in 2020. Royer, a second-year from Cincinnati, didn't set foot on the field for any in-game reps left year. Hart's a soft-spoken true freshman from Colorado rated as a top-400 recruit. Rossi, a walk-on, played 32 tight end snaps a season ago. Nobody's a proven commodity.
7. Wide Receiver
Given the talent in this room, perhaps this is too low of a ranking. If you were to attend a single spring practice, your eyes might naturally gravitate toward these guys over anybody else given the star power of Chris Olave and Garrett Wilson and hype surrounding some of the underclassmen. So, feel free to yell at me if No. 7 seems absurd.
But this spring? There's not a ton to learn from the wideouts compared to some other positions.
Olave and Wilson have starting spots locked down. The entire rest of Brian Hartline's rotation comes back, too, including Jameson Williams, Jaxon Smith-Njigba and Julian Fleming. The real thing to watch is whether somebody can challenge Williams for his starting position or if somebody else such as Kamryn Babb or Gee Scott Jr. flashes in a way that makes it obvious the Buckeyes won't be able to keep them off of the field and out of the rotation anymore. Plus, this is the first chance to see Emeka Egbuka, the nation's No. 1 wide receiver recruit in 2021.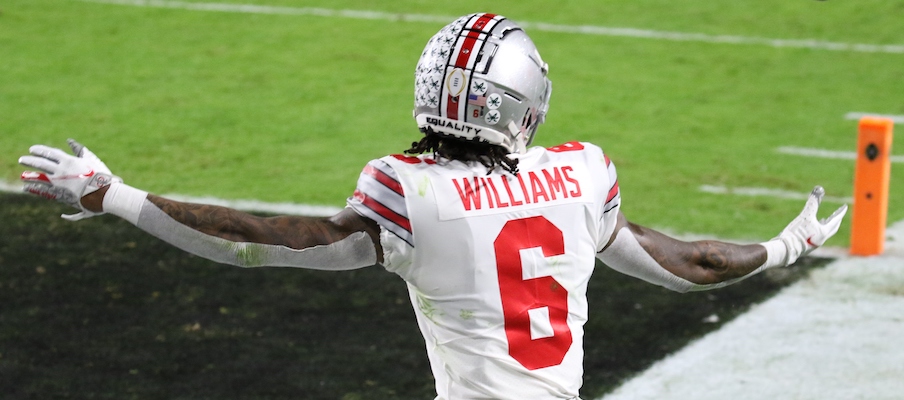 6. Defensive Line
Another year, another slew of defensive linemen head out the door. Larry Johnson has gotten used to this, and he has yet to let Ohio State down in his efforts to replace those who left.
This time, the Buckeyes saw Jonathon Cooper and Tommy Togiai leave, opening holes both at defensive end and nose tackle.
Ohio State will utilize a familiar group of defensive ends in Zach Harrison, Tyreke Smith, Tyler Friday and Javontae Jean-Baptiste with the hope that Johnson will have them realize their potential as impactful edge rushers. Whether that ultimately happens will partially be a product of what transpires this spring, but the development of them is a long-term process. Practices in March and April are nothing more than glimpses of where they're at in their growth. 
Most of the interest on the defensive line this spring should center on defensive tackle.
Johnson has to figure out how to replace Togiai at 1-technique. Antwuan Jackson and Jerron Cage would seem to be the top-two candidates, though Ty Hamilton will try to wedge his way in too. At 3-technique, Haskell Garrett returns as an All-American, and the Buckeyes will see whether Taron Vincent can finally stay healthy and show what he can do as a "battering ram."
If none of that tickles your fancy, you can focus on the first practice reps of freshman defensive end Jack Sawyer who, like Egbuka, was a top-10 recruit nationally. 
5. Offensive Line
The two returning tackles – Thayer Munford and Nicholas Petit-Frere – bookending the line might not get a ton of reps in the spring given their status as upperclassmen starters. Everywhere else, however, guys will be getting after it.
The interior of the line will feature position battles galore. Harry Miller's the closest thing to a returning starter in there, having manned left guard for the first six games of last season. He'll either be back in that guard spot or move over to center. Matthew Jones and Paris Johnson would appear to be two other prime candidates to start. Jones, now a fourth-year junior, thrived in his late-season taste of meaningful snaps, and Johnson was deemed by Josh Myers as an eventual Outland Trophy winner. A cadre of others, including Dawand Jones, Ryan Jacoby, Enokk Vimahi and Luke Wypler, will try to push for starting jobs, too. 
Greg Studrawa isn't lacking options, which means there'll be plenty to follow up front this spring.
4. Linebacker
We have officially reached a "Holy crap, there's a lot going on here" position group. 
Ohio State lost Pete Werner. And Baron Browning. And Justin Hilliard. And Tuf Borland. In one offseason. Quite clearly, Al Washington faces his stiffest challenge yet in figuring out how to turn the page on the past couple years at linebacker and move the position into a new generation of players.
Rising fourth-year linebackers Teradja Mitchell, Dallas Gant and K'Vaughan Pope have waited longer than they could have imagined when signing with Ohio State for this exact opportunity. They'll each vie to start at the three openings. Craig Young, Tommy Eichenberg, Cody Simon and Mitchell Melton are back as well.
What makes this group so interesting is the fact that almost everybody involved is an unknown. Nobody left over from last year's roster has ever started a game for the Buckeyes before. It's a complete and total changing of the guard.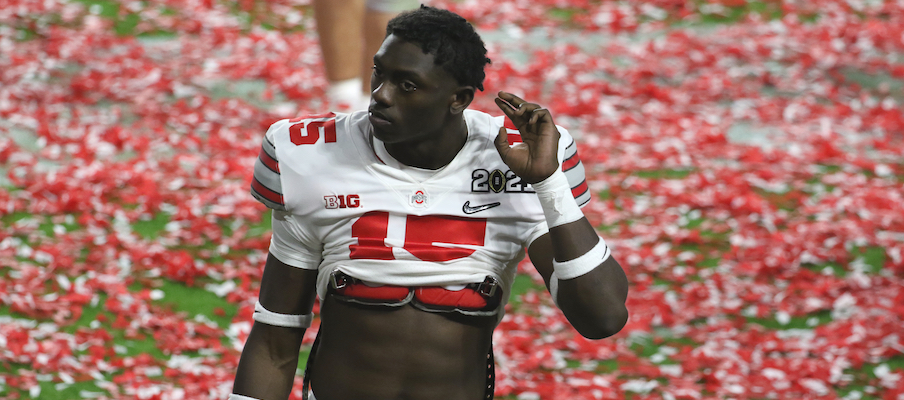 3. Secondary
This position group will feature an overriding theme this spring that's often found at Ohio State: Will the young defensive backs overtake the older defensive backs?
If you're projecting starters in the secondary, it's easy to go chalk. You can pick Sevyn Banks and Cameron Brown at cornerback, Marcus Williamson at slot cornerback and Josh Proctor at safety. But is the status quo really what Kerry Coombs and Matt Barnes should want after last season? 
They will give the younger guys in the room – such as Lathan Ransom, Ronnie Hickman, Lejond Cavazos, Ryan Watts and more – ample opportunities this spring to show they deserve more playing time. Whether they can capitalize on the reps will determine if any of them can break into the lineup.
2. Running back
The established tailback (Master Teague), the five-star freshman (TreVeyon Henderson) and the second-year known as Bowling Ball (Miyan Williams) make this position interesting enough by themselves. Then you add in Marcus Crowley, Steele Chambers and Evan Pryor and it becomes increasingly clear that there's a lot for Tony Alford to figure out here.
Does he go with the proven vet? How ready do the freshmen look for immediate roles? Are either of the less-discussed third-year backs – Crowley and Chambers – ready to make a push? Can Williams continue his upward trajectory?
So, so many questions to answer this spring.
1. Quarterback
Was there really any question? 
Every word Ryan Day says about the quarterbacks will get scrutinized. Every video clip Ohio State's official account or reporters on the ground send onto social media will get dissected to no end.
The quarterback competition between CJ Stroud, Jack Miller and Kyle McCord is about to get ramped up.