Jack Sawyer expects to be emotional when he takes the field for his first practice as a Buckeye this spring.
It's been nearly two full years since Sawyer committed to Ohio State, and he's been dreaming of playing for the Buckeyes much longer than that. It's been more than a year since Sawyer last played in an actual football game, and that final game of his junior season at Pickerington North High School ended with Sawyer tearing his MCL. 
So when Sawyer finally gets back on the field and does so wearing an Ohio State helmet for the first time, it's going to be a special day.
"The first time I walk out padded up for a practice, I think it's gonna bring tears to my eyes," Sawyer said. "I'm going to be so excited to be out there playing the sport I love again. So I just can't wait."
Sawyer opted out of playing his senior season at Pickerington North, doing so at a time when it was unclear whether Ohio high school football or Ohio State football would be played this past fall. When the Big Ten initially opted to postpone its football season to the spring, Sawyer decided to shift his focus toward the possibility of playing in actual football games for the Buckeyes this spring as an early enrollee.
The Buckeyes and Panthers both ended up playing in the fall after all, meaning it will be nearly two years since his last game when he finally gets to play for the Buckeyes in September. Even so, Sawyer says he didn't regret his decision to opt out, as he believes the work he put in on his own this past fall has made him more prepared to start his Ohio State career.
"Once I made that decision, I never really tried to think about it as a 'What if I did?'" Sawyer told Eleven Warriors last week before enrolling at Ohio State this past weekend. "Because honestly, it was a blessing in disguise for me not playing, because I just got to be able to work out and improve my speed and my footwork and my explosion so much. Really got to hone in on it all for the first time ever, and it was great. And I don't really ever look back and have any regrets, because I think it was all for the better."
Sawyer certainly missed taking the field with his Pickerington North teammates on Friday nights, but he kept his sights on the big picture and the opportunity he'll soon have to take the field with his Ohio State teammates on Saturdays.
"There's nothing like putting on the pads with the guys you've played with growing up your whole life, lifelong friends and running out in front of all the students you know, so I definitely miss that," Sawyer said. "I just had to relax and realize that here soon I'll be running out in front of 110,000."
"The first time I walk out padded up for a practice, I think it's gonna bring tears to my eyes."– Jack Sawyer on starting his Ohio State career
The No. 4 overall prospect in the class of 2021, Sawyer arrives at Ohio State with the potential to be its next superstar defensive end. Ranked even higher as a recruit than Chase Young and Nick Bosa, Sawyer is now expected to follow in their footsteps and become a dominant player on the edge of the Buckeyes' defensive line.
Sawyer chose Ohio State because he believes Larry Johnson can help him accomplish what they have, so he's not going to shy away from those expectations. He wants to "try to make some noise" and make an immediate impact for the Buckeyes as a freshman. But he also recognizes he has to prove himself all over again now that he's arrived at Ohio State.
"I'm starting the low man on the totem pole now, and that saying, 'The wolf climbing the hill is hungrier than the wolf on top of the hill,'" Sawyer said. "I'm the wolf on the hill now, trying to get to the top, and I got that fire back in me. I gotta grind and do all the little things now to get back on top of the hill.
"I know those guys don't give a shit about my rankings coming in. I know the offensive tackles at Bama and at LSU and those schools, they don't really care, they don't give a damn about me being a top-ranked kid. So it's just starting all over."
While Sawyer wants to play right away this fall, he knows he has to do all the right things this offseason – starting next week when the Buckeyes begin winter workouts with Mickey Marotti – to put himself in that position.
"I just gotta listen to everything. I just gotta be a sponge," Sawyer said. "I gotta obviously work my ass off with Coach Mick, and then when I go with Coach Johnson, take everything serious. Learn all the technique. Really just craft it too. Just working it every day. Not taking anything for granted. Making every rep count. And if I do those things during the day, then good things will happen. So I'm just gonna be in there working and I'm just gonna be a grinder."
Sawyer is excited to show what he can do this spring, because he believes he is both "a lot stronger" and "a lot more explosive" than the last time he played in an actual game. While he weighed only about 220 pounds as a junior at Pickerington North, he's up to almost 250 pounds now, adding the size to his 6-foot-5 frame that he'll need to be able to hold up against college offensive tackles.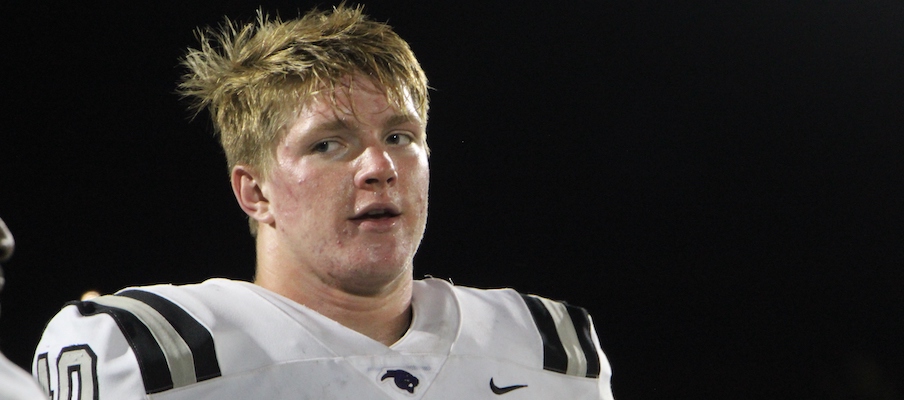 Speaking of which, he's looking forward to the opportunity to practice against Ohio State's offensive linemen, which he knows will make him a better defensive lineman.
"I'm super excited to get in there and start working against Thayer Munford, 'cause he's obviously one of the best tackles in the country," Sawyer said. "It gets me excited in that sense too because I want to go against the best, and he was one of the best this year in college football. So knowing that I can come in there each day and be going against the best straight out of the gate, it's super exciting for me."
Sawyer doesn't just want to become a sack machine for the Buckeyes, he also wants to be a team leader. He believes that's something comes naturally to him, and while he doesn't want to force the issue as a freshman, he also doesn't want to hold himself back.
"I'm just gonna come in with the mindset of being myself, and I think if I be myself, which is a natural leader, then it'll just naturally come out," Sawyer said. "Obviously coming in as a freshman, it won't be a great idea trying to come in and getting on seniors and whatnot, but if it comes up, I'm just definitely going to be a leader in the way I've always known my whole life to lead, and if that requires getting on guys, I'll be getting on guys sometimes.
"But I just want to really just be myself. I think when I came into high school as a freshman, my freshman year at North, I think something we lacked is leadership, and looking back on it now … I wish I would have been a little more vocal, a little more of a leader, even though I was a young guy. So definitely when I'm coming in there now, having been through kind of the same process just on a lower level, I'm just gonna be myself and just lead how I usually do."
Ryan Day, who said Sawyer was one of the first recruits he met with when he became Ohio State's head coach two years ago, is fully confident Sawyer will make a positive impact for the Buckeyes both on and off the field. Day is already impressed by Sawyer's leadership as a recruit, citing his efforts to organize the "Buckeye Bash" for members of Ohio State's class of 2021 this past fall since Ohio State was unable to host recruits for visits.
"He's a special young man, and that's gonna make us better. Not only on the field, that's gonna take care of itself; he's one of the more talented young men I've ever been around," Day said when Ohio State signed Sawyer in December. "But the culture is something he's gonna dive into right away and make an impact on. So, so critically important."
While Sawyer certainly wants to be an All-American and a top NFL draft pick like Young and the Bosas before him, his goals for his Ohio State career aren't simply about what he can accomplish individually, but what the Buckeyes can accomplish as a team. And after watching the Buckeyes make a run to the national championship game this past season, he's coming in supremely confident about how much Ohio State can win in the years to come.
"The direction of our program just continues to keep getting better and better," Sawyer said. "And I think we're going to win a few national championships here. I think we're gonna win five, six, maybe seven, eight in the '20s. So I'm super excited."