For the second year in a row, the majority of Ohio State's incoming recruiting class is enrolling early.
Ohio State is welcoming a school-record 15 early enrollees to campus this weekend: quarterback Kyle McCord, running backs TreVeyon Henderson and Evan Pryor, wide receivers Emeka Egbuka, Jayden Ballard and Marvin Harrison Jr., tight end Sam Hart, offensive linemen Ben Christman and Zen Michalski, defensive linemen Jack Sawyer and Tyleik Williams, linebacker Reid Carrico, defensive backs Denzel Burke and Jantzen Dunn and punter Jesse Mirco. That's one more than last year, when 14 members of the Buckeyes' class of 2020 arrived in January.
This year's midyear enrollees are arriving on campus a couple weeks later than originally planned, as football players and coaches are currently on a postseason break and Ohio State started its spring semester online due to the ongoing COVID-19 pandemic. With in-person classes starting next week, though, the Buckeyes will soon be back to work at the Woody Hayes Athletic Center and ramping up their preparation for the 2021 season, and the 15 early enrollees will go through their first winter workouts with Mickey Marotti on Feb. 1.
Those 15 January enrollees include four five-star recruits and eight total top-100 prospects. All of them have the potential to be future stars for the Buckeyes, and some of them could parlay the opportunity to participate in spring practice into immediate playing time as freshmen in the fall.
Ohio State will have at least six additional freshmen arriving this summer – guard Donovan Jackson, defensive tackle Mike Hall, linebacker/safety Jaylen Johnson and defensive backs Jordan Hancock, Jakailin Johnson and Andre Turrentine – and could have as many as eight, as the Buckeyes are still trying to land commitments from five-star defensive end J.T. Tuimoloau and four-star linebacker Raesjon Davis on or ahead of February's National Signing Day.
For today, though, we're looking solely at the freshmen who are officially beginning their time as Buckeyes this weekend and what they could bring to Ohio State in 2021 and beyond.
An immediate competitor at quarterback
While all of Ohio State's 15 midyear enrollees can benefit from being on campus a semester early, being with the Buckeyes for winter workouts and spring practices is especially important for Kyle McCord, as it gives him a legitimate opportunity to compete for Ohio State's now-open starting quarterback job.
C.J. Stroud and Jack Miller might have a leg up because they've been on campus for a year, but neither of them has yet thrown a pass in a collegiate game, leaving the competition wide open to succeed Justin Fields as Ohio State's next starting quarterback. And given that McCord is a five-star recruit who was ranked as the No. 25 overall prospect in the entire class of 2021, he certainly shouldn't be counted out in the competition.
McCord arrives at Ohio State with the potential to be Ryan Day's next star passer, but his first year with the Buckeyes just might be his best opportunity to win the starting job, given that Stroud and Miller are just second-year quarterbacks and the No. 1 overall prospect in the class of 2022, Quinn Ewers, is set to join Ohio State's quarterback room next year.
Ohio State's next great pass-rusher?
The highest-rated prospect in Ohio State's recruiting class of 2021, Jack Sawyer arrives at Ohio State with the potential to be the Buckeyes' next superstar defensive end. He's rated even higher than Nick Bosa and Chase Young were as high school recruits, and he'll now look to follow in their footsteps by becoming a dominant player at Ohio State and a future top-five NFL draft pick.
Those are lofty expectations to put on an incoming freshman, but Sawyer is a confident player who isn't going to shy away from those expectations, and at 6-foot-5 and 250 pounds, he has all the tools to be a stud, especially now that he'll be developed by Larry Johnson.
Ohio State doesn't need to rush Sawyer into the starting lineup, as it returns four defensive ends who all played regularly this past season in Tyreke Smith, Zach Harrison, Tyler Friday and Javontae Jean-Baptiste, but he's still certainly capable of climbing the depth chart quickly. The Buckeyes didn't have a star pass-rusher this past season following the departure of Young, and Sawyer could potentially provide an immediate boost in that area, especially since he'll be on campus this spring.
A pair of explosive running backs
The incoming freshman who's gotten the most early hype as a potential immediate contributor is TreVeyon Henderson, and there's good reason for that. As the No. 1 running back in the recruiting class of 2021, Henderson is more than capable of making a J.K. Dobbins-like ascent up the Buckeyes' depth chart and becoming the next great Ohio State running back, bringing elite speed and agility to Columbus.
Henderson isn't the only highly touted running back prospect arriving in Columbus this weekend, and Evan Pryor – the No. 81 overall prospect in the class of 2021 – could also make a push for early playing time. A weapon as both a runner and a receiver out of the backfield, Pryor also has the talent to quickly ascend Ohio State's depth chart.
Adding Henderson and Pryor to a roster that already includes Master Teague, Marcus Crowley, Steele Chambers and Miyan Williams makes Ohio State the deepest it's been at running back in years, and should lead to spirited competition at the position this spring with all six vying for a spot in the rotation.
Three more top-100 receivers
The last thing Ohio State actually needs for its 2021 roster is more wide receivers, given that the Buckeyes bring back all of their contributors from what was already a loaded position group this past season. That said, they're certainly happy to be adding the trio of Emeka Egbuka, Jayden Ballard and Marvin Harrison Jr., all of whom are top-100 recruits and all of whom are enrolling early.
Ohio State now has a whopping nine wide receivers on its roster who were ranked among the top 100 prospects in their respective recruiting classes, and that doesn't even include Chris Olave, who arrived in Columbus as a three-star recruit yet has become one of the best wide receivers in college football.
At just about any other school in the country, Egbuka and Ballard and Harrison Jr. would be likely to play big roles as freshmen. As loaded as Ohio State's wide receiver room is, they're going to face an uphill climb to immediate playing time – yet as talented as all three of them are, the possibility of any of them making an impact as freshmen can't be ruled out, especially since they'll all have a chance to start moving up the depth chart this spring.
Ohio State's middle linebacker of the future?
The other top-100-ranked prospect among this weekend's arrivals is Reid Carrico, who could be a key of the Buckeyes' future – and potentially even the present – at linebacker.
With Tuf Borland, Pete Werner, Baron Browning and Justin Hilliard all gone from last season, all three of Ohio State's starting linebacker jobs will be open for competition, and Carrico – fresh off starring for one of Ohio's top small-school teams at Ironton – has the talent to push for immediate playing time on defense and special teams.
It would be an upset if he beats out Dallas Gant and Tommy Eichenberg for the starting Mike linebacker job as a true freshman, but he's a definite candidate to win the job down the line and become a future leader for the Ohio State defense.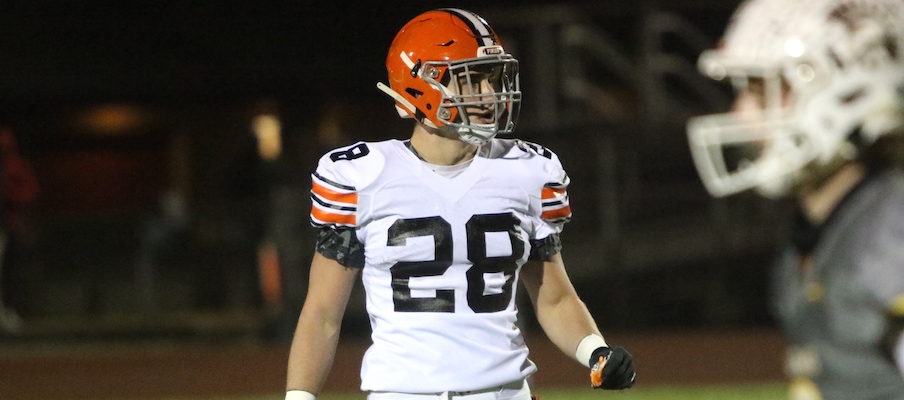 Needed reinforcement at nose tackle
Although he hasn't been talked about as much as many of Ohio State's other early enrollees, Tyleik Williams could be one of the most important newcomers arriving this weekend. With the departure of Tommy Togiai leaving a hole for the Buckeyes to fill at nose tackle, Williams will have a real chance to push for playing time as a freshman and will, at minimum, provide important depth at the position.
Ohio State didn't bring in any prototypical nose tackles in either of its last two recruiting classes, leaving the Buckeyes a bit thin at that position, but it will have one now in Williams, who's 6-foot-3 and 330 pounds and moves well for his size. 
Whether he'll be ready to play regularly as a freshman is uncertain, but being on campus for the entire offseason will improve his chances at a position where there's no established stars on the depth chart.
Two new offensive linemen to develop
Ohio State's highest-rated offensive line signee for the class of 2021, five-star guard Donovan Jackson, won't arrive in Columbus until summer, but Greg Studrawa will still have two new linemen to work with this spring in Ben Christman and Zen Michalski.
Michalski, a developmental prospect who's only been playing offensive line for two years, is likely to be a tackle for the Buckeyes while Christman could end up at either tackle or guard.
Even as early enrollees, Christman and Michalski aren't likely to see much playing time as freshmen, as Ohio State's offensive line roster enters 2021 well-stocked with returning veterans, especially at tackle. Christman is a more likely candidate to play early than Michalski, but the focus for both of them this spring and summer will be to jump-start their development toward playing in the future.
Two new pieces in the secondary
Given the issues Ohio State had defending the pass in 2020, every defensive back – even the freshmen – should get a shot to compete for playing time in 2021. Most of Kerry Coombs' new defensive backs won't be on campus until the summer, but he will have a pair of freshmen to work with this spring in Denzel Burke and Jantzen Dunn.
Burke and Dunn are both long, versatile defensive backs with the potential to play anywhere in Ohio State's secondary – safety, slot cornerback or outside cornerback – and the initial focus for them during their first semester on campus will partially be figuring out where they fit best. Dunn is expected to play safety while Burke is expected to play cornerback, but that's still subject to change for both of them.
It would be a little surprising if either of them play substantial roles in the secondary in 2021, as both of them will likely need some time to develop before they're ready for starring roles, but nothing should be ruled out after the struggles Ohio State had on the back end this past season.
A future weapon at tight end
Sam Hart is the lowest-ranked position player among Ohio State's early enrollees, and one of only a trio of three-star recruits in the Buckeyes' entire class of 2021, but that doesn't mean he should be ignored.
As the only scholarship tight end in Ohio State's class of 2021, Hart's arrival this spring adds important depth at the position, where the Buckeyes lost a pair of seniors from this past season, Luke Farrell and Jake Hausmann. That opens the door for Hart to come in and compete for early time, as Jeremy Ruckert is the only returning tight end with substantial playing experience – and he'll likely be gone after next season.
His first priority as a Buckeye will be getting in the weight room and bulking up, as the 6-foot-5 tight end will come in at only about 230 pounds, but his length and athleticism give him intriguing potential as a receiver while he's also a state-champion wrestler who won't shy away from contact in the trenches.
Another Australian punter
Ohio State's new crop of early enrollees not only includes players from all over the United States, it also includes Jesse Mirco, who comes all the way from Australia and arrives in Columbus as the likely successor to Drue Chrisman at punter.
This isn't the first time Ohio State has signed a punter from the land down under, and the Buckeyes will be hoping Mirco can replicate the success of fellow Aussie Cameron Johnston, who was one of the best punters in school history from 2013-16 and is now a top punter in the NFL.
Ranked as the No. 5 punter in the class of 2021, Mirco could face competition from walk-on Michael O'Shaughnessy, but the Buckeyes wouldn't have offered him a scholarship if they didn't believe he could be their next great field-flipper.