March has arrived, and that means Ohio State will be starting spring practices at the Woody Hayes Athletic Center later this month. And it will be a spring that's even more important than most as the Buckeyes ramp up their preparations for the 2021 season.
The Buckeyes only got to have three spring practices before the COVID-19 pandemic hit last year, which means there were things they weren't able to accomplish last offseason that they now need to accomplish this offseason. And with some major questions to answer on both sides of the ball, the next two months could go a long way toward whether Ohio State can be a national championship contender this year. 
Ohio State hasn't yet announced an opening day for spring football and is starting a bit later than usual – the Buckeyes took the rest of January off after the national championship game loss to Alabama, so they just started mat drills on Friday – but they'll be back on the field for their first 15 practices of the offseason soon enough, and when they are, the following five items should be at the top of their to-do list.
Reps, Reps, Reps
This is a theme you'll be hearing a lot from Ohio State's coaches this spring.
Because the Buckeyes only played five regular-season games in 2020, most of their backups didn't get to play much, and that was after a disjointed offseason in which they lost 80 percent of their spring practices and players were away from campus for three months. That makes it absolutely crucial for Ohio State to make the most of its 15 practices this spring and get their young players as many reps as possible. 
Some of the players who only saw the field sparingly as backups last season will now be set for much bigger roles in 2021, which means the Buckeyes have to do whatever they can to make up for lost time and simulate the snaps those players should have gotten last year in order to get them ready to play this fall. That means multiple scrimmages, in addition to the spring game at Ohio Stadium, are likely on tap for this spring.
"We'll just have to do a great job of trying to simulate some games this spring, for not just the quarterbacks but other guys on the team who didn't get a chance to get in the game and get those snaps that they typically would have in a normal season," Ryan Day said last month. "We're gonna try to figure out ways without taking guys to the ground to simulate as many games as possible."
Established veterans like Chris Olave, Jeremy Ruckert, Thayer Munford and Haskell Garrett will likely have their workloads managed this spring, as they won't need a ton of reps to be ready for the fall. Otherwise, the Buckeyes are going to need to be more meticulous than ever about splitting up practice reps in a way that gets both the starters and backups the practice they need to keep their development on track – or in some cases, get it back on track after an unconventional 2020.
Developing and Evaluating the Quarterbacks
There's no question what the biggest storyline of this spring will be, and that's the starting quarterback competition between C.J. Stroud, Jack Miller and Kyle McCord.
Ohio State doesn't need to name a starter this spring – and it probably won't – but it does need to develop and evaluate all three of them. Ideally, the Buckeyes will come out of spring practices feeling confident that two or three of them could be successful starters this fall, but all of them have a lot to prove. '
None of them have thrown a pass in an Ohio State game, which is why simulating game reps this spring will be particularly crucial for the quarterbacks, and McCord hasn't even practiced as a Buckeye yet. That means there are certainly areas that all three of them need to work on, and how much improvement they each show this spring could go a long way toward determining who leads Ohio State's offense onto the field at Minnesota on Sept. 2.
While the competition will likely continue into preseason camp before Ohio State officially sets its quarterback depth chart, it's certainly possible that one quarterback could separate himself from the others this spring. Every single rep they take in practice this spring will be evaluated by Day and Corey Dennis, and it's likely the coaches will at least have a preliminary depth chart in their minds by summer.
Perhaps most importantly, the Buckeyes need to come out of this spring with a strong idea of what each of their quarterbacks do well and don't do well, as the Buckeyes will need to build their offensive game plans and what they do schematically around their new starting quarterback's strengths.
Improving the Defensive Scheme
There were clearly holes in Ohio State's defensive scheme last season, and one likely reason for that was the fact that the Buckeyes only had three spring practices. The spring is typically a key time for installing new schematic concepts, and Kerry Coombs said last spring that he did not want to force his players to learn new plays while they were away from campus and he was unable to work through those assignments with them on the field.
"I think it would be foolish to try to teach new concepts and ideas over a computer screen," Coombs said last April. "I think the process of teaching in the game of football is so specific to the things that you want to install and how you want to do them, so I think those things are very, very challenging."
That meant Coombs and the Buckeyes mostly ran the same scheme in 2020 that Jeff Hafley and the Buckeyes did in 2019, but without some of the key players that made that scheme work in 2019, it simply didn't work as well in 2020. And they weren't able to make the defensive improvements they needed to make once the season began, ultimately leading to a 52-24 drubbing in the national championship game.
This spring will be a crucial time to work toward making sure that doesn't happen again, and a full set of spring practices should enable Coombs – as well as defensive line coach Larry Johnson, linebackers coach Al Washington and secondary coach Matt Barnes with their respective position groups – to make the necessary adjustments to the defensive scheme and get their players ready to play in that scheme.
Ohio State probably isn't going to make wholesale changes to how it plays defense, but it needs to make some adjustments to avoid a repeat of last season. And while we won't know whether the 2021 scheme will actually work until the Buckeyes start playing games this fall, any changes they're going to make need to be put to the test this spring to evaluate whether they'll actually make the defense better.
Finding New Defensive Stars
Another problem for Ohio State's defense in 2020, and quite possibly the biggest problem, was the Buckeyes simply didn't have the star power they've had on defense in 2019 and most other recent seasons. The loss of three defensive backs who were NFL starters in 2020 (Jeff Okudah, Damon Arnette, Jordan Fuller) was a big reason why Ohio State's pass defense faltered last season, as was the absence of a dominant pass-rusher following the departure of superstar defensive end Chase Young.
The Buckeyes' replacements at those positions last year weren't able to perform to the level of their predecessors, and now, Ohio State must also replace most of its top defenders from 2020, including Tommy Togiai and Jonathon Cooper on the defensive line, the linebacker quartet of Pete Werner, Tuf Borland, Baron Browning and Justin Hilliard and Shaun Wade in the secondary.
If Ohio State's defense is going to return to its standard of elite play in 2021, it needs new stars to emerge at all three levels. Defensive tackle Haskell Garrett can legitimately be considered a star after his All-American 2020 season, but the Buckeyes need more from their defensive ends. There are no proven commodities at linebacker entering 2021, and they need better play from everyone on the back end.
Ohio State still has a lot of talented defensive players on its roster, but it needs those players to perform up to their potential this fall, and the spring will be a crucial time for potential stars to assert themselves. Defensive ends Zach Harrison and Tyreke Smith, linebackers Teradja Mitchell and Dallas Gant, cornerback Sevyn Banks and safety Josh Proctor will be among those in the spotlight, but the Buckeyes need a lot of defenders to step up this year, and they'll get a better idea over the next couple of months who's ready to do so.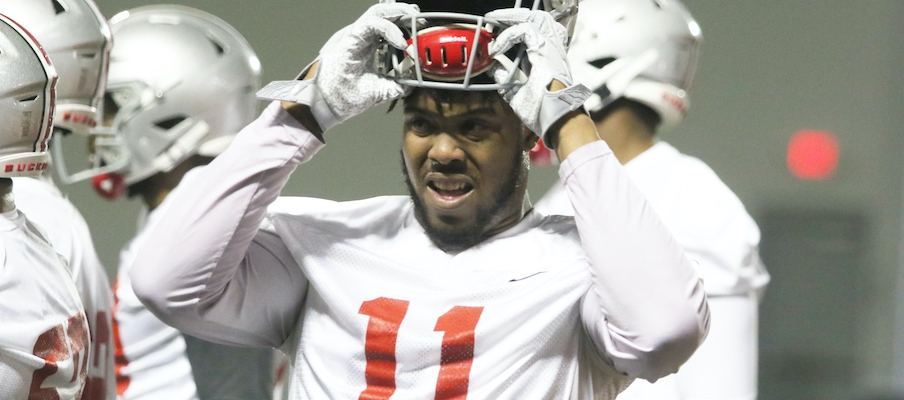 Replacing Key Pieces in the Run Game
The inexperience Ohio State will enter the season with at quarterback and the growing pains that will likely come with that makes it all the more important for the Buckeyes to have a running game they can lean on. And they're replacing a multitude of key players who led Ohio State in that phase of the game last season, too.
First off, the Buckeyes need to figure out how to move forward without Trey Sermon at running back. They've got a six-pack of legitimate options at the position – fourth-year Master Teague, third-years Marcus Crowley and Steele Chambers, second-year Miyan Williams and freshmen TreVeyon Henderson and Evan Pryor – but they have to determine the best rotation among them for the 2021 season, and that competition will begin this spring. 
Can Teague take his game to new heights and become a true feature back? Can Henderson become an immediate star? Is Williams, Crowley or Chambers poised for a breakout year? The first step for all of them is earning a spot in the rotation, and how the depth chart looks this fall will depend in part on how each running back performs over the next couple of months.
Equally important to Ohio State's success as both a running and passing offense will be replacing Wyatt Davis and Josh Myers, who were arguably the Buckeyes' two best run blockers for the past two seasons, on the interior offensive line.
Harry Miller is the frontrunner to start at center while Matthew Jones, Dawand Jones, Paris Johnson Jr. and Enokk Vimahi are all candidates to start at guard, but none of them are proven. They'll all be splitting reps and competing this spring, but ideally, a starting trio will separate themselves from the pack going into the summer so they can spend preseason camp building chemistry with each other and starting tackles Munford and Nicholas Petit-Frere.
Luke Farrell also played a key role in the running game over the past couple of seasons as an exceptional blocker on the edge, so tight end development will also be important this spring. Ruckert is a strong blocker in his own right and will certainly play most of the tight end snaps in 2021, but two-tight end packages have also been a key component of Ohio State's running game in recent years, and the Buckeyes will need one or two of Cade Stover, Mitch Rossi, Joe Royer and Sam Hart to step up if they're going to continue utilizing multi-tight end sets.