As long as things go according to plan over the next six months, Ohio State will play a full 12-game regular season football schedule in 2021.
Following a wonky 2020 in which the Buckeyes' schedule was initially cut from 12 games to a 10-game conference-only schedule, then an eight-game schedule of Big Ten games that didn't start until October and ultimately ended up being only five games due to cancellations forced by COVID-19, Ohio State is certainly hoping and expecting to play a more traditional schedule in 2021 that includes a full nine-game slate of conference action as well as three non-conference games.
While the Big Ten moved some dates around earlier this month from its original 2021 schedule, Ohio State is still scheduled to play the same slate of opponents this year that it's been scheduled to play, including cross-divisional games against Minnesota, Nebraska and Purdue and non-conference games against Oregon, Tulsa and Akron in addition to the Big Ten East round robin against Rutgers, Maryland, Indiana, Penn State, Michigan State and last but not least, Michigan.
After Gene Smith confirmed earlier this week that Ohio State will still play Oregon this fall, no further changes to the 2021 schedule appear imminent, so it's time for us to take a look at how the fall slate could stack up for the Buckeyes.
Given Ohio State's status as a perennial national championship contender, the Buckeyes will be expected (and should be favored) to win every game of their regular season schedule. But some games will certainly be bigger tests than others, and there are multiple stretches of games within the season that could make or break Ohio State's hopes of winning a fifth straight Big Ten championship and making a third straight College Football Playoff.
Below, we take a look at Ohio State's 2021 regular-season schedule in six segments that could define the season.
Two Tests Right Out of the Gate
Sept. 2 at Minnesota
Sept. 11 vs. Oregon
With a new starting quarterback and plenty of lingering questions about the defense, Ohio State would surely be more comfortable opening up the season with a tune-up game against a non-conference opponent. It won't get that luxury.
For the second time in five years, Ohio State will open the season with a Thursday night road game against a Big Ten opponent, this time at Minnesota. While the Buckeyes will certainly be favored to win their first matchup against the Gophers since 2018, P.J. Fleck's squad is just two years removed from an 11-win season, and any primetime road game is a daunting way to start a season with a quarterback who has never thrown a collegiate pass – which will be the case whether C.J. Stroud, Jack Miller or Kyle McCord wins the job.
The Gophers should also present a real first test for Ohio State's defense, as quarterback Tanner Morgan was the Big Ten's leader in passing yardage in 2019 while running back Mohamed Ibrahim was the Big Ten's leading rusher in 2020.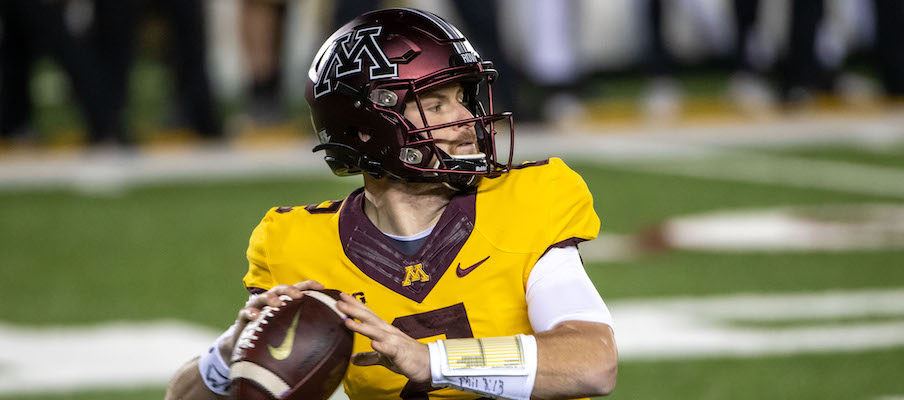 After that, Ohio State will face what might be its most talented opponent of the entire regular season in Oregon. The Ducks have won back-to-back Pac-12 titles and have more high-end recruits on their roster than any team other than Ohio State in the Big Ten. 
There's a bit of uncertainty at quarterback after Tyler Shough transferred to Texas Tech, but they have viable options in Boston College transfer Anthony Brown and highly touted freshman Ty Thompson. CJ Verdell and Travis Dye make up one of the nation's best running back tandems, while Devon Williams is a budding star at wide receiver.
Star playmakers on Oregon's defense include defensive end Kayvon Thibodeaux, who was the No. 2 overall prospect in the recruiting class of 2019 and a second-team All-American last season; linebacker Noah Sewell, another five-star recruit who was the Pac-12 Defensive Freshman of the Year in 2020; and cornerback Mykael Wright, another first-team All-Pac-12 performer last year. The Ducks' defense could be the best Ohio State faces all season, which makes it imperative that the Buckeyes' new starting quarterback finds his rhythm quickly in the first two games of the year.
Two Long-Awaited Tune-Up Games
Sept. 18 vs. Tulsa
Sept. 25 vs. Akron
These games really should be lopsided wins for the Buckeyes, but that's exactly what Ohio State needs them to be. Since the shortened 2020 season left few chances for the Buckeyes to get their backups on the field, they will be looking for every opportunity to make that happen in 2021, and non-conference games against non-Power 5 opponents are typically prime opportunities to get young players and reserves off the bench.
Assuming there will be some kinks that show up in the first two weeks of the season, these games will be an opportunity for the Buckeyes to work through them. It might be more beneficial to have one of these games before they play their conference opener and their marquee game against Oregon, but these will still be valuable games that can help prepare Ohio State for the heart of its conference schedule.
Tulsa, who went 6-3 last season, is a good Group of 5 team who will look to keep things at least somewhat competitive with the Buckeyes, but Ohio State should be able to win comfortably if it plays the way it's supposed to. Against Akron, who has just one game in the last two years, anything less than a blowout would be a disappointment.
Two Division Rivals Who Have Never Beat the Buckeyes
Oct. 2 at Rutgers
Oct. 9 vs. Maryland
If history is any indication, these two games could be considered tune-ups, too. Since they joined the Big Ten East in 2014, before which time neither had ever played Ohio State, neither Rutgers nor Maryland has beat the Buckeyes, and there's still a significant talent gap between Ohio State and both the Terrapins and Scarlet Knights.
Both teams have made enough progress, though, that they can't simply be written off as divisional bottom-feeders anymore. 
Maryland, in particular, has improved its recruiting to a level where it should be more competitive in the Big Ten, and it's got one of the conference's top young quarterbacks in Taulia Tagovailoa. The Terrapins' offense was dangerous enough last season that there were some upset concerns going into Ohio State's scheduled road trip to College Park before it was canceled, and they should have one of the best passing offenses in the conference once again in 2021.
Rutgers' 22-point loss to Ohio State last year was the closest the Scarlet Knights have ever come to keeping a game close against the Buckeyes, but they made enormous strides in Greg Schiano's first season back in Piscataway. They still don't have the talent to be a real contender against the Big Ten's top teams, but they showed last year they're sick of being a pushover, and Schiano has recruited well enough to position the program for continued growth.
Two Big Games to End October
Oct. 23 at Indiana
Oct. 30 vs. Penn State
After a well-timed bye week right in the middle of the regular season, Ohio State will return to action with two more games against Big Ten East foes that just might be the Buckeyes' two toughest divisional games of the season, and arguably the toughest stretch of back-to-back games in the entire regular season.
Indiana hasn't typically been an opponent to circle on the calendar for Ohio State, but that changed in a big way last year, when the Hoosiers scored four second-half touchdowns to come back from a 35-7 deficit and push for an upset before Ohio State escaped with a 42-35 win. With Michael Penix Jr. and Ty Fryfogle back, the Hoosiers should have an explosive offense and put Ohio State's defense to the test once again, and this year's game will be in Bloomington.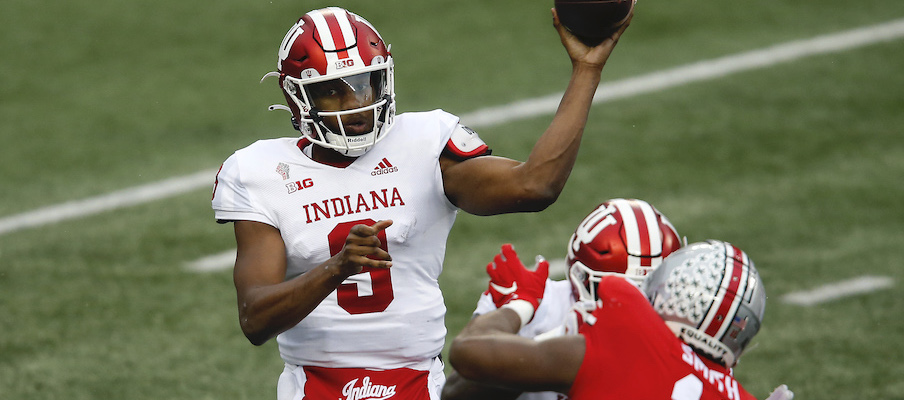 That road trip will be followed by a Halloween weekend home game against Penn State, who has been more consistently competitive with Ohio State over the past half-decade than any other team. The Nittany Lions are coming off a 4-5 season, but they won at least 11 games in three of the four seasons before that, and they're still one of the most talented teams in the Big Ten. They'll need better quarterback play than they got last year, though, as Sean Clifford's play regressed in 2020 after a promising 2019 season.
Based on how these teams performed last year and who they have returning, Indiana looks like the more dangerous right now, but neither of these games can be taken lightly. The Hoosiers will be as motivated as ever to take down the Buckeyes after the Big Ten changed the minimum game requirement to put Ohio State in the conference championship game last year, and there's been too many close games against the Nittany Lions in recent memory to sleep on them.
Three Games That May or May Not Be Interesting
Nov. 6 at Nebraska
Nov. 13 vs. Purdue
Nov. 20 vs. Michigan State
If you're looking for a "trap game" on Ohio State's regular season slate, this might be the section of the schedule where you find it. None of these three teams are expected to be better than middle-of-the-pack Big Ten teams in 2021, and Ohio State should be heavily favored to beat all of them, yet it's not out of the question that one of these teams could push for an upset if it catches the Buckeyes on a bad day.
Nebraska has underachieved through the first three years of the Scott Frost era and has been blown out in each of its last two meetings at Ohio State, yet its recruiting classes have been consistently above average for the Big Ten. If the Cornhuskers can finally start to put all the pieces together in 2021, they could present a challenge in Ohio State's second-to-last road game of the year, especially with the Buckeyes coming off two big games.
Everyone remembers what happened the last time Ohio State played Purdue in 2018, when Jeff Brohm's Boilermakers embarrassed the Buckeyes in a 49-20 rout, and that adds intrigue to this matchup. The Boilermakers haven't made the jump some thought they'd make over the past couple of years since that win over Ohio State, and this game is being played at the Shoe. That said, they do have a couple of the Big Ten's best players in wide receiver David Bell and defensive end George Karlaftis, and they seem to always win a game or two they shouldn't.
Ohio State had its most dominant win of the season last year at Michigan State even though Ryan Day and a multitude of key players were sidelined by COVID-19, so a home matchup with the Spartans this year shouldn't be scary. However, Ohio State fans don't need to be reminded about what happened in 2015 – the last time Ohio State hosted Michigan State in its final home game of the season – and the Spartans, who should be more competitive in 2021 now that Mel Tucker has a year under his belt, have a history of challenging the Buckeyes in Columbus.
This three-game stretch doesn't look intimidating on paper right now, but it's certainly possible that at least one of these teams could give Ohio State a scare, and we'll have a better idea by November how capable each of them are of giving the Buckeyes competition.
One Bitter Rivalry Game
Nov. 27 at Michigan
There's always bad blood when Ohio State and Michigan play each other in The Game, but there's little doubt that these two teams will be hungrier than ever for a win against each other in 2021 after they didn't get the opportunity to play in 2020.
Ohio State, deprived of the opportunity to "hang 100 on them" last season when Michigan decided it could not play due to COVID-19 cases within its program, was as confident as ever going into last year's game against the Wolverines and will likely carry that confidence over into 2021. Michigan's players didn't like hearing Ohio State fans accuse them of ducking the Buckeyes last season, so they'll surely feel like they have a point to prove in the Big House this November.
The Buckeyes have no reason to be afraid of the team up north right now, given that they've won eight straight games against the Wolverines. Jim Harbaugh still hasn't won a single game against Ohio State as Michigan's coach, and the talent gap between the two teams has only gotten wider since they last played in 2019. Still, there's always something special about the annual war between the Buckeyes and the Wolverines, and last year's cancellation was a reminder not to take the storied tradition for granted.
No matter what happens the rest of the season, there's little doubt this will be one of the most anticipated chapters of The Game in a long time. Both teams and their fan bases will have had to wait two full years for another edition of The Game by the time Nov. 27 rolls around, and the Buckeyes will be champing at the bit for a one-year-overdue opportunity to get a ninth straight win over Michigan and a fresh pair of Gold Pants.